Paralympic Goals Began In College For Wheelchair Basketball Gold Medalist Trevon Jenifer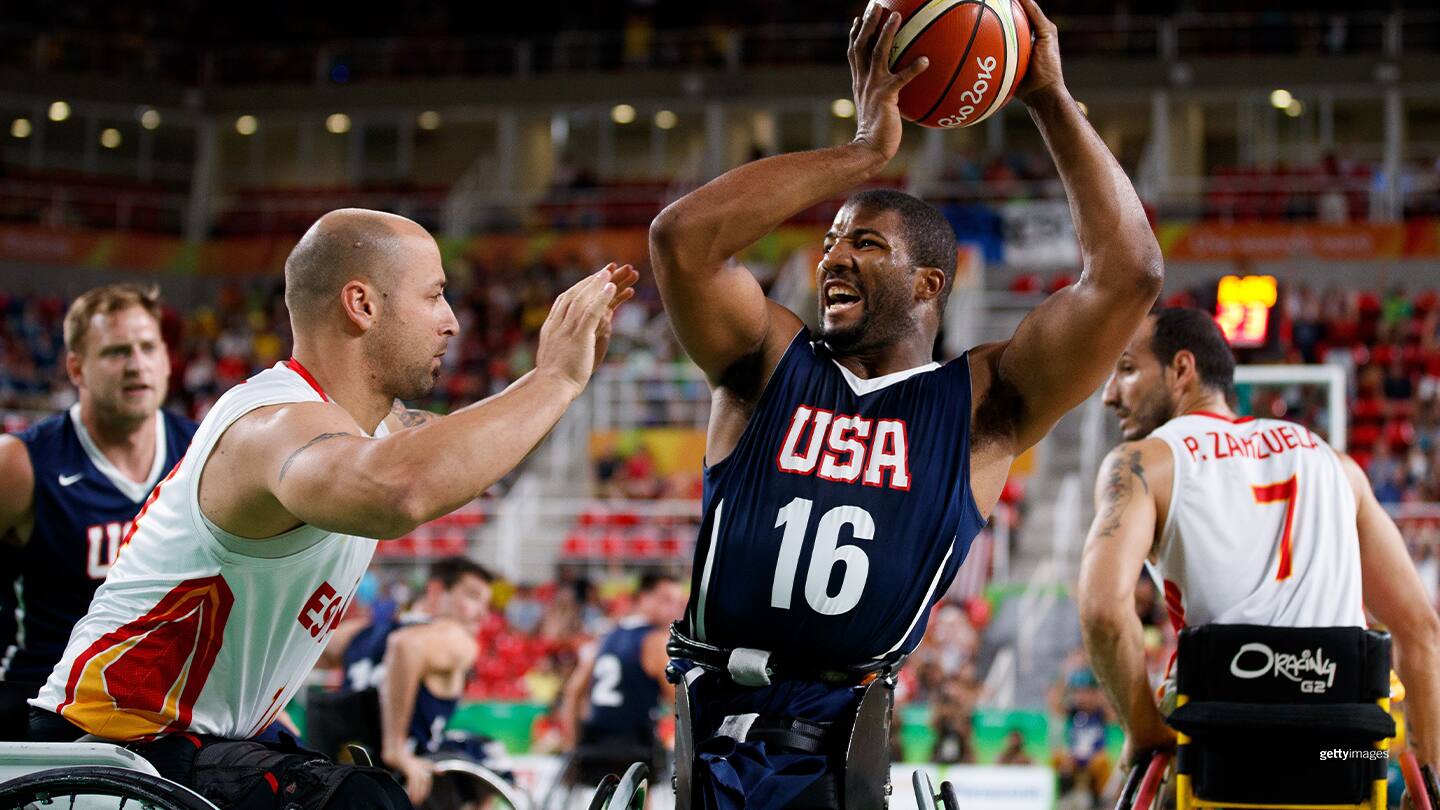 Trevon Jenifer competes at the Paralympic Games Rio 2016 on Sept. 17, 2016 in Rio de Janeiro, Brazil.
When Trevon Jenifer was a student athlete at Edinboro University in Pennsylvania, he had a large physical pyramid of goals beside his bed. It was the last thing he looked at before going to sleep, and the first thing he looked at after waking up.
"Win gold for Team USA" was at the top of the pyramid, followed by "National Champion" and "First-Team All-American" underneath, and "Scholar Athlete," "GPA" and "Working Out 5x/Week" below that.

"It was a checklist of steppingstones to build a foundation to get to that ultimate goal," said Jenifer, who won gold with the U.S. wheelchair basketball team at the Paralympic Games Rio 2016 and bronze at the London 2012 Games. "I think sometimes we set goals, but we don't set a roadmap to get to that goal. If we understand the way to get there, it makes it easier to obtain that goal."

Jenifer, who was born with a congenital amputation, grew up in a poor, crime-infested neighborhood just outside of Washington D.C. He began playing wheelchair basketball when he was 4 years old but switched to wrestling at age 12 after his parents had a falling out with his coach. He finished third place in his weight class at Maryland's high school wrestling state championships his senior year and thought he'd go on to wrestle in college.

But when Edinboro's wheelchair basketball coach Jim Glatch called him a month before graduation with a wheelchair basketball offer, he immediately pivoted back to the court and began his education in criminal justice.

Edinboro's program dates back to the early 1990s, and it was there where Jenifer truly made the jump from being a recreational athlete to a player of national caliber. He was a three-year captain and two-time All-American at Edinboro, where he learned to adhere to a strict workout schedule and played with other future Team USA members for the first time.

"It's definitely the right preparation before you make the jump to Team USA and that international level," he said.

"Self-discipline is a huge thing. I don't know how many times I had to turn down going to parties or going out with friends because we had early morning practice the next day or I had to do a individual session. Anytime we were in basketball season I refused to take a drink of alcohol, and friends made fun of me because at a certain point basketball never ended with my collegiate career and then Team USA."

Jenifer qualified for his first junior national team as a junior in college and his first national team right after graduation, before going on to make his Paralympic debut a year later in London. His leadership skills obtained at Edinboro taught him how to be a team leader, no matter the level he was playing on.

"Going into Edinboro, I loved a coach that rules with an iron fist, and I thought that because that's how I like to be trained and taught, everyone liked to be taught and trained," he said. "I learned that you have to critique yourself. Not everyone is the same. You have to change your leadership views. That was a big growth point for me because I had to change my style, which helped me change from being teammates with someone to becoming like brothers with them."

The best accolade he took away from Edinboro, though, was being able to say he is the first in his family to have earned a college degree.

"I set the bar for my nieces, nephews and children coming up behind me so they know they can reach for the stars and get an education the same way I did," he said. "I might be at the forefront where people can see me, but there are important paths of people behind me — family, friends, and fans — whom it wouldn't be possible without their support. Getting my degree and seeing the smile on my mother's face, nothing can replace that."

Today, Jenifer works full-time in security for the federal government — and one day wants to become a lawyer — while training for the Tokyo Games and raising his two children. Being stuck at home during the COVID-19 pandemic has been a blessing in disguise for him, with his "rinse, recycle and repeat" schedule having him hit the gym daily at 5:30 a.m. and then work and spend time with family before hitting the gym again at 10 p.m.

And all around his house now lie Post-It notes with his goals — a modified motivational hack modeled off his pyramid from Edinboro.

"They are a reminder to myself to make today better than yesterday," he said.
Stuart Lieberman covered Paralympic sports for three years at the International Paralympic Committee, including at the London 2012 and Sochi 2014 Games. He is a freelance contributor to TeamUSA.org on behalf of
Red Line Editorial, Inc.