Youth Prevails at Olympic Trials, with Cole Hocker and Athing Mu Taking Middle-Distance Titles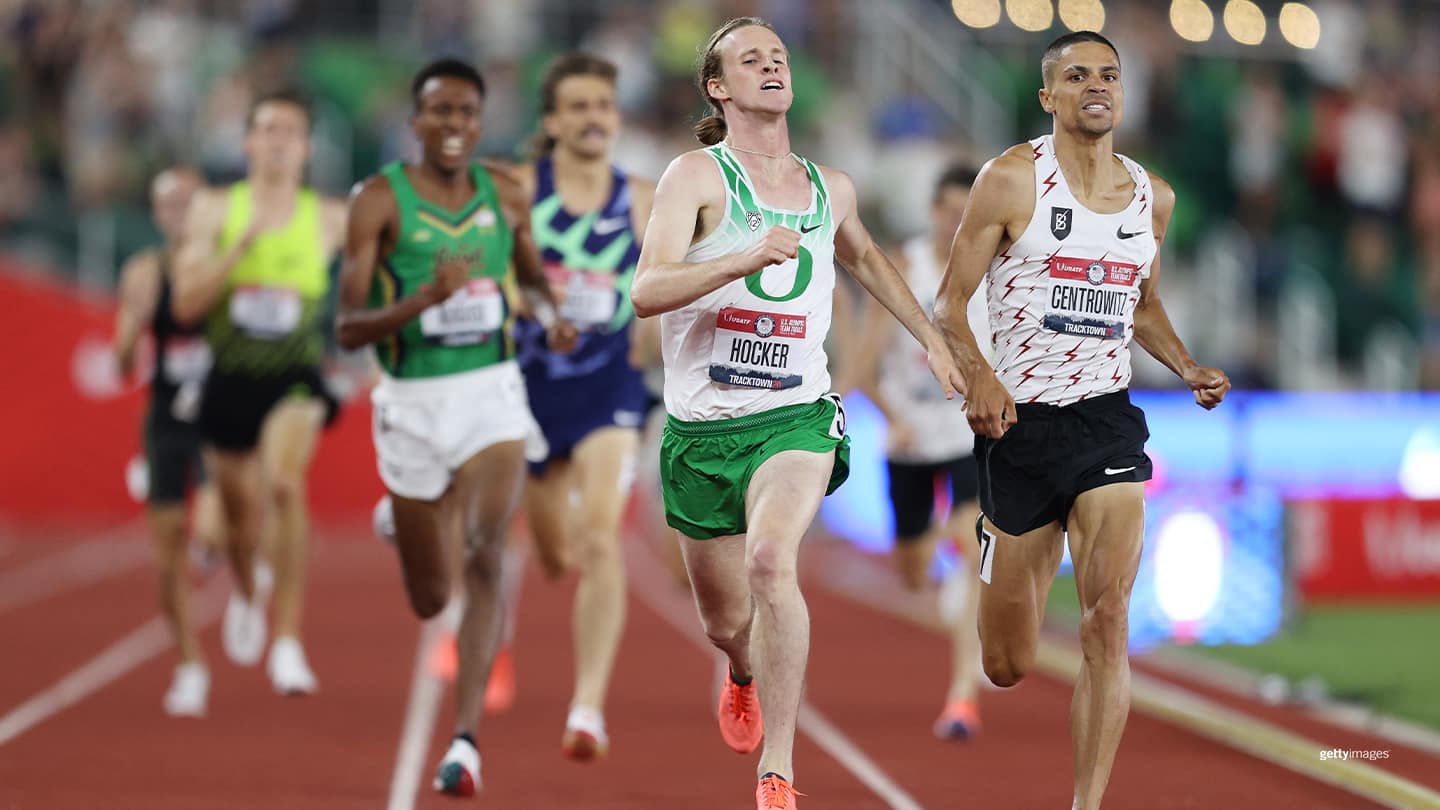 Cole Hocker and Matthew Centrowitz race to the finish of the men's 1,500-meter run final at the 2021 U.S. Olympic Team Trials — Track and Field on June 27, 2021 in Eugene, Oregon.
EUGENE, Oregon — The heat wreaked havoc with the schedule on the final day of the U.S. Olympic Team Trials — Track & Field, but young middle-distance stars Cole Hocker and Athing Mu shook it off and won their respective races in convincing fashion.

Over the last several months, both athletes have dazzled at the collegiate level, winning NCAA titles and displaying the tactics and speed of a seasoned veteran. They continued that trend on a day when the bulk of the schedule had to be delayed by several hours to avoid the record-high temperatures (well over 100 degrees) in Eugene.

Oregon freshman Hocker, who was running on his home track at Hayward Field, pulled away from reigning Olympic gold medalist Matthew Centrowitz in the final strides. His victory is bittersweet in that his time (3:35.28) came up just short of the automatic qualifying time of 3:35.00 needed for the Olympic Games Tokyo 2020. He finds out this week whether he will receive a quota spot from World Athletics.

"I think my world rank right now is good enough to lock me in," said the Oregon freshman. "What I was told was that if I placed top three at trials it would be enough."

Centrowitz (3:35.34) and Notre Dame senior Yared Nuguse (3:36.19) finished second and third, and since they had previously hit the Olympic standard they have officially qualified for Tokyo. Should Hocker not receive a spot, fourth-place finisher Craig Engels (3:36.69) is next in line for the team.

In the 12 months since graduating Cathedral High School in Indianapolis, Hocker has established himself as one of the country's best runners.

"I might have been shocked if last year at this time you would have told me I would have won the 1,500 at Trials," Hocker said. "But throughout the season, I've been proving to myself that I can run here, and I belong here."

That included NCAA titles in the indoor mile and 3,000 and outdoor 1,500, just two weeks ago on this same track.

"The guy is just an absolute animal," said an admiring Centrowitz, himself a former NCAA champion for Oregon. "I don't know if he's had a bad race this year."

Mu has had a similarly flawless freshman campaign, setting an American Under-20 record in the 800 and winning NCAA titles in the 400 and 4x400 for Texas A&M on the eve of the Olympic Trials. She backed that up with a stunning 1:56.07 personal best on Sunday, improving on the 1:57.04 meet record set by Meredith Rainey back in 1996.

The Trenton, New Jersey, native is now the second-fastest American of all time, behind only Ajee' Wilson (1:55.61).

Raevyn Rogers, a former Oregon star whose image adorns the striking tower in the recently renovated Hayward Field, ran a lifetime best 1:57.66 to finish second. Wilson, who has won the past three national titles in the event, came from way back to finish third, in 1:58.39.

"It felt like it was a Diamond League atmosphere, especially being at night," Rogers said, remarking on the quality of the field and racing under the lights due to the late start. Eight of the nine finalists finished under 2:00, the benchmark for world-class running in the 800.

Mu signed a professional contract this past week, which she said, in a social media post, would "allow me to train… for multiple Olympic Games." Despite that confidence, she demurred when asked to describe her dominance.

"I wouldn't even call myself dominant yet," said the precocious 19-year-old. "This is my first year actually coming out here and doing my thing, running the way that I can run, running to all of my potential, or at least a good amount of my potential."
Chelimo Beats the Heat (and the
Field)
The men's 5,000 final was held earlier in the day, when the temperatures were merely hot rather than insufferable. Paul Chelimo, the silver medalist in the Olympic Games Rio 2016, set a restrained pace for most of the way before breaking free from a tightly bunched pack. He used some geometry to hold on for victory.
Coming off the final turn, Chelimo swerved all the way towards lane four, forcing pursuers Grant Fisher and Woody Kincaid to run extra distance and preventing them for getting around him.
Chelimo finished in 13:26.82, just ahead of Fisher (13:27.01) and Kincaid (13:27.13). Kincaid and Fisher had finished first and second in the 10,000 on the opening night of these Trials. "These guys are really fit, probably fitter than me," Chelimo said. "You got to play with their minds. Take them all the way, make them run the longest distance."
Later, on Twitter, he joked that, "I was just following the Covid regulations by keeping a 6 feet distance but they kept following me."
Though his training was disrupted while mourning the sudden death of his younger brother Albert in March, Chelimo felt like he is finally rounding into top form. And he continues to employ his signature disruptive tactics in high-stakes races.
"At the end of the day, I believe in one thing," he said. "Go hard or suffer the rest of your life."
Rich Sands is a New York City-based freelance editor and writer and has been a correspondent for Track & Field News since 1995, covering the sport at the high school, college and professional levels. He was previously an editor at TV Guide Magazine, overseeing the magazine's Olympic coverage.