Emma Coburn Dominates Olympic Trials Steeplechase To Win Ninth National Title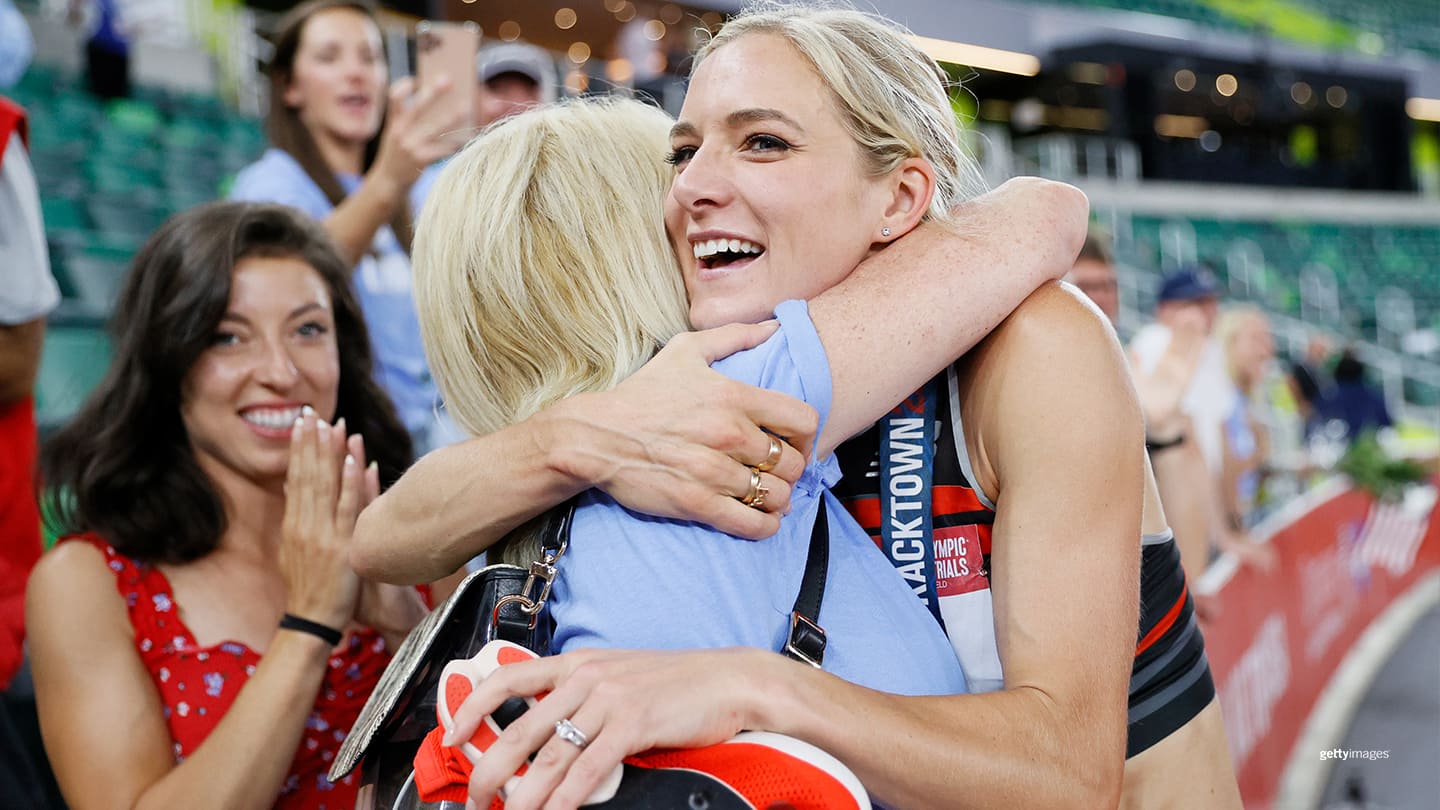 Emma Coburn celebrates with her mother Annie Coburn at U.S. Olympic Team Trials - Track and Field on June 24, 2021 in Eugene, Ore.
EUGENE, Oregon — On an evening when the precarious nature of the steeplechase was on full display, Emma Coburn demonstrated remarkable consistency. Using a strong finish to run away from the field in the 3000-meter event, Coburn won the U.S. Olympic Trials — Track & Field for the third straight time. It was also her ninth overall national time, and sixth consecutive.

The bronze medalist in Rio five years ago, Coburn broke her own meet record to qualify for the Olympic Games Tokyo 2020. She will be joined on Team USA by American-record holder Courtney Frerichs and Val Constien.

As with most of her national titles, Coburn won in commanding fashion, taking the lead with about 700 meters to go and pulling away from Frerichs for the fourth-straight time at an Olympic trials or national championships dating back to 2016. (There was no national championship meet last year due to the pandemic.)

The 2017 world champion, Coburn broke her own meet record to win in 9 minutes, 9.41 seconds. Frerichs (9:11.79) was a clear second, while Constien (9:18.34) moved up well on the final lap to grab the final spot. Constien is now the fifth fastest American of all time. (Frerichs' American record is 9:00.85; Coburn's personal best is 9:02.35.)

"I wanted to stay as chill as I could for the first half," said Coburn, who is coached by her husband, Joe Bosshard, in her hometown of Crested Butte, Colorado. And even when Frerichs made her move with four laps to go to break the race open Coburn remained confident. "I was excited about that because it thinned out the pack," she said. "She was rolling and I was trying to stick behind her."

Behind them on the Hayward Field track, Leah Falland experienced the perilous nature of the event, which features 28 sturdy barriers and seven water jumps. (Unlike the sprint hurdle events, when you hit the steeplechase barriers they do not move.) With two laps to go she was running in third place, behind Frerichs and Coburn, and seemingly on her way to her first Olympic berth. But in a freak mishap, her foot hit one of the barriers and she crashed to the track. She gamely fought to get back into the mix, but faded badly on the final stretch and wound up ninth.

"Anybody who's ever done a steeple knows at that point it's really hard to lift their legs," said a heartbroken Falland, who won the 2015 NCAA indoor title in the mile for Michigan State. "I wanted to have a kick in the last 200. I was really cooked after all of it."

Coburn and Frerichs won the gold and silver at the 2017 world championships in London and have helped elevate the level of steeplechasing in the United States. The top nine women on Thursday ran under the Olympic qualifying standard, demonstrating exception depth.
"I think we're brining an incredibly strong team," Frerichs said. "Emma and I have consistently been battling up at the front. You saw in London, that force, together makes a statement and we're able to work of each other. I think we're ready to have a special moment in Tokyo."

After the race Coburn revealed that her mother, Annie, has stage 4 colon cancer. She was originally diagnosed in December 2019, and has gone through 22 rounds of chemotherapy over the past year and a half. When the Olympics were postponed and the racing schedule was scaled back in 2020, Coburn's typically busy travel schedule came to a halt and she was able to stay close to home to support Annie.
"That was a really, really hard year, but there was a silver lining that I was able to spend time with her and be there through a lot of great moments and some scary moments, too," she said.

"Her prognosis was really grim. [She had] stage 4 colon cancer that had spread to her liver and lungs, and [was] inoperable," Coburn reported. Thankfully she is responding well to treatment. "She has surpassed all of her doctor's expectations. She's a little miracle. She's a little Energizer bunny. You wouldn't know she's sick, you wouldn't know that her internally her body was going through major crisis because she not only looks great, but she's really strong emotionally."

Family members won't be able to attend the Games, but on Thursday evening Annie and Bill Coburn were in Eugene to watch their daughter become a three-time Olympian.
"Sharing this with my mom is everything," Coburn said. "She has more and more chemo ahead of her. She's not cured, but she's doing well. This fight of hers is still very active. And I'm so happy that she could be here. This was a really special day to share.
Rich Sands is a New York City-based freelance editor and writer and has been a correspondent for
Track & Field News
since 1995, covering the sport at the high school, college and professional levels. He was previously an editor at
TV Guide Magazine,
overseeing the magazine's Olympic coverage.