Chris Nilsen Flies High To Win Intense Pole Vault Competition At Olympic Trials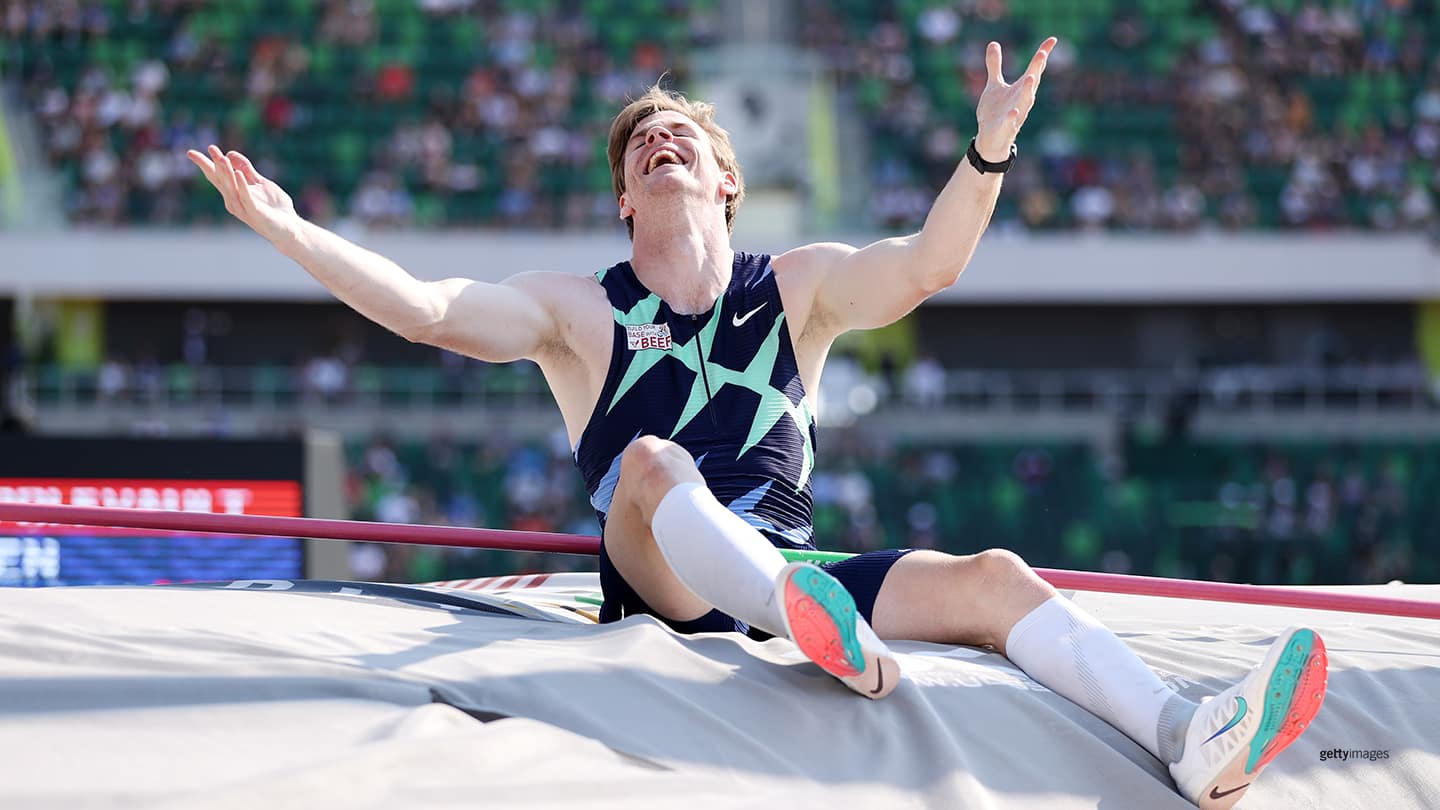 Chris Nilsen celebrates in the Men's Pole Vault Final at the 2020 U.S. Olympic Track & Field Team Trials at Hayward Field on June 21, 2021 in Eugene, Oregon.
EUGENE, Oregon – Pole vaulter Chris Nilsen did not have lofty expectations back in 2016 when he qualified for his first Olympic Trials at age 18.

"My goal was not to win or get even to the Olympic team," said Nilsen. "My goal was to get a picture with Sam Kendricks, the American record holder, and I did accomplish that."

Five years later, he dethroned Kendricks as national champion at the U.S. Olympic Team Trials – Track & Field, snapping the two-time world champ's six-year winning streak. Nilsen was the only vaulter to clear 5.90 meters (19 feet, 4 ¼ inches) on Monday. He had a clean record with six straight clearances until – after victory was assured -- he missed three times at 6.00 meters (19-8 ¼).

But Nilsen did not knock Kendricks out of the picture completely. Kendricks, the 2016 Olympic bronze medalist, and Nilsen's old friend KC Lightfoot tied for second at 5.85 meters (19-2 ¼) to complete the Team USA contingent for the Olympic Games Tokyo 2020.

"Back to the 18-year-old guy who came here," said Nilsen, now 23, "if you had told him you were going to win the Olympic Trials in 2021, he would have slapped you in the face and been like, 'That's stupid, don't ever tell me that again.'"

Actually, Nilsen added, "If you asked me a year ago if I was going to make the Olympic (team), the answer would have been immediately 'No.' If you had asked me this morning, I would have said, 'I don't know, maybe not.'"

Yet the three-time NCAA champion for South Dakota knew he had been vaulting consistently over 5.90 meters this season and has a personal best of 5.95 (19-6 1/4).

"This will go down in history as the hardest team to make ever," proclaimed Kendricks, 28, who said he preferred the title "vice champion of the Olympic Trials." "And I want to put that against every other event, not because I want to gloat; it's because it's something that needs to be remembered."

In the five years since the last Trials, the men's pole vault has seen a stratospheric rise in the level of competition.

In 2016, the third-place finisher made the Olympic team with a mark of 5.60 meters (18-4 ½). In 2021, the 12th and last qualifier for the final had to clear 5.60, while the other 11 all went over 5.65 (18-6 ½). In the final, those same 11 cleared 5.70 meters (18-8 ¼).

"That really speaks to the talent of this generation of pole vaulters," said Nilsen, who is coached by three-time Olympian Derek Miles, the 2008 bronze medalist. "As talented as this group of guys is, these are also my best friends. Being able to hang out with them is how I see meets now."

He's been buddies with Kendricks since 2016 when they took that picture together. They were teammates in 2017 at the world championships, where Kendricks won and Nilsen did not reach the final.

"It's cool that I got the upper leg on him," said Nilsen, the 2019 Pan American Games champion, "but I want to see what happens in August when the Olympics roll around."

Six vaulters were perfect through the first two heights at Hayward Field, where temperatures were in the 90s. Lightfoot, who has cleared 6.00 indoors, had a miss at 5.70, but made it on his second try. Then he, Kendricks, and Matt Ludwig got over 5.75, a height Nilsen chose to skip.

Kendricks, who said he watched shot putter Ryan Crouser break the world record "like 15 freaking times to pump myself up for this meet," shockingly hit the bar at 5.80. He made the tactical decision to wait until 5.85 to vault again, easily making it. With Nilsen and Lightfoot also clearing 5.85, a personal best outdoors for Lightfoot, that marked the first time three American vaulters have gone over 5.85 in same meet.

"It was intense for sure," said Lightfoot, 21, the 2021 NCAA indoor champion for Baylor who competed at the 2019 world championships.

Nilsen and Lightfoot have known each other since Nilsen was a high school sophomore and Lightfoot was in eighth grade. Nilsen even has a photo in which he said Lightfoot has "long, flowing Tarzan hair and my hair is high and tight."

"He had been telling me this entire time, 'I'm figuring things out, I'm coming for you,'" Nilsen said. I told him, 'You and me on the podium. I don't care which order, let's do it.'"

After Lightfoot and Kendricks missed their third tries at 5.90, Nilsen stepped on the runway to raise his arms in celebration.

But when he got ready for his 6.00 attempt, "I realized I had no energy left," Nilsen said. Still, his second attempt was awfully close.

"Man, that's an annoying one and a tough one," Nilsen said. "With a little more energy or a little closer standards, we would have made it."

But he did have the victory, which ranks up there with his 2019 NCAA title in which he defeated world record holder Mondo Duplantis, breaking his own meet record with a vault of 5.95.

Kendricks said Nilsen "rose above today. I'm real proud of him. I'm hard to beat."

Duplantis, who was born in the United States but competes for Sweden, is the Olympic favorite. He holds the indoor world record of 6.18 meters and the outdoor mark of 6.15.

"There are give or six guys on the day of the Olympic final that are going to have a shot," Kendricks said. "And I hope three are Americans."

At least Nilsen, the father of a 3 ½-year-old son named Roman, can get some sleep now. While he said he had denied being nervous, "The entire time I was losing sleep and eating weird," he said. "I've been thinking about this day for the last five years. I'm so ready to go to bed and not lay there and wonder what's going to happen when I don't make the team. I'm an Olympian now, I can go to bed.

"The amount of stress that immediately dropped off my shoulders was immense."
Triple Jump comes Down To Last
Jump
Even though Will Claye knew he'd made his third straight Olympic team, he wanted that "W" by his name in the men's triple jump.
After Donald Scott pulled ahead of Claye in the fourth round with a jump of 17.18 meters (56-4 ½) to lead by 4 centimeters, Claye fouled on his fifth attempt.

On the final jump of the competition, Claye soared 17.21 (56-5 3/4 ) to win his fourth outdoor championship. He also won in 2014, 2016 and 2017. Chris Benard, who jumped 17.01 (55-9 ¾), placed third. Claye, Scott and Benard were the only jumpers in the competition with the Olympic standard.

Claye, who won the Olympic silver medals in the triple jump in 2012 and 2016 as well as the bronze in the long jump at the London Games, said his clutch final jump "was just was one of those moments where you just had to be a veteran, and just pull it out and make something happen."

Yet he had wondered if the Trials would happen for him at all. In late 2019, he ruptured his Achilles tendon.

"It's a miracle for me to be here," said Claye, who had kept his injury private after it occurred. He did not compete at all in 2020, which did not seem unusual given the pandemic.

"I was in a dark place," Claye said.

He said the hardest part was not being able to walk for over a month. "I was really thinking about the devastation of that type of injury and how it's ended a lot of people's careers," Claye said. "I just was trying to stay positive and work as hard as I could each day to get better."

He said going into the Trials, his numbers at practice were back to the 2019 levels, which was "amazing, a blessing."

But although that gives Claye a tremendous amount of confidence, he said, "I don't want to compare myself to 2019. I want to be better than 2019."

This could be the year that Claye finally wins the Olympic gold medal that has eluded him. His biggest rival, two-time Olympic champion Christian Taylor, did not compete at the Trials because he also ruptured his Achilles tendon while competing earlier this season.

Taylor lost to Claye at the 2016 Trials, then bested him in Rio. While Claye didn't get the gold, he got the girl, proposing to his girlfriend Queen Harrison on the spot. Harrison, now Queen Claye, also competed at the Trials, reaching the semifinals in the 100-meter hurdles.

"My sights are always on a gold medal," Claye said. "At whatever competition I want to win, whether Christian is there or not. I do feel for Christian and what he's going through. A year ago I was going through the exact same thing."

Although it looked like he had a good series at the Trials -- improving on every attempt with two fouls mixed in – Claye said, "The plan was actually to be one and done. I had to get a feel for it. I'm getting a feel for the new Will Claye…getting a sense of my new body."

He said that before Tokyo, he plans to work on getting stronger, faster and more consistent "to where I can put out what I want to put out in any given round and not wait until the end."

In the men's javelin, Curtis Thompson won his second national title with a throw of 82.78 meters (271-7), followed by Michael Shuey (79.24/260-0) and Riley Dolezal (77.07/252-10). No male Team USA javelin throwers have met the qualifying standard, so they are not automatically Olympians, but could still be invited to fill out the field.
Karen Rosen has covered every Summer and Winter Olympic Games since 1992 for newspapers, magazines and websites. Based in Atlanta, she has contributed to TeamUSA.org since 2009.