Hurdler Keni Harrison Finally Earns Redemption With Olympic Trials Victory in Dramatic Race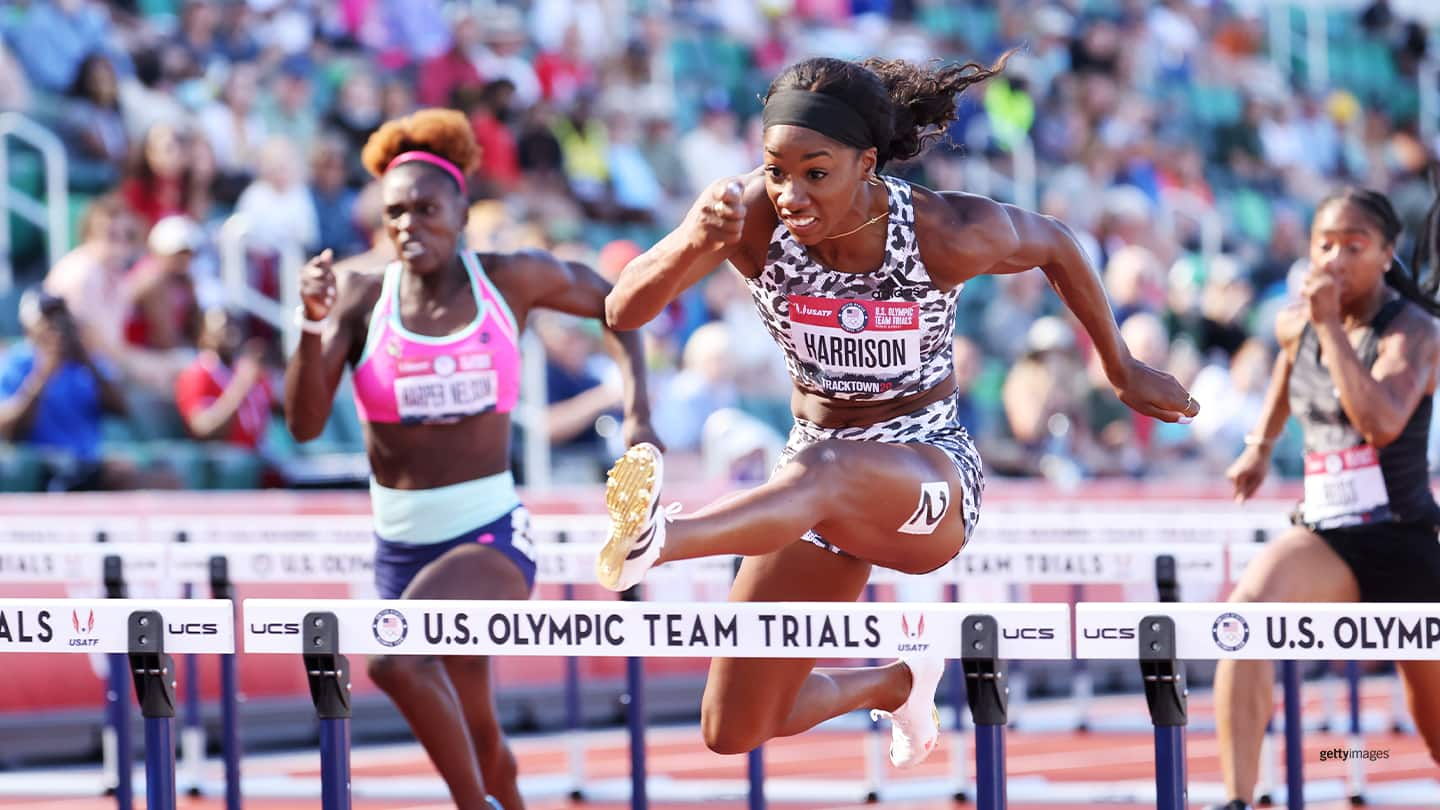 Keni Harrison competes in the first round of Women's 100 Meter Hurdles at the 2020 U.S. Olympic Track & Field Team Trials at Hayward Field on June 19, 2021 in Eugene, Ore.
EUGENE, Oregon — There was plenty of drama on the starting line of the women's 100-meter hurdles at the U.S. Olympic Team Trials — Track & Field, and the actual race lived up to expectations.

World-record holder Keni Harrison made her first Olympic team, five years after a shocking disappointment at the last trials. The Clayton, North Carolina, native won in a season's best time of 12.47 seconds at Hayward Field on Sunday. Behind her, defending gold medalist Brianna McNeal (12.51) finished second in the first meet of her season, but now has legal hurdles to face. Christina Clemons (12.53) took third and joins Harrison as newcomer for Olympic Games Tokyo 2020.

Clemons, who had disappointing showings at the 2016 and 2012 trials, grabbed the final spot on Team USA by a mere five-thousandths of a second over Gabbi Cunningham. "It was fight or flight and I was not fleeing today," said Clemons, who was competing in her third Olympic trials.

McNeal lead a U.S. sweep of the event at the Rio Games but is now facing a five-year suspension for an anti-doping rule violation by the Athletics Integrity Unit. (She is accused of "tampering within the results management process.") She was granted permission to race at the trials while she her appeal with the Court of Arbitration of Sport is pending. If that appeal fails, Cunningham will make it to Tokyo.

The 100 hurdles is one of the toughest teams to me for the United States — six of the top 10 women in the world this year are Americans — and Harrison learned that lesson the hard way in 2016. She came into those trials as an overwhelming favorite, only to finish sixth. She rebounded two weeks later by breaking the world record, running 12.20 at a meet in London, but she had to watch the historic sweep in Rio from home.

Though she has continued to build her international resume — including a gold in the 60 hurdles at the 2018 world indoor championships and a silver in the 100 hurdles at the 2019 world outdoor championships — Harrison knew she still had to prove to herself that she could make an Olympic team. "I'm so happy to come out here, do what I know I can do, and put the past behind me," she said.

After a slow starts she had taken a slight lead after the fifth hurdle, but didn't establish a decisive lead until the run-in off the final barrier. "I thought of this as just another meet and to not put too much pressure on the Olympic trials," Harrison said. "It just basically calmed me and I felt really relaxed through the rounds. … I'm just glad that I was ready for the moment."

McNeal came to Eugene with a heavy heart. Her brother Jeremiah was killed in a car crash a few weeks ago. She dedicated the race to him. And as to how she feels about her uncertain status for Tokyo while her appeal is pending, McNeal said, "I can celebrate this. I'm just happy that I was that I was able to have the opportunity to be able to compete here. The next few weeks I'm going to continue to pray and trust in God to see my through and hope that all things work out."

Behind her, there was a blanket finish for the final spot on the team. It took a perfectly timed lean at the tape for Clemons to edge Cunningham. NCAA champion Anna Cockrell (12.58) was also in the mix until the final strides. "I was like, I don't care, I'm making this team," said Clemons, whose husband Kyle has a gold medal from Rio for running in the heats of the 4x400 relay. "I just remember running off the line, honestly, and doing the dive of my life to get on that team."

Harrison now heads to Tokyo as one of the favorites for gold. "I think I just need to sharpen up my technique," she said of her upcoming preparations. "I feel like I can attack more at the end, and just basically fine-tuning some small things in my race."
Rich Sands is a New York City-based freelance editor and writer and has been a correspondent for Track & Field News since 1995, covering the sport at the high school, college and professional levels. He was previously an editor at TV Guide Magazine, overseeing the magazine's Olympic coverage.