Discus Champ Valarie Allman Puts on Show at the Olympic Track & Field Trials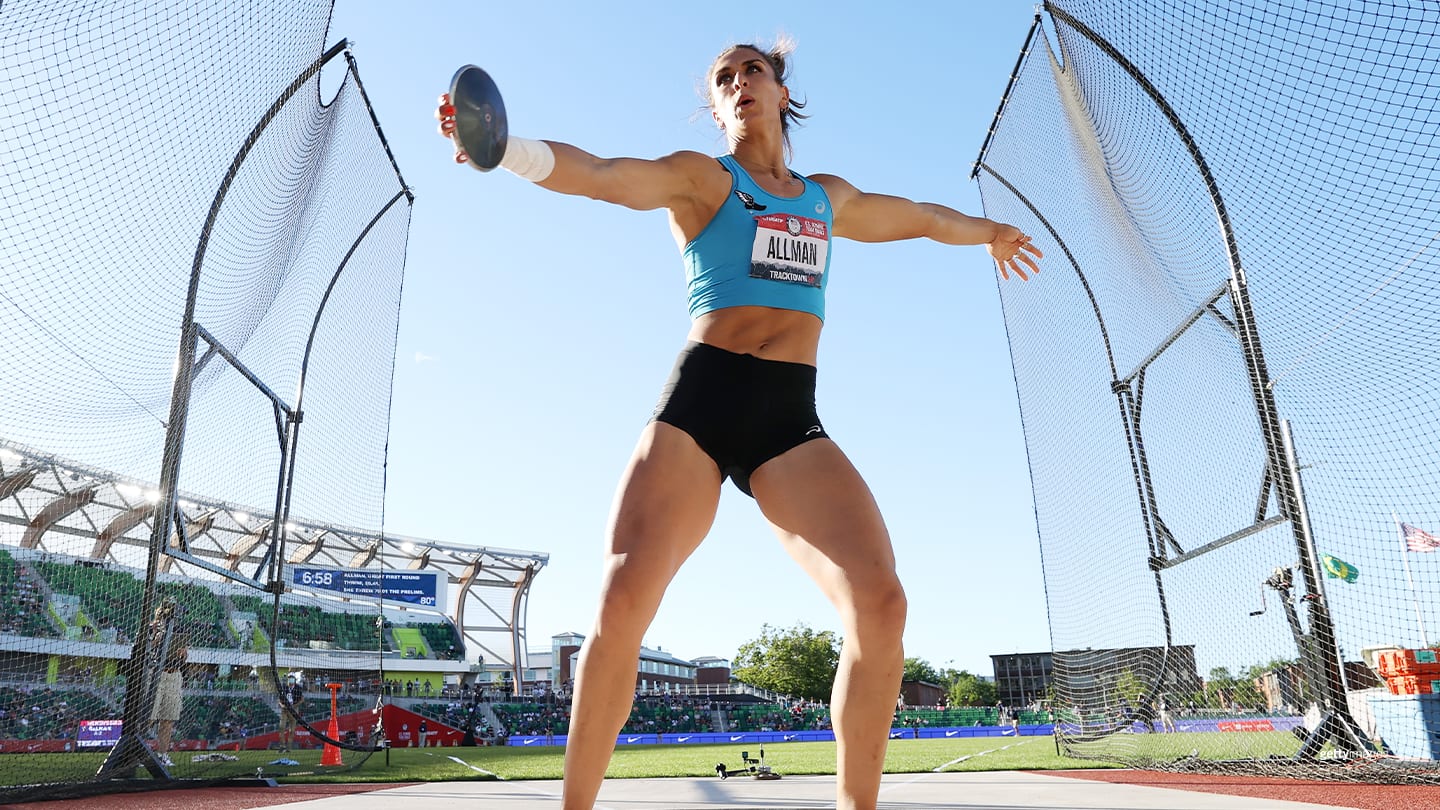 Valarie Allman competes in the Women's Discus Final on day 2 of the 2020 U.S. Olympic Track & Field Team Trials at Hayward Field on June 19, 2021 in Eugene, Ore.
EUGENE, Oregon — We're only two days into the U.S. Olympic Trials — Track & Field and we may have already seen the most dominating performance of the meet. Valarie Allman won the women's discus by a staggering 7.38 meters (24 feet, 3 inches) and all five of her legal throws would have won the event handily.

The 26-year-old Stanford graduate popped a 69.45 (227-10) in the first round and could have just sat back and watched the rest of the competition from the infield of the newly renovated Hayward Field. Instead Allman improved to 69.92 (229-5) with her next throw, just off the 70.15 (230-2) U.S. record she set last year. It's also a mark that no other American woman has ever reached. (She threw even better in Friday's preliminary round, reaching 70.01/229-8.)

Allman now heads to the Olympic Games Tokyo 2020 as one of the favorites for the gold medal. She would join Lillian Copeland (1932) and Stephanie Brown Trafton (2008) as the only American women to win an Olympic title in the event.

Unheralded Micaela Hazlewood threw a personal best by more than two meters, reaching 62.54 (205-2) to finish as the runner-up. Though the top three in each event at the trials typically qualify for the Olympics, Hazlewood does not have the qualifying standard for Tokyo (63.50 meters), so she will have to wait to see if she gets a quota spot based on the World Athletics world rankings. The University of Kentucky grad finished only 11th at the most recent USATF Outdoor Championships, in 2019.

Third-place finisher Rachel Dincoff struggled in the early rounds, but hit 60.21 (197-6) with her fifth throw to move into qualifying position. The Auburn alum locked up her spot for Tokyo since already had achieved the qualifying standard.

For Allman, the motivation for this moment began when she finished sixth at the last Olympic Trials, barely a meter out of third place. "It's impossible not to reflect on being here in 2016 and what that experience was like," Allman said. "I missed it by three feet, which was really bittersweet. But I realized in that moment that I wanted to try again to be an Olympian and represent the United States. To now be here five years later, after so much hard work, it is the best feeling. I feel on Cloud Nine. I am so excited and I cannot wait for Tokyo."

Since the disappointment she's finally broken through to the event's top tier. She placed seventh at the 2019 world championships in Doha, Qatar, and her American record (in her only meet of 2020, due to the pandemic) was the longest throw in the world since 2018. (Jorinde Van Klinken of the Netherlands has since gone farther with a 70.22 effort last month.)

Sandra Perkovic of Croatia, the two-time defending Olympic gold medalist, and Cuba's Yaimé Perez, the 2019 world champion, are again the leading contenders this summer. "There have been several [athletes] who have absolutely dominated for years," Allman said. "And I've gone from viewing them as my idols to now trying to figure out how to view them as my rivals. Doha was such a great experience and I felt like it was the first time I viewed them as my competitors."

That newfound confidence was on display Saturday. Allman was basking in the adoration from the knowledgeable Hayward Field fans, who broke out in rhythmic clapping before her final throw, when she had the victory locked up.

"There was no better way to break in this stadium than the energy this crowd brought tonight and yesterday," she said after winning her third straight U.S. title in the event. "When the crowd was clapping and the intensity was building I was just trying to soak it in. To be able to go for it and have nothing to lose is one of the most powerful feelings."

Allman even seemed to be encouraging the attention. "I'm normally a pretty shy person but today I couldn't help but lean into it," she said.

Now she's ready to bring her show on the road — to Tokyo. She admits that her training has been so geared the trials that she hasn't imagined how the Games might play out. "I have been so focused on just trying to execute on this meet that I haven't let myself think too much about what I really need to focus on at the Olympics. But now that I think about it I think that is probably the secret: to just focus on one throw at a time."
Garrett Scantling, who finished an unlucky fourth in the decathlon at the 2016 Olympic trials, was the leader after Day 1 of this year's 10-events-in-one competition, totally 4494 points. The remaining five events will be held Sunday.
"I just have to stay relaxed and get a good night's sleep, which is hard to do in the middle of a decathlon because your mind goes in all sorts of places," said Scantling, who had quit the sport after the last trials and had a brief stint in the NFL in 2017. He participated in rookie camp with the Falcons and preseason training camp with the Jaguars as a wide receiver before being cut.
He found his way back to the track in 2019 and is now on the verge of finally earning an Olympic berth. "If you have a dream, you have to put the work in or someone else is going to get in there and take your spot," Scantling said. "It might not have worked out the way people thought it would, but I took a lot from it. I'm doing exactly what I need to be doing."
Two-time world champion Sam Kendricks was among the six men who led the pole vault qualifying at 5.65 meters (18-6 ½) on a windy afternoon. Kendricks, the bronze medalist in Rio five years ago credited his experience for helping him manage the chaos. "I am not a smart guy but I am trained in pole vault," he said. "The conditions will hurt some guys and help others."
Three-time Olympic medalist Will Claye was the top qualifier in the men's triple jump, leaping 16.85 meters (55-3 ½) while Marc Minichello led the men's javelin preliminaries with a throw of 76.63 meters (251-5).
Rich Sands is a New York City-based freelance editor and writer and has been a correspondent for Track & Field News since 1995, covering the sport at the high school, college and professional levels. He was previously an editor at TV Guide Magazine, overseeing the magazine's Olympic coverage.