Christen Press, Lynn Williams Score In 2-0 Friendly Win Over Nigeria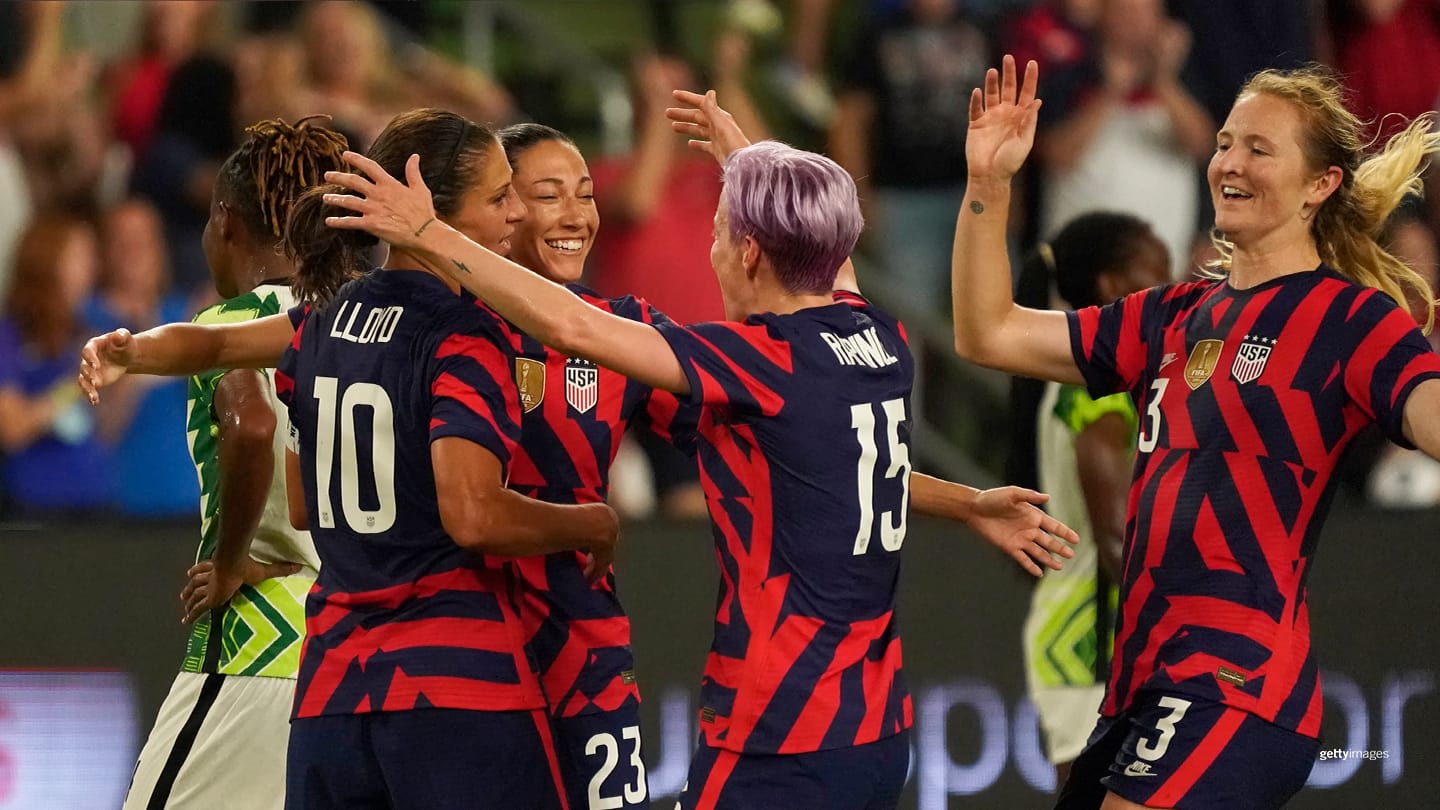 Christen Press is congratulated by teammates during the first half of their WNT Summer Series game at Q2 Stadium on June 16, 2021 in Austin, Texas.
U.S. women's soccer coach Vlatko Andonovski has no doubt been losing sleep trying to decide who's in and who's out of his 18-player roster for the Olympic Games, but he can rest easy knowing Christen Press is in his scoring attack.

With her goal in first half stoppage time of Wednesday night's Summer Series friendly against Nigeria, Press continued what has been one of the finest stretches in USWNT history and scored the only goal the U.S. would need in a 2-0 victory. It was Lynn Williams, striving to earn a place on that Olympic roster, who provided an exclamation point in stoppage time of the second half to cap the scoring.

Press has now been directly involved in 33 goals out of her last 35 games, a stretch including 14 goals and 19 assists. Press moved into ninth place all alone for most goals in USWNT history, passing Shannon MacMillan with her 61st international tally. Press has proven to be a mainstay in Andonovski's lineup, starting seven matches in a row.

Much as it did in its other Summer Series matches against Portugal and Jamaica, the U.S. dominated possession, holding a 72-28 advantage and a 6-1 lead in shots. Andonovski deployed a similar lineup to the 1-0 victory over Portugal, with one of the changes being Carli Lloyd starting in place of Alex Morgan. Lloyd assisted on Press' goal. U.S. keeper Alyssa Naeher kept her 42nd career clean sheet and her 13th in her last 14 matches.

The U.S. extended its unbeaten streak to 42 matches, and will next put the streak to the test on July 1 for the first of two Send-Off Series matches in Connecticut against Mexico. After that series, the U.S. is off to Tokyo where it will kick off the Olympic tournament on July 21 against Sweden.
Todd Kortemeier is a sportswriter, editor and children's book author from Minneapolis. He is a contributor to TeamUSA.org on behalf of
Red Line Editorial, Inc.