Brody Malone Takes U.S. Men's Gymnastics Title, Snapping Sam Mikulak's Win Streak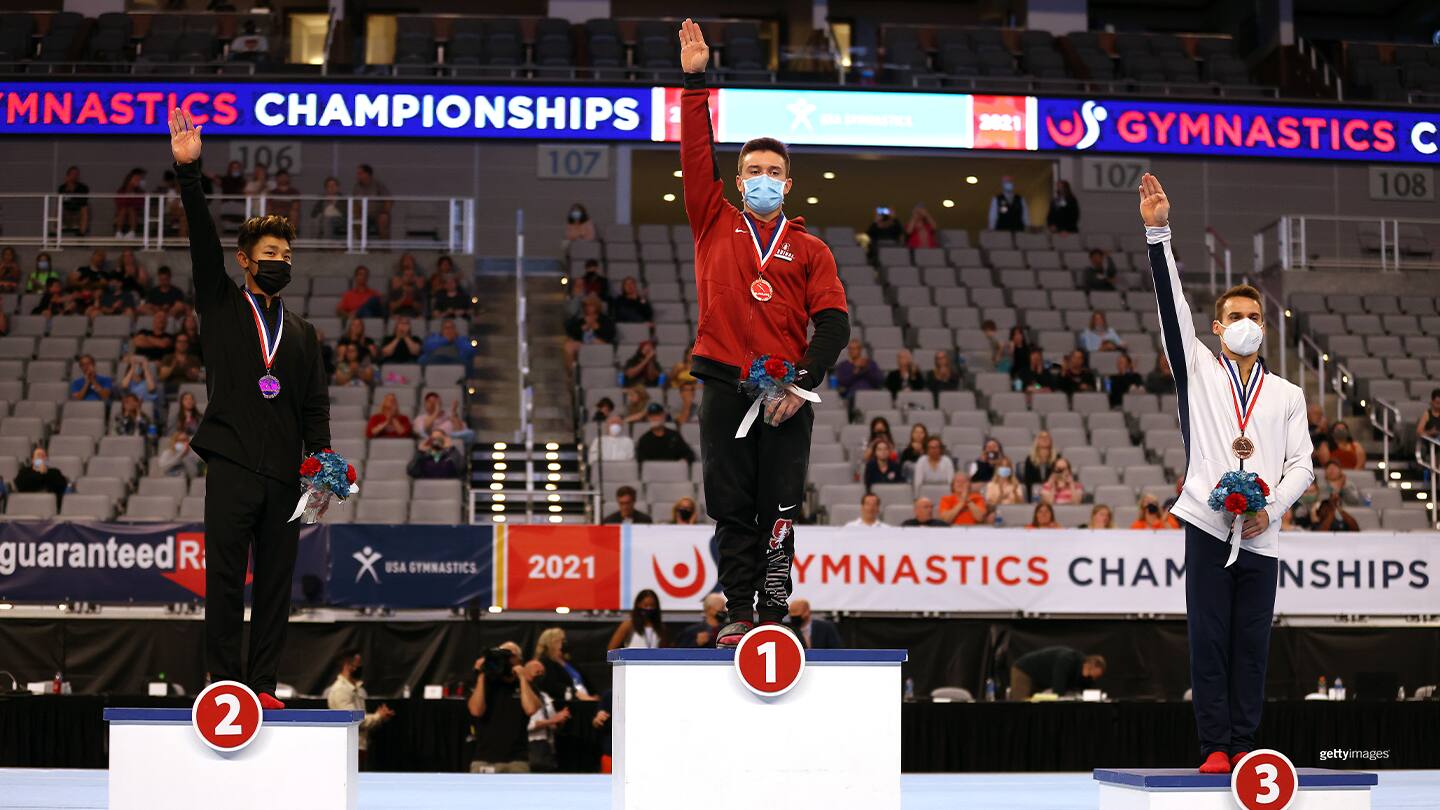 Men's Senior all-around gold medalist Brody Malone, silver medalist Yul Moldauer, and bronze medalist Sam Mikulak pose on top of the podium following the U. S. Gymnastics Championships at Dickies Arena on June 05, 2021 in Fort Worth, Texas.
After Brody Malone jumped out to an early lead Thursday at the U.S. Gymnastics Championships, he did what any low-key country guy from northern Georgia would do.
"I deleted Instagram off my phone," he said. "I just wanted to keep my head in the game, stay focused."
He might be in for a whole lot more attention after locking up that men's all-around title Saturday in Fort Worth, Texas, in the process snapping Sam Mikulak's stranglehold on the U.S. crown and firmly cementing himself as a favorite for this summer's Olympic team. The 21-year-old from Summerville, Georgia, won the two-day competition with a combined score of 170.7, beating former national champions Yul Moldauer by 2.75 points and Mikulak by 3.3.

"This one's all Brody, hands down," Mikulak, 28, said. "That kid's the future. I'm just this old guy trying to keep up with him now."

For the first time since 2012, Mikulak competed in all six events at the U.S. championships and won't go home the winner. The only time he didn't win during that stretch was in 2017, when he was injured and competed only two events.

"I'm just glad that there's someone to fill my shoes when I'm gone — and overstep me right now," said Mikulak, who plans to retire after this season. "My goal is just to make the (Olympic) team. I know I'm not at my best, and I'm just trying to keep up with him."

A two-time Olympian and five-time world championships participant, Mikulak's quality has never been in question. As his domestic winning streak carried on, though, notably missing most years seemed to be a true competition for the U.S. all-around title.

That changed in a big way this year, and perhaps just in time for Team USA to make a strong showing at the Olympic Games that begin in less than 50 days in Tokyo.

Malone, coming off his second NCAA all-around title in two tries, and his Stanford teammate Brandon Briones shined as the U.S. championships kicked off Thursday, with Malone holding the lead at the midway point and Briones tying for second with Moldauer, the 2017 U.S. champion. Right up with them was Shane Wiskus, a member of the 2019 world championships team along with Mikulak and Moldauer. Mikulak, meanwhile, was down in seventh after a night of uncharacteristic struggles.

After a second night of competition at Dickies Arena, Briones ended up finishing fourth (167.15), followed by Allan Bower (166.15) and 2016 Olympic alternate Akash Modi (165.5), while Wiskus fell from second to ninth in the last rotation when he fell of the high bar three times. His final score was 162.15.

All are expected to be in the picture when the country's top gymnasts reunite for the U.S. Olympic Team Trials in three weeks in St. Louis — and unlike in years past, they'll do so with a clean slate. Typically results from nationals and trials are taken into account when putting together the Olympic team, but this year's four-person squad, plus an individual participant, will be determined only by results at trials. That's because some Olympic hopefuls were competing this weekend at the Pan American Championships in Brazil.

With no national championships last year due to the pandemic, this year's meet was bound to bring some surprises.

That played out right away with Mikulak. The only Olympian in the field fell on parallel bars, one of his better events, and went through the rest of the night battling fatigue and a lack of confidence, he said.

Meanwhile, Malone, with a meaty NCAA resume but not much experience on the senior elite level, left no question that he was for real.

But Mikulak had developed a reputation for injecting some unforced drama into his past nationals wins, and there was a moment Saturday when it looked like the competition might be returning to a familiar script.

After consulting with his sports psychologist, the former Michigan Wolverine opened night two with a statement floor exercise routine. Then, as if a Hollywood screenwriter stepped into the building, Malone dropped from a vertical position on the parallel bars, slammed his right shoulder onto the bar and fell to the floor.

Just like that, the reigning champ was up to fourth place, now 1.9 points back with five routines remaining.

That's when the new guard officially shoved its shoe in the door, then swung it back open.

"I think that was the kick in the butt I needed to get my mind back on track," Malone said.

In the next rotation Malone, swinging like he wanted to pull the high bar off the podium, was nearly flawless in a show-stopping routine punctuated by a stuck landing. With momentum back fully on the side of the next generation, Mikulak then fell on his pommel horse routine, making it two nights in a row with a major error there.

Although Mikulak rebounded to actually post the highest all-around score of night two at 84.95, it wasn't enough to catch Malone. The Georgian went through the rest of the night without any major issues and closed out the competition with the best combined score on vault while finishing second on rings and high bar.

Moldauer, in second, took home the national title on parallel bars and finished third on floor and rings. A former NCAA champion himself while at Oklahoma, he put together five solid routines each night — as well as falls on pommel horse both nights.

"There's no excuse, I fell both days," he said. "That is not something that I like to say I did. So for me it's analyzing what happened, why it happened and getting back into the gym."

Mikulak's redemption concluded with a powerful high bar routine of his own that helped him wrap up the national title on that event. After over-thinking the competition on Thursday and putting too much pressure on himself, Mikulak said he "felt the passion" again in that last routine, which also catapulted him back up to the all-around podium.

"That's the happiest third-place finish I'll ever have," he said.

Event specialists claimed the other apparatus titles, with Eddie Penev winning floor, Stephen Nedoroscik taking pommel horse and Alex Diab the rings.
Chrös McDougall has covered the Olympic and Paralympic Movement for TeamUSA.org since 2009 on behalf of
Red Line Editorial, Inc.
He is based in Minneapolis-St. Paul.