At The Men's Gymnastics All-Around Final, The Mikulak Era Officially Gives Way To Malone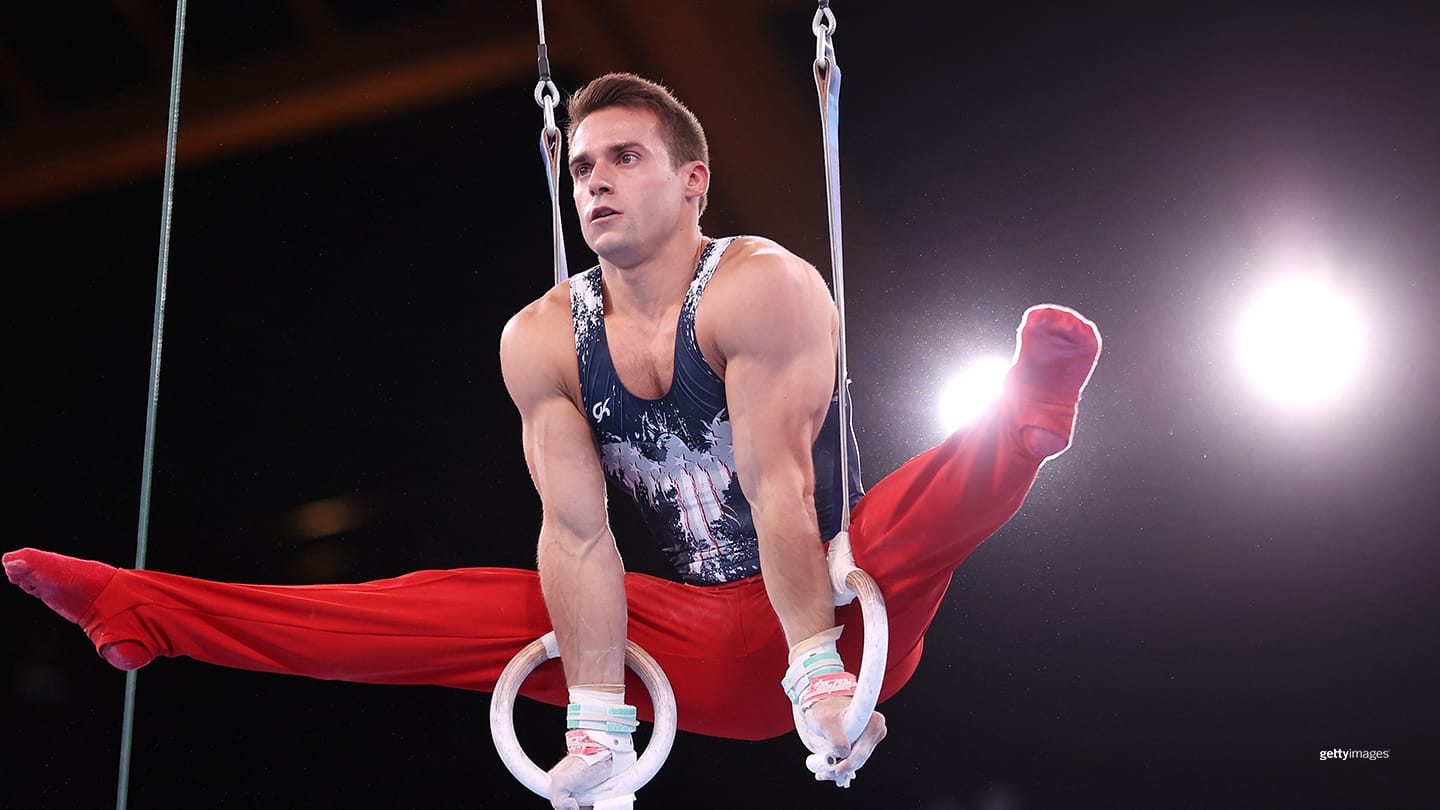 Samuel Mikulak competes on rings at the Olympic Games Tokyo 2020 on July 28, 2021 in Tokyo, Japan.
TOKYO — On a running track, there are marks painted 20 meters apart in each lane to create a changeover zone. It is here that teammates, both running at full speed, must seamlessly pass the baton from one to the other during the 4x100-meter relay.

The retiring U.S. gymnastics star Sam Mikulak arrived in his own figurative changeover zone in June when, for the first time in nine years, he entered the all-around competition at the national championships and left without the win.

On Wednesday, in the men's all-around final at the Olympic Games Tokyo 2020, the veteran completed the handoff right on time, sending 21-year-old teammate Brody Malone into the future as the newest standard bearer for the U.S. men's program.

"This guy's got it," Mikulak, 28, said. "Hands down, take it all right now, cause it's going to be a bright future, and it starts right now."

Japan's Daiki Hashimoto secured the gold medal with a thrilling final routine on high bar to bring his score to 88.465. China's Xiao Ruoteng was second with 88.065 points, followed by Nikita Nagornyy of the Russian Olympic Committee with 88.031.

A little further down the list were the Americans, with Malone scoring 84.465 in his Olympic debut to finish 10th, two spots ahead of Mikulak, who came in at 83.164. Each has an apparatus final remaining next week. After this all-around final, though, the Brody Malone Era of U.S. men's gymnastics has officially taken over.

"This guy's been rock solid, and I know he's gonna throw in some big upgrades soon too," Mikulak said. "He's really going to be a big force in the future."

For the better part of the last decade, Mikulak has been that guy.

Some great gymnasts have come through the program. Others won more medals at the Olympics and world championships. But since Mikulak made his first Olympic team in 2012, no American man has been as consistently good as the charismatic Southern Californian.

After making the London Games while still in college at Michigan, he won his first U.S. title in 2013, and then won every one other through through 2019 — save for the one year he was injured and didn't do the all-around.

Following the lost year due to the pandemic, all appeared set for national title No. 7 this summer before he rode into the sunset in Tokyo.
Brody Malone competes on the pommel horse at the Olympic Games Tokyo 2020 on July 28, 2021 in Tokyo, Japan.
Then Malone crashed the party.

Those who follow college gymnastics would have seen him coming. Still, his convincing win at the national championships in June — his first at the senior elite level — was a jolt to those used to seeing Mikulak coast to win after win in domestic meets.

The truth is, it was time

Mikulak accepted that a while ago.

Weary of a wrist injury that wasn't getting better and the strain that gymnastics was putting on him emotionally, he announced last August that this year would be his last. The decision was like a weight off his shoulders. So when, after years of waiting, another gymnast finally emerged to unlock his stranglehold on the national title, Mikulak was ready.

"It's been a lot of maturity on my part of knowing, hey Sam, this isn't going to be your year," he said. "And then to see this guy step up?"

Hailing from the small town of Summerville in northwest Georgia, Malone had made his name on the collegiate level, where he's already racked up a handful of NCAA titles in his first two years at Stanford. Among the wins was his second college all-around title this past April.

His lack of elite experience still made him something of a question mark going into this year. Nobody is questioning him now. After winning the national title and then the Olympic trials, Malone proved to be the country's top gymnast again in Tokyo. He led the way in the qualifying round, earning a berth into tonight's all-around and next week's high bar final, then provided four scores to the team's fifth-place finish on Monday.

For just a moment there on Wednesday, though, Mikulak looked like he might hold onto that baton just a little bit longer.

Malone had the advantage through the first three rotations. On the fourth, he successfully mounted the parallel bars with a brand new skill, meaning it'll soon be named after him in the code of points. But the routine went downhill from there. With several tiny form breaks, Malone opened the door for the veteran Mikulak to slip past him in the standings.

Mikulak might have stayed there, too, had he not sat down on a tumbling pass in his final rotation, on floor exercise. It was almost an exact repeat of what happened in the team final, when his last-rotation fall on floor dropped the Americans from fourth to fifth in the standings.

There was a time in his career when those falls would have seriously bugged him. Not anymore. These last few years have been about finding balance. He bought a house, got some puppies and last summer proposed to his longtime girlfriend, Mia Atkins. Along the way he also found the right mix of resources and tactics to manage his mental health.

Taken together, he said, it's all contributed to these being his "most stress-free Olympic Games." And when it all comes to a close on Aug. 3, following his final routine during the parallel bars final, he's not planning to get too emotional about it. He's had a good run, he's found peace with his career and now he's ready to move on to the next chapter, which includes getting married and going back to school to get a master's in sports psychology.

"All my previous Olympics I feel like there was just such a fear-based atmosphere, and that was due to my just not being my authentic self and trying to be someone who is trying to be what everyone expects me to be," he said. "And so for the first time I've been able to come out here and say no, I'm not doing this for anyone else. I'm just doing this for myself, and whatever happens happens.

"I'm still going to love myself, I've got a great support system, I've got a great life, and this doesn't define me."

Of course it's helped, he said, to know the program is in good hands. In addition to Malone, the other two U.S. teammates, Yul Moldauer, 24, and Shane Wiskus, 22, made their Olympic debuts here. The young group did pretty much what they hoped to in Tokyo.

And with that Mikulak has let go of the baton. Malone is ready to start running.

"This experience definitely motivated me a lot to up my start values, get some difficulty in," Malone said. "I want to be a contender for a medal in the next Games. I want our team to be a contender for the team medal too. We've got a lot of work to do, but this is definitely very good motivation."
Want to follow Team USA athletes during the Olympic Games Tokyo 2020? Visit TeamUSA.org/Tokyo2020 to view the medal table, results and competition schedule.
Chrös McDougall has covered the Olympic and Paralympic Movement for TeamUSA.org since 2009 on behalf of
Red Line Editorial, Inc.
He is based in Minneapolis-St. Paul.