With Third Fastest Time Ever, Katie Ledecky Takes Silver in 400 Freestyle; Caeleb Dressel Leads U.S. Men to 4x100 Freestyle Relay Gold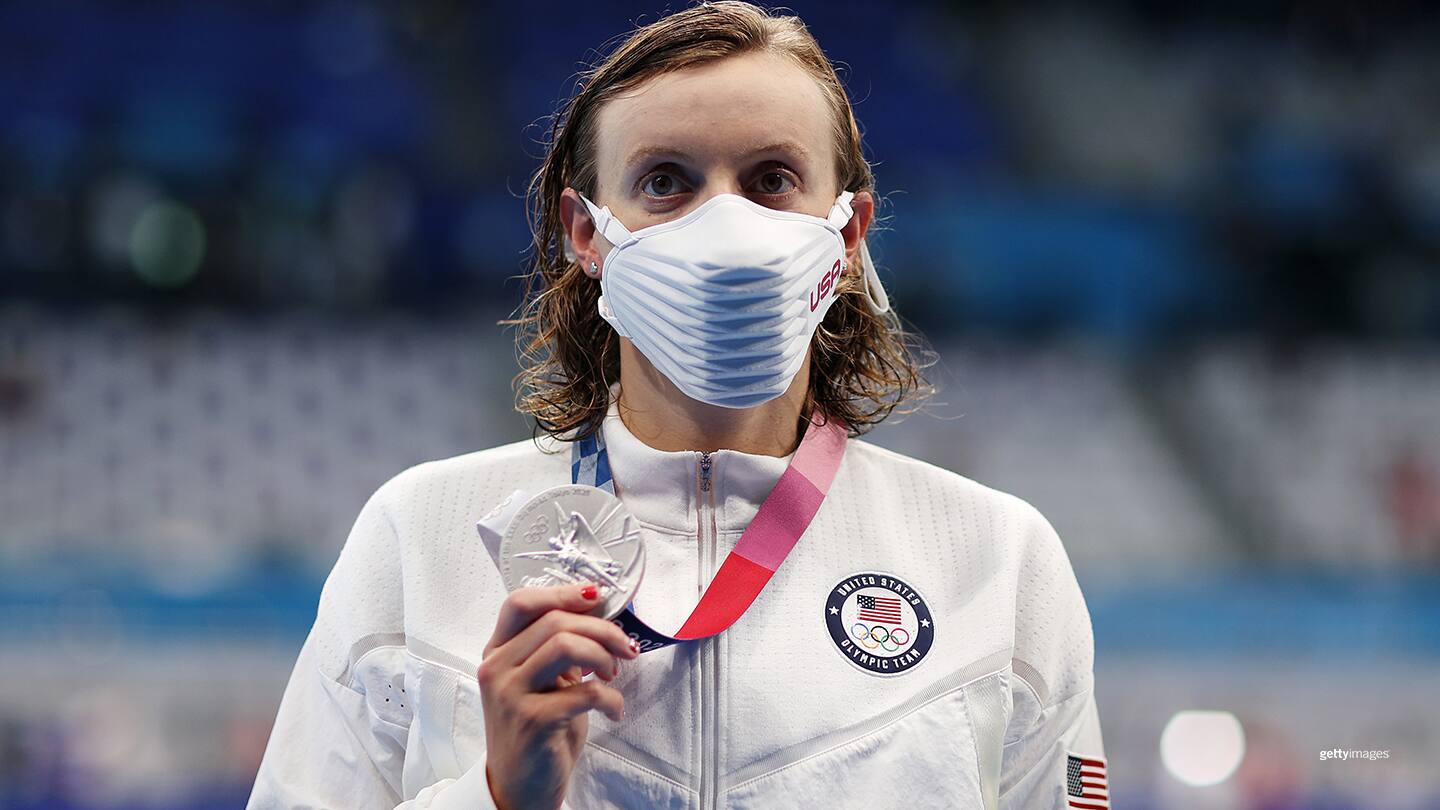 Katie Ledecky poses with the silver medal for the Women's 400m Freestyle Final at the Olympic Games Tokyo 2020 on July 26, 2021 in Tokyo.
TOKYO — If Katie Ledecky is the Roger Federer of distance freestyle swimming, then Australia's Ariarne Titmus is the Rafael Nadal. Coming to Tokyo, Ledecky was the defending Olympic champion in the 400-meter freestyle and world record holder, Titmus the reigning world champion.

In the race of the day — perhaps even the race of the Olympic Games Tokyo 2020 — Titmus passed Ledecky in the final 100 meters and claimed the gold medal in the women's 400 freestyle. Her time of 3:56.69 was the second fastest of all time, just 0.23 slower than Ledecky's world record (3:56.46) set at the Olympic Games Rio 2016.

Ledecky, 24, touched the wall in 3:57.36 — the third fastest time ever and Ledecky's fastest 400 in five years — and won a silver medal. It is her seventh Olympic medal and her second silver.

"I can't be disappointed with that," said Ledecky, who is competing in her third Olympic Games. "It was my second best swim ever, and I fought tooth and nail. That's all you can ask for."

Bingjie Li from China rounded out the Olympic podium with a time of 4:01.08.

Titmus credited Ledecky with raising the level of distance freestyle swimming.

"I wouldn't be here without her," said Titmus, who burst onto the swimming scene at the 2019 world championships when she was only 18. "She's set this amazing standard for distance freestyle for girls. If I didn't have someone like her to chase, I definitely wouldn't be swimming the way I am. I'm really grateful to have her."

Ledecky took the race out hard and was ahead of world record pace for the first 100 meters. At the 200, she was over a half-second ahead of Titmus.

"Honestly as a 200, I was a little bit worried," said Titmus.

But the Australian trusted her race plan, and while Ledecky swam steadily, Titmus began swimming each lap a little faster, reeling in her rival.

"I tried to say as composed as I could and use the easy speed that I have," explained Titmus. "And to pull it off in the backend against someone who has an amazing second half of her race, I'm really proud of that.

Ledecky expected the 400 free to be close. Titmus had beaten her at the 2019 world championships in the same event. But at that meet, Ledecky was fighting a stomach virus.

"She definitely swam a really smart race [at these Olympic Games]," said Ledecky, who is competing in the 200 freestyle semifinals and the 1,500 freestyle prelims tonight. "She was really controlled up front. I felt pretty smooth and strong going out. When I flipped at the 300, I was like, oh, you know, she's right there, so it's just going be a battle to the end. I didn't feel like I died or really fell off. She just had that faster last 50 or 75 and got her hands on wall first."

Although she was favored to win all her races here at the Tokyo Olympic Games, Ledecky was not disappointed with her silver medal in the 400 freestyle — or her time.

"I'd much rather get second that way then go 4:00 and get silver to 3:56 [winning time]," she said. "I was right there and just can't be too disappointed with that. I have a lot of racing to go, so just try to use it as momentum."

Ledecky still has the 200, 800, and 1,500 freestyle races, plus the women's 4x200 freestyle relay on her Olympic program.

Behind Titmus and Ledecky, Team USA's Paige Madden finished the 400 freestyle in 4:06.81 for seventh place.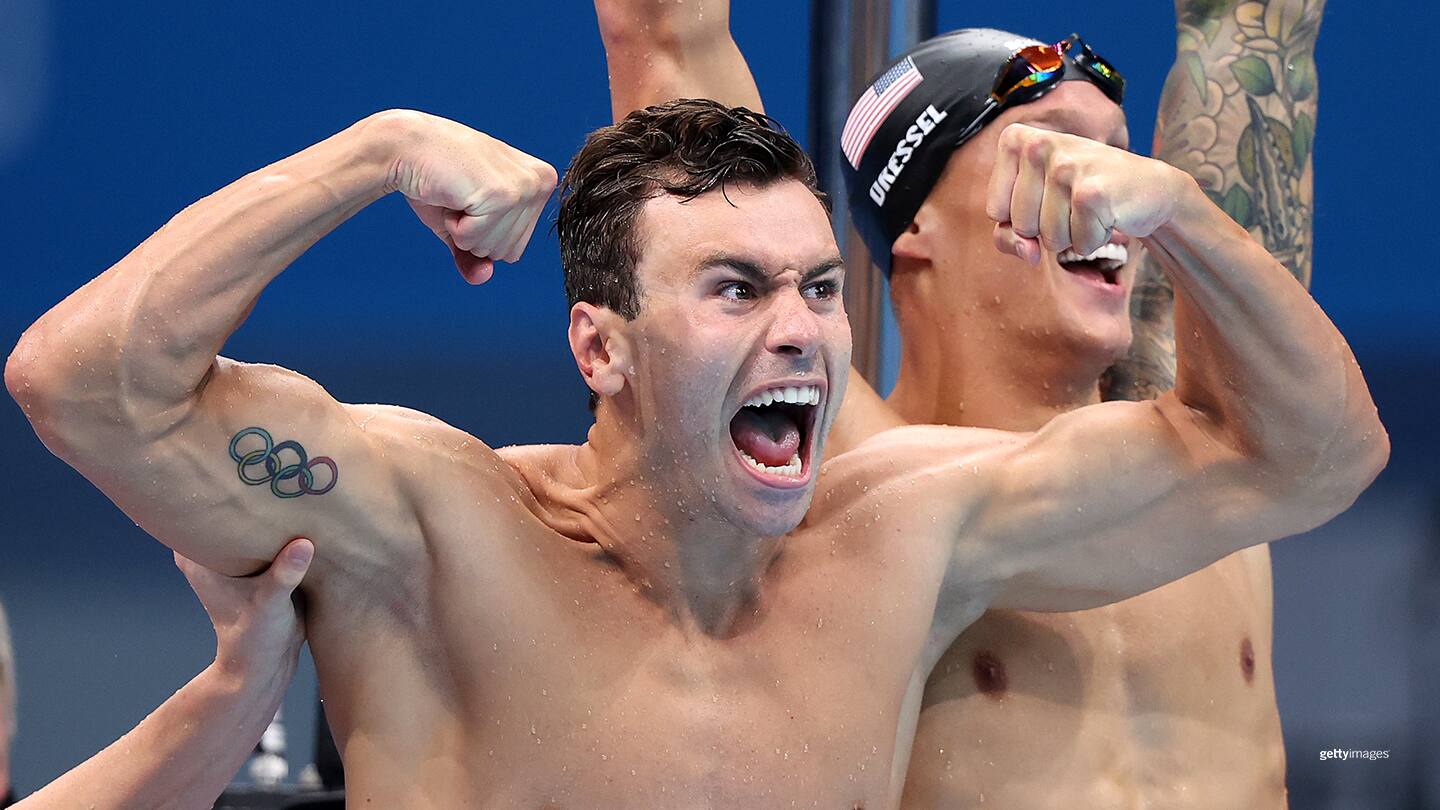 U.S. Men Win Olympic Gold In 4x100 Freestyle
Relay
Behind Ledecky, Team USA ended day 2 of Olympic swimming by winning the men's 4x100 freestyle relay. The relay of Caeleb Dressel, Blake Pieroni, Bowen Becker, and Zach Apple touched the wall in 3:08.97, just three-quarters of a second off the world record. They held off Italy and Australia.
"I knew they were going to get the job done," said Dressel of his teammates. "I wasn't nervous at all, especially when Zach hit the water, and I saw him break out. I knew it was over."
A 2016 Olympian and 13-time world champion, Dressel — who's favored to win six Olympic gold medals at these Games — led off the relay. Blake Pieroni, who competed as part of the 4x100 freestyle relay in Rio, swam second. Olympic rookies Bowen Becker and Zach Apple brought it home.
"It's easy when these guys give me a lead," commented Apple of anchoring the relay.
Since the 1964 Olympic Games, the U.S. men have only lost the 4x100 freestyle relay three times (2000, 2004, 2012). So the pressure was on.
It was also the first relay since the 2004 Olympic Games without Michael Phelps on the roster. But Dressel was not worried about the two Olympic rookies on the relay team.
"We know there's a target on our back every year," said Dressel, who's favored to win six gold medals at these Games. "We don't need the same guys every go-round. It's always competitive. That's why I consider our [Olympic] trials to be one of the fastest meets in the world. It's tough to make the team. If you make it, you deserve to be up here."
After the medal ceremony, Dressel handed his Olympic gold medal to Brooks Curry who watched the relay finals from the stands. Curry led off the relay in the prelims on Sunday night (Japan time).
"I had the easiest job last night out of everyone here, I got to watch it on TV," explained Dressel when asked why he gave Curry his medal. "So I felt like he deserved that a little more than I me. He had to shake the nerves out."
In the two other finals on day 2 of swimming, teen sensation Torri Huske missed a medal in the 100 butterfly by 0.01 of a second. She finished fourth in 55.73 behind Australia's Emma McKeon (55.72). Canada's Maggie MacNeil won in 55.59, with China's Yufei Zhang taking silver in 55.64. Reigning Olympic champion Sarah Sjoestroem was seventh.

It was the first time since 2004 Olympics that the U.S. has not won a medal in the women's 100 butterfly.

Michael Andrew finished fourth in the men's 100-meter breaststroke behind Adam Peaty (Great Britain), Arno Kamminga (Netherlands), and Nicolo Martinenghi (Italy).

But the 22-year-old American has two more races in his Olympic program: 50-meter freestyle and the 200 individual medley.

"No excuses," said Andrew. "I think God's got a plan for it. I don't know what's up. I'm doing everything in my power, and I'm confident in that. So now I just got to let the results come."
Want to follow Team USA athletes during the Olympic Games Tokyo 2020? Visit TeamUSA.org/Tokyo2020 to view the medal table, results and competition schedule.
An award-winning freelance writer based in Vermont, Peggy Shinn has covered six Olympic Games. She has contributed to TeamUSA.org since its inception in 2008.