In Fifth-Place Finish, The U.S. Men's Gymnastics Team Finds Satisfaction, Hope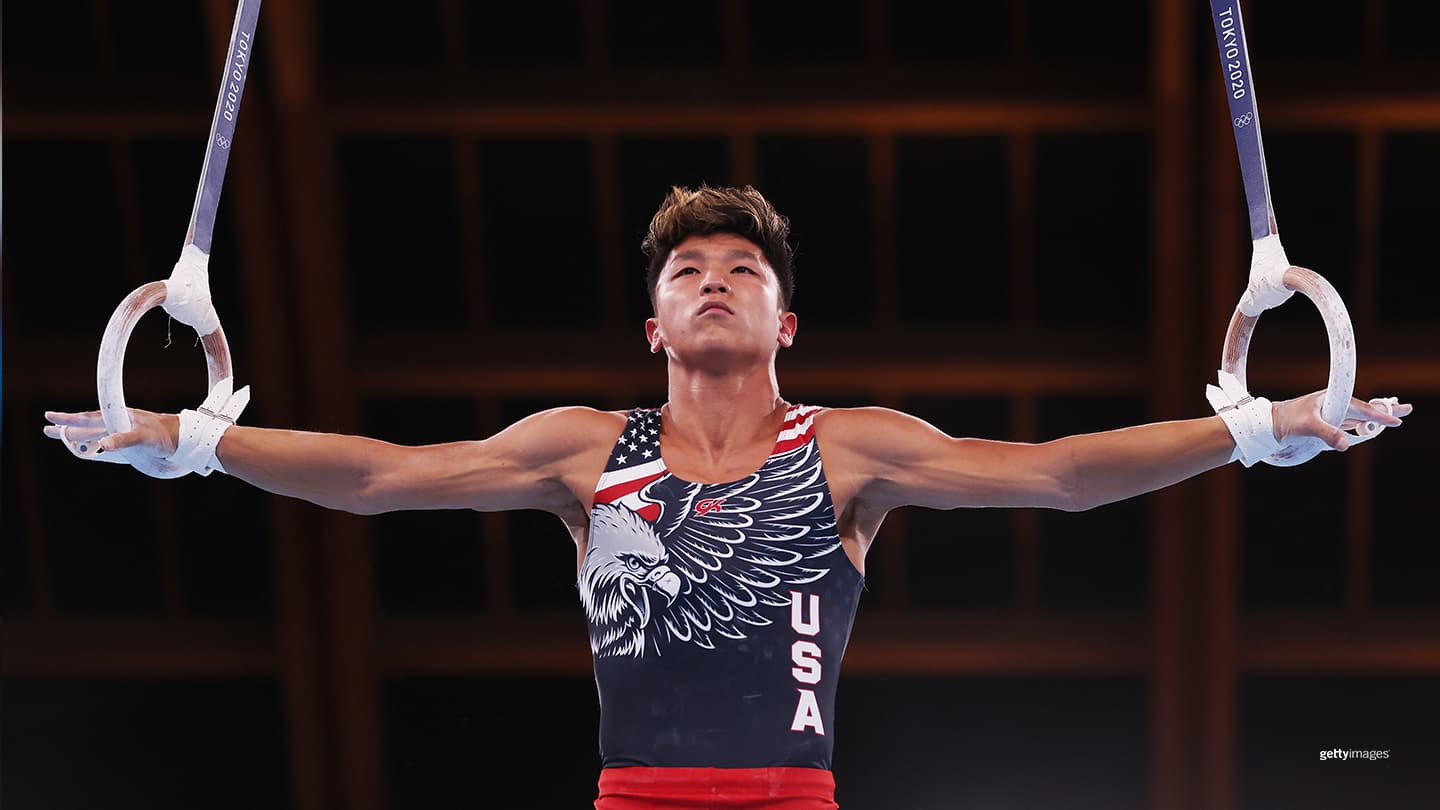 Yul Moldauer competes on rings at the Olympic Games Tokyo 2020 on July 26, 2021 in Tokyo, Japan.
TOKYO — Fifteen months ago, during the height of the pandemic, Yul Moldauer and a couple of his training partners installed a pommel horse in the garage of their Oklahoma home.

He was training for exactly this moment.

In Monday's team final at the Olympic Games Tokyo 2020, the U.S. men called on Moldauer to kick things off with the first routine of the night, which happened to be on pommel horse. And the 24-year-old delivered, his confident flairs setting the tone for his teammates to follow with a string of hit routines of their own.

It was a hot streak that lasted until the team's very last routine, No. 18 of 18, when Sam Mikulak lost his legs and rolled out of a landing on floor exercise. On a night when the Americans never expected to break onto the podium, barring something totally unforeseen from one of the three favorites, the U.S. squad of Mikulak, Brody Malone, Yul Moldauer and Shane Wiskus ultimately finished fifth, marking the third Olympics in a row Team USA ended in that position.

"We're just happy that we had a great showing like that," Mikulak said.

In a dramatic scene that came down to the final rotation at Ariake Gymnastics Center, the Russian Olympic Committee edged hosts Japan by .103 points to win the country's first Olympic men's team gold medal since 1996. The defending champion ROC scored 262.500 points, with Japan coming in next at 262.397 and China claiming the bronze medal with 261.894 points.

The U.S. had been solidly in fourth place for much of the night and appeared in position to finish that way until its final routine, when Mikulak fell on floor exercise, his score of 12.133 being the one blemish on an otherwise stellar night for Team USA and allowing Great Britain to sneak by in the standings. Great Britain ended with 255.760 points to Team USA's 254.594.

"I'll be honest, my old legs just were not ready for it," said Mikulak, 28, who plans to retire after his third Olympics wrap up with the individual competitions in the coming days. "But at that point I was like, ah, what's it really going to count? I'm just going to finish this up and we'll chalk it up, proud of how everything went."

The guys were never shy about their prospects winning of a medal, with ROC, Japan and China having separated themselves from the rest of the world in recent years. No other country has stood on a podium at a major global championship since the 2015 world championships, and their high start values mean even a perfectly executed performance by Team USA likely wouldn't be enough.

Going into the team finals, the Americans had "nothing to lose," Wiskus said. A win would require "a perfect meet," Mikulak added. "I think it would be a really flawless competition for us and a horrible competition for them."

"Do you believe in miracles?" quipped Moldauer. "That's the approach we're going to take."

There was no miracle on Monday night, which the Americans witnessed firsthand in rotating with the ROC. The Russians built up a huge lead at the midway point, then held on to clinch the victory with an emphatic final floor routine by defending world all-around champ Nikita Nagornyy.

Winning a gold medal was never the standard this U.S. team was holding itself to, though.

"We knew there was no hope," Mikulak said afterward.

Instead the U.S. gymnasts just wanted to come out perform a routine they could be proud of. And they did that, starting with Moldauer's electric opening horse routine.

It was one he dreamed of in April 2020. The COVID-19 pandemic had arrived in the U.S., and like many parts of the country, the city of Norman, Oklahoma, was under a stay-at-home order. Needing a place to train, Moldauer and his former University of Oklahoma teammates Genki Suzuki, Allan Bower and Colin Van Wicklen created one, acquiring a spare pommel horse, among some other equipment, and setting up a makeshift training facility in their garage.

"There were days when it was cold and when it was hot," Moldauer recalled tonight. "To have to train in your garage, where you're almost kicking the ceiling, it's pretty crazy. But to finally come out here and hit a set like that for the team, it felt really good."

The soft-spoken Moldauer, who grew up on a farm in northern Colorado, can give off the vibe of a guy who's super chill. Nerves were spinning through his body tonight.

"Oh man, I've been thinking about that horse all day," he said, adding that he "blacked out" early in the routine. "I knew that I had to go out there and start things off for the team."

Those lonely days in the garage paid off.

Moldauer hit his routine, setting up a string of two more hits from Malone and then Mikulak on what has sometimes been a troublesome event for the Americans. They ended the rotation having scored .233 higher than they did in Saturday's qualifying round, when all four gymnasts compete on each event and the lowest score is dropped.

With that safeguard removed and scores reset for team finals, the Americans cruised through their first three rotations, beating their qualifying score on rings and vault before falling just short on parallel bars, still their highest-scoring event by far on both nights. Then they moved on to high bar, where the powerful swinging of Wiskus, Malone and Mikulak sent the team to a two-point improvement over its qualifying score.

All appeared on track for a strong fourth-place finish, matching that from the previous two world championships. Until it wasn't.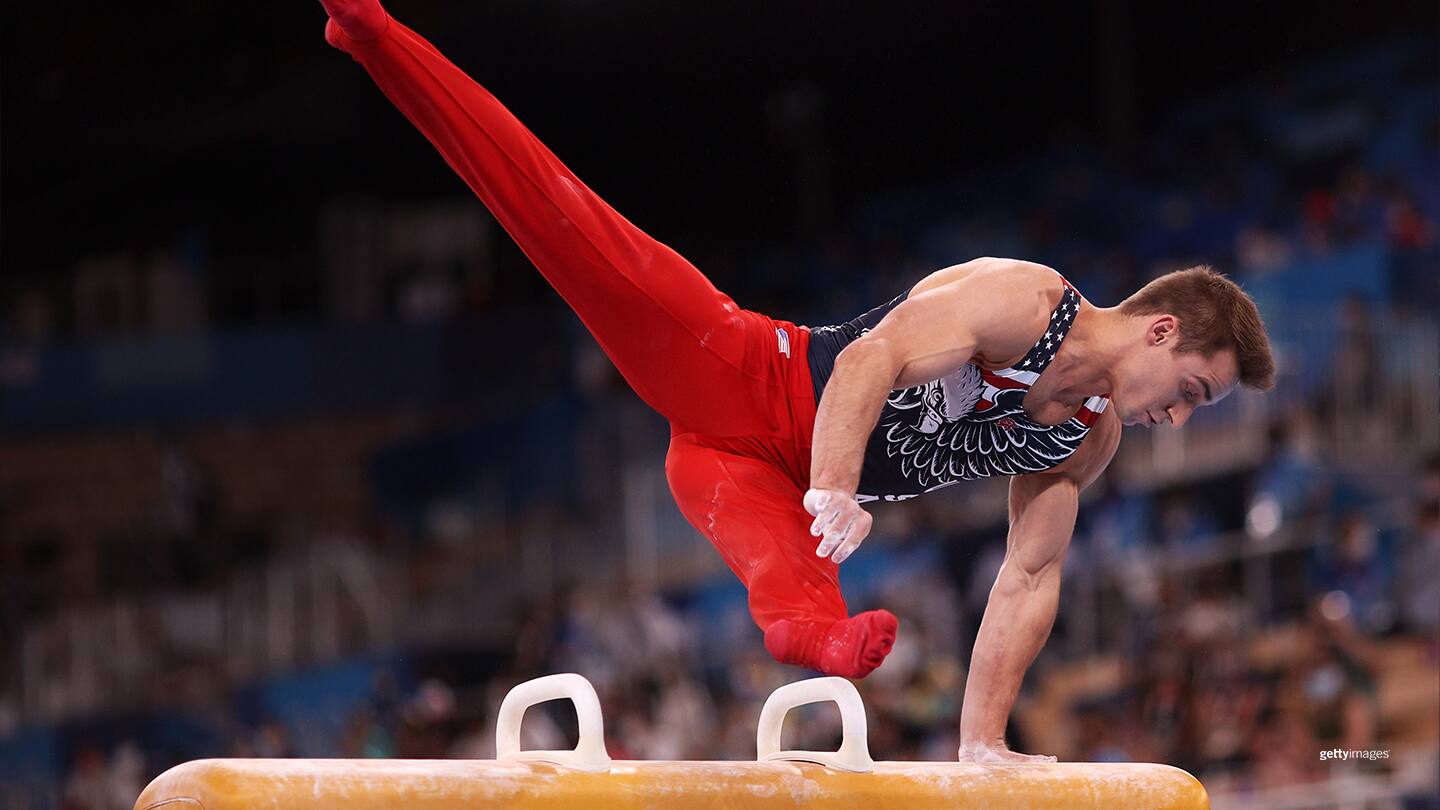 Samuel Mikulak competes on pommel horse at the Olympic Games Tokyo 2020 on July 26, 2021 in Tokyo, Japan.
The ending didn't put a damper on their night.

"No not at all," Mikulak said. "(Fourth place is) no third. We kind of knew what we were up against anyway. They all just knocked it out. So we were just like, alright, we're gonna do our thing."

Monday's competition likely concluded these Olympics for Wiskus, but the other three Americans each have individual event finals to come. Malone and Mikulak will go for the all-around title on Wednesday, while Malone (high bar), Mikulak (parallel bars) and Moldauer (floor exercise) are in apparatus finals Aug. 1-3. Joining them is Alec Yoder, who qualified for the Tokyo Games as an individual and didn't take part in the team competition but who qualified for the pommel horse final.

Wiskus is the first alternate for floor exercise, so he'll he called upon only if anyone withdraws.

As he walked off the floor for the final time on Monday, the Minnesota native stopped to take it all in.

"I was just trying to soak everything in, like sunbathing," he said. "I was just standing there as long as I could, being on the Olympic floor, every second I could, just looking around, really absorbing the atmosphere and enjoying that last moment. Because I'm done. I mean, I'm first reserve for floor so anything can happen, but that was it for me."

While there's still competition left in Tokyo for the other three, the Americans couldn't help but look forward to the future. Though Mikulak is leaving, his successor already appears to be in place in the 21-year-old Malone. The Georgia native and current Stanford star ended Mikulak's streak of six consecutive U.S. all-around titles earlier this summer, then backed it up with strong performances on both nights so far in Tokyo.

"This man is coming out hot, he's just hitting sets, he's rocking it," Mikulak said. "We needed someone to really rise to the occasion, and he came out of quarantine better than ever, and that's a hard thing to do."

He should anchor the U.S. program for the next Olympic quad, which due to the pandemic is now only three years until the Paris Games in 2024. Moldauer and Wiskus, 22, still believe they have a lot more to give, too. That gives them hope that by Paris, Team USA will be ready to return to an Olympic podium for the first time since 2008.

On his way out, Mikulak could resist leaving his cohort with some parting wisdom.

"I'm not going to be a part of it, but these guys are already talking about what routines they want to do next year," he said. "If there's any message to all the other guys that are young and inspired by watching the Olympics, it's to get out there and get all your difficulty right now."

He didn't have to tell his teammates twice. Asked what it'll take to break up the troika atop the sport, Malone was ready.

"A lot of difficulty," he said. "That is our goal, though. That is gonna happen."
Want to follow Team USA athletes during the Olympic Games Tokyo 2020? Visit TeamUSA.org/Tokyo2020 to view the medal table, results and competition schedule.
Chrös McDougall has covered the Olympic and Paralympic Movement for TeamUSA.org since 2009 on behalf of
Red Line Editorial, Inc
. He is based in Minneapolis-St. Paul.