Lily Zhang Hopes To Make History With First U.S. Olympic Table Tennis Medal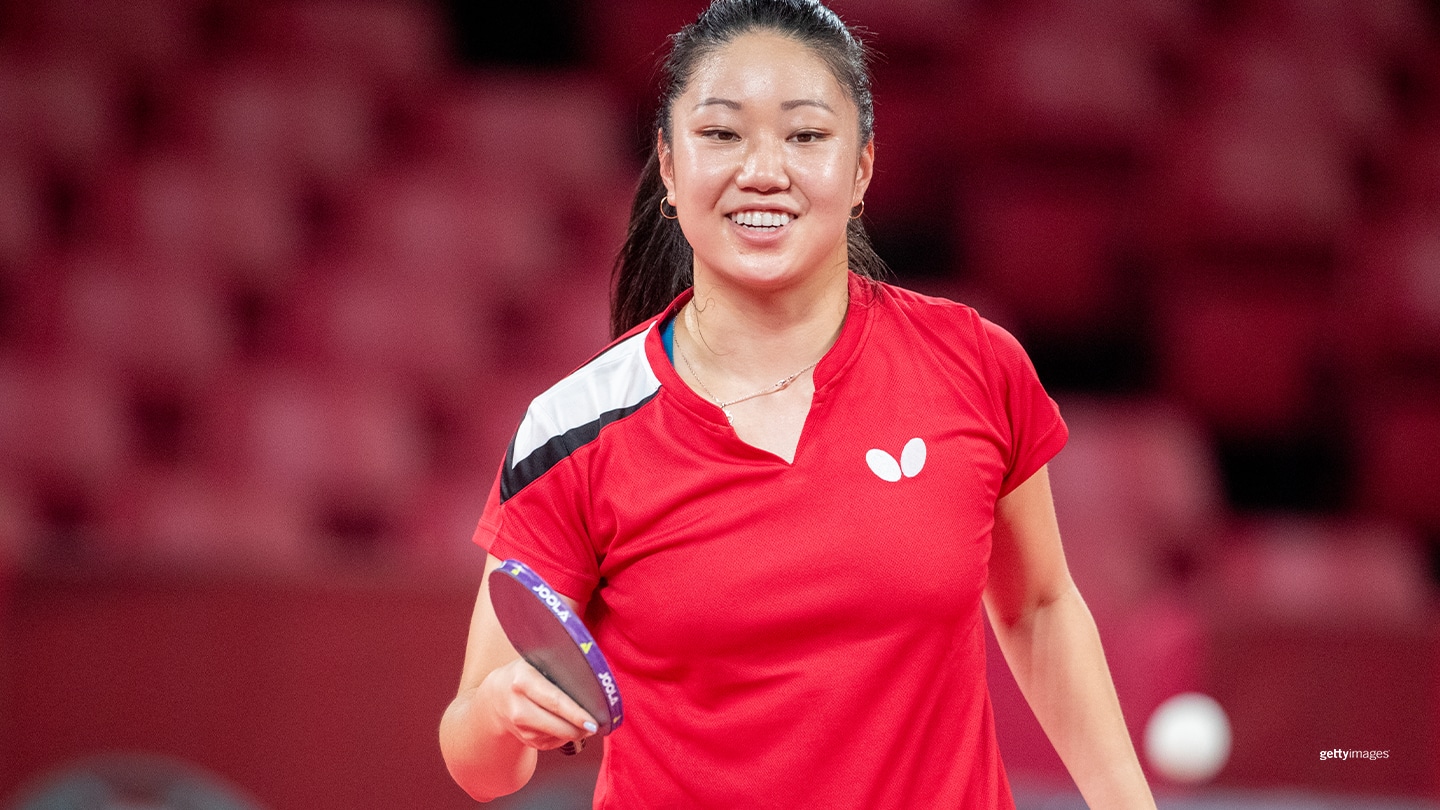 Lily Zhang practices prior to the start of the Olympic Games Tokyo 2020 on July 21, 2021 in Tokyo.
"Here" in one case means the Olympic Games, in which Zhang is currently competing for the third time in Tokyo, not to mention a turn at the 2014 Youth Olympic Games in Nanjing, China. Where Zhang has not yet been is the Olympic medal stand — save for a bronze at the youth edition. However, she is not unfamiliar with the upper echelons of table tennis. Her run to the semifinal of the 2019 World Cup didn't just bring her to the brink of the first World Cup singles medal for the United States, it gave her the self-assurance that she could soon find her way to an Olympic medal.

"The 2019 world cup was by far the best tournament of my life," said Zhang from Tokyo, where she will begin her Olympic tournament as the No. 18 seed in the second round on Monday. "And I feel like being able to make the semifinals of such a major tournament has given me a lot of confidence and motivation that I can do big things and I can compete with some of the best in the world. It's just really cemented my belief in myself."

That belief has been growing ever since Zhang, 25, took up table tennis at the age of 7. Her parents were born in China, and Zhang knew growing up in Palo Alto, California, that her experience was far different than that of young players in China where the sport is a national passion.

"I think USA Table Tennis has really come a long way," Zhang said. "When I first started the sport, there were a couple clubs in my area, I grew up in the Bay. But now going back home there's so many clubs all around and it's just so amazing to see all these new developments and new kids coming in and taking part in the sport I love so much. I just hope to see it continue to grow."

It's safe to say Zhang has been a part of that growth through her success from an early age. By the age of 12, Zhang was the youngest-ever member of the U.S. women's national team. By 2012, she was not only a national champion but appeared in her first Olympic Games. Two years later she became the first American to compete in the Olympic Games before the Youth Olympic Games. The achievements have kept coming since, as Zhang has won multiple national championships, became a Pan American Games gold medalist in 2015 and returned to a second and now a third Olympic Games.
"This is such a huge honor for me, it being my third Games, I would have never thought I'd be here today," she said. "I'm just so grateful that I had the past two Olympics. I feel like going through those Games has given me a lot of experience and things to learn from, so I just feel so blessed and honored and I'm ready to go and hopefully the third Games will be my best one."

Before competition began for Zhang in Tokyo she took in the Opening Ceremony. And she got to see one of her idols, tennis star Naomi Osaka, get the honor of lighting the Olympic torch to close the proceedings. Zhang admires the four-time major champion for not only her athletic achievements but her activism.

"I love Naomi Osaka so much," Zhang said. "I'm such a fangirl of her and I just feel like she's incredibly inspirational to us athletes as well because I feel like she really uses her platform to stand up for issues that she cares about. I just really love to see her being her authentic self; I think that we all can learn a lot from her."

While Zhang will be all business once she steps up to the table, away from it she'll be keeping things low key in Tokyo.

"To relax in between matches, I don't love to think too much about the game otherwise I get a little bit too nervous or I get a lot of anxiety," she said "So I just put on Netflix, watch my favorite comfort shows, which is always 'Parks and Rec' and 'The Office' or I just listen to music and just try to calm down and to relax."

Zhang stepped up her career after graduating from the University of California in 2018, turning professional and committing to the sport full time. She's since placed herself among the world's best players and has a chance at doing something Team USA has never done before — win an Olympic medal.

"I just want people to be proud of what I'm doing and I hope that I can do everything to make them proud," Zhang said. "Just playing the sport that I love and having the support of people that I love as well is just an incredible honor to me and I just want to be grateful for everything that I have."
Want to follow Team USA athletes during the Olympic Games Tokyo 2020? Visit TeamUSA.org/Tokyo2020 to view the medal table, results and competition schedule.
Todd Kortemeier is a sportswriter, editor and children's book author from Minneapolis. He is a contributor to TeamUSA.org on behalf of
Red Line Editorial, Inc.