Lily Zhang Reflects On "Ping Pong Diplomacy" Anniversary And Historic World Championships Bronze Medal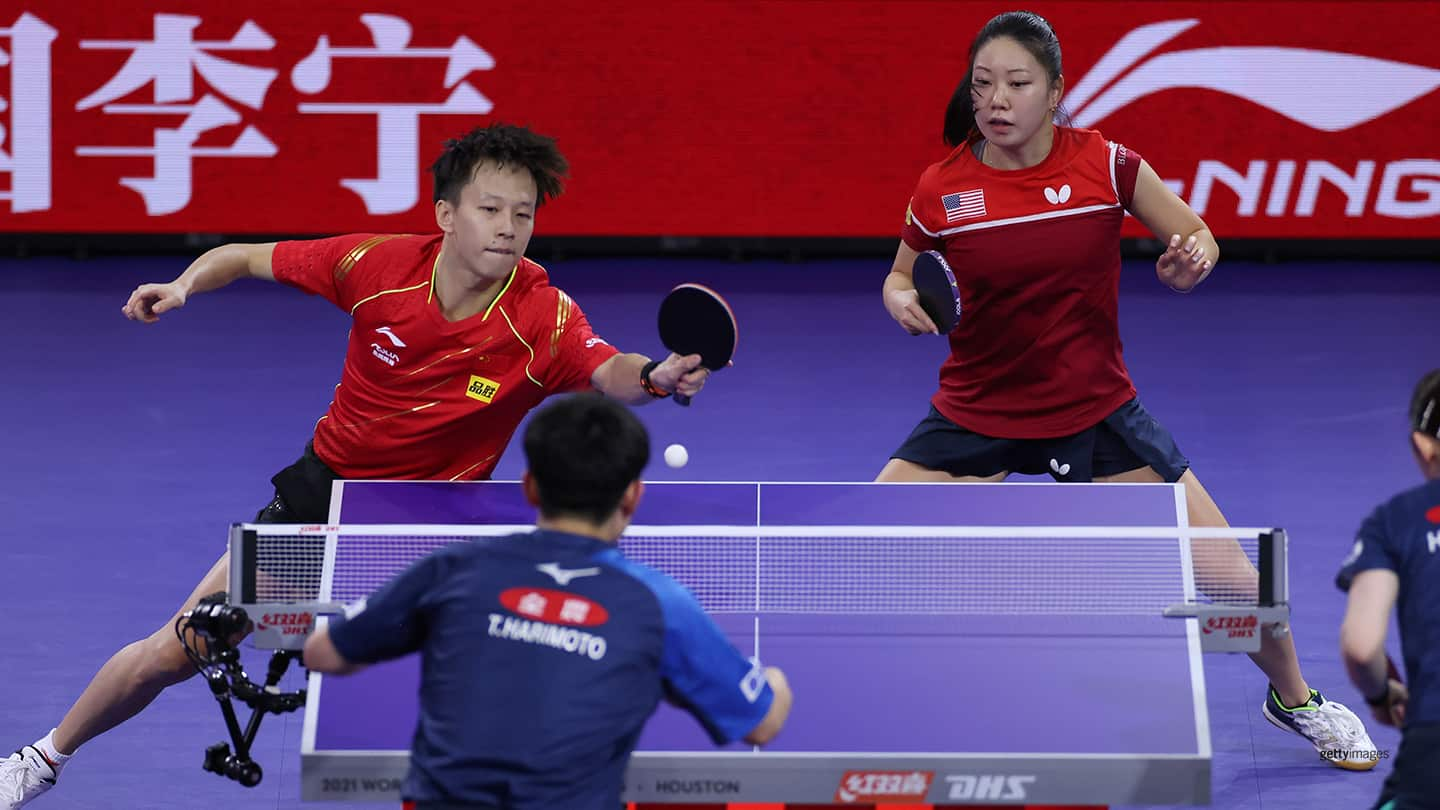 Lin Gaoyuan and Lily Zhang compete during the mixed doubles semifinals at the 2021 ITTF World Table Tennis Championships on Nov. 28, 2021 in Houston.
Lily Zhang was familiar with "Ping Pong Diplomacy," the friendly interactions between American and Chinese table tennis players in the early 1970s. She just didn't know she'd be part of the 50th Anniversary celebration until the day before the 2021 World Championships began in Houston.

"My coach called me up, 'Lily, do you want to play mixed doubles with the Chinese team?'" Zhang recalled. "I genuinely thought she was joking. I said, 'Yeah, sure, of course,' and then I realized she was being dead serious, and it was actually happening."

Zhang teamed up with Lin Gaoyuan of China to capture the bronze medal and add another successful chapter to the sporting history between the countries.

"It was the coolest feeling, but I was also very nervous," said Zhang, a three-time Olympian for Team USA from Fremont, California, "because China is one of the best countries at table tennis. I really wanted to do well not only for a good result, but to showcase to the rest of the world that our two countries can work together, and sport is something that can really bring us together and transcend all boundaries."

While the medal was one of 11 won by China in the tournament, it was the first medal for Team USA at the world championships in 62 years. (Technically, each country received credit for half of a medal.)

"I genuinely never in my wildest dreams expected that I could win a medal," said Zhang, who lost in the third round in women's singles and in the first round in women's doubles, "but given this opportunity to work together with China, it was really a once-in-a-lifetime thing. I'm so glad to be a part of it, because really it's crazy to be able to do this."


In the other "Ping Pong Diplomacy" pairing, Kanak Jha of Team USA, who reached the quarterfinals in men's singles, was paired with Wang Manyu of China, the women's singles gold medalist. They were eliminated in the third round.
Zhang's parents were born in China and because she speaks fluent Chinese, she had no problem communicating with her new partner. Zhang, 25, and Lin, 26, have known each other since they both played in the world junior championships, but Zhang said, "It was just saying 'hi' in passing.'"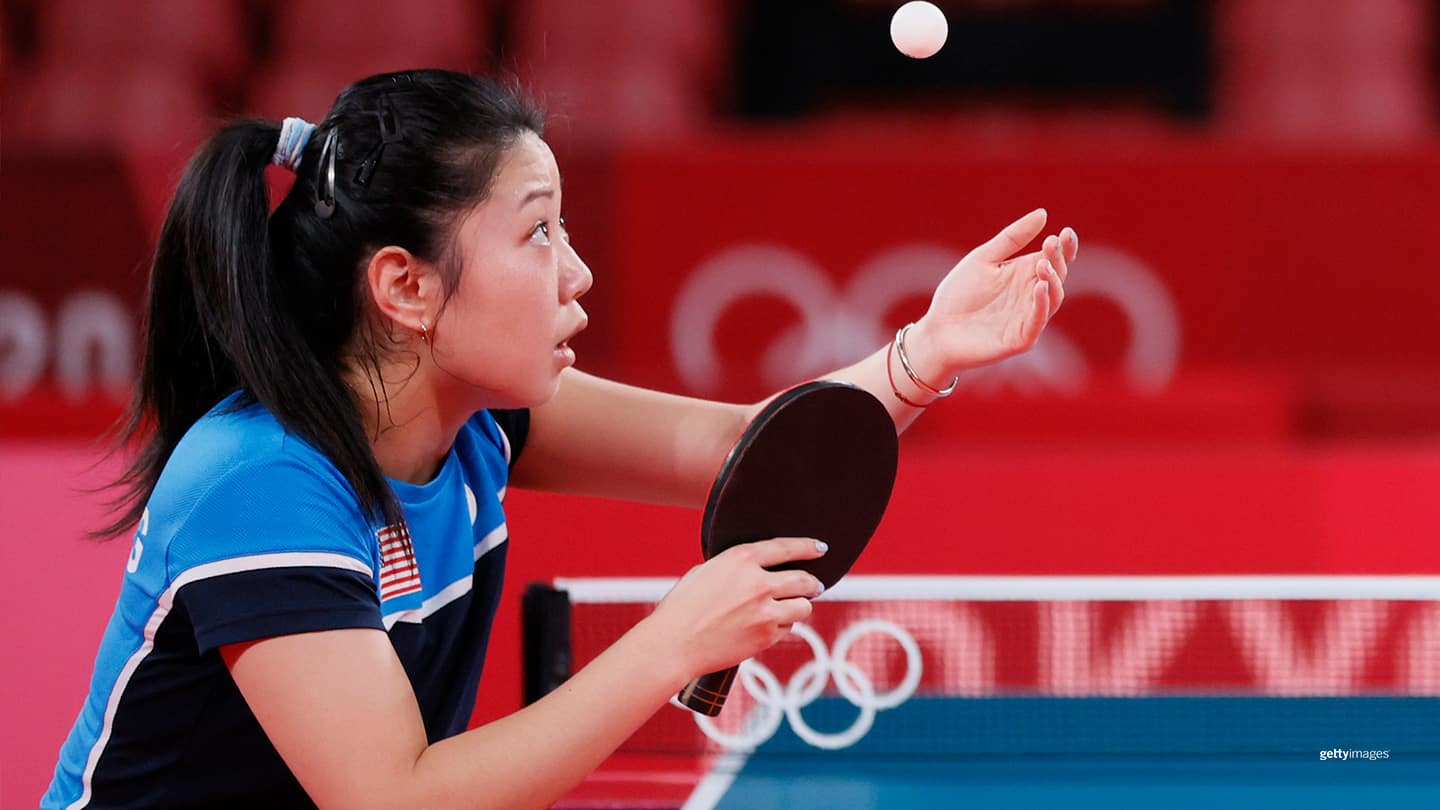 Lily Zhang serves the ball during her women's singles Round 2 match at the Olympic Games Tokyo 2020 on July 26, 2021 in Tokyo.
"I got to know him really well during this tournament," Zhang said. "He was very, very supportive and reassuring throughout the whole process. He was always trying to help me with not only technique, but also my mental game, reassuring me that it's OK if I miss a few balls. 'Play freely, play point by point.' Overall, it was really incredible."


Zhang said her parents watched every match online and were "ecstatic" to see her play mixed doubles with a player from China.
Lin also won a bronze in men's doubles and reached the quarterfinals in singles.
"Since our predecessors initiated 'Ping Pong Diplomacy' 50 years ago, this is probably the first time both countries are teaming up for a competition," Lin said before the mixed doubles competition began. "We're witnessing a historic moment here. I'm very honored to have this opportunity to pair up with Lily for the mixed doubles event. We'll do our best to put up a spectacular performance for fans and audiences from both countries."
Lin and Zhang beat teams from Portugal, Germany, Russia and France before falling to Japan in the semifinals.
Zhang said some of the U.S. players who participated in the original "Ping Pong Diplomacy" were on site in Houston and she called them "the legends."
The initiative began at the 1971 world table tennis championships in Nagoya, Japan, and helped smooth the way for diplomatic relations between the U.S. and China during the administration of President Richard M. Nixon.
It was fictionalized in the movie "Forrest Gump," which Zhang admits she has never seen. "Probably one of the questions I get asked the most is if I can beat Forrest Gump," she said of the character played by Tom Hanks. "At this point, I'm pretty adamant that I don't want to see it because I get asked too much. But I heard it's a great movie."
Zhang has starred in her own movie, a documentary called "Top Spin." For her, it was just as historic to play in a world championships in the U.S. In 2019, Zhang was a member of the bid team in Budapest that persuaded the international table tennis federation to stage the event outside of Asia or Europe for the first time in 82 years.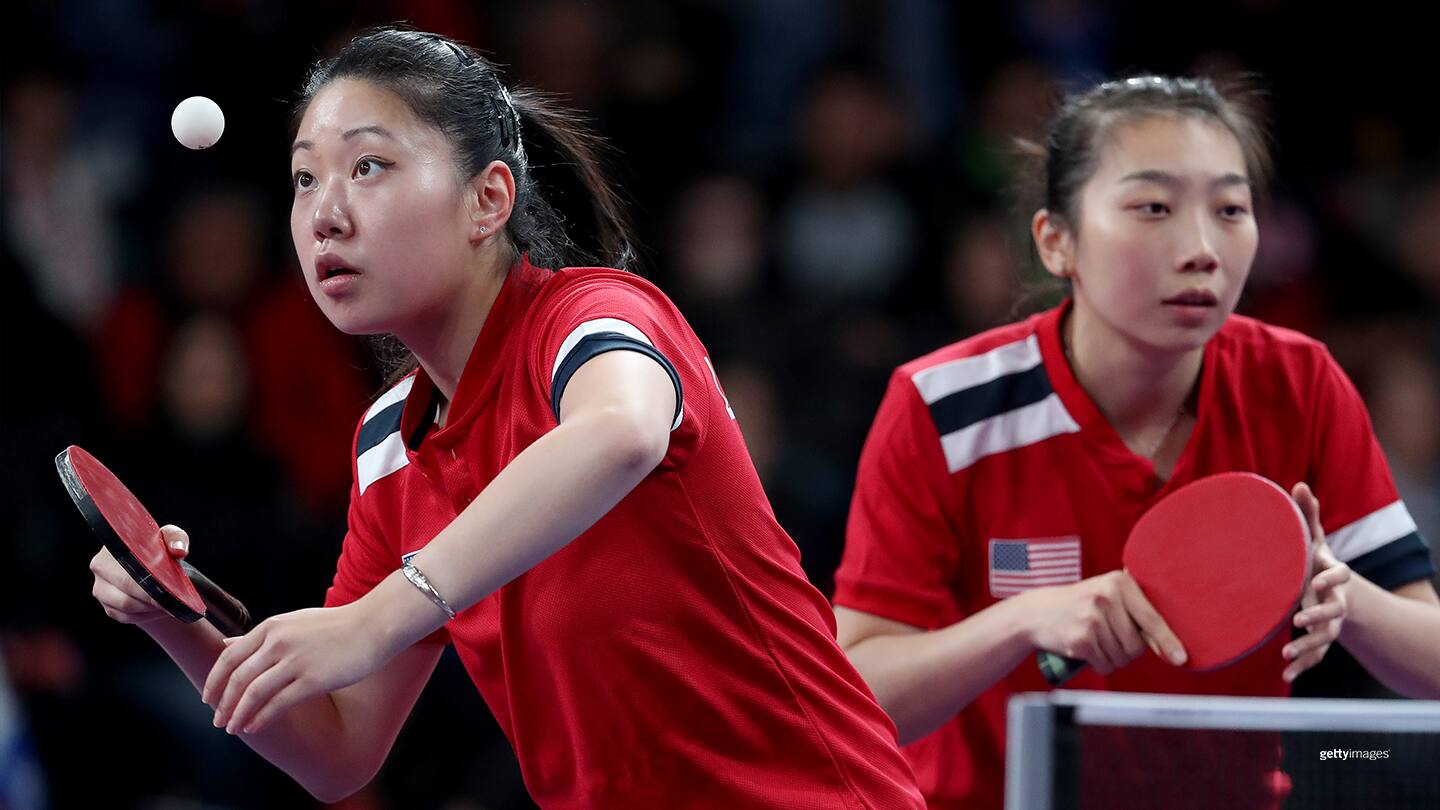 Lily Zhang competes during the women's doubles finals at the Pan American Games Lima 2019 on Aug. 6, 2019 in Lima, Peru.
To play in her home country, Zhang said, "It meant everything, honestly. It was like a full-circle moment. I got to be part of the bid and then compete in the world championships. To see it actually happen was so incredible, especially with everything going on in the world. It went phenomenally – there were so many fans, and the atmosphere was incredible. Hopefully, in the future we can host more."

Zhang ended the longest U.S. world championships drought in any Olympic sport when she won the first medal since Dick Miles earned the bronze in men's singles in 1959.

"It's a proud moment to see a U.S. player on the podium raising the U.S. flag at the world championships after over 60 years," said Virginia Sung, CEO of USA Table Tennis. "To get this far, we are standing on the shoulders of the generations that came before us, of those who dedicated their lives to the betterment of the sport. This is a moment of joy that belongs to everyone in our community, and this is also a moment of transformation for the sport of table tennis in the U.S."

In her presentation for the Houston bid, Zhang said staging worlds in the United States would be "an absolute game-changer for us."

"Table tennis is a bit of a niche sport in the U.S.," Zhang said. "Not too many people know about professional table tennis, so I felt like if we were able to have a tournament as big and prestigious as the world championships here, people would be able to see what the sport really is and get a taste of it up close. It would rake in so many more fans, and hopefully jump-start a bigger eco-system of table tennis in the U.S."

And Houston put its own mark on the event. The awards ceremonies were "very Texas-themed," Zhang said, with medalists wearing cowboy hats and medals that looked like bolo ties with stars.

The Chinese liked them, Zhang said with a laugh. "They were very amused."

Zhang's next tournament is the U.S. Open, which starts Dec. 17 in Las Vegas. She said her worlds bronze medal "honestly gives me more confidence. I feel really motivated now, having that under my belt, and I'm ready to go on to bigger and better things."
Karen Rosen has covered every Summer and Winter Olympic Games since 1992 for newspapers, magazines and websites. Based in Atlanta, she has contributed to TeamUSA.org since 2009.