Kaleigh Gilchrist Thanks Trainer Larnie Boquiren, Reflecting On A Day She'll Never Forget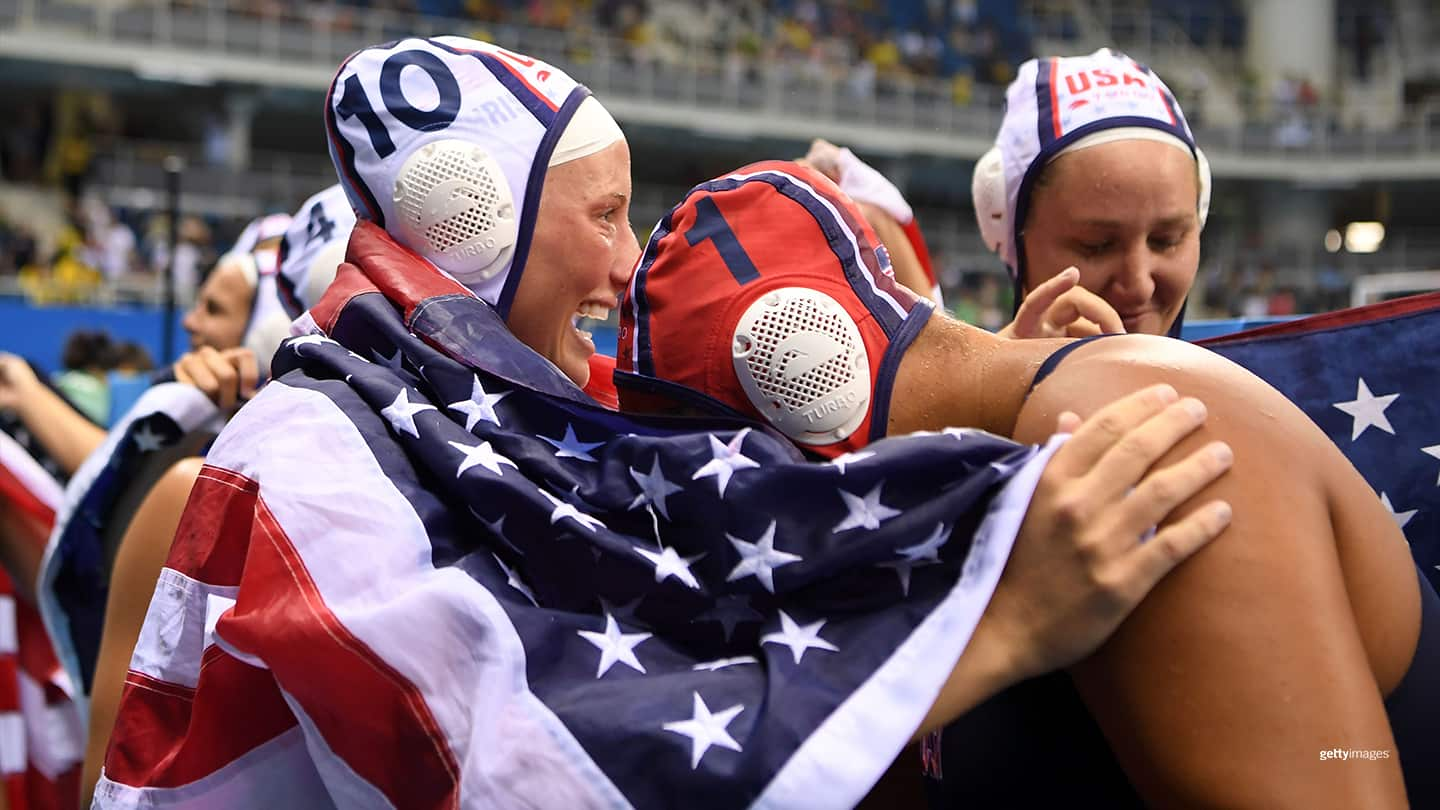 Kaleigh Gilchrist and Sami Hill celebrate winning the women's water polo final against Italy at the Olympic Games Rio 2016 on Aug. 19, 2016 in Rio de Janeiro.
Dear Larnie,

I am not quite sure I would be able to call myself a two-time Olympian without your love, support and guidance. You've always been by my side on this crazy two-year journey that you dubbed "The Mamba Mission," and we get to continue that mission to the Olympic Games Tokyo 2020.

July 27, 2019 will be a day I'll never forget. A day where nearly every emotion was felt from the highs of winning a world championship to the lows of being rushed to the hospital for surgery in a foreign country. There were a few scary moments after the balcony collapsed at that night club where I didn't know if I was going to make it. As time passed and help came quick, those moments became a little less scary and I began to question smaller realities, like if I will ever be able to walk again.

You were there with me going into surgery and the first person I remember when I woke up. You gave me some of the greatest news I've ever received: "Surgery went well and you were millimeters away from your nerve." It took me awhile to truly comprehend what that meant. I was one of the lucky ones that evening. I missed my nerve that allows my foot to function by millimeters, which gave me hope that I could still play sports again.

The people of Chosun University hospital were some of the nicest, but it didn't make the language barrier much easier. To have all this happen in a foreign country away from my family was hard, yet you and Dr. Seth made sure I felt as comfortable and supported as I could. We even managed to share some jokes and laughs amongst the fear and chaos; something that would be a staple on the Mamba Mission.

Once we finally got the okay to make the trek home, you took care of the logistics and allowed me to focus on what I could control. I slept the entire flight while you were up making sure everything was going as planned. One of a million examples of your selflessness. Landing in the US and being reunited with loved ones will forever be one of my happiest moments.
You already set up a doctor's appointment the moment we landed and another the next morning, coming to both prepared to write notes and eager to ask questions. You were at nearly every appointment after that all while being an athletic trainer for 17 other athletes. It was professionalism at its finest.

The next five months we focused on physical rehab. We set a goal in the Mamba Mission to be playing in our next tournament slated for December. The days were long and the work was hard, but you managed to bring joy and creativity to keep things fresh from tap dancing to synchro swimming to playing the ukulele. Progress was being made and fun was being had even through some of my darkest days. This experience taught me a lot about perspective, but so did you. You reminded me that every day is a big day if you know where to look and what to celebrate. The work paid off and we accomplished our goal of playing in those games.

What came next on the Mamba Mission was something I wasn't prepared for: the mental phase. You were still there by my side helping in a different role now, as a friend. A friend that pushed me and was willing to have those tough conversations. This phase was harder than all the 12-hour physical days combined. Time and work was put in and once again you could see the progress being made. Progress that I'm not sure I would have reached without your constant checking in and care for my well-being. You had a huge role throughout, but specifically at this point, you gave me space to process, reflect and cherish family time. You went above and beyond your duty as a trainer, being a great friend, being supportive and giving me the foundation to build back my body and my career.

Now I understand more than ever when Kobe Bryant said, "As I look down at my scar, I see beauty in it. I see all the hard work, all the sacrifices. I see the journey that it took to get back to this point of being healthy. And I see beauty in that struggle. That's what makes it beautiful."

When I look down at mine, I see the same exact thing. What a beautiful struggle it's been. Your selflessness, professionalism, work ethic, love and humor guided me throughout this journey. Every big accomplishment and every struggle you were there, and I'm hoping we can accomplish one more goal in Tokyo by each other's side.

"Job's not finished."

Love,
Kales