Diver Krysta Palmer's Long and Twisting Road to the Olympics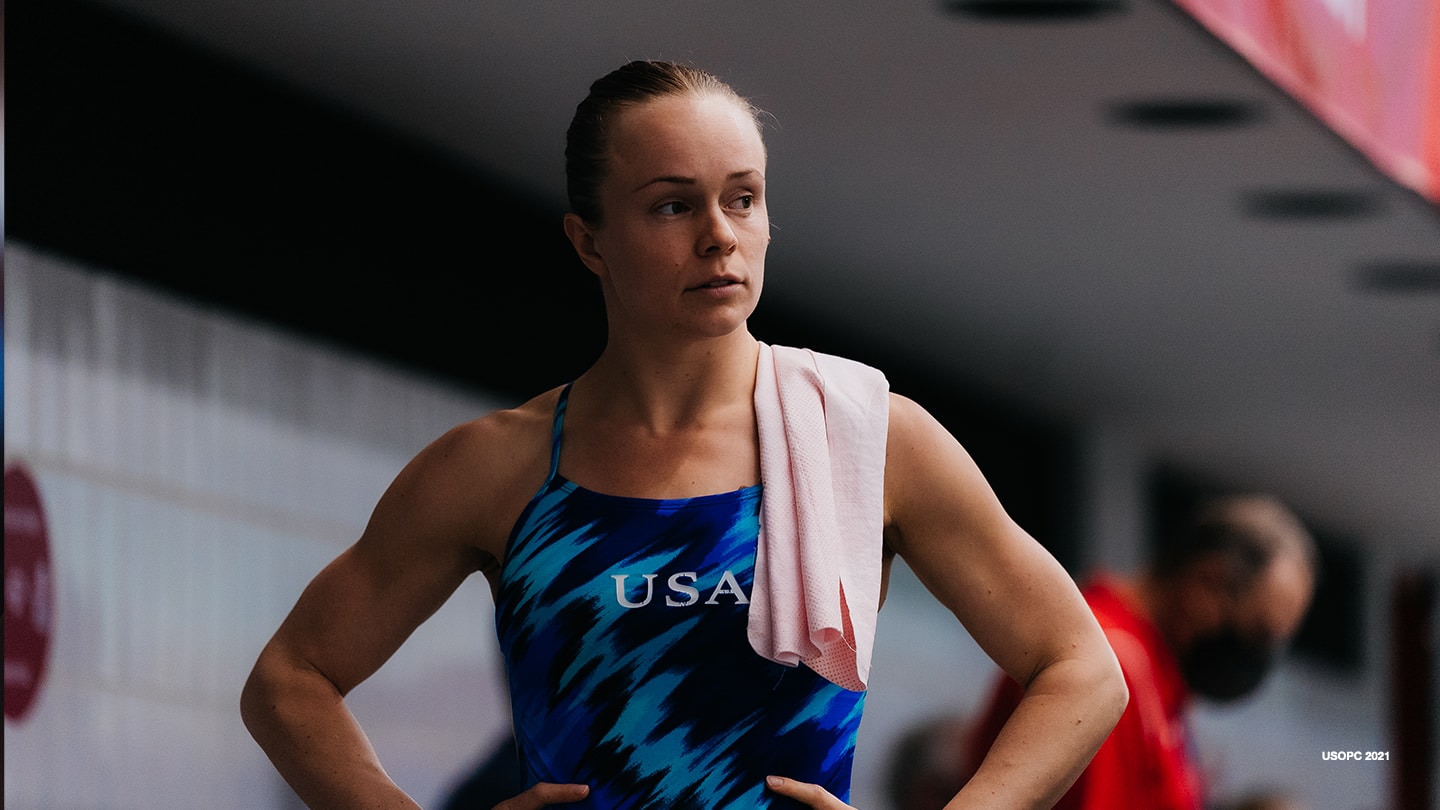 Krysta Palmer at the U.S. Olympic Team Trials - Diving on June 8, 2021 in Indianapolis, Indiana.
Krysta Palmer is well-acquainted with long journeys full of detours and challenges.

Not only is she a first-time Olympian at age 29, Palmer is also a member of the Iron Butt Association.

On June 10, 2012, Palmer rode behind her father on a motorcycle as they covered 1,200 miles in 24 hours. Along the way, they had to go to designated locations – with Palmer prowling around graveyards in the middle of the night and taking selfies next to road signs.

"It was pretty wild," she said. "It was basically a scavenger hunt on a motorcycle. Iron Butt is true because it is painful sitting on a motorcycle for almost 24 hours."

At that point in her life, Palmer was almost 20 years old and hadn't even begun diving.

Exactly nine years later on June 10, 2021, Palmer qualified for the Olympic Games Tokyo 2020 in 3-meter springboard synchronized diving with partner Allison Gibson. Two days later, Palmer won the 3-meter springboard individual event and the next day she turned 29.

It's been quite the odyssey for Palmer to reach this stage of her career with iron will taking the place of iron butt. And there's been some pain too along the way.

Palmer's athletic career started at age five when she began gymnastics to learn skills in lieu of somersaulting off the couch. Palmer had her first surgery at age 12 after tearing the patellar tendon on her left knee on a tumbling pass -- a rare injury for a child.

The Gardnerville, Nevada, native then gravitated toward trampoline, competing for eight years and rising to age group national champion with an eye toward the Olympics. But she blew out her right knee twice.

"Trampoline is really hard on your body," Palmer said. "When you hit the trampoline, you weigh almost two times your body weight and so it's a lot of pressure on your ankles, your knees, your hips -- all your joints in general."

The second injury to her right knee occurred when she was 18 and training with an elite team in California. Palmer tore ligaments five days before she was scheduled to leave for the world age group championships in Paris.
Even though her knee was the size of a softball, she still traveled to cheer for her team.

"That was a huge heartbreak for me because I wanted so badly to compete for Team USA," said Palmer whose grandfather, Norman Palmer, was an elite ski racer and later a golfer who regularly played with President Dwight D. Eisenhower. "I had been training so hard and I looked so good on the trampoline. We were a little under two years away from Olympic Trials. I knew it would take a year to get the recovery done and come back and bounce back from it."

Because of hip problems, however, she decided to drop athletics and focus on academics. Palmer went to community college in her hometown of Carson City, Nevada, moving back in with her parents.

"I just decided, 'Hey, okay, we still have education,'" she said.

Her athletic road wasn't finished though; it just needed another sharp turn. A friend who was a diver invited Palmer to watch him dive at the local community center pool. Then he said, "What can you do?"

"Everything I could do was all to my feet because that's all I ever knew," Palmer said. "So I did a front full twist to my feet and he said, 'Wow, let's just try to pull it around to your head.' Why not? So the next time I get up on the board and I do front full twist and a 1½ and I just tried to duck it into a dive -- and I kind of made it."

Her friend encouraged her to call the diving coach at the University of Nevada in Reno. Jian Li You, a champion Chinese diver who missed the 1980 Olympics because of the boycott, invited Palmer to come up for a meeting. She became a walk-on student-athlete in January 2013.

Palmer tried all three collegiate events: 1-meter and 3-meter springboard and 10-meter platform. Because the school didn't have a tower on campus, the Wolf Pack team flew 40 minutes to Stanford University for weekend training once or twice a month.

"My career has kind of gone in stages," Palmer said. "My freshman year my coach kept telling me, 'You'll learn. Keep working hard. Keep going for it and I'll reward you. Let's see how far we can go.'"

She progressed to a full-ride scholarship and then made her first USA national team.

"Our dreams just kept getting bigger," Palmer said, "so here we are."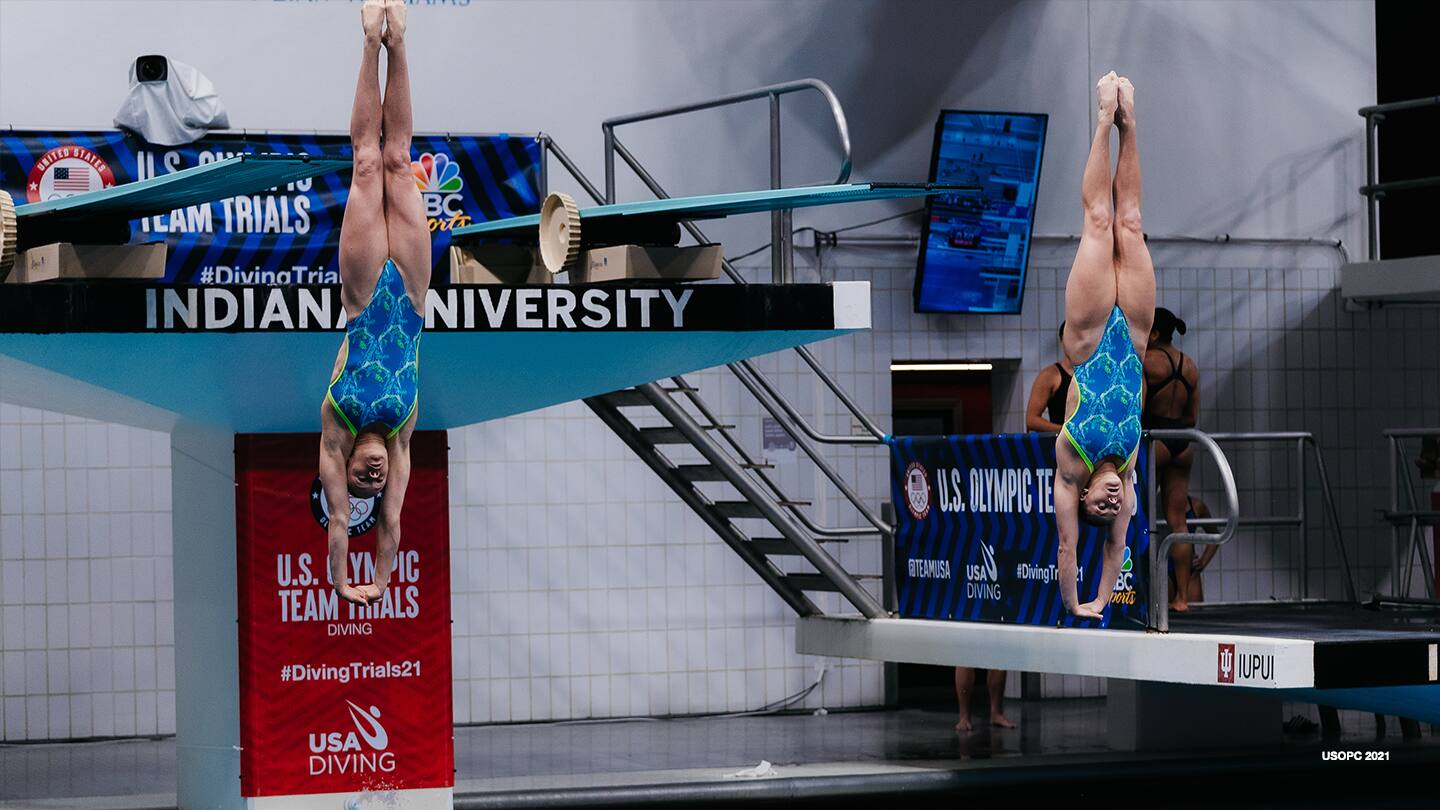 She originally specialized in platform because it takes time to develop the skill and rhythm needed for springboard.
"Trying to learn how to slowly press the board was one of my biggest challenges coming into diving," Palmer said. "My muscles were not adapted to that, and I had many practices where my legs buckled and I fell onto the board and into the water."

Sometime in the past four years, she tore her ACL again, but Palmer just deals with it instead of repairing it.

The entry was her hardest transition from trampoline to diving.

"I had to learn how to rip," Palmer said.

She also had to get used to grabbling like a diver instead of a trampolinist, where she said, "We don't need to really squeeze tight pikes."

Astute observers might notice that Palmer twists like a gymnast, with her arms on her chest, instead of with a hand behind her head.

"It was too much to really add and try to learn divers' twists," Palmer said "My coach said, 'You know, you twist just fine. Let's just keep what you're doing."

Before the 2016 U.S. Olympic Team Trials – Diving, Palmer went to a month-long training camp in Shanghai.

"That was the hardest training of my life, but it really transformed my body into a diver's body," Palmer said. "That really was a pivotal moment in my career."

At the Trials, she finished ninth on individual 10-meter platform and fourth in synchronized platform.

Palmer was then ready to concentrate on springboard. She is one of the only female divers in the world who does the 5154B -- a forward 2 ½ somersaults with two twists. Most women only attempt one twist.

"It came so naturally to me just because of my background in trampoline," said Palmer. "It's a lot of fun, a lot of adrenaline."

While Palmer is the only American female diver with the 5154B on her individual list, she convinced Gibson, who trains at the University of Texas, to add it to their synchro repertoire. It is worth an extra 0.4 in degree of difficulty.

"My coach said, 'If you guys didn't do 5154 in synchro, you would not have won the Trials,'" Palmer said. "It is a risk for sure, but we were willing to take it."

In 2019, they won they national title and placed 10th in 3-meter synchro at the world championships without the difficult dive.


If they hit the 5154B in Tokyo, they could be among the medal favorites.
Palmer's parents, Mitch and Vicki, drive for a trucking company so NBC commentators said they'll need a big screen TV in their rig to watch their daughter compete in high quality.
Palmer said she appreciates that diving has five dives in each round unlike trampoline, which has only two routines.
"If you do one poorly, you can come back and keep fighting through it and make the next one good," she said. "That's really cool. I've had to learn to continue the fight."
She's also had to learn to play it safe when it comes to activities away from the pool. As a birthday gift to herself when she turned 19, Palmer bought a Kawasaki Ninja 600.
"I'm such an adrenaline junkie," she said. "I grew up riding dirt bikes with my brother."
But when her coach spotted her in the locker room at the pool one day with her leather jacket and motorcycle pants, "She was a little scared," Palmer said. "I was starting to really show talent in diving and that's when she said, 'You really need to be careful. No more snowboarding, no more riding your motorcycle, no more dirt biking.' We all make sacrifices as athletes. Those were some of my biggest ones."
Palmer graduated from Nevada with a degree in community health science specializing in kinesiology and is studying to get her MBA. She is also a volunteer assistant coach.
"Diving's taught me that if you want to accomplish your dreams, it takes a consistent effort," Palmer said. "There's going to be days when you walk into the pool and don't want to be there. I know that those days are going to be the days that I grow the most.
"As with anything in life, if you're chasing after a job or whatnot, don't get disappointed in anything that doesn't come your way. Just keep pushing and keep trying, because there's always more opportunities."
After diving, Palmer would like to give Cirque Du Soleil a whirl, maybe even try the trapeze. "I would love to experience show business and performing," she said. "I think of all my competitions as performing already, but we're doing it for a score and for a placement."
She wants to experience letting go of the competitive aspect. "I would love to just try and see where that can take me," Palmer said. "Who knows?"
Karen Rosen has covered every Summer and Winter Olympic Games since 1992 for newspapers, magazines and websites. Based in Atlanta, she has contributed to TeamUSA.org since 2009.