Alex Massialas Thanks His Biggest Supporter, Sister And Fencer Sabrina Massialas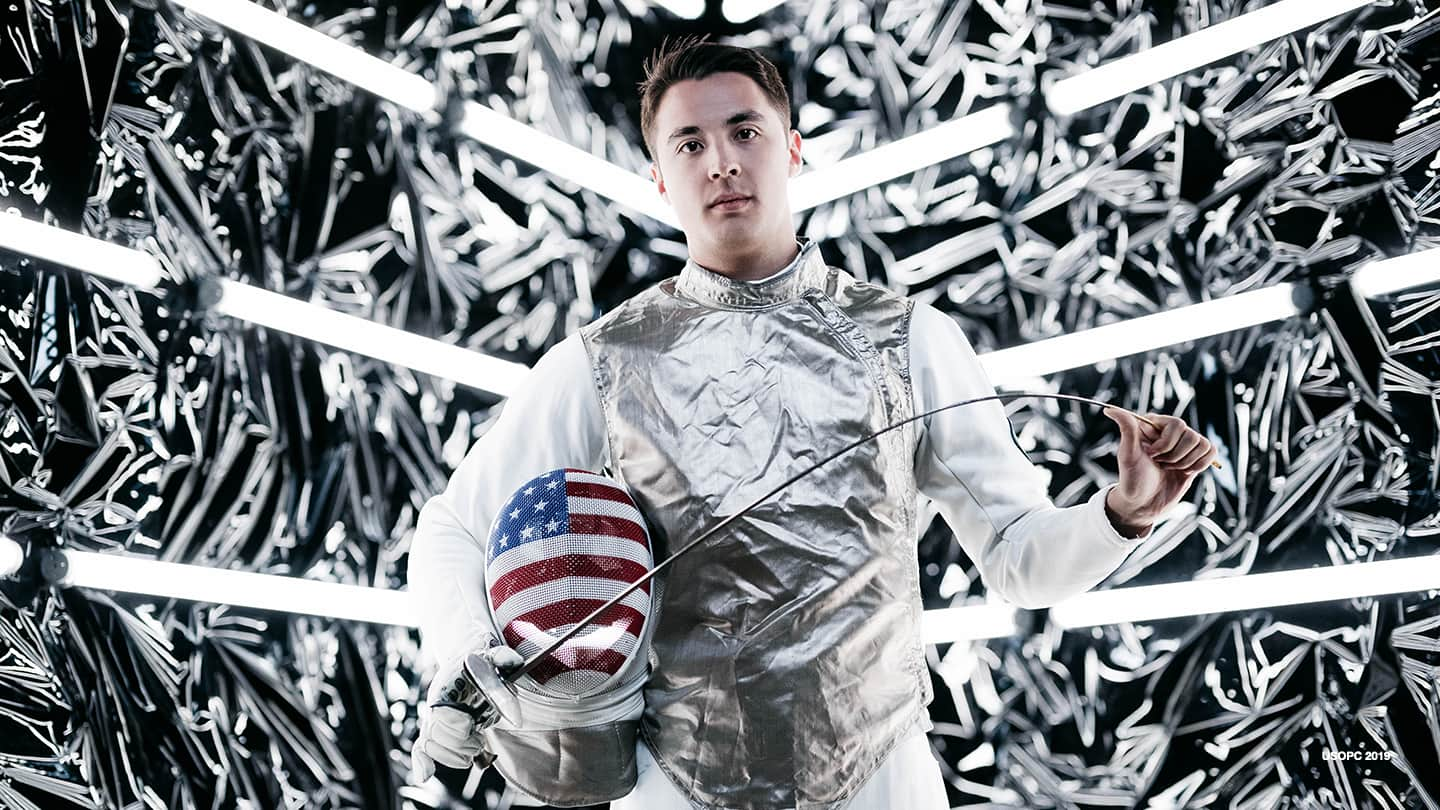 Alexander Massialas poses at the Team USA Tokyo 2020 Olympic shoot on November 23, 2019 in West Hollywood, California.
Dear Meimei,

The journey to the Olympic Games is never just about the individual. Behind the flashing lights and big headlines are always the friends, family and supporters who make it all possible. Although Baba has been my coach ever since I started fencing and Mama has always done all the hard work that nobody sees, my biggest supporter is – and always has been – you. Thank you for always being the loudest voice in the room who can drown out a whole stadium just by yourself.

I still vividly remember when I was losing, 14-8, in the quarterfinals at the Olympic Games Rio 2016, though many were starting to lose faith in me, the loudest voice from the stands was you. No matter the score, environment or circumstance, I can always count on you to believe in me. As the bout began slipping away from me and the Americans grew quieter, you only got louder. Little by little, I was able to claw myself back in the bout and as the crowd started to come back to life, you still were the loudest and only voice I could distinctly place. Ultimately, I was able to win, 15-14, to make the medal rounds. Everyone was shocked that I came back and won that bout. Even some close friends and family were surprised I was able to pull it off, but you never were. Thank you for always believing in me regardless of the odds.

Although, from the outside, people often say we are following in Baba's footsteps, I think that anyone who knows you can attest to the fact that you always do things your own way. I may not have always been as vocal as I should have been when we were growing up, but I'm proud of you for paving your own way in the fencing world, never letting anyone tell you what you can or can't do. Whether it was choosing course loads in high school, going through the college admission process, or balancing work and fencing life, you never let anyone make decisions for you and you never cared if anyone said you were doing too much. You always worked your hardest to prove everyone wrong. Thank you for always being unabashedly "you," and I'm positive that your belief in your own capabilities and who you are will take you to great and exciting places, both in and outside of the fencing world.
Your path to the Olympics has been one of resilience and grit. You have had to fight through injuries and surgeries, things I can't even imagine going through myself during normal circumstances, let alone right before the Olympic Qualifying period. As your brother, it hurt seeing you go through such pain, yet I was humbled by your tenacity and inspired by your determination in the face of adversity. Through all the setbacks, you never once wavered in your dream to make the U.S. Olympic Team. The commitment you've shown through the last five years is truly commendable, and I'm sure you will serve as an inspiration for the next generation of fencers.


Enjoy everything the Olympics has to offer: all the cool gear and apparel, meeting all the amazing athletes, the opening ceremonies. Most importantly though, enjoy every moment you are on the strip. The Olympics will look different this year without the thousands of screaming fans in the stands, but being up on the Olympic stage is a culmination of the years of dedication you've put in, the adversity you've overcome, and the sacrifices you've endured. You earned your spot, so savor every second you are up there competing; there really is no competition like the Olympics. When you step on that strip, have pride in what you've been able to accomplish and let that feeling help dictate your fencing.


This is just the beginning, I know you will continue to show the world what you are capable of and how you are able to accomplish goals your own way. I'll always be the proud older brother who watches you prove people wrong. If you ever stumble, I'll be there to help pick you up but, with that being said, I've seen firsthand how you are able to fight through injury and adversity, so I confidently know that you'll be able to get through anything life throws your way. I can't wait to see where your fencing career takes you because I know just how capable you are.


You were my loudest, most enthusiastic fan at both the Olympic Games London 2012 and Rio. Now that you've qualified for your first Olympic team, it's time for me to return the favor.


Love,

Gege