Olympics Postponed, Surgery Scheduled: Now Softball's Delaney Spaulding Is In Tokyo And Ready To Go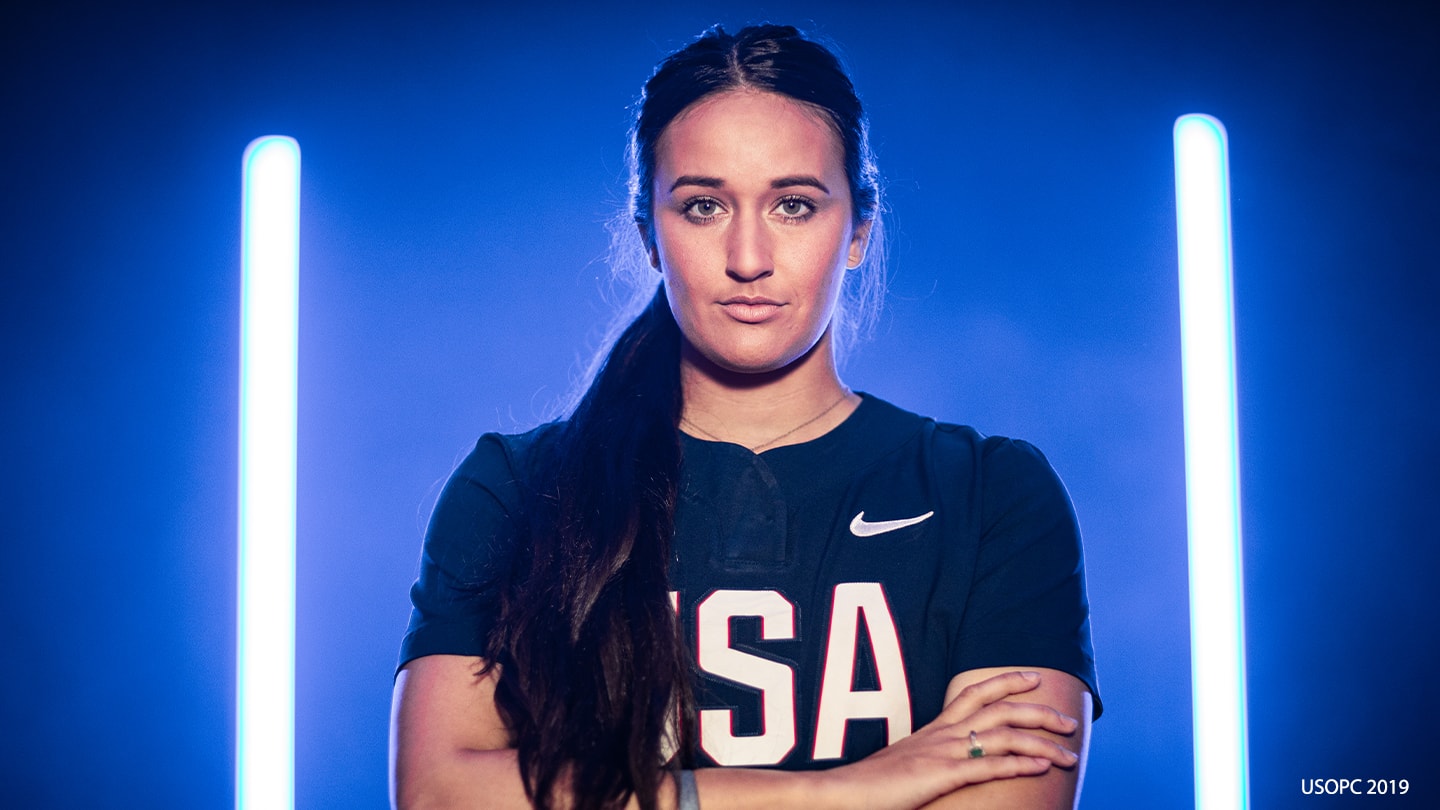 Delaney Spaulding poses at the Team USA Tokyo 2020 Olympic shoot on November 23, 2019 in West Hollywood, California.
If you want to see a big, happy smile on the face of U.S. softball star Delaney Spaulding, just look at her Twitter account.

The star U.S. infielder posted a selfie on July 3 of her on an airplane, with mostly empty seats behind her plus a handful of teammates and the simple caption: "Tokyo bound."

As athletes make their way to Tokyo over these next couple of weeks, it will feel like a long time coming given the one year postponement of the Olympic Games Tokyo 2020. For the members of the U.S. softball team, it's been a much longer wait. The sport, after being dropped from the Olympic program following the 2008 Games, will finally return this summer.

The U.S. softball delegation arrived this week in Iwakuni, Japan, where they'll spend the lead-up to the Olympics with a series of training sessions and exhibition games against Japanese professional softball teams before moving on to Tokyo. Olympic softball will take place July 21-27.

A year ago, Spaulding's social media told a different story.

There was her post on July 8, 2020, that showed her sitting on the floor with her legs pulled into her chest. The former UCLA star from Rancho Cucamonga, California, wrote:

"Oh what's up?! It's me and my fully bent knee, taking another selfie 🤗

"If you know, you know to celebrate the little victories in this process, like a fully bent knee!!!!!

"#9weekspostop #ACLrecovery #littlethings"


Had the Olympics actually been held last year, Spaulding might not have had the opportunity to play. She tore the ACL and meniscus in her right knee in February 2020 during the opening game of the Stand Beside Her Tour, and initially opted to forego the surgery, with its recovery time of six to eight months, and instead try intense rehab.
With the Olympic postponement, however, and USA Softball's announcement that it would keep the roster announced for 2020, Spaulding felt confident going ahead with the surgery.
"It's a great feeling," Spaulding told TeamUSA.org last summer. "To know that you know USA Softball has our back — I mean, they picked this team for a reason — and, although it is completely out of our control that it got postponed, that they still believe in us to be able to perform again in 2021. Just for me personally obviously with getting injured on our very first game of the tour, it just allows me to take a deep breath, to get the surgery and to really go through each and every step of this recovery and to make sure that I am really, really paying attention to detail and getting my leg back to where it was and even better."
In August 2020, she posted video of her doing rehab and wrote:
"This right here. Every struggle. Every ache & pain through this recovery — is 100% worth pushing through because of these two videos.
"I WILL BE playing in 2021.
"14 weeks post op
"#ACLrecovery #ACLclub"
As teams returned to play last fall, including the U.S. softball team, Spaulding was still on the comeback trail. It wasn't easy, she wrote on Instagram, watching her teammates, friends and sport playing on TV while she was in recovery, but it lit a spark in her to get to 100 percent. Her love for the game and hunger to get back on the field only grew during her recovery.
She continued to chronicle her work to return to play, and then on Jan. 21 posted the photo of her in the spot where she most wanted to be.
"Officially 37 weeks and on the field with my favorite team again 🇺🇸
"To keep it short — thank you Jesus!"
In March, she returned for her first games during a training camp in Tampa, playing on the same field on which she was injured a little over a year ago.
Now, Spaulding and her teammates will start their final exhibition matches before Olympic action begins with a doubleheader against Iyo Bank Vertz on Friday followed by three more doubleheaders July 11-13 against Toyota Terriers and Hitachi Sundiva. Fans can find a full schedule and live stats at USASoftball.com.
The U.S. is looking for its fourth Olympic gold medal this summer in Tokyo. Team USA won three golds in a row beginning when the sport debuted in 1996, and won silver in 2008.
The Americans go into Tokyo having won back-to-back WBSC Women's Softball World Championship gold medals. They claimed their 11th title in 2018, defeating Japan for a 7-6 victory in the 10th inning. Spaulding hit a three-run home run and had four RBIs in the championship game. The U.S. officially qualified for Tokyo with the victory.