Jessie Diggins Opens Tour De Ski With Second-Place Finish In Freestyle Sprint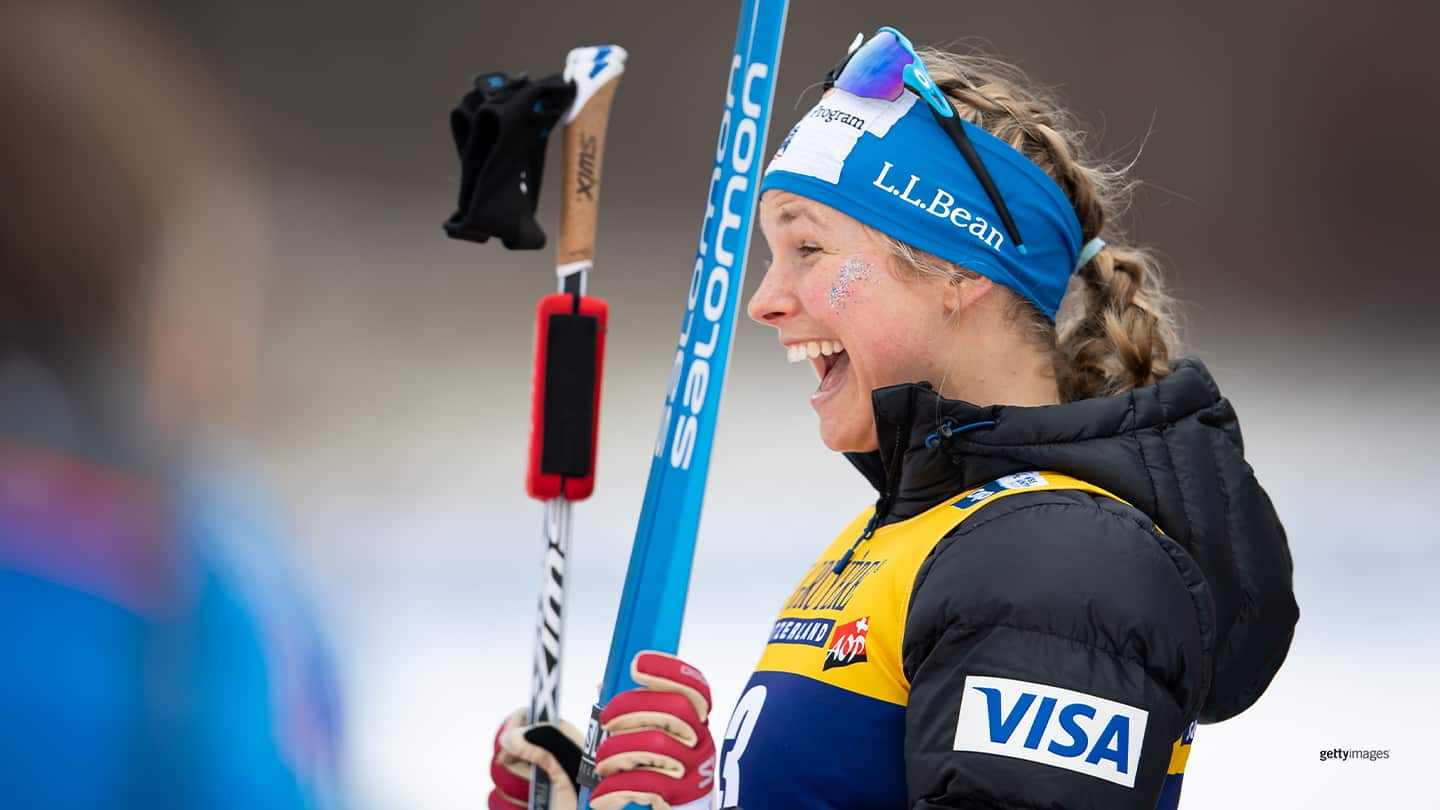 Jessie Diggins celebrates on the podium after the women's cross country sprint final at the FIS Nordic World Cup on Jan. 26, 2020 in Oberstdorf, Germany.
Biding her time, Jessie Diggins blew past a fallen competitor late in the race to finish second in the women's freestyle sprint as the Tour de Ski got underway Friday in Val Müstair, Switzerland.

Diggins, a 2018 Olympic gold medalist, was riding a distant fourth in the final third of the race when Swiss skier Nadine Faehndrich fell while descending a large hill. The American took advantage of the opportunity, avoiding a collision of her own and then cruising into the finish.

She ended up crossing the line 3.41 seconds behind winner Linn Svahn of Sweden. Anamarija Lampic of Slovakia crossed second, just under a second behind Svahn, but was later disqualified for obstruction, bumping Diggins up to second and Sweden's Frida Karlsson onto the podium. Team USA's Rosie Brennan, who came into the race as the overall world cup leader, also reached the final and finished fourth.

The podium finish was the first of the season for Diggins and marked her best individual world cup result since finishing second in a skiathlon in December 2019 in Lillehammer, Norway.

Following the race Brennan maintained her lead in the overall world cup standings while Diggins moved up one spot to seventh. Brennan ranks fourth in the sprint standings, followed by fellow American Sophie Caldwell Hamilton and then Diggins.

The Tour de Ski is a 10-day, eight-stage event that traditionally opens the new year. Diggins placed third in the 2018, becoming the first American to reach the podium in the prestigious competition. She finished ninth in 2020.

Five U.S. women made the quarterfinal heats, and with Diggins and Brennan advancing to the semifinals. Diggins finished second in the semis to automatically advance to the final round, while Brennan qualified through the second lucky loser spot.

Simi Hamilton and Kevin Bolger both qualified for the quarterfinals on the men's side, but neither advanced.

The Tour de Ski continues Saturday with a women's 10-kilometer and men's 15K classic mass start. Racing continues through Sunday in Val Müstair before moving to Tolblach, Italy, and eventually ending Jan. 10 in Val di Fiemme, Italy.
Chrös McDougall has covered the Olympic and Paralympic movement for TeamUSA.org since 2009 on behalf of
Red Line Editorial, Inc.
He is based in Minneapolis-St. Paul.