Wrestling Helped Tamyra Mensah-Stock Find Her Confidence And Her Calling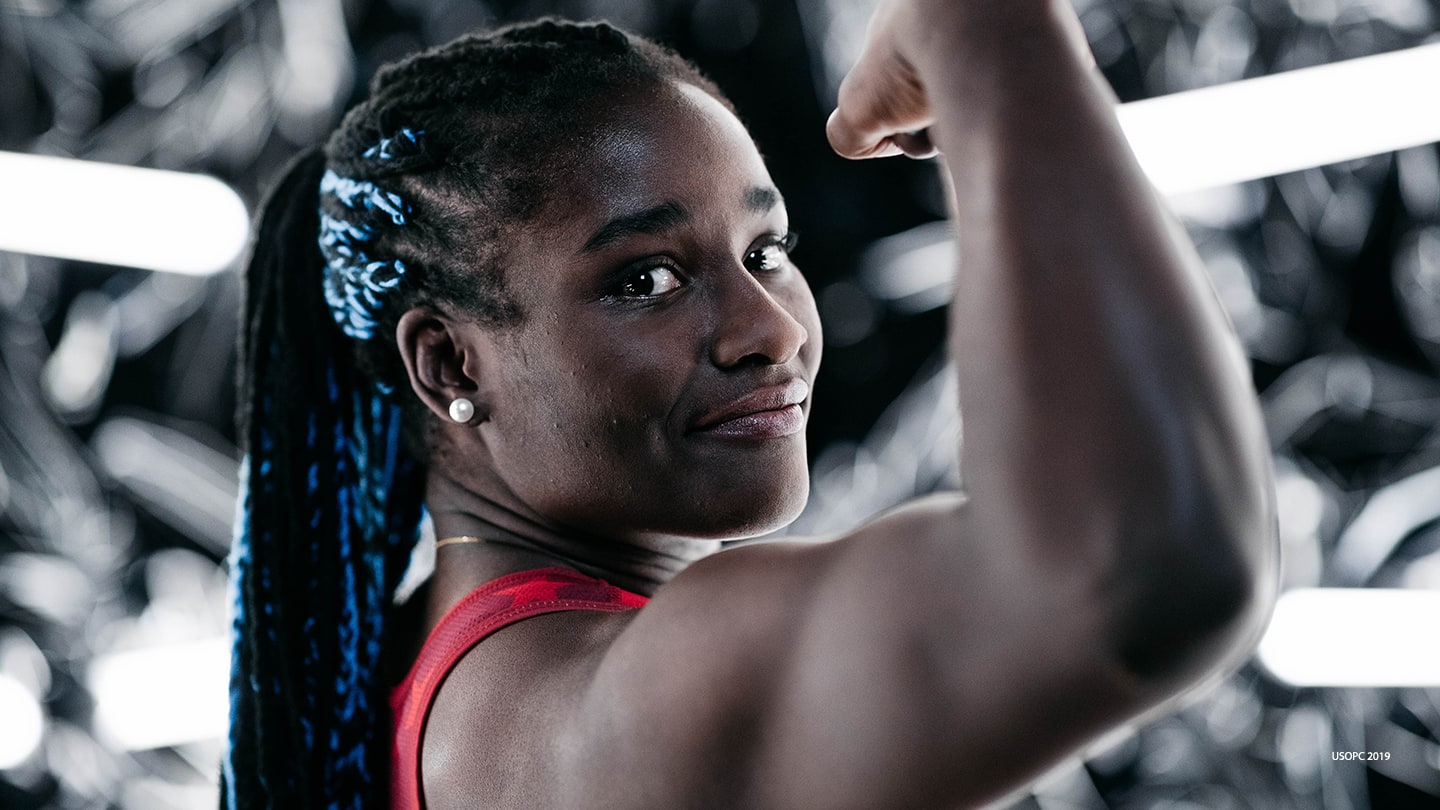 Tamyra Mensah-Stock poses for a portrait on Nov. 21, 2019 in West Hollywood, Calif.
Listen to Tamyra Mensah-Stock speak for more than a minute or two and it's difficult to imagine her as anything but the self-assured world champion she has become.

Her personality is effervescent, determined, brimming with belief. Traits that suggest she could excel at anything she tried. But that's a bit of a chicken-and-egg dilemma for the 28-year-old, simply because the sport itself has been so critical to her growth.

"I've always been a bubbly person," she said. "But confident? Not so much. Wrestling really helped me."

Mensah-Stock's path to becoming the top-ranked wrestler in the world in her weight class began reluctantly. As a sophomore at Morton Ranch High School in Katy, Texas, track and field was her sport of choice, as it had been for years. She ran the 200-meter, sometimes the 400, and the longer sprint relays, in addition to competing in the triple jump and long jump.

One day, her twin sister Tarkiya, who was on the Morton Ranch wrestling team, said the sport's coaches had suggested she try and convince Tamyra to join the squad. It didn't seem a natural fit.

"In track and field, I was that person that wore makeup when they ran, had earrings, a perm, looked super cute," Tamyra said. "I had no idea what she was talking about."

She eventually acquiesced but found the experience, in a word, "disgusting."

"There were people putting their sweat on me," she said. "There were people touching all over me, they were touching my face, they were knocking each other down, trying to knock me down. It was just so aggressive."

She was ready to quit, but Tarkiya begged her to at least stick it out until the first dual meet a month later. She did, and that changed everything. Bumped up from her natural weight class of 138 pounds to wrestle at 165, she won even though she admittedly had no idea what she was doing.

"After that I was like, 'Hell yeah, I can definitely dig this. This was cool.'"

She would finish as runner-up at the state tournament that season, then win the state title her final two years of high school — becoming the first state champion in her school's history. When it came time for her to choose a college, wrestling suddenly was front and center, and her aspirations had expanded. During the recruiting process, she told her eventual coaches at Wayland Baptist University that she wanted to go to the Olympic Games.

Mensah-Stock did just that at the Olympic Games Rio 2016, though not in the manner she had envisioned. She won the U.S. Olympic Team Trials for Wrestling at 68 kg. but the U.S. didn't secure a quota spot at that weight, so she spent her time in Brazil as a practice partner for her teammates who were able to compete. The experience left her bummed, envious, heartbroken — "It was horrible," she said — but she eventually spun those feelings into a positive.

"It definitely taught me that I was capable of more," she said. "Even though it didn't shine the next year or the year after that, I eventually tapped into that."

It happened at exactly the right time. After taking the bronze medal at the 2018 world championships, Mensah-Stock was named the United World Wrestling Women's Wrestler of the Year in 2019, a season capped by a dominant run through the world championships. She was overcome with emotion as she left the mat after winning gold in Kazakhstan, draped in an American flag her coaches had pressed into her hands.

So many times in the past, Mensah-Stock had thought about quitting the sport — beginning with the very first day she tried it. Her junior year in high school, her father died in an automobile accident after leaving one of her tournaments, and she initially blamed the sport for taking him away. More loss would follow — her grandfather, an uncle, her best friend in college, a Wayland Baptist teammate.

Every time she takes the mat now, she's wrestling for more than herself, her club or her country.

"All of these people were just so proud of me just being in this sport, and they were encouraging, and they were happy about it," she said. "I didn't quit because I knew they wanted me to keep going. God gave me that strength to just keep going, but I wanted to stop so many times because I felt like all this pain wasn't worth it. But why quit when these people are gone? They're looking down on me and going, 'You better not quit — I believed in you. Keep my dream in you alive, please.'"

As 2021 dawns, Mensah-Stock is positioned for her biggest year yet. She managed to keep herself busy enough through the pandemic-plagued months of 2020 that she believes she's where she needs to be heading toward the U.S. Olympic Team Trials in Fort Worth, Texas, the first weekend of April. Better yet, she already has secured a 68 kg. quota spot for Team USA at the Tokyo Games, so a win in her home state would give her the chance to make up for all the frustration she felt in Rio.

It's quite a place to be for a woman with vivid memories of being bullied in high school, back before wrestling helped her realize everything she had to offer.

"I didn't really stand up for myself," she said. "But wrestling allowed me to go, 'You know what? I'm strong. Forget you. You can back off. I know who I am. I'm confident, I believe in myself, and I am capable of so much, and you do not have the right to bully me.'

"These young girls need to know that they're strong, and that wrestling will really bring it out of them. This sport is so tough, it mentally drains you and physically drains you, so bringing out that courage to just believe in yourself and keep going, it's so beneficial. …

"That's one of the things that drives me to continue, is because I want to encourage young women, young men, Black women, Hispanic, whatever the case may be. I just want to encourage them because I know insecurity is a big thing."

Find a way to push through it, though, and you might end up a champion.
Marc Lancaster is a writer and editor based in Charlotte. He is a freelance contributor to TeamUSA.org on behalf of
Red Line Editorial, Inc.