Grant Holloway Breaks World Record In 60-Meter Hurdles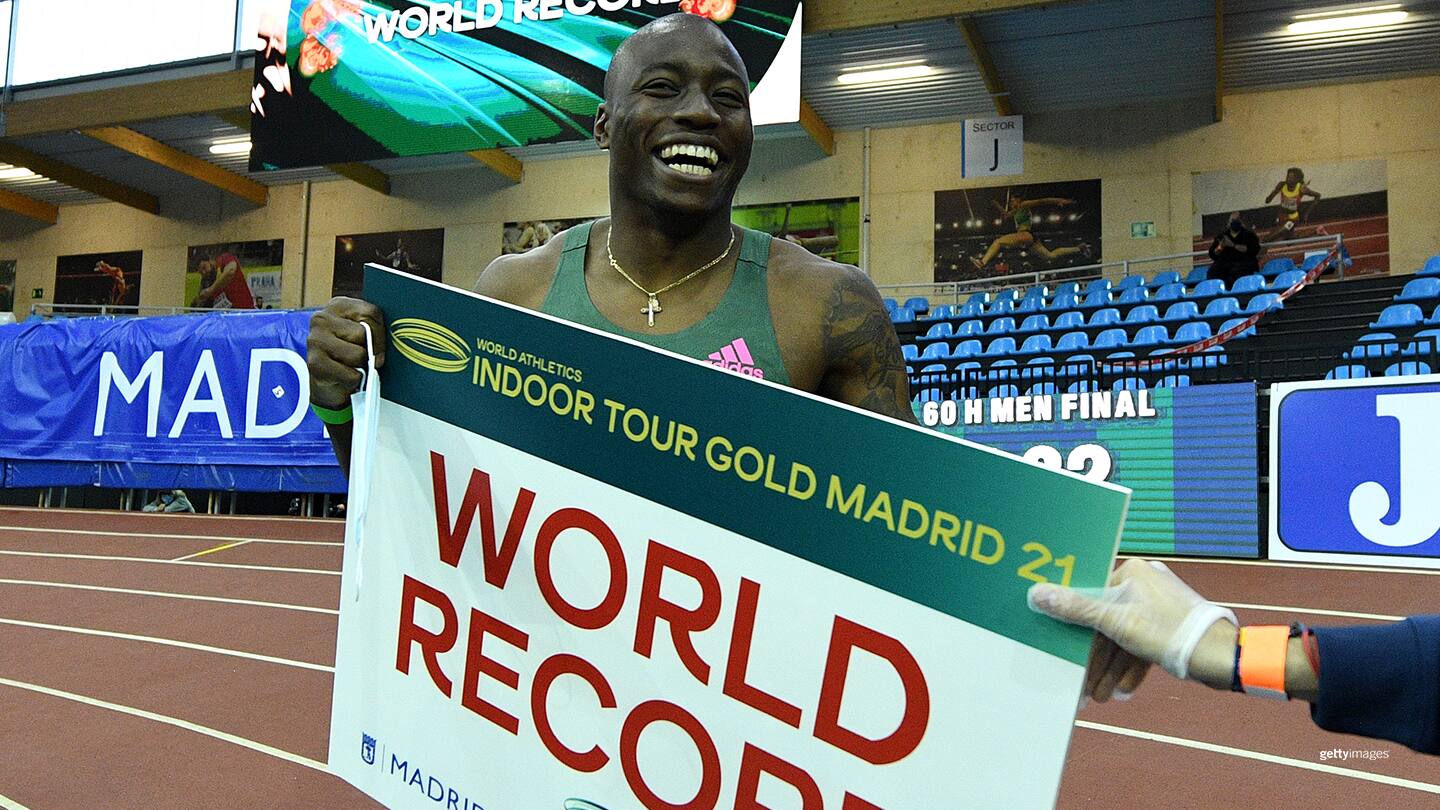 Grant Holloway celebrates a world record time in the Men's 60m Hurdles final during the World Athletics Indoor Tour Madrid 2021 on Feb. 24, 2021.
Grant Holloway wasn't even born when Welsh hurdler Colin Jackson set the 60-meter hurdles indoor world record in 1994. But that record is now his.

The 23-year-old Holloway bested Jackson's 27-year-old record by one one-thousandth of a second, clocking in at 7.29 seconds at the World Indoor Tour meet in Madrid on Wednesday. Holloway threatened the record in a heat earlier Wednesday with a time of 7.32, then set the record in the final. Holloway beat second place by .22 seconds.

The 60 is a non-Olympic distance; the shortest hurdles distance on the Olympic program is the 110-meter, in which Holloway is the reigning world champion. Holloway became the first U.S. gold medalist at the world championships since 2013 with a time of 13.10 seconds. His personal best is 12.98, .18 seconds off the world record, held by U.S. Olympic gold medalist Aries Merritt.

Either 60 or 110 doesn't much matter to Holloway, he's won plenty of titles at both. While at the University of Florida, Holloway won three consecutive NCAA indoor national championships at the 60-meter distance. Over the same time span, he also won national titles at 110 meters outdoors. He won eight national titles overall. Holloway is a former football player who held a scholarship offer to the University of Georgia, but opted to attend Florida on a track scholarship to chase his dream of becoming an Olympian.
Todd Kortemeier is a sportswriter, editor and children's book author from Minneapolis. He is a contributor to TeamUSA.org on behalf of
Red Line Editorial, Inc.