Extra Olympic Prep Time Has Helped Alex Morgan Get Back To Her Top Form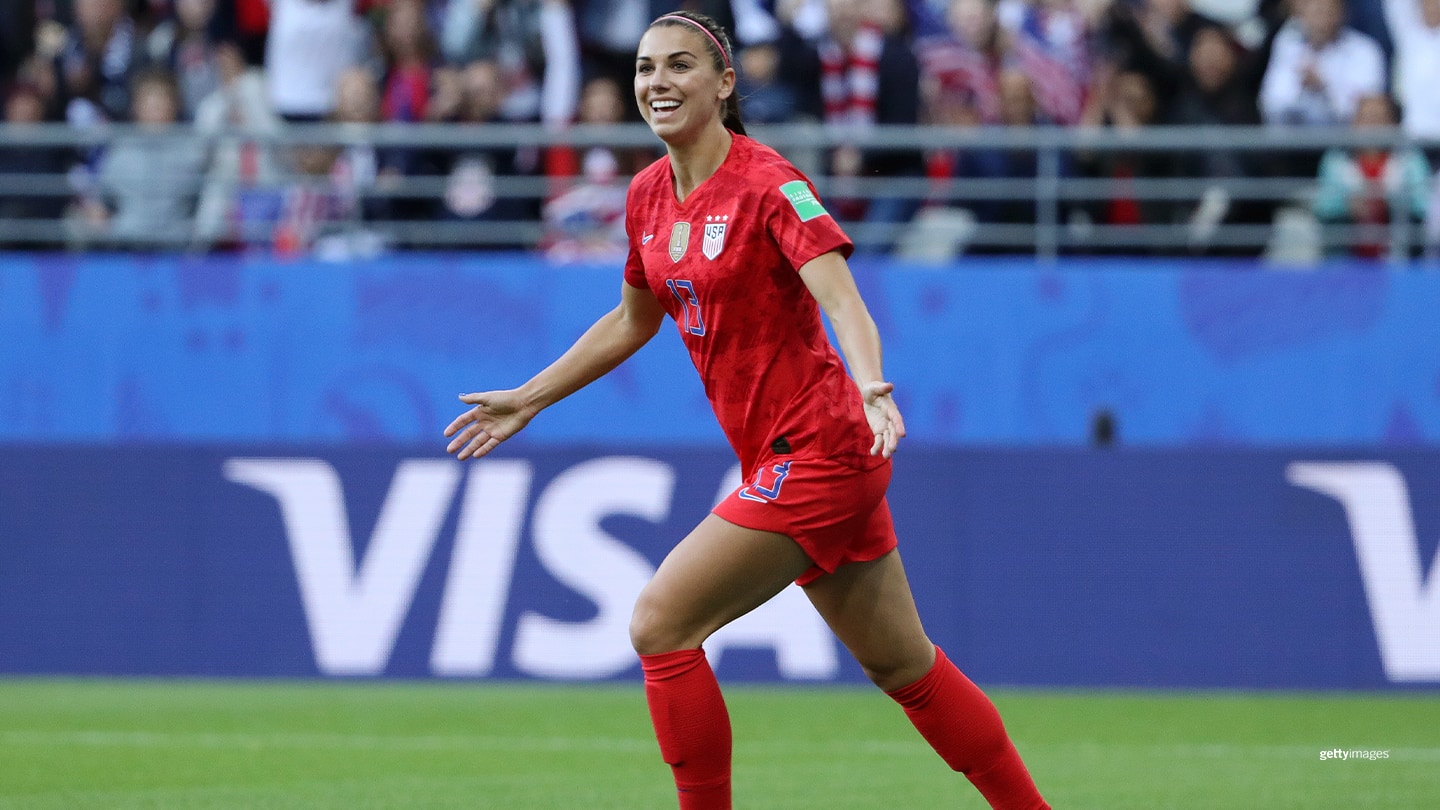 Alex Morgan celebrates after scoring her team's first goal during the 2019 FIFA Women's World Cup on June 11, 2019 in Reims, France.
Having the Olympic Games Tokyo 2020 pushed back a year was devastating news for many athletes. The delay, however, has turned into a blessing in disguise for Alex Morgan.

After giving birth to her first child, Charlie Elena Carrasco last May 7, the U.S. women's national team forward would have had only two months before the Games to rediscover the form that has made her one of the most lethal strikers on the planet.

The COVID-19 pandemic caused every sport and league to close down or be delayed. The Tokyo Games were put off for a year.

That gave Morgan some much needed recovery time.

"If the Olympics had taken place, I mean it would have been an incredible challenge," she said during a Zoom media press conference on Thursday. "I definitely wanted to do my best to be on the field at Tokyo in 2020, but I knew that honestly some of it really wasn't up to me. It was up to just how my body was going to recover. So, I'm not having to go through that and being able to elongate like my recovery and everything from the birth. There's no other way to put it. It's very helpful. I'm very happy that I was able to get an extra amount of time and be able to still compete for a slot in the Olympics."

Now, Morgan is not just another soccer player. She is a member of a rarefied international club of 17 women who have scored more than 100 goals. She has tallied 107 goals (tied for fifth most in USWNT history) in 170 international appearances.

Morgan was speaking from Orlando, Florida, preparing for the SheBelieves Cup that begins on Feb. 18. She is at an age — 31 — in which players at her position could begin to lose a step and lose their elite edge.

So, returning to high-level game fitness is Morgan's goal after sitting out most of 2020. She didn't join the U.S. for Olympic qualifying or the SheBelieves Cup, nor the Orlando Pride for the NWSL Challenge Cup or Fall Series. During her three-month tenure with Tottenham Hotspur in England, Morgan trained regularly, although she competed only four times, scoring twice. She returned to USWNT action, playing the final half of a 2-0 win at the Netherlands on Nov. 27. That was 509 days since her last international appearance, in the World Cup Final against the Dutch on July 7, 2019.

Morgan was ready to continue her comeback in a pair of January friendlies against Colombia but hit a roadblock when COVID-19 reared its ugly head and sidelined her and her family.

"I was fairly sick. Me and my whole family got it," she said of her husband, pro soccer player Servando Carrasco, and Charlie. "We were together for 10, 12, 14 days just recovering, sleeping as much as we could. I was fighting off a little bit of fever for quite a few days but as I got back and kind of took the right steps to get my body back into shape, I started to feel really good after about like three weeks or so. But it did take a little bit, and it took a lot of a lot of patience as well on my end."
She isn't quite at 100 percent yet. Morgan, who caused controversy across the Atlantic Ocean by celebrating her goal in a 2-1 win over England in the 2019 Women's World Cup semifinals by miming a sip of tea, was asked how she would rate her match fitness from one to sipping tea.


"I would say I'm waiting for the tea to cool down right now, to take a sip," she replied. "Not quite there but it's like coming soon enough."


The pandemic has been a reminder of how fleeting and fluid life, and sports, can be.


"We've realized that we just need to be adaptable. The present and the future are so uncertain. We have to prepare for the NWSL season, Challenge Cup, SheBelieves tournaments, Olympics, like it's going to happen, knowing that it could be shut down with a moment's notice," Morgan said. "We've seen that in leagues all over the world. That's just part of the world that we're living in right now. So, it's definitely a different mindset."


With a child in tow at training camp, Morgan has another different mindset these days.


When she was younger, Morgan remembered when teammates and soccer moms Kate Markgraf, Christie Pearce Rampone and Amy Rodriguez brought their children to camp.


Now, it's her turn.


"It's just so fun to have Charlie around and for her to get used to like having a lot of people around and different people just like holding or playing with her and her to be just around all these incredible women that are so strong," she said. "Such an intense environment. She just kind of I think brightens up the room and I think it like lightens everyone up.


"However, my life has definitely made a 180 (degree turn)," Morgan said. "When we have an afternoon gap between trainings, it's not like, 'Oh, let me lay down and watch TV and take like a nap.' Whether that's 45 minutes or three hours I'm hanging out with Charlie. The whole time and I'm on her schedule. I absolutely love it but it's different, for sure."


Charlie also has given Morgan extra motivation.


"I feel like I'm making the most of it," she said. "When I go to training, I don't want to give 90 percent. I want to make sure I give 100 percent every time I go to training because that's pulling me away from Charlie. So, I do definitely feel re-energized."


Orlando Pride teammate Sydney Leroux, who scored 35 goals for Team USA from 2011 to 2017, has two children aged 5 and 20 months and has been a font of information and advice on how to handle a family and soccer.


"I'm really happy to have Syd on the team just to be able to like help guide me because she has been here many times for quite a few years with kids," Morgan said. "This is kind of really my first go around into a full season. Tottenham is kind of like a mini season for me. ... Having another mom to kind of be able to lean on uncertain times is really important for me."


With head coach Vlatko Andonovski likely naming his 18-player roster for Tokyo in March or April, every minute counts for Morgan and her teammates to remind him that they belong on the USA squad for the Olympic tournament, scheduled from July 21 to Aug. 8.


The Americans will next put their 32-game unbeaten streak on the line in the SheBelieves Cup opener against Canada on Thursday, Feb. 18 at 7 p.m. ET, followed by matches with Brazil on Sunday, Feb. 21 at 3 p.m. and against Argentina (which replaced Japan after its withdrawal due to COVID-19) on Wednesday, Feb. 24 at 7 p.m. All matches are at Exploria Stadium in Orlando, Florida, Morgan's home field with the Pride. The U.S. is the defending SheBelieves Cup champion and has won three titles overall.


"I'm really excited for these games," Morgan said. "I feel like we're really optimistic about them. We are in a really good place right now. A lot of players are really excited for the opportunity to play top teams. Regardless of Japan dropping out, we have three amazing teams that we're looking forward to playing. We're preparing like these are preparation games for the Olympics."
Michael Lewis, who covers soccer for Newsday, has written about the sport for four decades and has written six books about soccer. He is a freelance contributor to TeamUSA.org on behalf of
Red Line Editorial, Inc.