First-Time Paralympians Bring Home Two More Golds For Team USA On Swimming Night Seven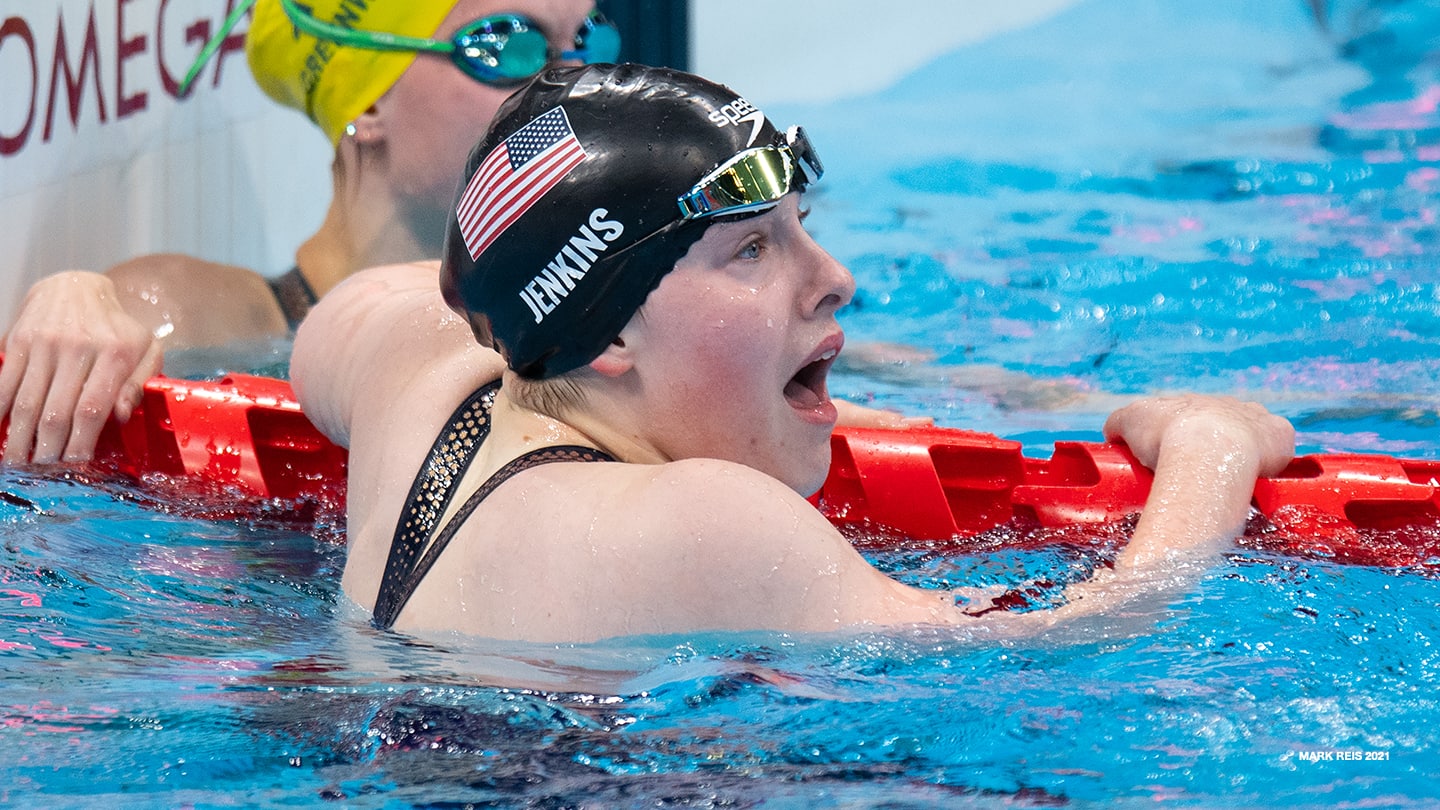 Mikaela Jenkins reacts at the Paralympic Games Tokyo 2020 on Aug. 31, 2021 in Tokyo.
Para swimmer Mikaela Jenkins wanted to be 100 percent sure she touched the wall first before celebrating her first gold medal.

The first-time Paralympian checked to see the one by her name on the scoreboard, winning her first Paralympic gold medal in the women's 100-meter butterfly S10 on Tuesday night's swimming finals at the Paralympic games Tokyo 2020.

Jenkins won the race in 1:07:52 out touching Australia's Jasmine Greenwood (silver) and Chantalle Zijderveld from the Netherlands (bronze). It was a true fight to the finish with less the 0.4 separating the top three finishers.

Knowing that she's stronger in butterfly at the 200-meter distance, Jenkins has been training her back end 50 speed to make sure she can finish hard into the wall. That training paid off in Tuesday night's race.

"During the last 50, I just had to put my head down," Jenkins said. "I told myself 'you know what you need to do - just put your head down, don't breathe flags to the wall and just finish.'"

The 18-year-old para swimmer came into the event as the defending world champion. The year delay of the Paralympics helped her get into the right mental space to walk away with the gold in Tokyo.

"If you had asked me a year ago, I would have said yes I feel pressure as the defending world champion," Jenkins said. "Going in tonight, I knew I put in the work. I knew I was at the top physically that I could possibly be right now. I just had to go, have fun and relax. My best friend Julia and I were laughing on the bus on the way here. I just knew I needed to have fun and do what I do best."

Jenkins said she plans to celebrate her gold medal by going out for milkshakes and chicken tenders with her family. Before she heads back to the states, she will have a chance to add to her medal collection. She competes in the 100-meter backstroke on Thursday and the 200-meter Individual medley on Friday.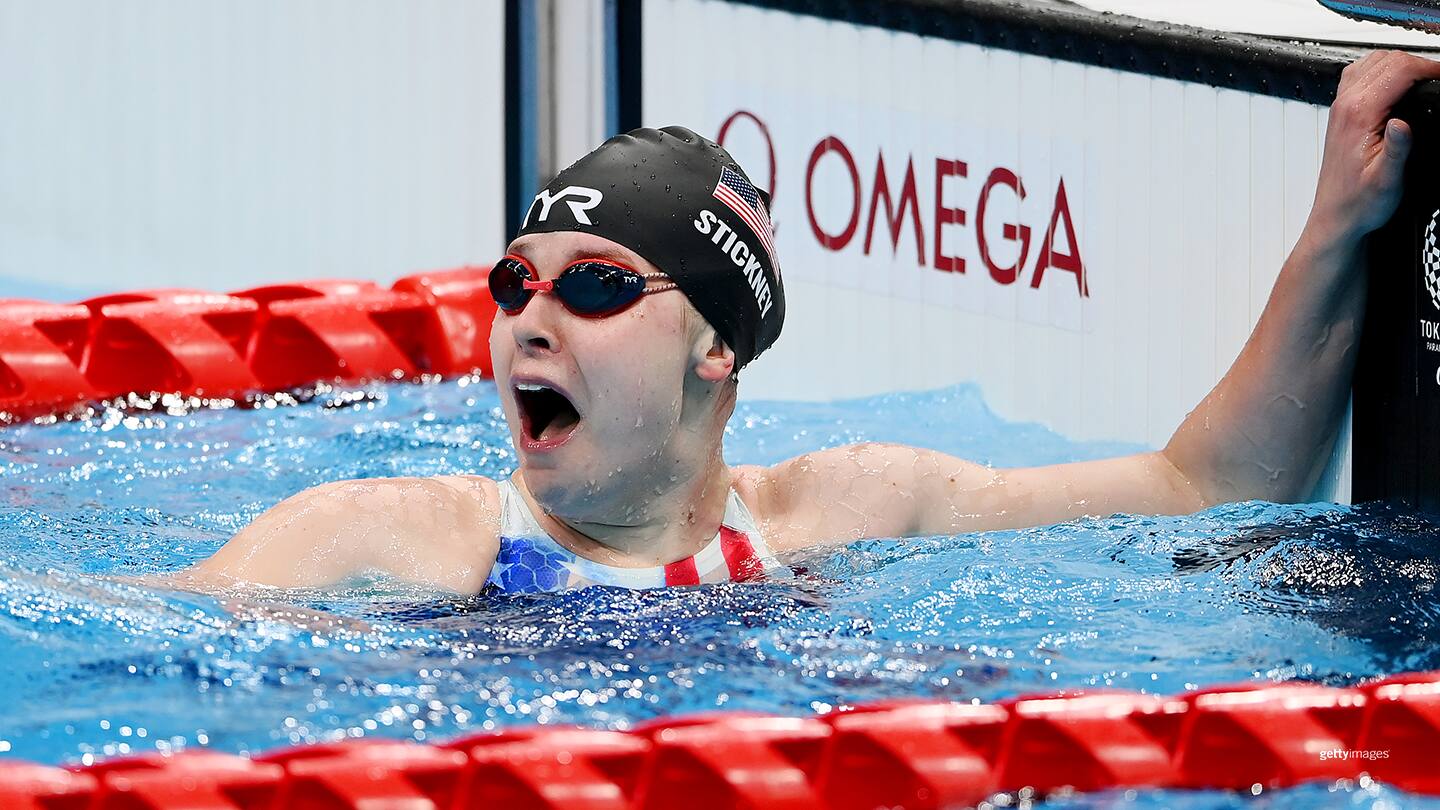 Morgan Stickney reacts at the Paralympic Games Tokyo 2020 on Aug. 31, 2021 in Tokyo.
Morgan Stickney Stuns for 400 Freestyle
Gold
At the final turn of the women's 400-meter freestyle S9, Morgan Stickney was set to become a silver medalist. The distance freestyler made her move on the last lap of her first individual Paralympic final, beating her teammate Jessica Long to the wall by more than a second and winning gold.

"Honestly I was just like 'put your head down and just go,' Stickney said she told herself on the last lap. "I had no idea at that point where Jess was next to me or where anyone in the field was. I just wanted to see what I could do."

Long completed a full medal set in Tokyo with her silver-medal finish in the 400 free. She said she wanted to stay in at least silver, matching her result from Rio 2016.

"This race is a really special one," Long said. "I won it when I was 12. I've won it three times since, and I have two silvers in it. That's hard to do, and it's really hard to do for 17 years. I knew that I was going be ahead in the first 200, but with age it's just hard to push the last 200. I'm 29. I've swam it for 17 years so I knew that it was going to be a fight to the end."

Long said she's proud of Stickney and happy to see an American on the podium with her. The two shared a moment together in the pool to celebrate and soak it all in after the race.

"The 400 is one of the most painful events," Long said." I think I told her I'm just really proud of her and I knew she was going to be there. We were laughing just because we swim the race so differently."

Stickney was a standout age group distance swimmer prior to her left leg amputation in 2018. Her doctors encouraged her to swim throughout rehab, allowing her to return to the sport she loved. A little over a year later, Stickney's other leg was amputated after rare disorder caused her to lose all blood flow to her foot.

Within two years, Stickney became a bilateral amputee just starting out in the Para swimming world. She found a new role model in Jessica Long, now her teammate in Tokyo.

"It's such an honor to be able to swim with Jessica, to be her teammate and to stand on that podium with her," Stickney said. "I've looked up to her ever since I've lost my legs. She's been a mentor for me, so I think it was really special for us to be on that podium together."

Reflecting on her journey over the last few years, Stickney never imagined she'd be living her dream as a member of Team USA at the Tokyo Paralympics.

"I remember laying in my hospital bed just dreaming of being able to go to the Paralympics," Stickney said. "So being able to be here and to walk away with a medal not only a medal but a gold medal, it's absolutely amazing."

Stickney will have one more chance at a Paralympic medal. She is set to compete in the 50-meter freestyle S8 on Wednesday.

Want to follow Team USA athletes during the Paralympic Games Tokyo 2020? Visit TeamUSA.org/Tokyo-2020-Paralympic-Games to view the medal table and results.
Katie Grunik is a digital content creator covering the Paralympic Games Tokyo 2020 for TeamUSA.org. She currently serves as the digital content coordinator for the U.S. Olympic & Paralympic Committee.