First-Timers Shine For Team USA In Butterfly Events On Day One Of Para Swimming In Tokyo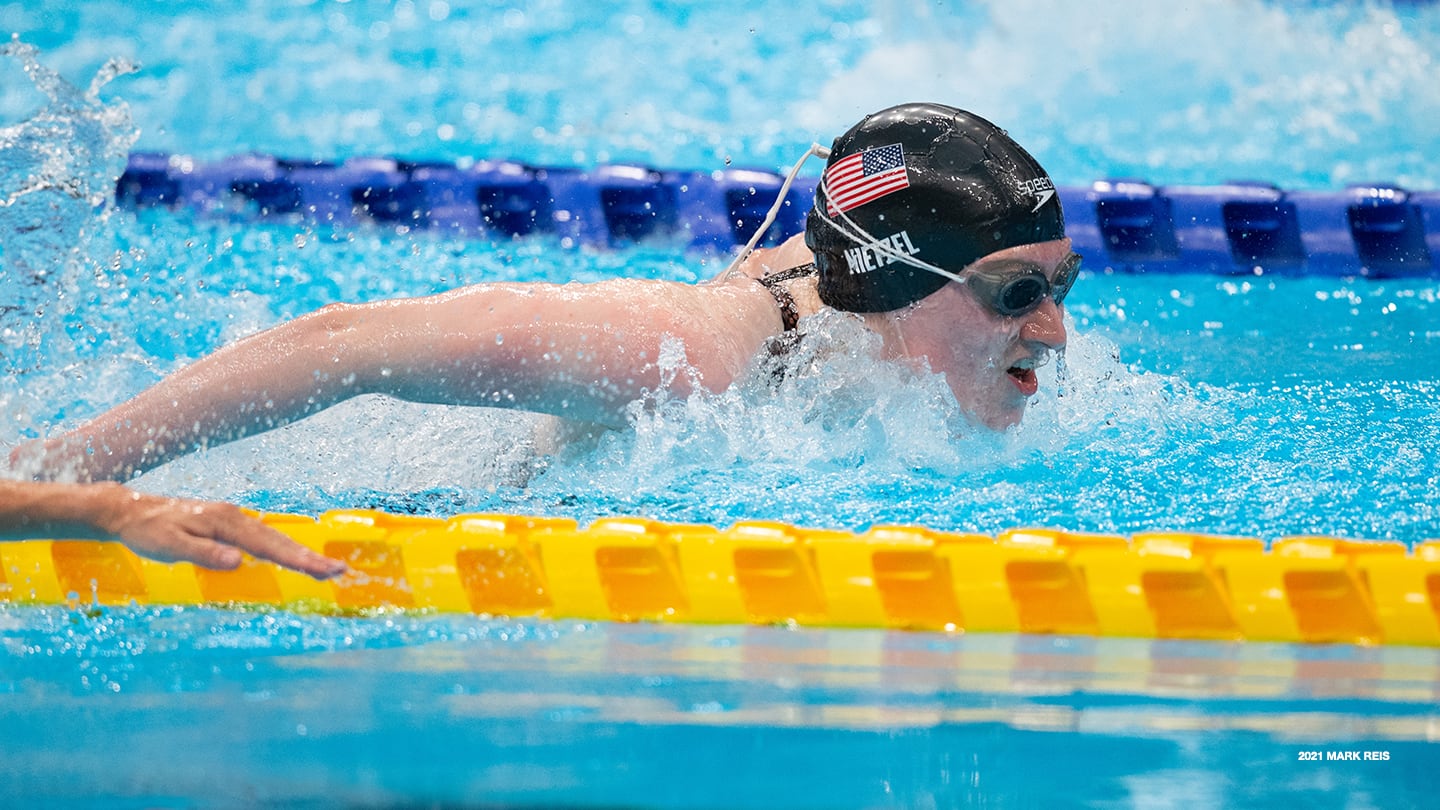 Makayla Nietzel competes at the Paralympic Games Tokyo 2020 on Aug. 25, 2021 in Tokyo.
TOKYO — Makayla Nietzel and Gia Pergolini have known each other since first getting involved in Para swimming four years ago. And tonight they swam in their first Paralympic final together.

The first-time Paralympians represented Team USA in the women's 100-meter butterfly S13 on Wednesday during night one of swimming at the Paralympic Games Tokyo 2020.

Nietzel was seeded fourth headed into the finals and Pergolini was seeded seventh. Italian Carlotta Gilli held a commanding lead throughout the final to take the gold in 1:02:65 – four-tenths of a second off the world record. Pergolini challenged for silver touching the wall second at the 50-meter mark but fell back to finish fifth in 1:06:46. Nietzel took seventh in 1:08:00. Team USA's Martha Ruether finished 13th, missing the finals.

Between the morning and night sessions, both Pergolini and Nietzel dropped time and spoke highly of their first races in the competition pool.

"Honestly I have a lot of fun in this pool," Nietzel said. "I love swimming fly. It's so amazing for me to compete here. I did add a second from prelims, but you know what, it happens. It's not the end of the world."

Despite missing the podium, both girls were thrilled at the chance to race together in their first Paralympic final.

"I've known Makayla for a while now," Pergolini said. "So just sharing this opportunity with another VI [visually impaired athlete], especially this one, is amazing. … We both love representing this country. It's so crazy being our age...we're teenagers. It's just crazy swimming in a final."

The pair said it also meant a lot to them to compete at such a high level after the challenges brought on by the COVID-19 pandemic.

"Honestly, it's awesome just being able to compete after COVID and everything," Nietzel said. "Personally the thing that stands out the most to me is how supportive our team has been. It has been incredible. We've gotten so much support, so much love from Team USA; it's amazing."

Pergolini echoed her sentiments, saying she felt fortunate to even be here competing after the Games were postponed.

"Just touching the wall and looking around to see where you're at — it's just crazy," Pergolini said. "This is five years in the making for both of us. Being able to be here with the people that you love, the people that you've been with for the past few years training with. It's just crazy, and I couldn't ask for anything else."

Pergolini said she's fired up after her opening swims on day one. She will feature in the 100-meter backstroke S13 on Thursday night. Nietzel will be back in action on Friday in the 400-meter freestyle S13.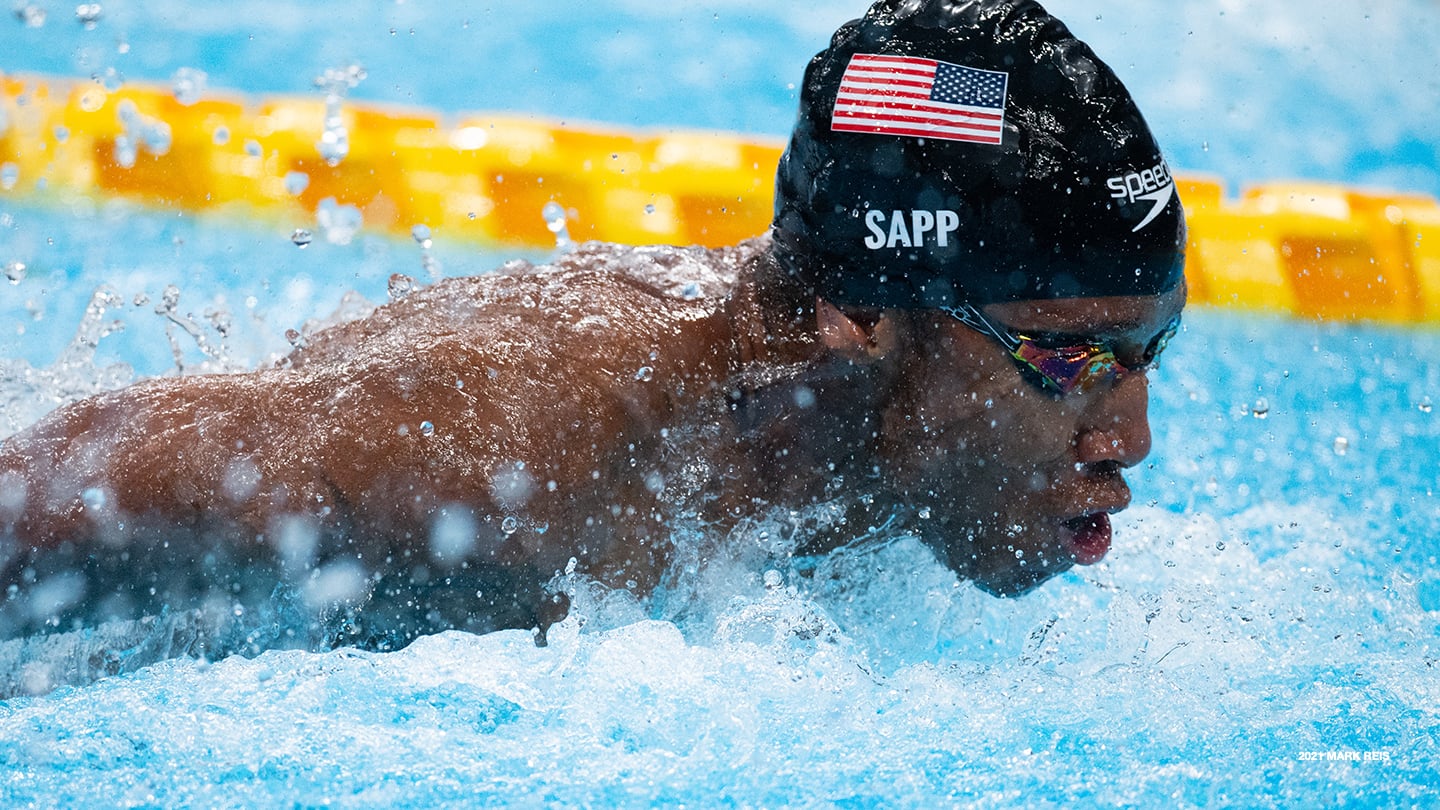 Lawrence Sapp competes at the Paralympic Games Tokyo 2020 on Aug. 25, 2021 in Tokyo.
Lawrence Sapp Debuts S14 Classification For Team USA Men
Lawrence Sapp opened his first Paralympic Games experience making history for Team USA. He finished fifth in the 100-meter butterfly S14, but it's not his placement that cemented his name in the history books.

Sapp is the first man to compete at the Paralympics in the S14 classification for Team USA, a classification for athletes with intellectual impairments. His teammate Parker Egbert, also an S14, will share that history with Sapp when he competes in his first Paralympic race next week.

Sapp came into his first Games final seeded third in the 100-meter butterfly. He led the final heat off the first turn but ultimately finished fifth in 57:36. Brazil's Gabriel Bandeira took gold in 54.76. Great Britain's Reece Dunn followed for the silver in 55.12, and Australian Benjamin James Hance won bronze with 56.90.

Sapp said the race was tough and shared his disappointment with the results from his first Paralympic finals swim.

"That last 25 I was just tired, and I couldn't keep up with the Brazilian and Reece Dunn," Sapp said. "I should've won a medal, so maybe next time in 2024."

Despite the exhaustion and the nerves of his first Games, Sapp plans to shake off the fifth-place finish and look ahead to his next two events in Tokyo.

"It was a tough race so I need to keep my head up," he said. "I'm just disappointed, but I need to keep my head up and I'll do better next time.

He competes on Aug. 31 in the 200-meter Individual Medley qualifying heats and on Sept. 2 in the 100-meter backstroke qualifying heats.

Want to follow Team USA athletes during the Paralympic Games Tokyo 2020? Visit TeamUSA.org/Tokyo-2020-Paralympic-Games to view the medal table and results.
Katie Grunik is a digital content creator covering the Paralympic Games Tokyo 2020 for TeamUSA.org. She currently serves as the digital content coordinator for the U.S. Olympic & Paralympic Committee.