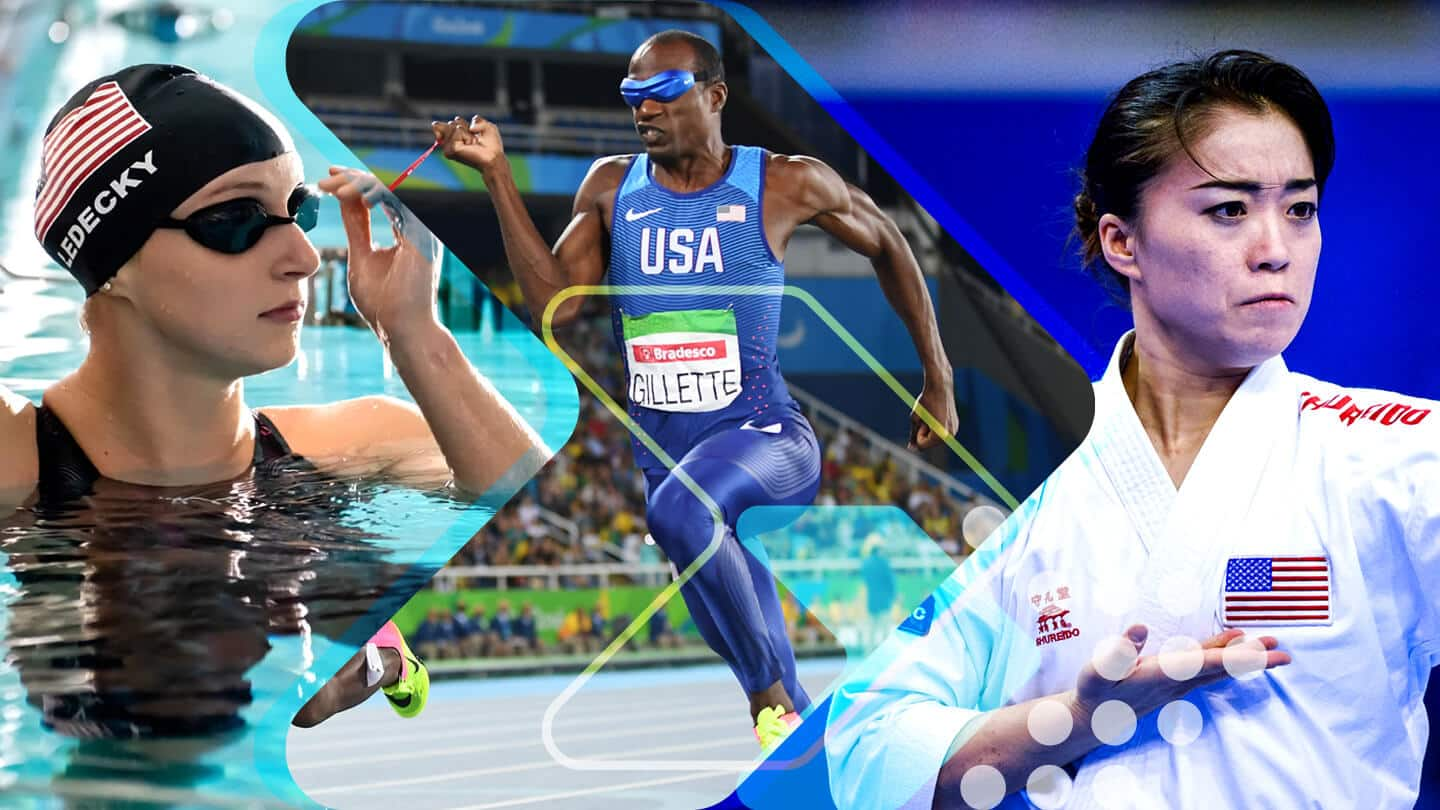 Katie Ledecky, Lex Gillette and Sakura Kokumai are all part of Team Panasonic and dedicate to having a positive impact on the world around them.
The Olympic Games are a biennial opportunity to celebrate excellence in athletics. Success at this level requires discipline, dedication, perseverance and an untiring effort towards self-improvement. These qualities don't exist solely in relation to athletics, however, and often what makes someone a champion on the field extends to other parts of their lives, influencing the way he or she interacts with the world as they strive to make it a better place.

It is these qualities Panasonic sought to highlight when they created Team Panasonic. The team features Olympic and Paralympic athletes Katie Ledecky, Sakura Kokumai, Lex Gillette, all of whom are as dedicated to having a positive impact on the world around them as they are to finding success in athletics. While these athletes are champions in the water, at the dojo or on the track, they are each also champions for the social causes that mean the most to them.


With seven Olympic gold medals and fifteen world championship gold medals, Katie Ledecky is world renowned for her athletic achievements in swimming. When she was 15, she appeared at the Olympic Games London 2012. Undeterred by the pressure of her international debut, Ledecky left the United Kingdom with the gold medal in the women's 800-meter freestyle. And she was just getting started. During the 2016 Games in Rio de Janeiro, she earned four gold medals, one silver medal and two world records - the most awards for any female athlete that year.
Despite being best known for her athletic achievements, education has always been her first passion. She and Panasonic have partnered together to support this cause with Dive into STEM, a program that encourages students to explore careers in science, technology, engineering and math (STEM). To start, the program will serve communities in Newark, New Jersey; Reno, Nevada; Bay Area, California; and the Washington, DC, area, where many of the students will have their first opportunity to get a deep dive into these topics. Through her Dive into STEM Education initiative, Ledecky aims to make STEM opportunities available to the next generation of students.
"Any opportunity I have in life to inspire young kids to pursue their passions, I'm going to take it," Ledecky said.
For Ledecky, her passion for swimming and education are complementary. In fact, it's the drive to continuously learn and improve that Ledecky credits for her success both in and out of the pool. When the Olympic Games Tokyo 2020 were postponed for a year, she decided to re-enroll at Stanford University and continue to work toward her psychology degree, remotely.
During this time, she never lost sight of her competitive goals. At the Olympic Games Tokyo 2020, Ledecky cemented her status as the most commanding athlete in the history of women's swimming. Her wins in the 1500m and 800m freestyle events represented her fifth and sixth career gold medals, with an additional seventh team medal, making her the most decorated female U.S. Olympian of all-time.
When Sakura Kokumai was a young girl, her mother brought her to a local YMCA for a Karate lesson. The experience would be a foundational one in her life in several ways. Kokumai would ultimately dedicate her life to the art of kata, a practice that requires focus, dedication and a steadfast commitment to self-improvement. Karate kata is a choreographed arrangement of martial arts movements that is performed as an individual event. She's won bronze at the 2012 World Karate Championships and 2013 World Combat games. In 2019, She earned a gold medal at the Pan American games in Lima, Peru.
While her experience at the YMCA sparked a life-long dedication to Karate, it also founded a similar connection to the power of community. Sakura has become a supporter of Terasaki Budokan, a community-driven project in her home city of Los Angeles. It offers families, youth and seniors access to sports, instruction and activities.
Developing a passion for Karate as a young girl in Hawaii has inspired her to pass that passion along: Her goal at Terasaki Budokan is to empower boys and girls to imagine themselves as young karatekas, strong individuals who can achieve anything. As a world-class athlete, she understands the importance of teaching her students proper techniques, but she hopes to communicate underlying lessons she feels are even more vital for young students: the learning process and how to set - and achieve - goals for personal development.
"The dojo that I belonged to had an amazing line of athletes from all generations. I was very fortunate to be able to look up to these people. All I wanted to do was be like them," Kokumai said.
During the Olympic Games Tokyo 2020, Kokumai competed in Pool A of the Ranking Round, qualifying for the Bronze final, where she lost in a closely contested competition to Italy's Viviana Bottaro. Though Kokumai will not be returning from Tokyo with a medal, she has broken a barrier by becoming the first U.S. Olympic karate qualifier.
At the age of eight, Lex Gillette lost his sight. But, as he says, what he gained was vision.
"I'm thankful for being blind because it's taught me, when we have a vision, we create the world we want to see," Gillette said.
In high school, Gillette began to practice the long jump. By developing a method of coordinated auditory signals with his coaches, Gillette is able to excel at the sport. At 19, he participated in the Paralympic Games Athens 2004, where he earned the silver medal. Gillette has also received silver at the Paralympic Games in Beijing, London and Rio de Janeiro. He most recently won gold at the 2019 World Championship Experience and is the only completely blind athlete in the world to break the 22-foot barrier in the long jump. This year, Gillette is aiming for the gold.
To honor and pay forward the support he's received throughout his life, Gillette helps to guide the next generation by serving as a mentor for students across the country. He works with Classroom Champions, a nonprofit that pairs athlete mentors with students from underserved communities in the US. It's because Gillette recognizes "accessibility" means something different for every individual: physical access to public spaces or access to the tools needed for an education that can open up the world to a young student. Whether it's broadening students' ideas about what's possible by sharing his story or simply offering support to children who need it, Gillette is working to make the world a better place in his championing of equality.
At Panasonic, we couldn't be more excited to partner with and support these athletes – not just as they work to achieve their competitive goals in the Games, but for years as they dedicate their lives to creating a better world for all.