Dawn Staley Leaves Women's Olympic Team In Familiar Place Atop Podium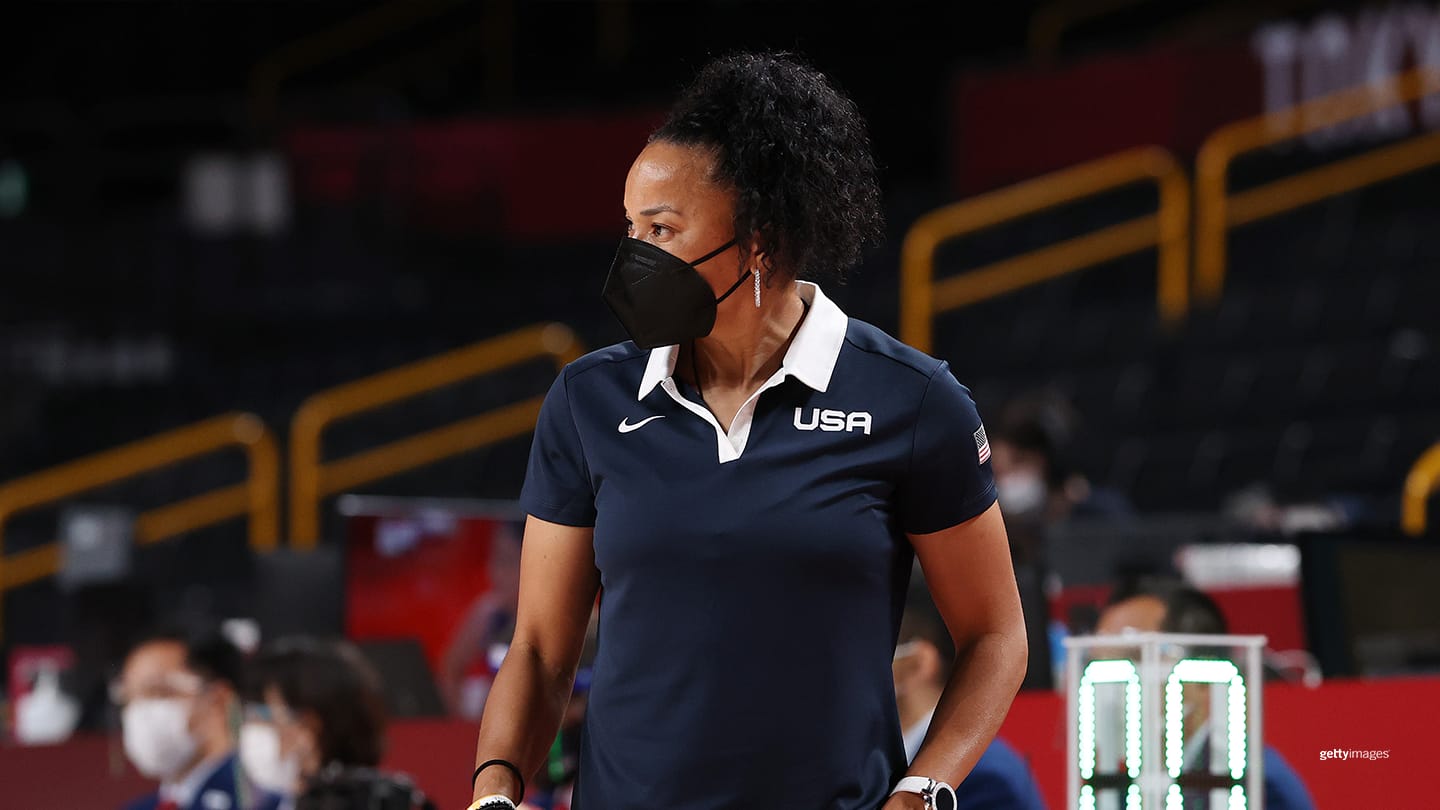 Dawn Staley watches her team play at the Olympic Games Tokyo 2020 on Aug. 6, 2021 in Saitama, Japan.
All that you have to know about Dawn Staley is that her dog's name is Champ.

It is a fitting moniker seeing that Staley in 2017 got the Havanese puppy about eight months after coaching the South Carolina women's basketball team to the school's first NCAA championship.

But it also goes to Staley's mindset entering any challenge: The only acceptable result is coming out on top.

Not that her resume needed any padding, Staley added another significant achievement when she guided the U.S. women's basketball team to the gold medal at the Olympic Games Tokyo 2020 earlier this month.

Plenty goes into preparing any team to make such a run, yet there was more to this endeavor. A lot more. Entering the Tokyo Games, the U.S. had won 49 consecutive Olympic games that included six straight gold medals. On top of that, two of the greatest players to ever don a USA Basketball uniform, Sue Bird and Diana Taurasi, were poised to win their unprecedented fifth gold medal.

Yeah, there was more than a little pressure for Staley — the first Black coach of the U.S. Olympic women's basketball team — to ensure the U.S. came home with gold.

So while it was surprising to many that Staley said her tenure as the U.S. coach was over after her only trip to the Games as a head coach, it at the same time wasn't as shocking as it might have seemed.

After all, Tokyo was Staley's sixth Olympic Games, having won three gold medals as a player (1996, 2000, 2004), then as an assistant coach on the 2008 and 2016 teams that captured gold.

"Me being a part of I believe six, I mean that's enough. I'm full," Staley said. "But it's something that I'll miss as well because it's not duplicated in any other form in team basketball."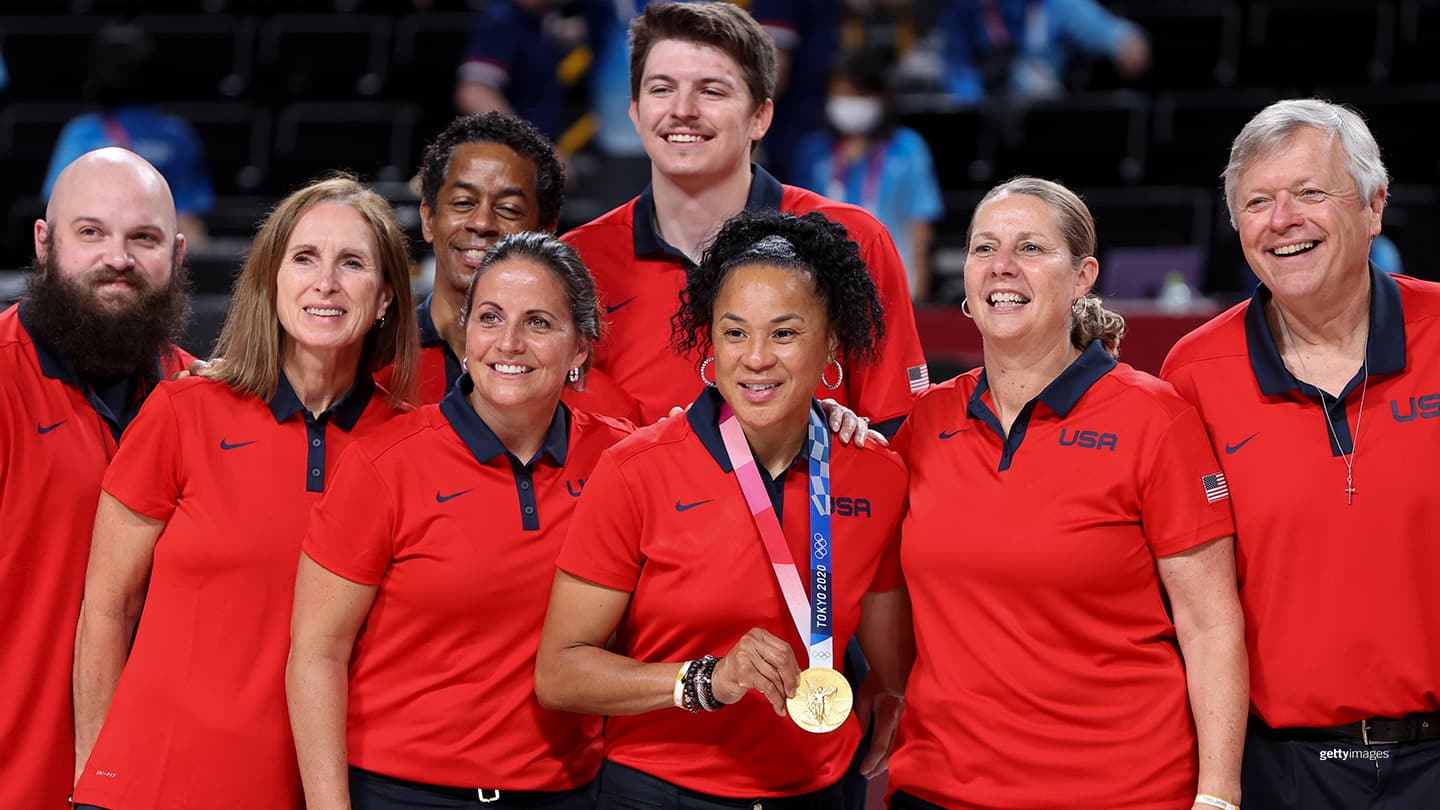 Dawn Staley (center) celebrates with assistant coaches during the Olympic Games Tokyo 2020 on Aug. 8, 2021 in Saitama, Japan.
Preparation might be one of the keys to Staley's winning formula. A'ja Wilson, who was one of six first-time Olympians on the team picked for Tokyo, often quizzed her coach at South Carolina on what to expect on the international stage. Staley, knowing that her star Gamecocks player might have some sort of role on this Olympic team back then, offered sage advice.

"Especially when I was in college, we would always kind of just talk about it, just be casual conversation," Wilson said. "But the biggest thing she would just say is just stay in the moment and don't let it escape you because you're so worked up and you're so ready to play. Just enjoy it."

Wilson certainly did that in Tokyo — averaging a team-best 16.5 points to go along with 7.3 rebounds — perhaps setting her up to take the leadership mantle for the 2024 Paris Games.

Staley's previous Olympic experience might have been one of the most important factors in the U.S women tying the U.S. men's Olympic teams of 1936-1968 for the most consecutive gold medals at seven.

While the core of the 12-player roster chosen for Tokyo had played together before, the first time this group came together was one day before the first of three exhibition games in Las Vegas. Back-to-back losses against the WNBA All-Stars and Australia — the first time some of these players had lost twice in any USA Basketball setting — were jolting, but the calming influence of Staley was one reason the Olympians didn't panic. Instead, the U.S. took the setbacks for what they were, exhibition games, stayed the course and worked on polishing its game to maintain the extraordinarily high standards the program has.

That is part of the reason Staley has compiled a 52-2 record, including seven gold medals, as a head coach at all levels of USA Basketball. When factoring in her various stints as an assistant, that record vaults to 112-6 with an additional four golds.

Staley's success — which includes becoming just the second woman to capture a gold medal as a player, assistant coach and head coach, matching Anne Donovan — is an inspiration to those around her.

"For me it's huge," Wilson said. "It is very important. I think it's very important just to Black women as well. I mean, personally, shattering that ceiling for all of us, representation matters, and it's just one of those things where if you can see her, you can be her. It truly means a lot to me to be a former player of hers to play underneath her, especially in this light, in this setting on this huge stage."
Steve Drumwright is a journalist based in Murrieta, California. He is a freelance contributor to USAB.com on behalf of
Red Line Editorial, Inc.