Richard Torrez Jr. And Keyshawn Davis Capture Silver Medals In Boxing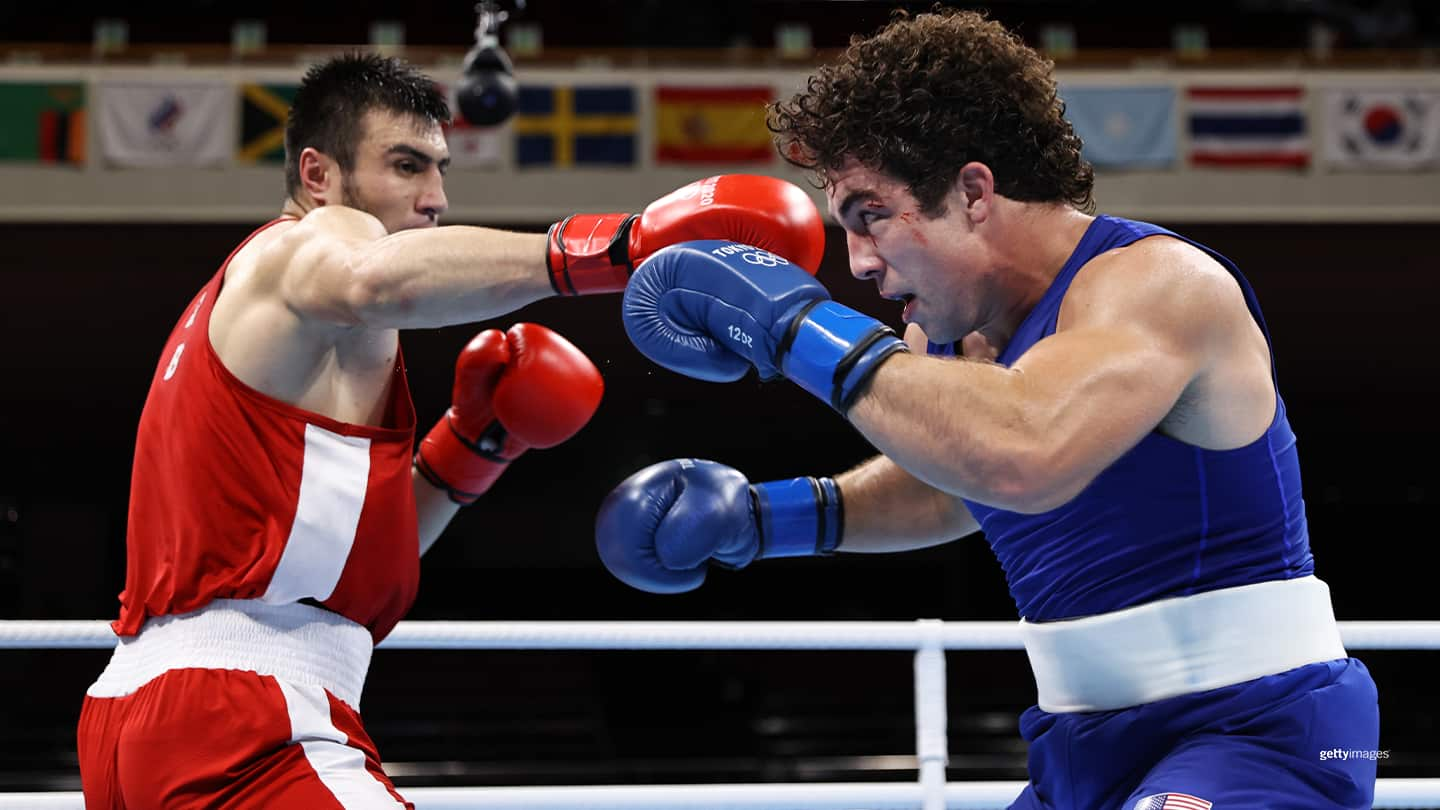 Bakhodir Jalolov of Team Uzbekistan and Richard Torrez Jr. (R) compete in the men's super heavy (+ 91kg) final bout at the Olympic Games Tokyo 2020 on Aug. 8, 2021 in Tokyo.
TOKYO – Boxer Richard Torrez Jr. was penalized a point for ducking his head in the Olympic super heavyweight final, but he held his head high after the fight.

"I feel like I had the world in my hands and it slipped," Torrez said. "And I watched it fall and break."

He paused, fighting to stay composed. "And I'm trying to pick up the pieces."

In the last event of the Olympic Games Tokyo 2020, Torrez went up against Bakhodir Jalolov of Uzbekistan, the boxer who hit him so hard in the 2019 world championships that Torrez lost consciousness and had to be taken out on a stretcher.

Jalolov is 6-foot-7, but seems bigger, while Torrez is 6-foot-2, but seems smaller. Torrez finished the fight, but lost by unanimous decision, 5-0.

"I was going to joke around and say I kind of feel like David and Goliath," Torrez said. "At least David got a slingshot, right?"

And yet armed with just his fists and his wits, Torrez was holding his own in the 91+ kg division. He won the first round 3-2. In the second, the 22-year-old took some shots from Jalolov, including one that led to a cut above his left eye and a standing eight count. He also was caught dropping his head too much, costing him the round.

"I have no complaints with the ref taking the point; he did what he was supposed to do," Torrez said.

By then, he was tiring out the giant Uzbek fighter, but not enough to win the bout.

Teammate Keyshawn Davis, who also won a silver medal for Team USA in the 63 kg (lightweight) division, said he was at the world championships when Torrez was knocked out.

"This last meeting, he didn't make it out of there," Davis said. "He's an undersized super heavyweight. It says a lot about Richard and his heart and his passion to want to win gold and just wanting to win period."

Both fighters were trying to become the first male Olympic gold medalist since Andre Ward in 2004.

Torrez said standing on the podium was "one of the most bittersweet moments I've ever felt… One guy crying tears of joy, the other sadness. So maybe one day I'll look back and say I did a good job, because I do believe I did a good job. But it's tough."

However, he offered his congratulations to his opponent, who is 8-0 as a pro with eight knockouts.

But there was no knockout Sunday in Kokugikan Arena, which normally hosts sumo wrestling.

"Being in that ring and getting hit, it's not fun," Torrez said. "Everyone has a plan till they get punched in the mouth. I got hit one time. I got wobbled, but I was able to maintain my feet. I was able to maintain my composure. And continue on to fight."

Torrez is the first American super heavyweight to compete in an Olympic Games final since Riddick Bowe in 1988.

He is the third generation of a boxing family and his father, Richard Torrez Sr. is his coach. "My dad was really proud," Torrez said. "But he just said, 'Yeah, this sucks, but keep your head up high. And it's hard."

Torrez voice cracked. "I hate this feeling right now," he said, "The only thing I'm going to say is a positive about it is I'm not going to sulk in it. I'm going to use this feeling to be better and so . .. sighs. I'm sorry I could't perform and get that gold medal, but I'll be back."

After the fight, Jalolov carried his coach on his shoulders.

What makes Torrez go up against these giants? "I guess I've always done it," he said. "I've been a little kid going up against bigger guys. I always played with the older kids. It was something that I liked doing. I like the challenge; I like the experience, I like going in there against someone that's two heads taller than me and be able to come out victorious. It's an amazing sense of adrenaline, it's an amazing sense of accomplishment and I love being a super heavyweight."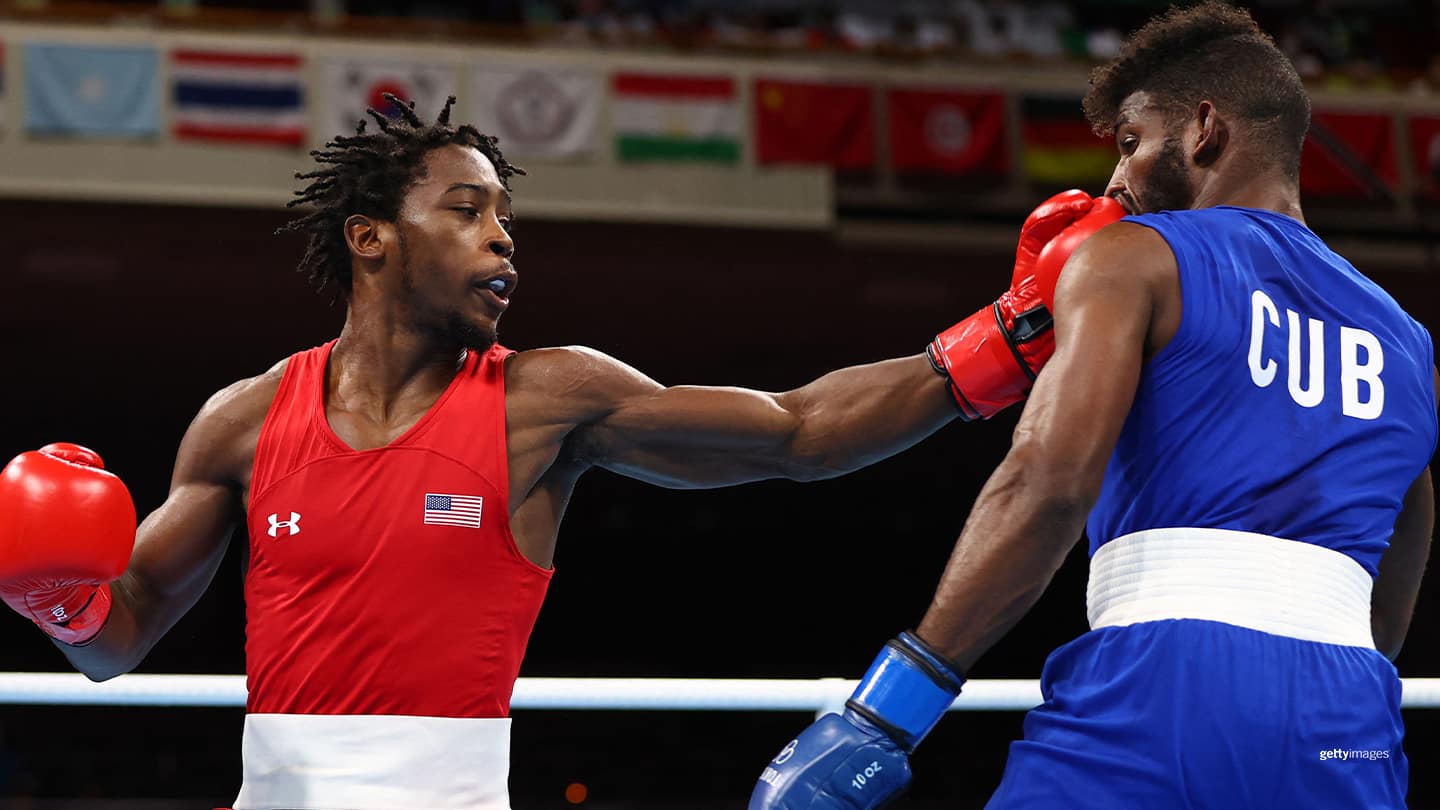 Keyshawn Davis (L) and Andy Cruz of Team Cuba compete in the men's light (57-63kg) final bout at the Olympic Games Tokyo 2020 on Aug. 8, 2021 in Tokyo.

Davis lost his gold-medal bout to a familiar nemesis, Andy Cruz of Cuba, who took a 4-1 decision.

In his fifth bout of the Games, Davis lost the first round 4-1, but won all five judges' cards in he second round. However, Cruz had the momentum in the third round for the victory. The Cuban, a two-time world champion, is now 4-0 against Davis after also winning three bouts in 2019, including the Pan American Games by a 4-1 decision.

"It was moving so fast, I barely remember it," said Davis, "but I feel like it was a 3-2 decision. It was a good technical fight. I think the fans loved it."

Although Davis was selected for the Olympic team in December 2019 - contingent on qualifying - he was removed from consideration in January 2021 due to breaking team rules by leaving camp. He promptly announced he was turning pro.

Undefeated as a professional with three pro bouts under his belt, he returned to the USA Boxing fold because the pandemic had forced the cancellation of qualifying tournaments. Davis, however, had the necessary points, to qualify, but went into the Games unseeded..

As a pro, he's fought in front of 73,000 fans in Dallas. The audience in Tokyo was in the hundreds, but Davis felt like he had wide television exposure.

"A lot of new faces got to see my potential, got to see my talents," he said. "I just hope that they gravitated to me and I hope that they take my journey, my story as inspiration and they just keep following me."

The Norfolk, Virginia, native, who has an older and younger brothers who are also boxers, said into the camera that he was proud of himself.

" I'm proud because I put my professional career on hold, put my money on hold to accomplish my dream and I did that," Davis said. "A lot of people wouldn't take that risk.

Especially, he added, "when everything was going their way, they were getting everything they wanted, risking their career, putting their bodies on the line to do something extraordinary and I did that."

He said the experience made him a better fighter and he feels he matured under the intense pressure.

"Just because I got the silver medal, this doesn't make me a silver medalist," Davis said. "I'm still a gold medalist, whether I came here or not. I'm still a huge fighter, a big fighter, a very talented fighter and I know my worth going into the next level."

He pointed out that Floyd Mayweather didn't have a gold medal when he entered the professional ranks "and look at him now," Davis said. "This doesn't define me, I'm still a gold medalist, a great fighter at the end of the day."

Torrez, though, had a different perspective.

"In my mind I'm still a silver medalist, not a gold medalist, he said. "I was in that finals….and I was there. Just didn't go my way. And so, I just want to say thank you to my family, thank you to my community, thank you to my country. And we'll be back."

Torrez said he's wanted a gold medal ever since he was 8 years old and watching the Olympic Games with his dad. He also said people in his hometown of Tulare, California, knew about his hopes and dreams.

"I went into here," Torrez said, "some people thought I wasn't going to do anything, but my town back home thought I could do everything. My town back home firmly believed I was going to be a gold medalist.

"I just…I fell short."

He said someday he will look at the silver medal with pride. "

"I am a medalist," Torrez said. "But, every time I look at it, I'm going to feel sorrow, too."
Want to follow Team USA athletes during the Olympic Games Tokyo 2020? Visit TeamUSA.org/Tokyo2020 to view the medal table, results and competition schedule.
Karen Rosen has covered every Summer and Winter Olympic Games since 1992 for newspapers, magazines and websites. Based in Atlanta, she has contributed to TeamUSA.org since 2009.