With Fifth, Delaney Schnell Scores The Best Finish For The U.S. In Women's 10-Meter Platform Since 2004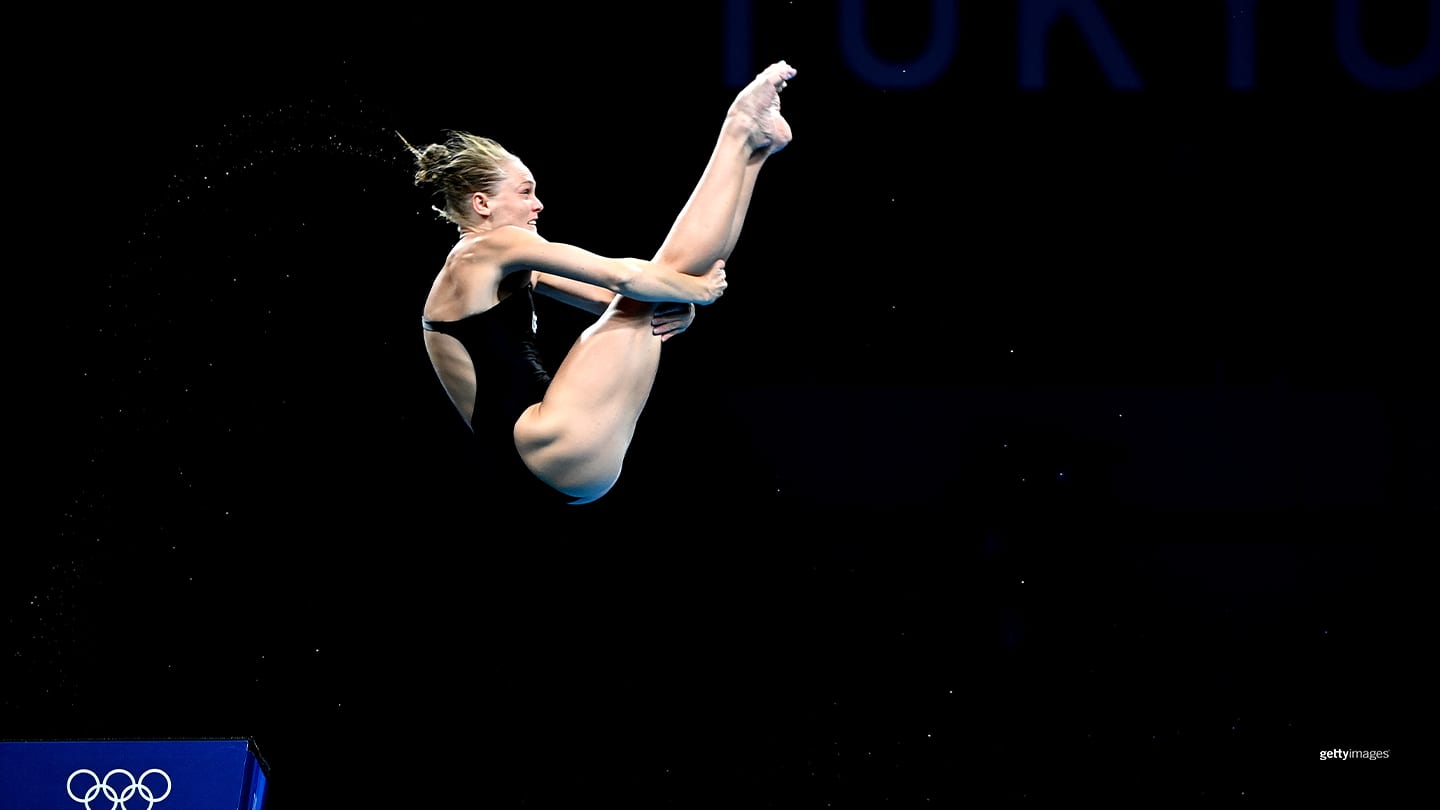 Delaney Schnell competes in the women's 10m platform preliminary round at the Olympic Games Tokyo 2020 on Aug. 4, 2021 in Tokyo.
TOKYO — For Delaney Schnell, it was all about keeping a smile on her face and enjoying her first Olympic experience.

Although the women's 10-meter platform competition at the Olympic Games Tokyo 2020 did end like she hoped, she still shed tears of joy. The 22-year-old University of Arizona graduate finished fifth in the event with a score of 340.40 — the best finish since the 2004 Olympic Games when Laura Wilkinson also finished fifth.

"It's been unbelievable," Schnell said of her first Olympic experience. "That's why I'm crying now because it's really just been an incredible journey. I couldn't be more happy with it."

Schnell leaves Tokyo as an Olympic medalist. Last week in synchronized platform diving, she won the Olympic silver medal with Jessica Parratto. After finishing third in prelims and semifinals, she was a favorite to medal in the individual platform event today. Still, she was not upset at the outcome.

"I did not expect anything out of [my first Olympic Games]," Schnell said. "I think that's what made it a little easier to come in and enjoy it and perform the way I did."

The Chinese kept a lock on the women's platform diving Olympic title, with 14-year-old Quan Hongchan dominating the competition with a 466.20 score and winning the fourth Olympic gold medal in a row for her country. She scored perfect 10s across the board on two of her dives.

Chen Yuxi, 15, and the 2019 world platform diving champion and the Olympic champion in synchronized 10-meter platform last week, earned the silver medal with 425.40. Australia's Melissa Wu rounded out the podium with the bronze medal after tallying 371.40 in her five dives.

The U.S. has not won an Olympic medal in women's 10-meter platform since 2000, when Laura Wilkinson won the event. Prior to the 2000 Games, U.S. women had stood on the 10-meter platform Olympic podium in almost every Olympic Games since 1924. But the Chinese have dominated the event in this millennium.

Schnell is the U.S.'s brightest hope in platform diving since the Wilkinson era. Raised in Tucson, Arizona, she was a level 8 gymnast in her youth, then discovered diving thanks to a gymnastics teammate whom she saw diving. Schnell told her teammate that she wanted to quit gymnastics, and the teammate suggested she try diving.

By age 11, Schnell was winning national diving titles. Then as a freshman at Tucson High School, she won the state diving championships. Before she had even entered college, she qualified for world championships.

Schnell stayed close to home for college, matriculating at the University of Arizona, where she was named Pac-12 conference women's freshman diver of the year. Coach Dwight Dumais came to the Wildcat program from the University of Texas because of Schnell.

"I took the job [of diving coach] at the University of Arizona because she was just that gifted," said Dumais. "Then it was just trying to get her to buy in to what I was trying to teach, and that's really a credit and a testament to her. After a whirlwind of three years, this has been an incredible ride."

With the Wildcats, Schnell won two NCAA titles in 2019, then a bronze medal in 10-meter at world championships later that year, becoming the first American woman to win a world championship medal in that event since Wilkinson in 2005.

Schnell redshirted the following year to prepare for the 2020 Olympic Games. When the Covid-19 pandemic postponed the Games for a year, Schnell decided to return to college competition.

"As we started to lose more and more meets across the world, the college season started to open up," explained Dumais. "So we actually pulled the trigger to compete in the NCAA, to gain all the competitive experience that she could."

Schnell finished second in the 10-meter platform dive at 2021 NCAAs and fourth in the 1-meter competition. The disappointment gave her "that extra little push" going into Olympic trials.

"It taught me what I shouldn't do coming into the Olympic trials and the Olympics," she said, "and I was able to take that and run with it."

In her first Olympic event last week — synchronized 10-meter platform — she and Parratto won the silver medal.

"The day right after synchro I let all the emotions sit in, but then the next day I really just tried to make sure I focused on the next event," Schnell said. "I think it took a lot of pressure off that I've already won a silver medal and now I can just enjoy it and dive for myself."

In the 10-meter finals, Schnell finished third on her first dive — a back 2 ½ somersaults with 1 ½ twists. She also finished third with her forward dive, scoring a few 9s from the judges. But she was just a bit off on her other three dives, which allowed Wu and Mexico's Gabriela Agundez Garcia to move by her in the standings.

Still, Schnell competed with a smile. In a diary entry before the 10-meter platform diving competition, she noted that her grandfather once told his cardiac doctor that his granddaughter would be an Olympian.

"I know my family is already so proud of me," she wrote. "My grandpa predicted I'd make it this far, and I know he is looking down on me from heaven and smiling. In honor of him, my family and friends, I will keep that smile on my face as I compete tomorrow in the preliminary event."

"He always loved supporting my diving," she said after finals. "He passed away six years ago today, so it's kind of weird that I'm competing today."

Schnell and Dumais now look toward the Olympic Games Paris 2024. Although Schnell completed her undergraduate degree in June, she still has two years of NCAA eligibility so will enter a master's program at the UofA in speech language pathology.

As for beating the Chinese, Dumais knows the secret. The Chinese are "really good six feet from the water," he explained.

"What I mean by six feet from water is how executional they are on their cutouts," he continued. "It is systematic, it is methodical. It is something that I've really tried to kind of pound into [Delaney's] head.

"That's what makes [the Chinese] lethal. If you watch them, they go through the water with zero splash whatsoever. And that's why you get the nines and 10s."

It's a message that Schnell will work on for the next three years as she pockets this experience from Tokyo.

"I think this Olympics is really good to get me ready for Paris," she said. "It also shows me what I'm capable of doing come three years from now, so that's really exciting."
Want to follow Team USA athletes during the Olympic Games Tokyo 2020? Visit TeamUSA.org/Tokyo2020 to view the medal table, results and competition schedule.
An award-winning freelance writer based in Vermont, Peggy Shinn has covered six Olympic Games. She has contributed to TeamUSA.org since its inception in 2008.