Alison Gibson And Krysta Palmer Kick-Off Day One Of Diving Competition In Tokyo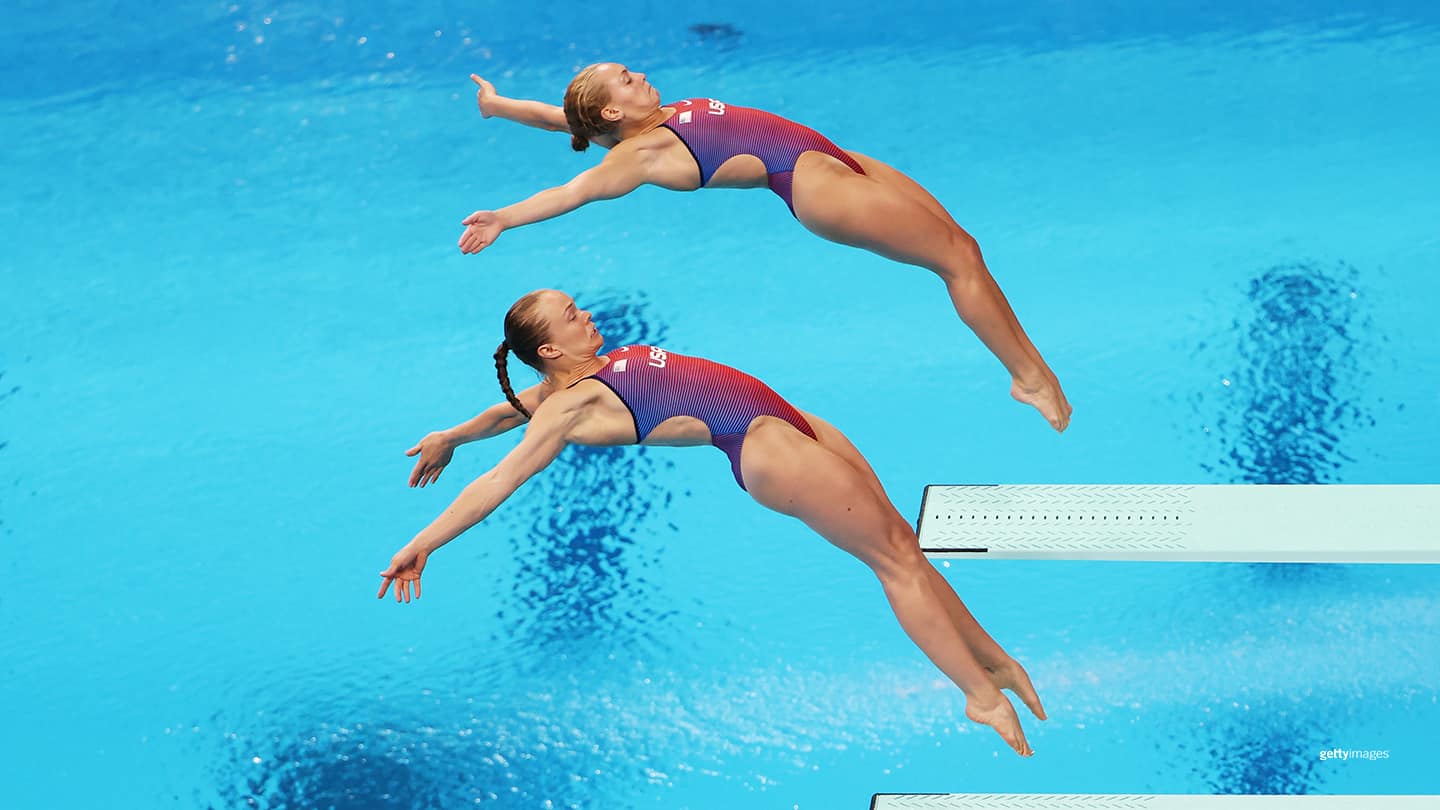 Alison Gibson and Krysta Palmer compete during women's 3-meter synchronized springboard at the Olympic Games Tokyo 2020 on July 25, 2021 in Tokyo.

TOKYO – Alison Gibson and Krysta Palmer were the first members to make the U.S. Olympic Diving Team last month at Trials in Indianapolis. Now they have become the first divers to compete at the Olympic Games Tokyo 2020 in the women's 3-meter synchronized springboard.

Inside the newly constructed Tokyo Aquatics Center, the duo came out strong in their Olympic debut.

After flawless dives in the first two rounds, first-time Olympians Gibson and Palmer were tied for first with China's Shi Tingmao and Wang Han.

Unfortunately, their hopes of an Olympic medal were dashed after falling short on their final three dives of the competition.

Despite the scores, the pair remained positive throughout.

"We're just so happy and blessed to be here, honestly," said Palmer. "I think going into it we just wanted to have fun and stay as relaxed as possible. That's what helps us dive."

Palmer, 29, a former gymnast and trampoline athlete, became a diver much later in her career. After knee injuries forced her to quit gymnastics, she turned to diving at age 20.

Then, she found Alison Gibson.

Gibson, 22, has been diving since she was just nine years old and was one of the University of Texas' top divers from 2017-2020.

The pair have been diving together since 2017.

"Obviously, we do this sport because we love it and that's the core of it," said Gibson. "Some days are good and some days are bad, but in the end we are doing it because we love it."

China's Shi and Wang went on to win gold in the event with a total score of 326.4, an impressive 25.62 points ahead of silver medalists from Canada.

Canada's Jennifer Abel and Melissa Citrini-Beaulieu ended with a total score of 300.78, and Lena Hentschel and Tina Punzel of Germany took bronze with a final score of 284.97.
While the difficulty of their dives were ambitious, Gibson and Palmer are confident in their abilities to nail them.

"We're very capable of doing all these dives really well," said Gibson.

Gibson and Palmer finished eighth with a total score of 263.49.

"We're here and we're having fun, no matter how good or bad it goes," said Gibson.

Team USA will be back in action Tuesday for the women's synchronized 10-meter platform. Jessica Parratto and Delaney Schnell will vie for a place on the podium and Team USA's first diving medals of the Games.

Want to follow Team USA athletes during the Olympic Games Tokyo 2020? Visit TeamUSA.org/Tokyo2020 to view the medal table, results and competition schedule.
Kara Tanner is a sports journalist and creative based in Colorado Springs, Colorado. She is the head digital content manager and editor for TeamUSA.org.