Stewart's Stellar Shooting Sends U.S. Women's Basketball To Semis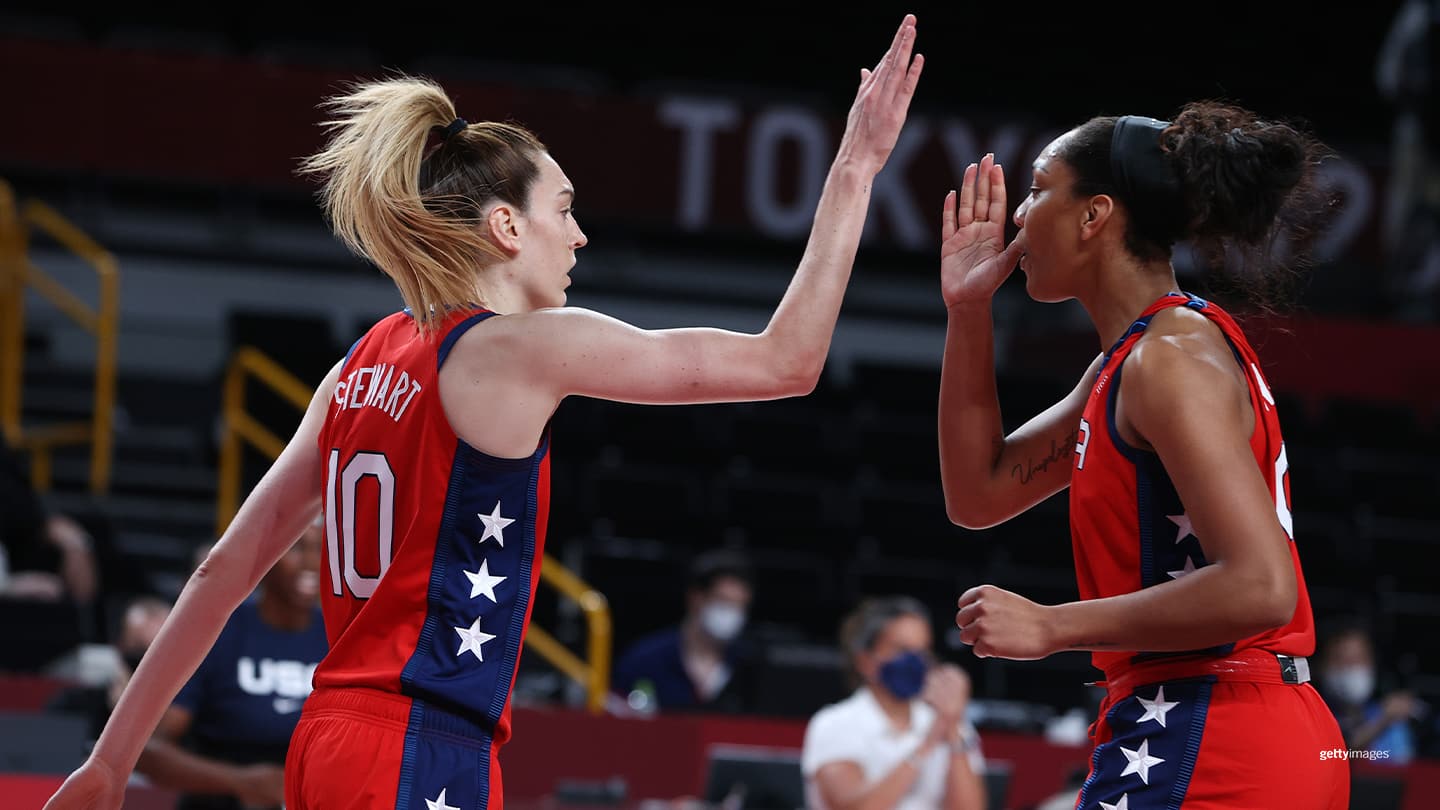 Breanna Stewart high-fives teammate A'Ja Wilson at the Olympic Games Tokyo 2020 on Aug. 4, 2021 in Saitama, Japan.
While others might have questioned if the U.S. women's basketball team had lost a little luster after three games of pool play at the Olympic Games Tokyo 2020, the players and coaches simply exuded a quiet confidence that they would get to the level they needed to be at.

Consider those questions dismissed.

Breanna Stewart scored 20 of her 23 points in the first half as the top-ranked U.S. throttled second-ranked Australia 79-55 Wednesday in the Olympic semifinals at Saitama Super Arena.

Stewart had 10 of her Olympics career-high 23 points in the first quarter as the U.S. took control with a 17-0 run.

The Americans' 53rd straight Olympic victory sets up a semifinal matchup with Serbia on Friday at 12:40 a.m. ET. Serbia, in just its second Olympics, used a 28-12 fourth-quarter advantage to beat China 77-70. The U.S. has won the last six Olympic gold medals.

Brittney Griner added 15 points and eight rebounds, while A'ja Wilson added 10 points and Chelsea Gray seven points and eight assists for the Americans. Stewart's previous Olympic best had been 17 points, which she did twice.

Australia, which has three Olympic silver medals and two bronzes but did not win a medal in 2016, dropped to 0-8 vs. the Americans in Olympic history.

The Americans lost to Australia 70-67 in one of their three Las Vegas exhibitions before heading to Tokyo. Australia played without Liz Cambadge, a WNBA All-Star who took herself off the roster the day before playing the U.S. in Vegas. Still, Australia had five current WNBA players on its roster.

However, the U.S. came out with an intensity and focus on Wednesday unlike it showed in its first three games in Tokyo.

Australia opened with a 6-4 lead before Stewart took over. She hit her first four shots en route to scoring 10 of the Americans' first 14 points. Stewart also blocked a pair of shots and drew two offensive fouls in the opening 10 minutes as the U.S. took a 26-12 lead.

In the second quarter, Australia briefly got back into it with a 7-0 run to pull within 28-19, but the U.S. reestablished control and, with Stewart scoring another 10 points, took a 48-27 advantage at halftime.

The U.S. shot 54.8 percent (17 of 31) in the first half to Australia's 31.3 (10 of 32).
Want to follow Team USA athletes during the Olympic Games Tokyo 2020? Visit TeamUSA.org/Tokyo2020 to view the medal table, results and competition schedule.
Steve Drumwright is a journalist based in Murrieta, California. He is a freelance contributor to TeamUSA.org on behalf of
Red Line Editorial, Inc.