Skateboarder Bryce Wettstein Advances To Women's Park Final, Finishing Sixth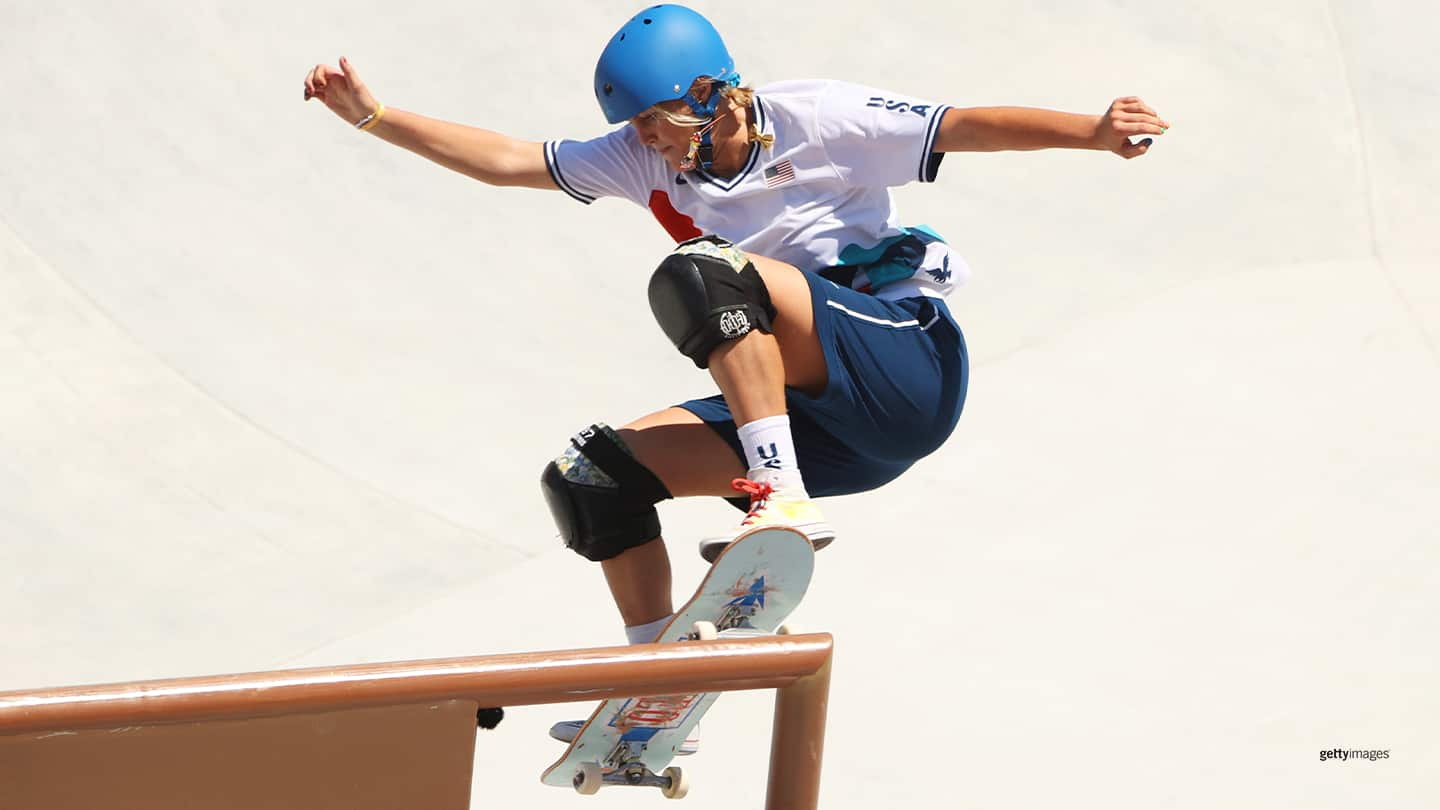 Bryce Wettstein competes in the women's skateboarding park preliminary at the Olympic Games Tokyo 2020 on Aug. 04, 2021 in Tokyo, Japan.
With the talent in the women's skate park field at the Olympic Games Tokyo 2020, the chances of a U.S. medal were thought to be a bit of a long shot.

Still, Bryce Wettstein put up a performance that should inspire other American girls following the debut of the discipline in the Olympic program. It showed in her enthusiasm and love of the sport despite not winning a medal.

The 17-year-old Encinitas, California, native finished sixth Wednesday at Ariake Urban Sports Park in Tokyo. The best of her three 45-second runs elicited a score of 45.40.

Sakura Yosozumi, a 19-year-old from Japan, won the sport's inaugural gold medal with a 60.09, while 12-year-old Kokona Hiraki of Japan captured the silver at 59.04 and 13-year-old Sky Brown of Great Britain the bronze at 56.47.

After qualifying fifth with a 44.50, Wettstein — ranked eighth in the world — matched that score in her opening run of the final to temporarily take the lead. Sitting fourth after the first round, Wettstein was unable to complete a trick and fell, settling for a 17.96. She was unable to improve on her sixth-place standing on her third run, falling while attempting a bones-to-finger flip trick early on.

Wettstein's best finish in four world championship appearances was sixth in 2018. Even as other athletes felt the pressure to perform, Wettstein seemed like she was just at another skate park instead of competing at the Olympic Games. After one of her qualifying runs and her third run in the final, she took a few extra seconds on her board traversing the swimming pool-style course, just enjoying the moment.

She even played her ukulele during the athlete introductions before the final.

"When I'm skating, I feel like I'm sort of in another cosmos — more like my own universe," Wettstein told Glamour before the Olympics.

The other two Americans, Brighton Zeuner and Jordyn Barratt, did not qualify for the final. Zeuner, a 17-year-old Arizona native who lives in Encinitas and is ranked 12th, finished 11th with 34.06, achieved on her final run. Barratt, a 22-year-old Hawaii native who lives in Oceanside, California, and is ranked 13th, posted a 35.22 on her first run to finish 12th.

The eighth and final qualifying score was 41.59.

The men's park takes place Thursday.

Want to follow Team USA athletes during the Olympic Games Tokyo 2020? Visit TeamUSA.org/Tokyo2020 to view the medal table, results and competition schedule.
Steve Drumwright is a journalist based in Murrieta, California. He is a freelance contributor to TeamUSA.org on behalf of
Red Line Editorial, Inc.