On The Event That Means Most, Suni Lee Adds Another Olympic Medal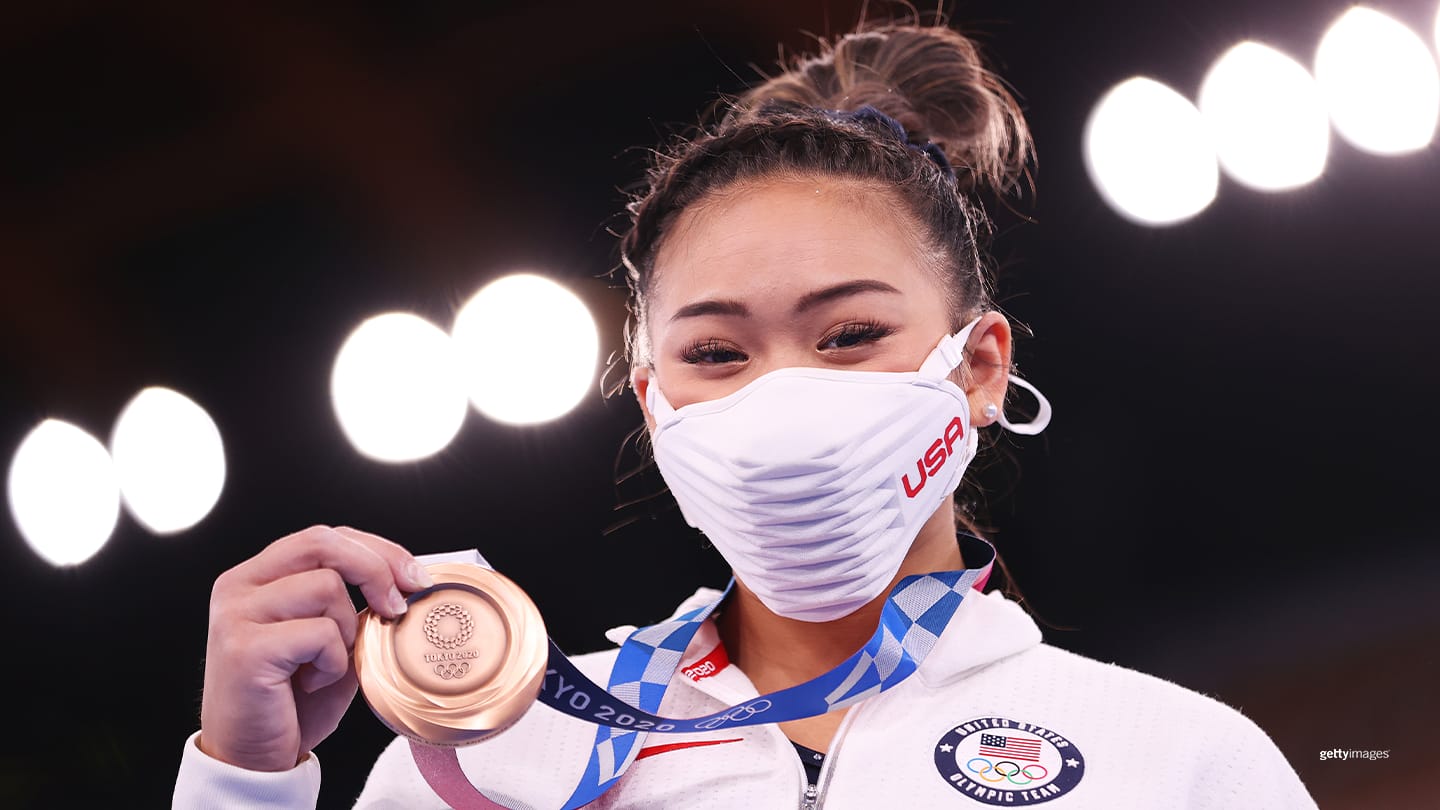 Sunisa Lee poses with the bronze medal on the podium for the women's uneven bars at the Olympic Games Tokyo 2020 on Aug. 1, 2021 in Tokyo.
TOKYO — There was one gold medal Suni Lee really had her eye on at the Tokyo Olympics, and it wasn't the big one she won the other night. It was the one on uneven bars.

"Bars is my thing," she said.

It's the event she fell in love with as a kid, doing set after set when her ankles were injured and she couldn't practice the other events. And it was bars that she long felt she had the best chance of winning in Tokyo, what with her monster 6.8 difficulty score and ability to seamlessly weave skills together in a way others could only dream of.

So of course on the day of the bars final at the Olympic Games Tokyo 2020, the St. Paul, Minnesota, native forgot to pack the shoes that go with the Team USA medal ceremony uniform.

That oversight didn't look quite so consequential when she dismounted Sunday at the Ariake Gymnastics Centre, though.

"Good thing I didn't bring the shoes," she told herself, "because I wasn't going to be on the podium anyway."

On her signature event the 18-year-old Lee missed her connections between elements, resulting in her difficulty score dropping down to 6.1. One of the improvisations she made mid-routine involved a transition she'd never worked on in practice. Even though she closed out the routine by sticking the dismount, her score of 14.500 was well below the three 15s she's posted earlier in Tokyo.

"This wasn't the bar routine that I wanted to do," she said.

At the end of a long wait for the rest of the field to wrap up, the score held up. Lee ended up with the bronze medal, her third so far of these Rio Games. Nina Derwael of Belgium took the gold medal with a score of 15.200, followed by Anastasiia Iliankova of the Russian Olympic Committee with 14.833.

Lee's was one of two medals on the first night of individual finals, with MyKayla Skinner claiming the silver medal on vault.

Looking down at the new bronze medal hanging around her neck, Lee admitted it "probably means more" than the more prestigious all-around gold medal she won on Thursday, owing to her long history with the uneven bars. And on a night when she was far from her best, she was able to find some satisfaction in still coming away with some hardware.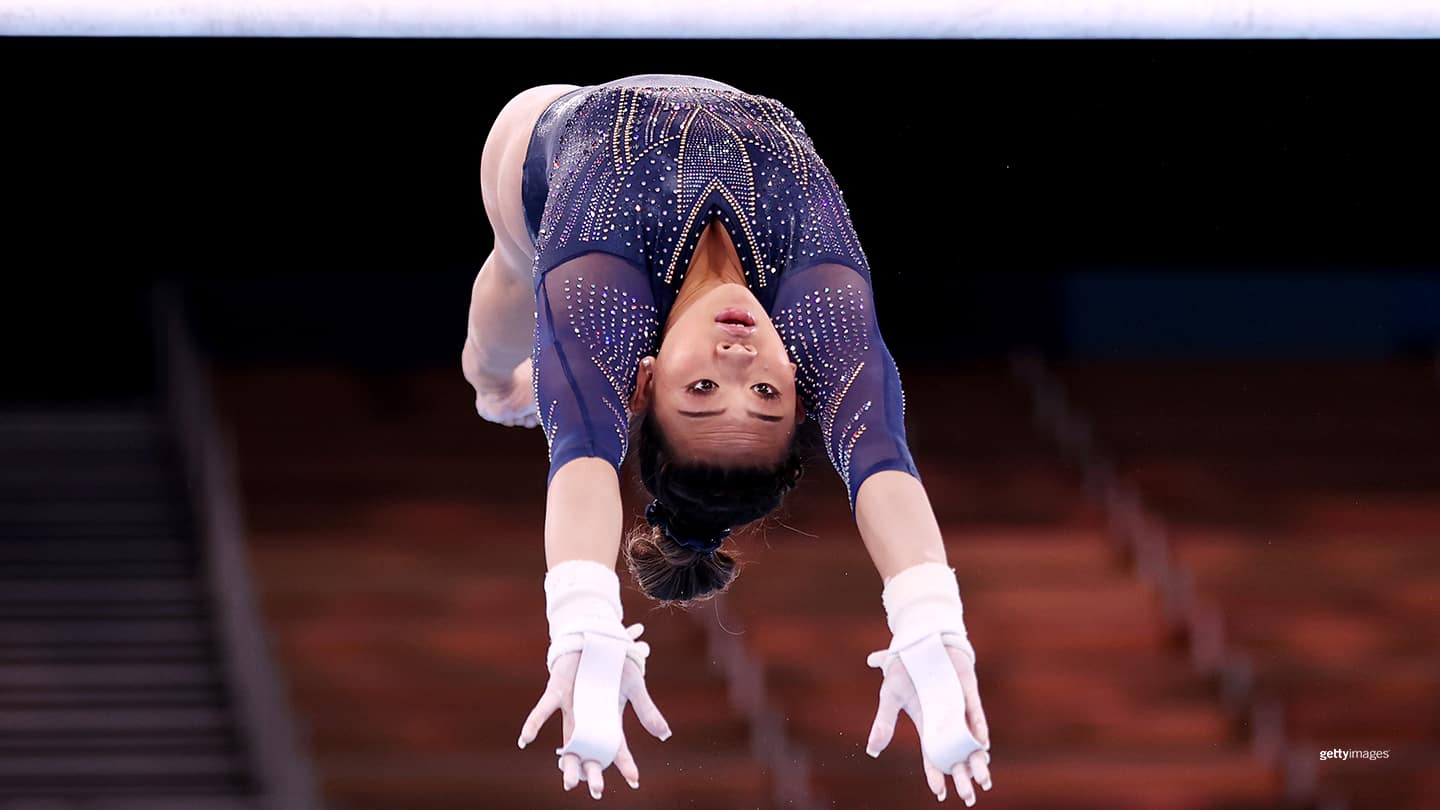 Sunisa Lee competing in the women's uneven bar final at the Olympic Games Tokyo 2020 on Aug. 1, 2021 in Tokyo.
"I'm really proud of myself for staying with it, because there were so many times in my bar routine where I just could have gave up and just jumped off," she said. "But I didn't. And now I have a bronze medal."

She was also reminded that she now owns a full set of medals: gold in the all-around, silver with the team and bronze on bars.

"Yeah it's really cool," she said. "I just wish my bronze medal was a beam medal or something."

She'll have an opportunity to win one more on Tuesday, when she competes in the balance beam finals on the last day of gymnastics in Tokyo.

Lee said she put too much pressure on herself Sunday, and that she was probably a little distracted these last few days. And who could blame her?

The last week has been a whirlwind.

Everyone's best laid plans were thrown into a loop on Tuesday, during the first rotation of the women's team final. Simone Biles, the world's best gymnast over the past two quads, went to do her vault, but midway through realized her finely tuned sense of air awareness was off. She managed to land the vault and avoid serious injury, but suffering from a condition known as "the twisties" she was unable to continue on.

In the coming days, Biles withdrew from the individual all-around and three of the four event finals she qualifier for. She's still deciding if she'll try to compete on beam.

With Biles, the prohibitive favorite, out of the all-around, that created an opportunity seen only once in the past eight years. If Biles was competing, her winning was as good as automatic. She's still never lost a formal all-around competition she's entered since 2013. With Biles out on a post-Olympic break in 2017, fellow American Morgan Hurd took advantage in winning the world title. On Thursday, it was Lee who grabbed it, becoming the fifth American woman in a row to win the Olympic all-around.

"Coming into this competition, I didn't even think that I could be competing for a gold medal," the stunned gymnast said afterward. "I was coming to compete for a silver medal."

She did win, though, and the all-around gold medal is life changing. Suddenly she had requests coming in from all corners, social media blowing up and the state of Minnesota declaring Friday as "Sunisa Lee Day." Already the first Hmong American to make the U.S. Olympic Team, Lee became an instant representative for that community. She also revealed on Friday that she's still planning to start college at Auburn in the fall — and by fall that means moving in on Aug. 11, just three days after closing ceremony.

Sure, she had a day off and a celebratory pizza. But it was all a lot to take in.

"I think I just let it get to me and I just lost focus this weekend," she said.

She did get on the medal podium, though, and she was wearing the right shows. It turned out her teammate Jade Carey, competing on vault tonight, wears the same size sneakers and was happy to loan them to the new champ.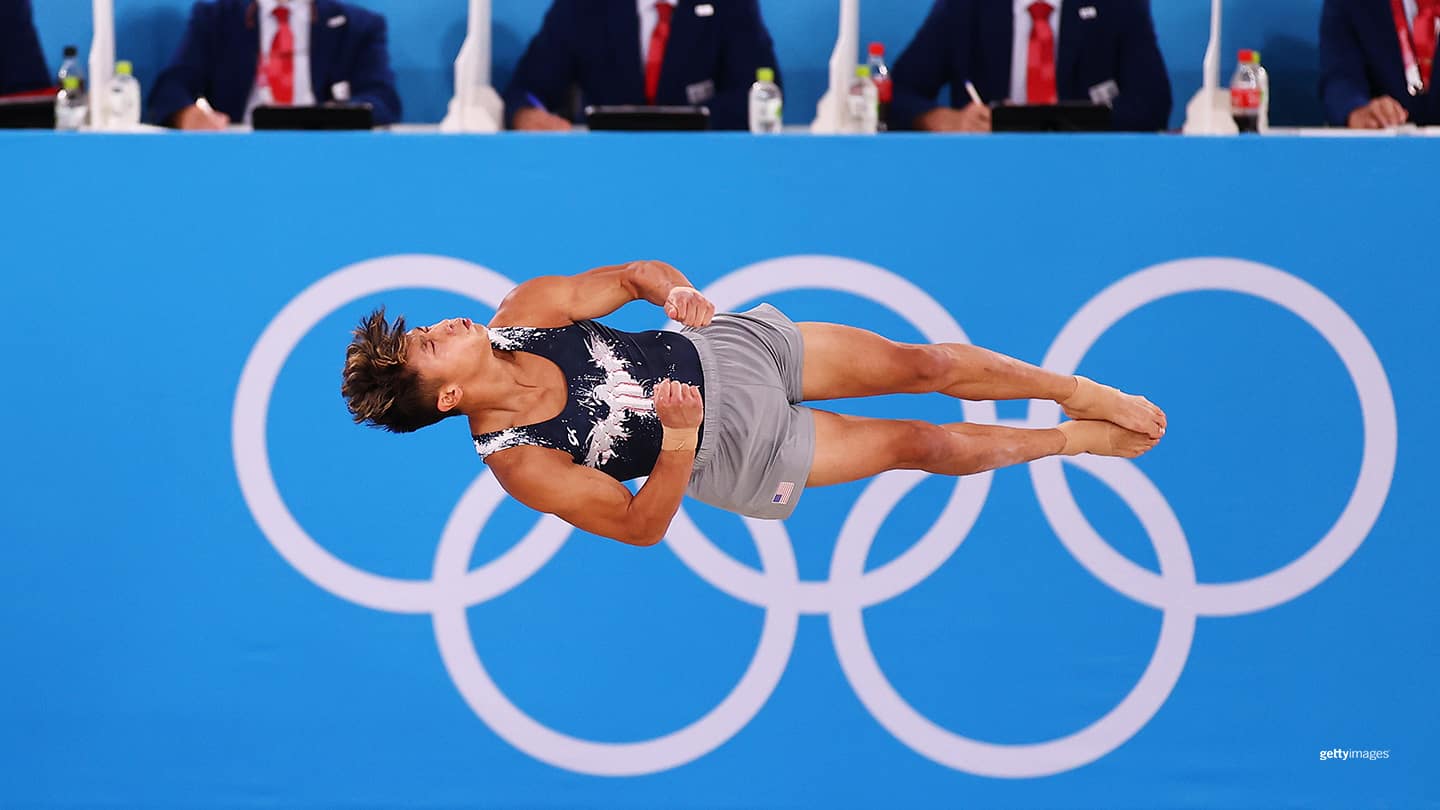 Yul Moldauer competing in the men's floor final at the Olympic Games Tokyo 2020 on Aug. 1, 2021 in Tokyo.
Moldauer And Yoder Close Book On
Tokyo
Yul Moldauer certainly plans to take some time off after his first Olympic Games. After helping the U.S. men finish fifth in the team event on Monday, he closed out the Tokyo Games with a sixth-place finish in the floor exercise finals. After watching his teammates in their individual finals, he flies out on Wednesday.

"I fly in Wednesday, I probably get a light day Thursday, Friday, and new skills on Saturday," Moldauer said. "We've got to ramp up and get ready for world championships. We've got to add difficulty. It's time to show that the U.S. is a strong team."

So, about that time off.

The floor finals didn't go as he'd hoped, but the overall experience in Tokyo "motivated me like no other," the former NCAA champ at Oklahoma said.

"Honestly I'm just excited to go home and finally start training again," Moldauer said.

The Tokyo Games marked a changing of the guard of sorts in the U.S. men's program. Sam Mikulak, the face of the team for the last two quads, is retiring from the sport after competing in the parallel bars finals on Tuesday.

At 24, Moldauer is now pretty much the veteran. That's another way of saying that the U.S. has a young squad — Brody Malone and Shane Wiskus, the other team members, are 20 and 22, respectively. Alec Yoder, who was competing in Tokyo as an individual, is also just 24.

Yoder is an event specialist who focused only on pommel horse in Tokyo. The 2014 Youth Olympian did what he came to in qualifying for the horse final, though he fell short of the podium on Sunday. Scoring 14.566, he also placed sixth.

After the team final, the U.S. men identified the key area they need to address if they're to break up the sport's big three of Russia, Japan and China: more difficulty. With the Paris Games set for 2024, the returning gymnasts have just three years to do just that.

For some, like Moldauer, the wait for the next big meet is barely even three months. The next world championships are October 18-24 in Kitakyushu, Japan. Now a freshly minted Olympian, Moldauer has already talked to his coaches about upgrading the start value on his high bar.

The Olympics proved to be a great experience, Moldauer said, pandemic restrictions and all. It's just not the only Olympic experience he wants to have.

"What's crazy is I'm just thinking about getting back home, and it motivates me to get better and better, get ready for the next quad," he said.
Want to follow Team USA athletes during the Olympic Games Tokyo 2020? Visit TeamUSA.org/Tokyo2020 to view the medal table, results and competition schedule.
Chrös McDougall has covered the Olympic and Paralympic Movement for TeamUSA.org since 2009 on behalf of
Red Line Editorial, Inc.
He is based in Minneapolis-St. Paul.