Michal Smolen Vying To Hold Off Rivals In Men's Kayak At Olympic Trials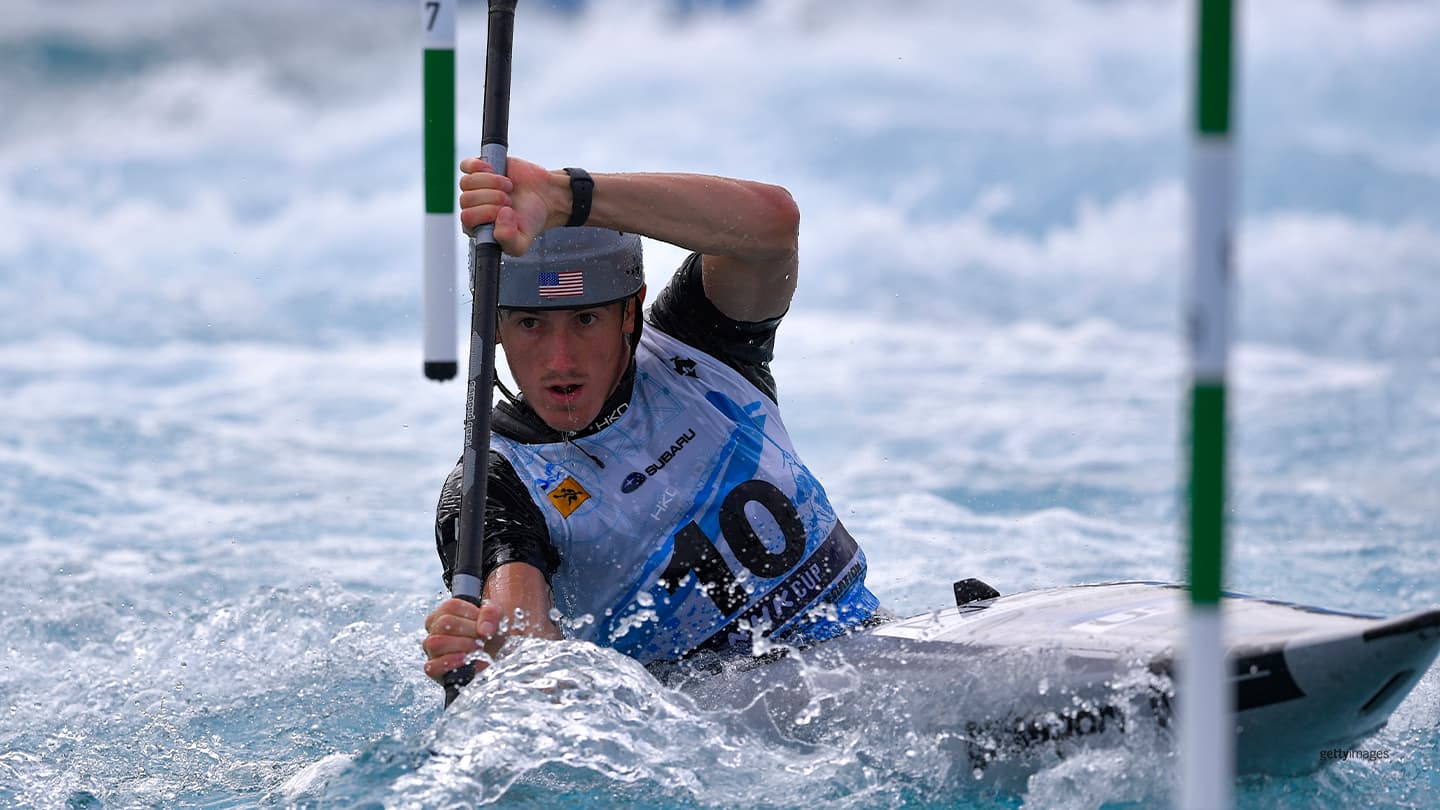 Michal Smolen competes in the Men's Kayak Single (K1) at the Canoe Slalom NHK Trophy on Oct. 20, 2019 in Tokyo.
CHARLOTTE, N.C. – Before kayaker Michal Smolen could regain his form, he had to reclaim his fun.

Smolen, a 2016 Olympian in men's K-1, threw down two dominant runs Tuesday on the second day of competition at the U.S. Olympic and National Canoe/Kayak Slalom Team Trials.

"The thing that I enjoy the most is being out on the water and just having fun and that was really missing for a few years," Smolen said. "I tried doing that today, just having fun and not thinking about anything else, and I had a really good day. So I'm going to try to do the same exact thing tomorrow - and for that matter every day after that."

After a rough start Monday, when he ranked sixth on his first run and fifth on his second, Smolen, 27, said he was able to find his focus, calm down and remove all distractions.

The battle for the sole Team USA spot at the Olympics in K-1 is still too close to call, but at least Smolen got himself back into the equation.

Tyler Westfall and Joshua Joseph, who each led a run on Monday, ranked second and third behind Smolen on Tuesday. After the last two runs Wednesday at the U.S. National Whitewater Center, the overall winner will have a paddle up on the competition going into the final qualifier, a world cup in Prague June 11-13.

"Everybody's had some trials and tribulations over the first two days," said Westfall, 24, "but everybody's also had some really nice runs, so it's going to be exciting when it comes down to tomorrow."

"Michal's an amazing paddler and he had trouble yesterday, but really killed it today."

The artificial course has featured 20 gates each on the first two days, with six upstream. Paddlers have had to maneuver in some tricky set-ups, with a tilt of the head sometimes averting a penalty.

Time is added for missing (50 seconds) or touching (2 seconds) a gate, and Joseph found himself with consecutive touches on gates 9 and 10 on his first run.

"My first run was a bit of a disaster," he said. "The second one was an all right run, but had some mistakes."

Although it looked like Joseph, the youngster at age 20, and Smolen, who warned the quota spot for Team USA, would be dueling for the Olympic berth, Westfall, who had to skip European races last year due to the pandemic and his financial situation, placed himself squarely in the mix.

"Tyler's a really good paddler," Joseph said, "and anything's possible at these races. I just put the past behind me and just hope for the best.

Because the junior national team competition has concluded, the final day will feature a harder course.

Smolen said the course was easy Tuesday, which is "not necessarily bad, but if you make a mistake it pulls you out of contention. There's such a small margin for error when the course is easier. When the course is harder, you have more room for mistakes, so obviously if you have a really good run on a difficult course, you're way ahead."

Smolen's outlook has brightened with his solid runs at the trials. The 2015 Pan American Games champion found himself somewhat adrift during the pandemic. He said he was ready to race for the Olympic Games Tokyo 2020s when the postponement "sort of changed my perspective on things."

"Nothing is certain and I think that the whole pandemic proved that," he said. "Nothing is certain in sports, either. One day you can be at the top and the next day you can be having a really hard time and be struggling with it. I think that's what's been happening with me over a few years."

Smolen, who has been a competitive kayaker half of his life, said training became monotonous.

"I think when you're young and ambitious, you're really excited and you're looking forward to it and you're really motivated by training," he said, "but when you do it for 10 or more years, everything just sort of can become a chore and you forget to have fun and that really can make you struggle. And I think finding that thing that helps you have fun out there on the water is really important after doing it for so many years."

So what helped Smolen find the his way back onto the right course?

"Just having people tell me that, 'It's just kayaking and it doesn't really matter in the grand scheme of things,'" Smolen said. "It's one thing to have goals and then chase after them, but if you're not really enjoying it, there's really no point. So you've really got to find what makes it fun for you and just keep doing that every day."

Smolen was extremely disappointed by his 12th place finish in Rio, but as a consolation, he met his girlfriend Camille Prigent, who is a member of the French national team.

Smolen spent some time during the pandemic in Paris and is about to move there while Prigent trains for the Olympic Games Paris 2024.

"Unfortunately, she didn't make the French Olympic team," Smolen said. "I'm hoping at least one of us will do it."
Karen Rosen has covered every Summer and Winter Olympic Games since 1992 for newspapers, magazines and websites. Based in Atlanta, she has contributed to TeamUSA.org since 2009.