Alabama Bests Auburn in Para-College Inclusion Wheelchair Tennis Exhibition Match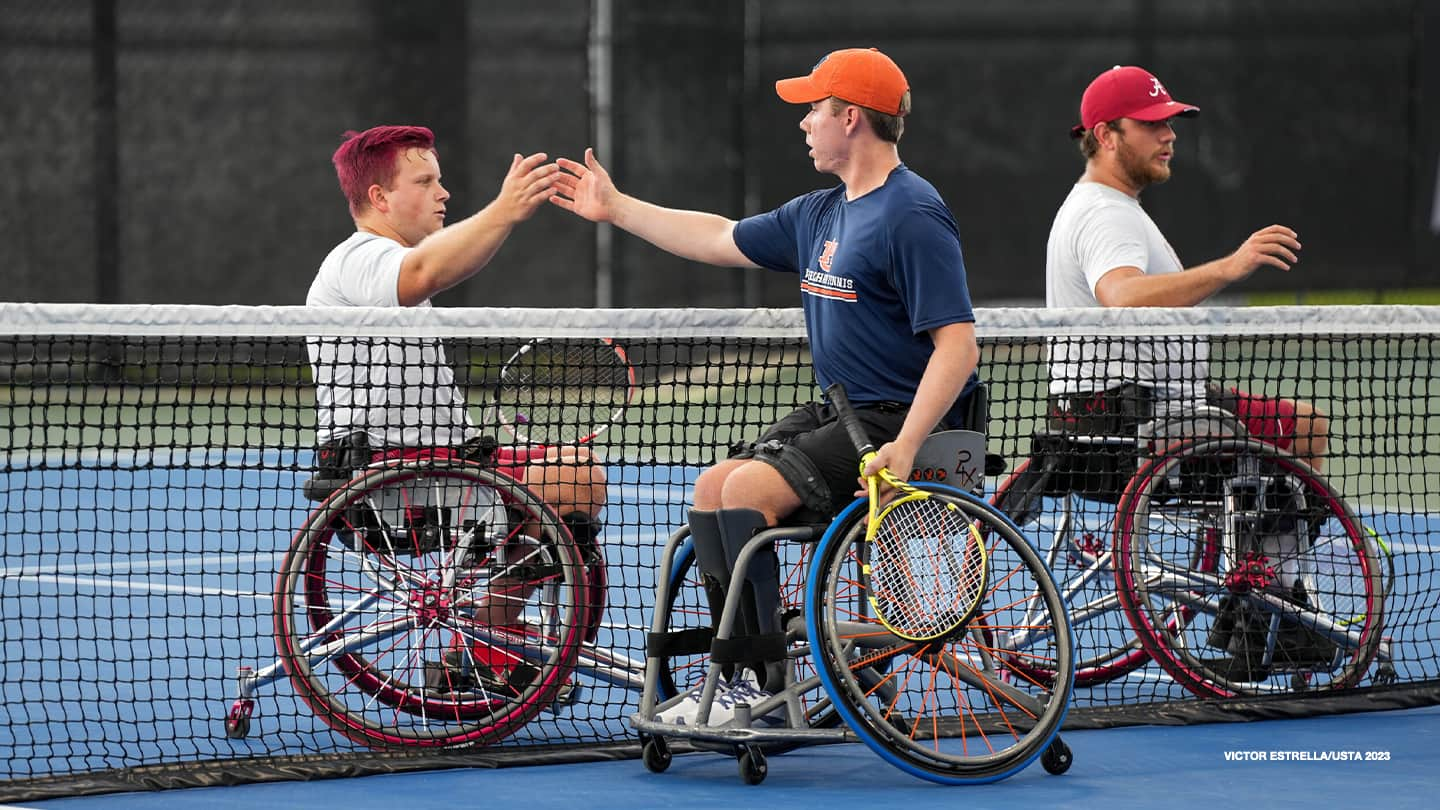 (l-r) Thomas Venos, Gabe Puthoff and Nathan Hunter congratulate each other after competing in the collegiate wheelchair exhibition on May 20, 2023 in Orlando, Fla.
The NCAA and USOPC established another milestone moment in their combined effort to direct the spotlight toward advancing Para and adaptive sports at the collegiate level. A pair of collegiate wheelchair tennis squads squared off against each other in an exhibition match during the 2023 NCAA Division I, II and III Men's and Women's Tennis Championships at the U.S. Tennis Association's landmark facility in Orlando, Florida.
In another installment of a timeless cross-state, multi-sport rivalry, wheelchair tennis teams from the University of Alabama and Auburn University delivered a phenomenal battle for all tennis fans in attendance. Unfortunately for Tigers fans, the Crimson Tide took home bragging rights with a 2-0 victory out of three matches played.
For those unfamiliar with the general scoring system of collegiate tennis, collegiate teams first play three doubles matches simultaneously. The team that secures two doubles victories earns the "doubles point," to claim an overall series lead of 1-0 and an advantage going into the six singles matches. The singles matches are also played simultaneously, and the first collegiate team to win four singles matches (three if the school earned the doubles point), secures the overall victory. Those still playing after four matches have been decided can choose to play out the match (for additional team practice and points) or "abandon" them, since winning the overall competition is statistically impossible.
The rules differ only slightly for wheelchair tennis. The number of sets in a doubles match and the number of team points are reduced due to a limited number of participating athletes.
Jake Eastwood of Auburn University competes during the collegiate wheelchair exhibition on May 20, 2023 in Orlando, Fla.
In this wheelchair tennis exhibition, the squads played three games – one doubles match and two singles matches. Thomas Venos and Nathan Hunter of Alabama claimed the doubles match over Auburn's Gabe Puthoff and Jake Eastwood for an early 1-0 series lead. Then, the pairs split up for their two singles matches. Venos then secured Alabama's overall win with a singles-match victory over Puthoff.
Venos, a senior majoring in elementary education, won the first two sets of a best-of-three match, 6-0. During the 2020-21 season, the Canada native went undefeated in singles competition at Collegiate Nationals to win his first singles national title and helped the Crimson Tide win its sixth National Championship.
With a series victory in hand, the second singles match between Alabama's Hunter and Auburn's Eastwood was abandoned. Although, Hunter held a 1-0 set lead over Eastwood before time was called.
While Venos graduates this year, Hunter, a junior studying general business, will return to a powerful Crimson Tide wheelchair tennis squad. Meanwhile, both Eastwood, a sophomore communications major, and Puthoff, a junior education major, will head back to Auburn's team carrying more experience. Eastwood and Puthoff also star on the Tigers wheelchair basketball team.
The competition was the third and final adaptive sport integration pilot of the USOPC/NCAA Para-College Inclusion Project, which launched in 2022.
"The USTA, ITA and NCAA have been tremendous partners in pioneering a new future for the sport of wheelchair tennis in our country," said USOPC chief of Paralympics, Julie Dussliere. "Bringing collegiate wheelchair tennis to the NCAA championships has introduced the adaptive sport to an already-passionate group of tennis fans, and we're excited to continue working together to advance the sport through our Para-College Inclusion Project."
Brendan Rourke is a Digital Media Assistant for the USOPC. Previously, he spent three years writing for the NBA's Indiana Pacers, and is a graduate of UCF and IUPUI's Sports Capital Journalism Master's Program.