Meet Youth World Boxing Champion Yoseline Perez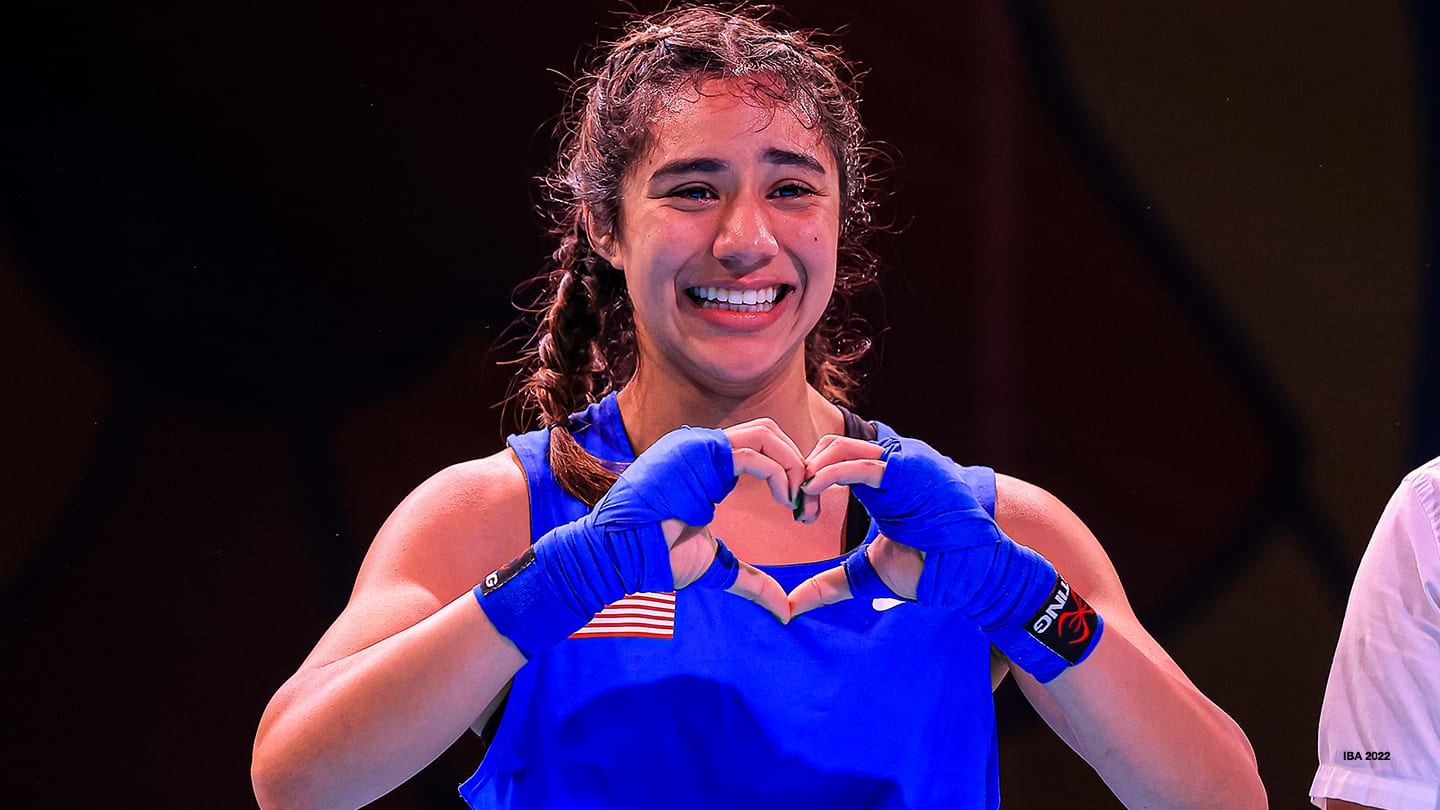 Yoseline Perez celebrates after competing in the women's 57 kg. at the 2022 IBA Youth World Boxing Championships in La Nucia, Spain.
Yoseline Perez is a dominant fighter in the boxing ring. In 34 bouts since her amateur debut in 2017 — when she was 13 — the young Texan has won 31.

Most impressively, in November, Perez won the 2022 IBA Youth Women's World Boxing Championships in the 57 kg. class (featherweight). It was her first international competition.

Since then, Perez's schedule has been a whirlwind. She was invited to the premiere of Creed III — the ninth movie in the Rocky series and third in the Creed series. And Perez began her road to the Olympic Games Paris 2024, where she hopes to win the first Olympic gold medal in the women's 54 kg. category.

So who is Yoseline Perez? And how has she become one of America's top boxers?
***
The youngest of five siblings, Perez grew up in Houston with four older brothers. She did every sport her brothers did, except football.

"That's definitely too much of a guy sport, you can't do it," Carmen Perez told her only daughter.

"But I wanted to!" said Perez. "I love how the whole tackling stuff works and being aggressive. It drew my attention, growing up with a lot of brothers, wrestling with them, stuff like that."

Instead, Perez was allowed to pursue volleyball, and she loved it.

When she was 10, Perez's oldest brother wanted to box. So every day after school, the Perez family — all five siblings — went to a local boxing gym so three of her brothers could train. For a year, Perez watched them spar and often imitated what they were doing. But if football was not a sport for girls, boxing wasn't either.

"Some days, I would go home and do my own stuff without my parents knowing," Perez said.

She liked the aggression of boxing — but also the artistry.

"It requires a lot of thinking in order to not get hit and to hit someone," she explained. "I guess you could say it's like tag. You tag someone, then run around and try to not get tagged. It's that sort of rhythm, as well as a chess match."

"The stereotype of boxing is just to be aggressive," she added. "People don't see the skills that boxers have in there. You have to lose the emotions for another human being and say it's either you or me."
Perez started to train in the boxing gym without telling her parents. A coach noticed her, thought she had potential, and convinced the Perez's parents to give their daughter a chance.

"It came so naturally to me," said Perez. "But my parents weren't okay with it at first."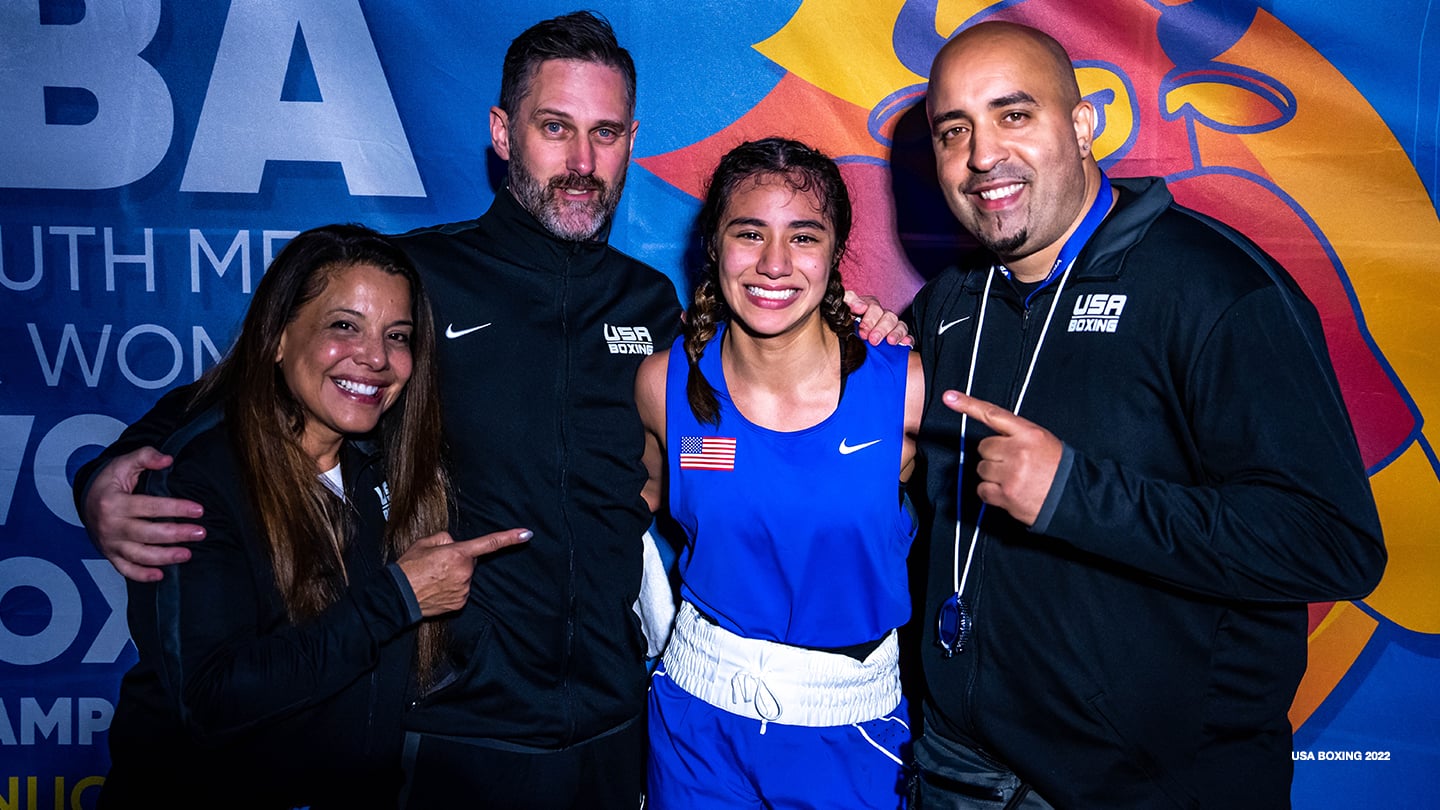 Yoseline Perez (C) and her coaches celebrate after winning the women's 57 kg. final bout at the 2022 IBA Youth World Boxing Championships in La Nucia, Spain.
Shortly after her 11th birthday, in March 2015, Perez fought in her first match. She lost, but it did not faze her.

"I didn't understand the importance of losing or winning [after the first match]," she explained. "After the second match, I knew what winning felt like, and I knew I didn't want to lose again."
Perez's win record as an amateur boxer is remarkable. As a 13-year-old, she won the Western Regional Open and National Junior Olympics and for the next four years, only lost one match (2018 National Junior Olympics, where she finished second). Perez did not lose again for another four years (2020 USA Women's Youth National Championships Final postponed until April 2021 because of the COVID-19 pandemic). But that loss really hit home.

"It all came rushing back," said Perez.

She realized that her youthful dominance had given her misplaced confidence. To win at higher levels, she would have to work for it. So after the loss at 2020 youth nationals, she started training three times each day.

"I already had the talent, I already had the ability to fight and compete, I just needed the work ethic," she said. "As soon as I gained that, I felt like nothing was going to stop me."

Perez won her weight class at 2021 youth nationals that December — dominating the competition — and was invited to train at the U.S. Olympic & Paralympic Training Center in Colorado Springs, Colorado in 2022. She balanced finishing her senior year in high school with trips to the OPTC.

In Houston, she trains at the gym her father, Juan Carlos, created at their home. Juan Carlos and Perez's oldest brother work her corner during bouts.


IBA World Women`s Youth
Championships
In November 2022, Perez traveled to La Nucia, Spain, for the 2022 IBA Youth Women's World Boxing Championships — her first international competition. Although she had butterflies in her stomach, Perez knew she could dominate in the 54-57 kg. weight class.

She won her two preliminary matches in just over one minute — with the referee stopping both bouts. Then she won her quarterfinal bout by a 4-1 decision. Perez advanced to the finals after a semifinal walkover.

In the final against Asya Ari from Germany, Perez again won by RCS, with two seconds remaining in the round.

"This is the best feeling in the world," Perez said after the bout. "Saying you're going to do something and doing it, that's by far the greatest feeling ever."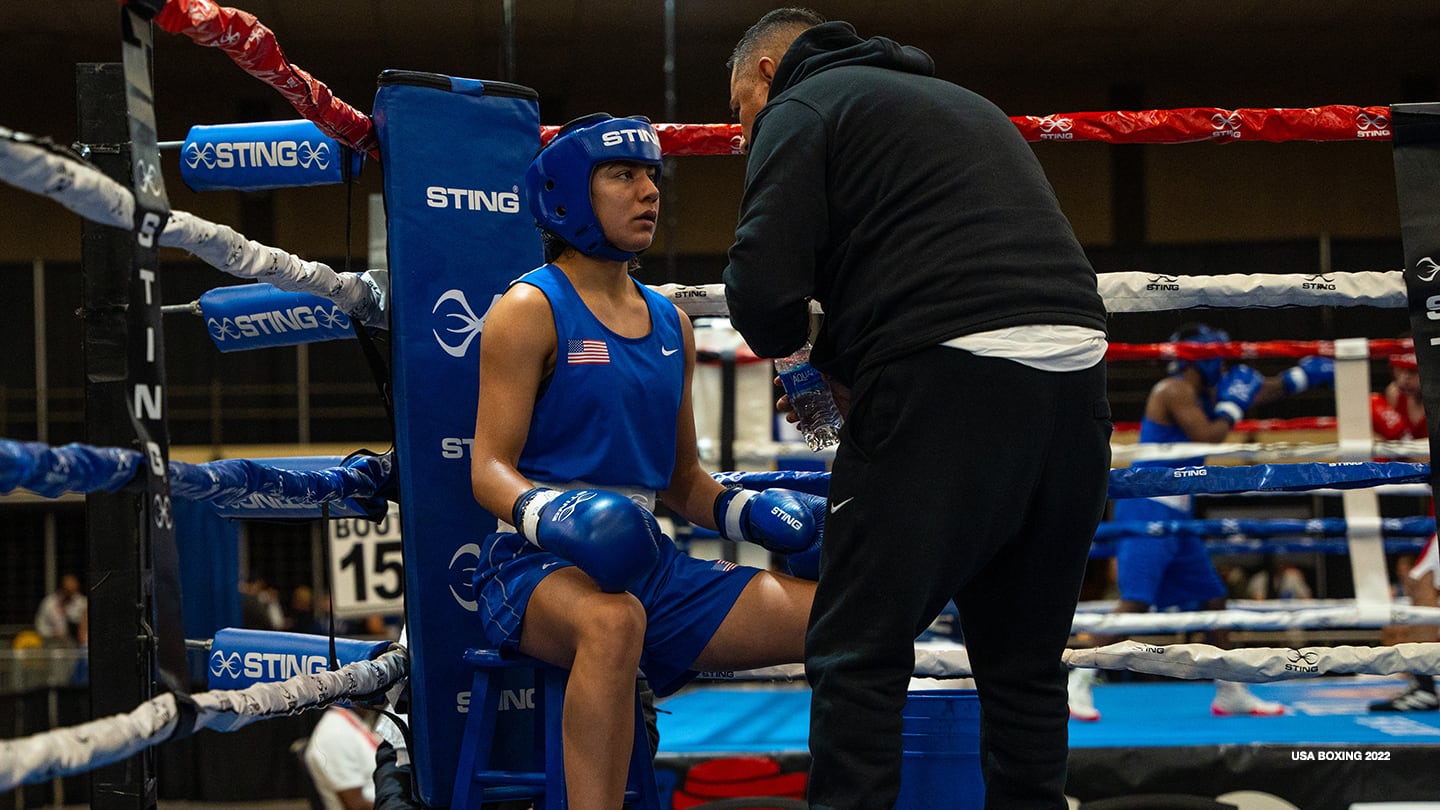 Yoseline Perez (L) talks with her father during a 57 kg. bout at the 2022 USA Boxing National Championships in Lubbock, Texas.
Perez was the only American boxer to win a gold medal at 2022 IBA youth worlds.

Asked what helps her dominate bouts, Perez credits her confidence, discipline and focus in the ring, and her will.

"Will is basically to prove to you as my opponent, you're in front of me, that I'm not backing down," she explained. "That should make you scared because I've done everything it takes to come out here and dominate."

Actor Michael B. Jordan commented on USA Boxing's Instagram post after Perez won: "This!!!" he wrote, with a strong arm emoji.

Jordan plays Adonis Creed in the three Creed movies. The actor made his directorial debut in Creed III.


Between matches at youth worlds, Perez watched Creed and Creed II. She knew Creed III was coming out in 2023. After she won the youth world championship gold medal, Perez joked to a friend, "Wouldn't it be great if they invited me to come out and be part of the movie."

Within weeks, Perez's joke became reality. She was invited to the Creed III premiere in Hollywood in February 2023. While there, she interviewed Jordan, as well as Tessa Thompson (who plays Creed's wife, Bianca) and Jonathan Majors (Creed's best friend), with parts of the interviews posted on her Instagram.

Perez was far more nervous meeting and interviewing the actors than she ever is for a boxing match.


Qualification for the 2024 U.S. Olympic Team began at 2022 USA Boxing National Championships in December. In that tournament, Perez lost in the semifinals to Alyssa Mendoza, another 19-year-old boxing wonderekid who is vying for the 2024 Games. They competed in the 125-pound weight class (56.7 kg). For Paris, Perez is aiming for the 54 kg. weight class — a new women's weight class added to the Olympic program as boxing strives for gender parity.
While the loss to Mendoza means that Perez did not qualify for the 2023 Pan American Games — a 2024 Olympic qualifier — it refueled her motivation. Her main objective is to "absolutely dominate" 2023 USA Boxing National Championships in December.

"That's where I want to go out and make a statement," Perez stated.

As for Perez's parents take on their daughter's boxing career.

"They're super happy," said Perez with a big smile. "They like to say that it was their idea all along. They knew that I had it in me."
An award-winning freelance writer based in Vermont, Peggy Shinn has covered seven Olympic Games. She has contributed to TeamUSA.org since its inception in 2008.