Why Brenna Huckaby Now Shows Her Prosthetic When Snowboarding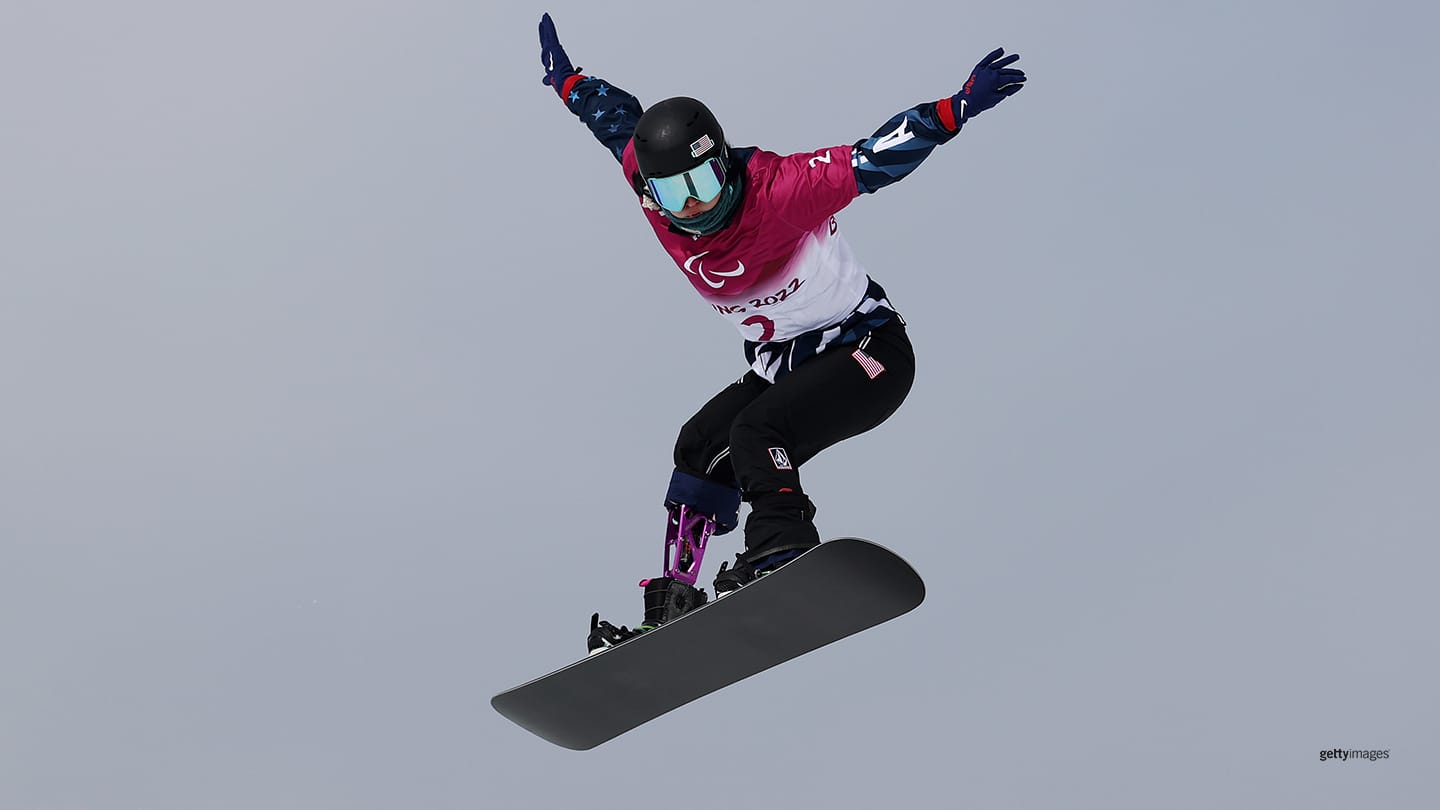 Brenna Huckaby competes in the women's snowboard cross SB-LL2 qualification round during the Paralympic Winter Games Beijing 2022 on March 06, 2022 in Zhangjiakou, China.
Paralympic gold medalist Brenna Huckaby used to revel in the fact that snowboarding made it look like she still had two legs.
On the mountain she could hide. Up there she didn't have to be Brenna the cancer patient, or Brenna the ex-competitive gymnast whose life turned upside down over the course of a school year when what she initially thought was knee pain turned out to be osteosarcoma, an aggressive bone cancer.
Ski pants covered her prosthetic, allowing her to be Brenna the snowboarder rather than Brenna the 15-year-old amputee.
"At that point in my journey that was so important to me," she said, "because I felt free from my disability."
Today Huckaby has embraced her body and her prosthetic. At this month's Para snowboarding world championships in La Molina, Spain, where she won gold in dual banked slalom, silver in snowboardcross and bronze in women's banked slalom team, Huckaby competed with her right pant leg hiked up and the sun glinting off her exposed metal leg.
She's not hiding anything anymore; in fact, she wants you to see it.
Already a body-positive athlete, it took Huckaby a long time to extend the same mentality to her prosthetic.
"I've worked through so much, and for whatever reason, being in my snowboard gear and showing my prosthetic made me insecure," Huckaby said. "It was a way for me to hide my disability instead of owning it and honoring it, which is what I'm choosing to do now."
Snowboarding was always therapeutic for Huckaby, who grew up in Louisiana and had never strapped on a snowboard before a rehabilitation ski trip to Utah organized by her hospital. The goal was to show patients that "if you could ski down a mountain, then you could go home and wear your prosthetic, and make yourself a sandwich," Huckaby said.
Huckaby suspected that snowboarding might be like being on a balance beam. Learning to board, then, was akin to reclaiming something of her old, pre-cancer self.
"If I could just have a little piece of my life back, I'd feel all will be right with the world," she recalls thinking.
"There were definitely moments of wallowing" in the weeks and months after her leg was amputated above the knee, she added.
"I think it's healthy to be set back from something like cancer or amputation or disability," Huckaby said. "But I think two things really helped me get out of it: one, I'm a very competitive person by nature, and my family after cancer when I was on the couch, unable to move on with my life, they told me, 'Brenna, the longer that you sit on this couch and not do anything, the more cancer is beating you, the more cancer is winning.
"You beat the physical battle, but it's still winning in other ways.' And for me that was enough that it was like, 'Oh, hell no.'"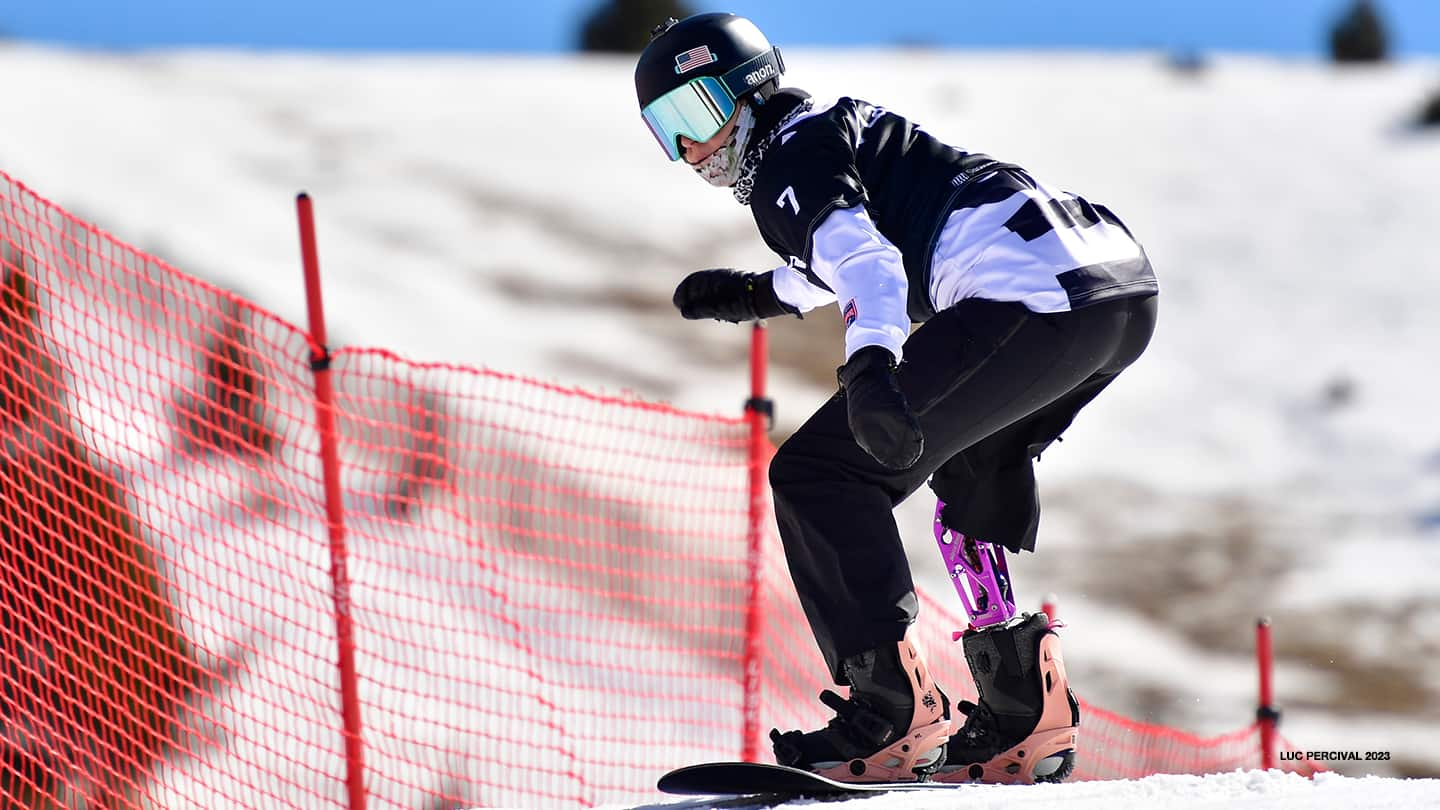 Brenna Huckaby competes in the snowboard cross SB-LL1 event at the 2023 FIS Para Snowboard World Championships on March 10, 2023 in La Molina, Spain.
Like all novices, the first time Huckaby stood up on a board, she slid about two feet and fell back down. But those two seconds were all it took for something to click.
"It was immediate," she recalled. "I knew that this is something that I wanted to be good at, that I wanted to challenge myself with."
Snowboarding did more than give Huckaby her life back; it opened up an exciting new one. Within a year of her first trip to the mountains, she had moved to Salt Lake City to pursue Para snowboarding and become a 2015 world champion in snowboard cross. She met her future husband, snowboarder Tristan Clegg, through the sport. The couple's first daughter, Lilah, was born in 2016.
Huckaby won her second snowboard cross world title, along with her first in banked slalom, in 2017, and two Paralympic gold medals followed in PyeongChang in 2018. The couple's second daughter, Sloan, joined the family in 2020, and at the Beijing 2022 Paralympics, Huckaby added another gold in banked slalom, plus bronze in snowboardcross.
Huckaby's meteoric rise in the sport is one of the great examples of raw talent meeting dedication and catapulting an athlete to the height of fame almost overnight. At some point, she also realized that people watching her zoom down racecourses didn't see her as a disabled athlete — ostensibly because they couldn't see her disability.
And the more she thought about it, the more she realized she wanted people to know what she had been through. If her prosthetic was a badge of honor, why not flash it to the world?
She's doing it partly for herself, she says, but also for those she could impact, younger Brenna types with similar stories who might be wallowing or wondering what comes next or thinking people can't snowboard with a single leg. On her social media accounts, she addresses herself to them, writing candidly about her vulnerability and ongoing evolution as a Para athlete and working mom.
"I don't think there was ever a point where I was like, 'Oh I've made it, now I want to be a role model,'" she said. "It was always like, 'I want to prove this for myself and in doing so I will be helping others.' And I still feel that way."
There are athletes with bigger followings. But reading her DMs is enough to convince Huckaby that she is successfully reaching an audience who are struggling or have struggled the way she did.
"Just knowing I am making a difference, even if it's a small difference, that's what keeps me going," she said. That and her prosthetic, now on display for all to see.
Blythe Lawrence has covered four Olympic Games and is a freelance contributor to TeamUSA.org on behalf of
Red Line Editorial, Inc.
Follow her on Twitter @_BlytheLawrence.