Following His Father, Garrett Muagututia Made His Olympic Dream Come True In Tokyo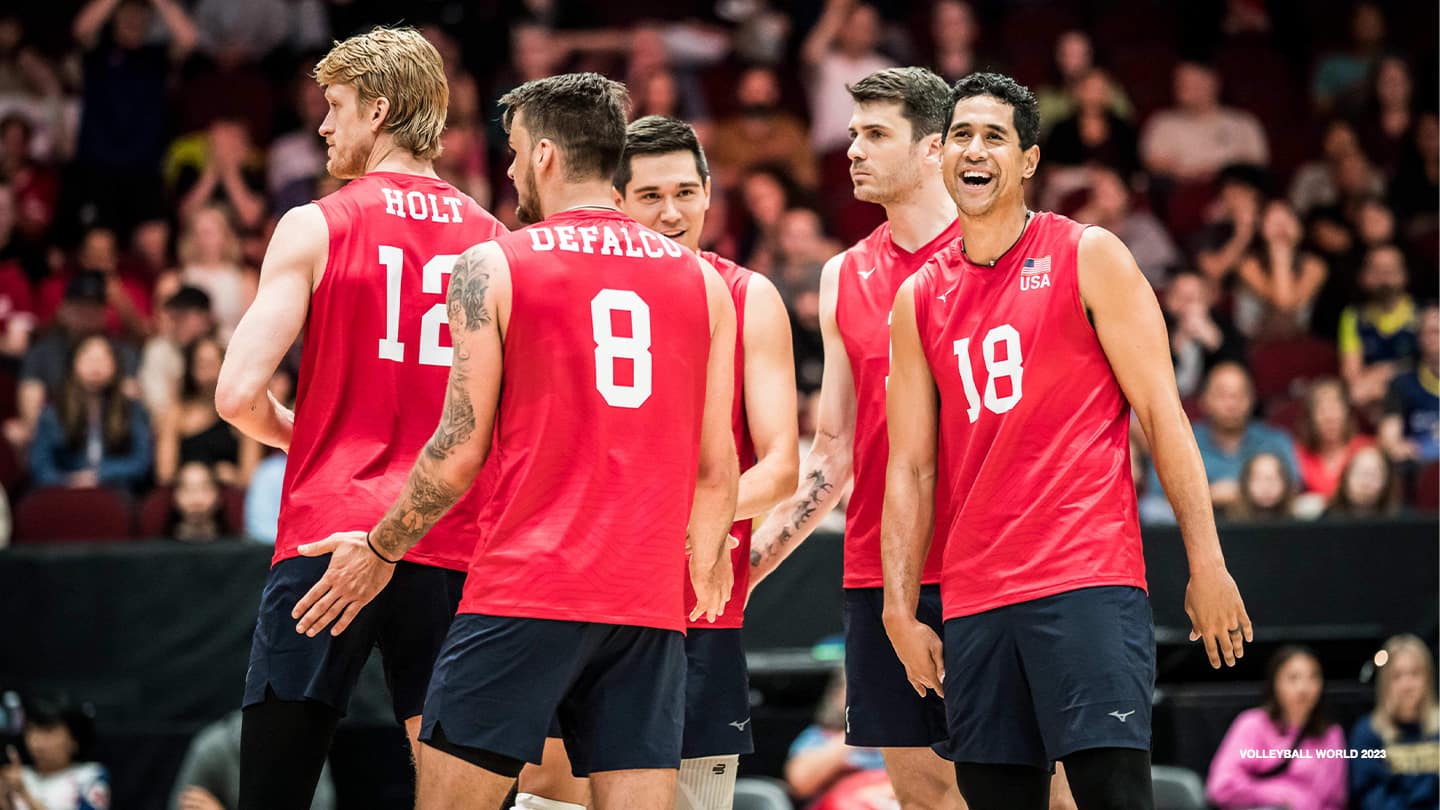 (right) Garrett Muagututia celebrates with his teammates in a match against Italy during the Volleyball Nations League tournament on June 08, 2023 in Ottawa, Canada.
Garrett Muagututia was just 6 years old when his father, Faauuga Muagututia, competed in bobsledding at the Olympic Winter Games Lillehammer 1994.
"So, I didn't really understand how big of a deal that was at that time," said Garrett, who later came to realize "how awesome that was as an opportunity for my dad to go and the fact that he made it.
"And the fact that he did it representing American Samoa – and he did it bobsledding, which there's no snow in Samoa – is even cooler."
The younger Muagututia hoped to one day make his father, a former Navy SEAL, proud by becoming another member of the family to compete in an Olympic Games, where he could represent both Team USA and his American Samoan community. To get him there, he chose volleyball, a sport that both of his parents had played.
"I started playing volleyball because I was around it so much when I was younger," Muagututia recalled. "Me and my siblings grew up in the gym, going to various volleyball tournaments with my parents. It was kind of just ingrained in us growing up."
A native of Southern California, Muagututia was born in Oceanside and attended Francis Parker High School in San Diego. Also a talented basketball player, he decided to pursue volleyball in college because he was getting better offers. Following an All-America career at UCLA, he has since gone on to a long professional career.
"Yeah, it's been a while," said Muagututia, now 35. "I didn't know how long I was going to play. So, I just kind of went year to year, and it kept panning out for me, so I continued."
The married father of two young children has stayed with the sport despite numerous challenges along the way, including being the last player cut from the 2016 Olympic team.
"That was like a huge disappointment and kind of heartbreak," Muagututia said. "I worked so hard and did my best to make that team to find out that I wasn't good enough or that I didn't fit, I guess, the team that would make the Olympics was the heartbreak."
As May – Asian American and Pacific Islander Heritage Month – approached, Garrett recalled that he had felt no additional weight on his shoulders back then to replicate Faauuga's success competing for American Samoa, a U.S. territory in the South Pacific.
"I don't feel any of that pressure from my dad," he said.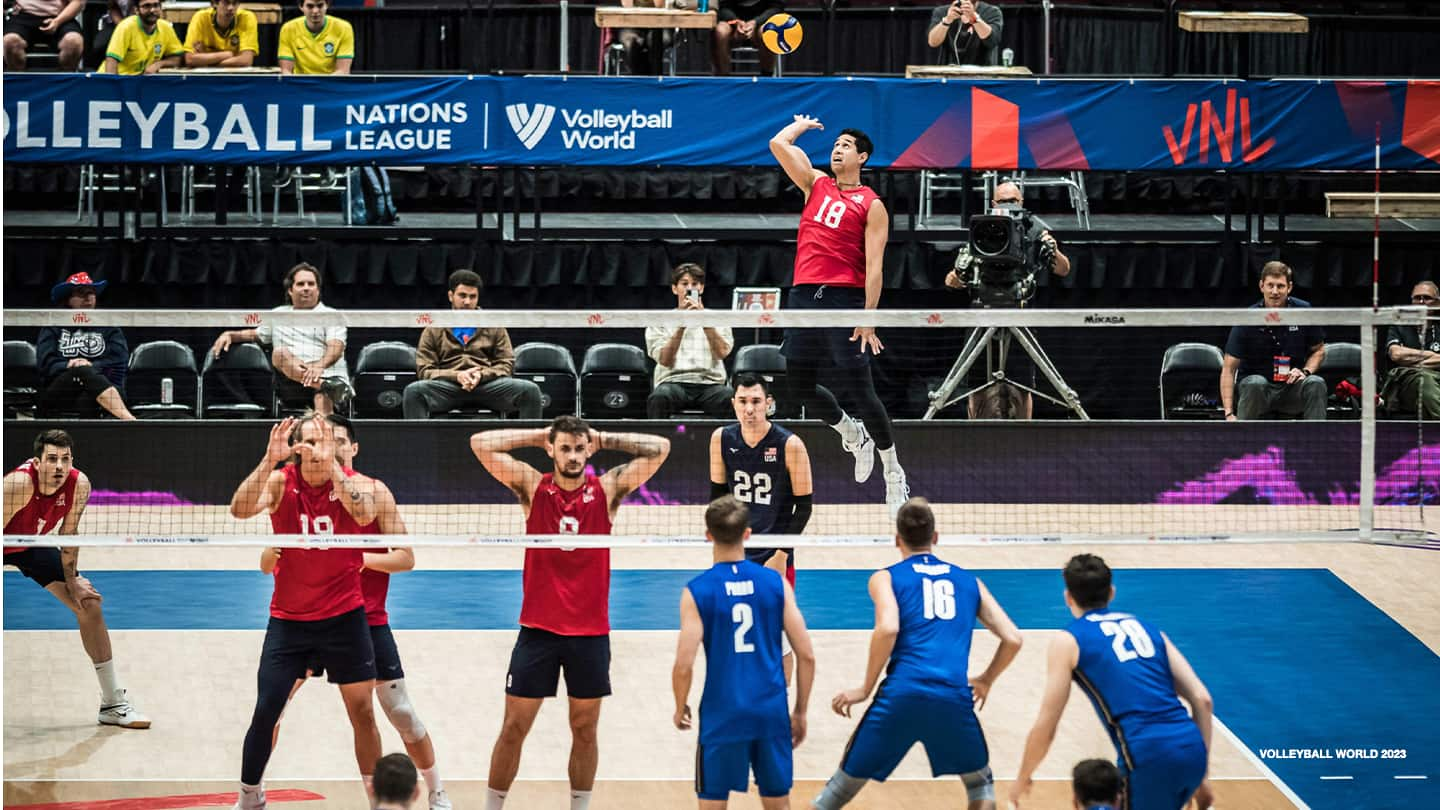 Garrett Muagututia rises for a serve against Italy during the Volleyball Nations League tournament on June 08, 2023 in Ottawa, Canada.
Muagututia did decide to step away from volleyball for a year, however. He got married in 2017, and he and his wife Keisha welcomed his daughter, Teahi, the following year. He returned to volleyball in 2019 because he felt he had more to give to the sport. He called the experience "eye-opening."
"I didn't know if I was going to come back or not," he said. "For me, it was actually harder to step away than it was to come back.
"I have a lot more knowledge of the game, more experience. I've been in pretty much all different kinds of situations that you can be in as a volleyball player. I feel like I've experienced it all."
His return paid off as Muagututia was named to the U.S. team for Olympic Games Tokyo 2020, where the Americans placed 10th.
"It meant the world that I finally made (an Olympics) after … nine or 10 years," he said. "It was a big deal for me. I was super excited."
Because of COVID-19, the Olympic experience was somewhat muted, but Muagututia called it "a blessing and a great experience to be there with all the top athletes in the world representing your country, seeing everybody else represent their country."
His first Olympics only whetted Muagututia's appetite for another at the Paris Games in 2024.
"For me personally, I'm just trying to make the next Olympics because I want to experience the real Olympics with everybody there," he said. "I want my family to be there to be able to see me play."
Muagututia said it's more important to him that his children know him as a person than as a volleyball player, however.
"For me, I just want them to grow into their own, and I try to be the best father and husband that I can be," he said. "That's all I want them to see me as, as a good dad."
With the end of his volleyball career now on the horizon, Muagututia would like to stay around the sport and give back in some way.
"I hope so," he said. "I do see myself doing something to help further the volleyball fan base and help the next generation learn things that I didn't learn until I was older."
Bob Reinert spent 17 years writing sports for The Boston Globe. He also served as a sports information director at Saint Anselm College and Phillips Exeter Academy. He is a contributor to TeamUSA.org on behalf of
Red Line Editorial, Inc.