Shiffrin Breaks Women's World Cup Victories Record On A Historic Day In Italy
Mikaela Shiffrin of Team United States celebrates after winnning the Audi FIS Alpine Ski World Cup Women's Giant Slalom on January 24, 2023 in Kronplatz, Italy.

The superlatives seem countless and finding the right one to describe Mikaela Shiffrin's incomparable achievements is virtually impossible.

Mikaela Shiffrin became the all-time most successful female World Cup ski racer, claiming her record-setting 83rd victory on a demanding giant slalom race course in Kronplatz, Italy.

"It's exciting, I'm happy, I'm proud, I'm thankful for the team and all the work we all do," Shiffrin told TEAM USA, in the Kronplatz finish area after the record-breaking triumph. "These things I've said so many times now – it's all still true today as the first race I ever did and the first win that I had. It's a feeling that I can't explain."

Shiffrin's first World Cup victory came in Åre, Sweden, in December 2012.

Now, more than a decade later, Shiffrin attained victory No. 83 & 84 back-to-back, winning Tuesday's race in resounding fashion and securing Wednesdays battle in another Giant Slalom on the same course, never leaving any doubt. Leading by 0.13 seconds after the morning run, she confidently charged down the precipitous Erta racing slope – with its maximum 61% gradient – and as last racer on course, hammered down the bottom section, increasing her lead by three-tenths over the final time interval. Her two-run winning time was 2:00.61. Shiffrin captured her fourth GS of the season, defeating Swiss rival Lara Gut-Behrami by a comfortable 0.45 seconds on Tuesday.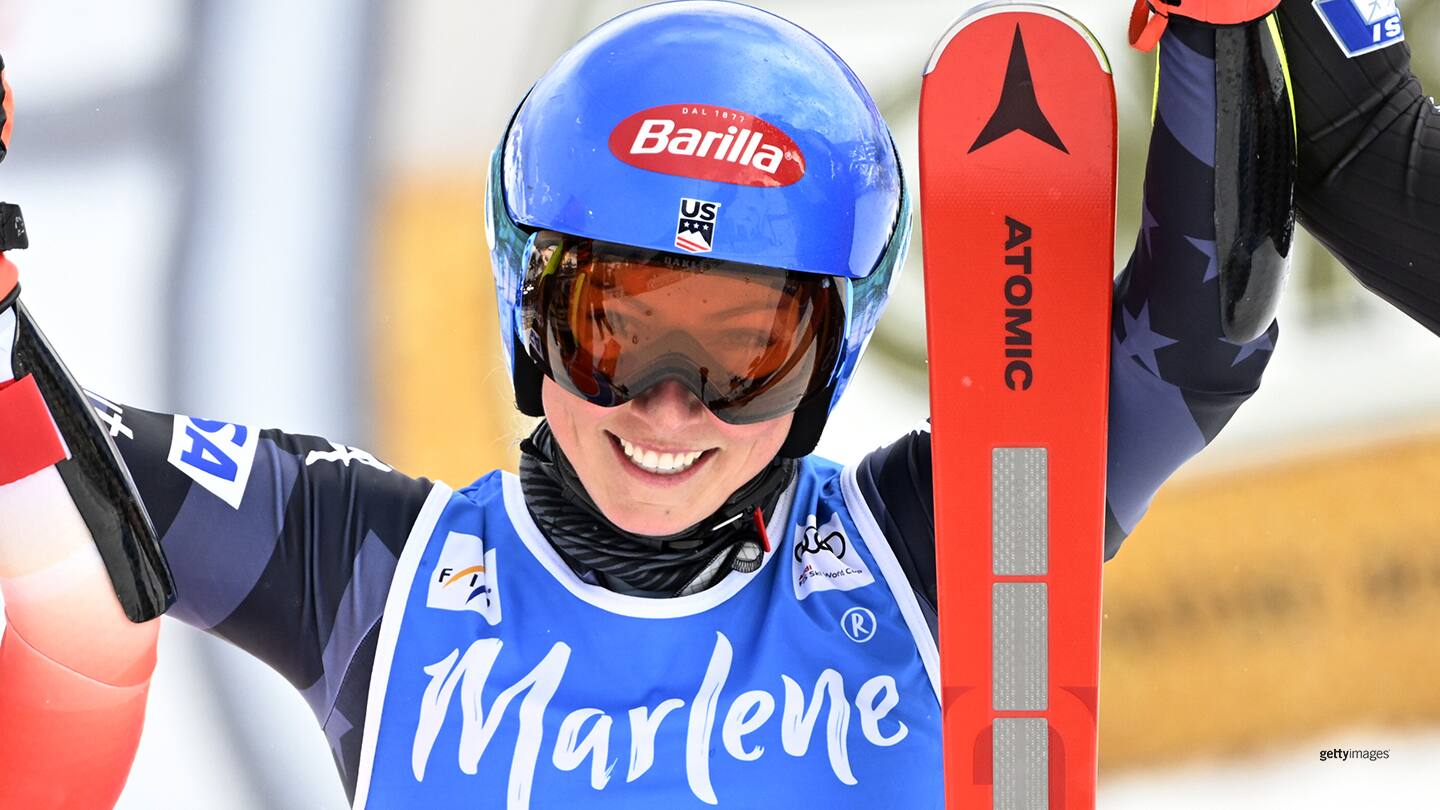 Mikaela Shiffrin of Team United States in action during the Audi FIS Alpine Ski World Cup Women's Giant Slalom on January 24, 2023 in Kronplatz, Italy.

It was yet another tremendous accomplishment for the four-time overall World Cup champion, six-time world champion, and two-time Olympic gold medalist from Colorado. Shiffrin moved one victory past Lindsey Vonn, having equaled her former teammate with 82 wins 16 days ago in Kranjska Gora, Slovenia. Shiffrin now stands alone in ski racing immortality.

It took some time and deep thought for Shiffrin to find the words to summarize the magnitude of 83 career victories, never achieved by any other female ski racer in more than 50-years of World Cup skiing.

"I guess the best way to explain it is that it's a different feeling for everyone," Shiffrin said, talking to a large group of international journalists. "It's a different feeling for me then it is for the team, or the fans, or the media, or my family, or my closest friends. You can't put it into words because it is an individual thing for everybody.

"It's spectacular, but it's also just a day, 24 hours, whether you sleep at night or not, whether you enjoy it or it's disappointing. No matter what happens, it's the same for all of us, it's just another day."

Humble as always, one could feasibly argue that Shiffrin also deserves a gold medal for the biggest understatement of the day. It was undoubtedly an incredible, inspiring, uplifting and historic heck-of-a-day, especially for those who witnessed the record-breaking race at the Kronplatz ski area in the small Italian Dolomites village of San Vigilio.

Shiffrin's veteran opponents Gut-Behrami and Italian Federica Brignone, who shared the podium with her, praised the otherworldly U.S. ski racer that they both been battling down mountains for more than a decade.

"It's great, it's amazing what she is doing," Gut-Behrami said, about Shiffrin, "We've been competing against each other for so long and with Federica also. It's nice. Sometimes we forget these things."

"I was already on the podium (with Mikaela) for number 82," Brignone said, about a GS race in Slovenia on Jan. 8. "I don't know how she can manage all of this – I'm here for 14 years and I still get so stressed. Mikaela seems like she doesn't have these problems and it's just amazing."

Shiffrin, her teammates, coaches and others in her immediate circle sported stylish black t-shirts touting her 83 career triumphs after the monumental race. Nina O'Brien said she enjoyed being part of the special day for Mikaela and crew.

"I was joking, that like selfishly, I'm so happy that she got 83 with the tech team because we get to witness her greatness and her writing history," O'Brien said. "Huge day for Mikaela, nice for the team, and I just think it's so amazing what she's done."

It has certainly been emotional journey, filled with ups-and-downs, five Olympic medals, but also heartache on the largest stage in sports, over Shiffrin's nearly 12 years of World Cup racing. She made her World Cup debut at age 15, at races in Spindleruv Mlyn, Czech Republic, in March 2011.
Mikaela Shiffrin of Team United States in action during the Audi FIS Alpine Ski World Cup Women's Giant Slalom on January 24, 2023 in Kronplatz, Italy.

Shiffrin suffered her greatest loss as her father Jeff died tragically on Feb.2, 2020, in an accident at the family home in Colorado.Her mother Eileen, who has been at Mikaela's side as a coach and confidant ever since her earliest days on tour, said her husband would have been thrilled to witness their 27-year-old daughter's latest accomplishment.
"We've been through a lot and Mikaela has been through a lot with the Olympics not going great and with her dad dying, thinking and reflecting for the past couple of years I think about time missed with him because of the sport," Eileen Shiffrin said.
"Yet, he wouldn't have had it any other way. He just loved the sport and he wanted to be here with us. I just know he's up there thinking 'there you go, that's what we're waiting for.'
"He thought she could do it and here she is."