USA Team Handball's Ian Hüter, Drew Donlin Discuss careers, team growth and the upcoming IHF World Championship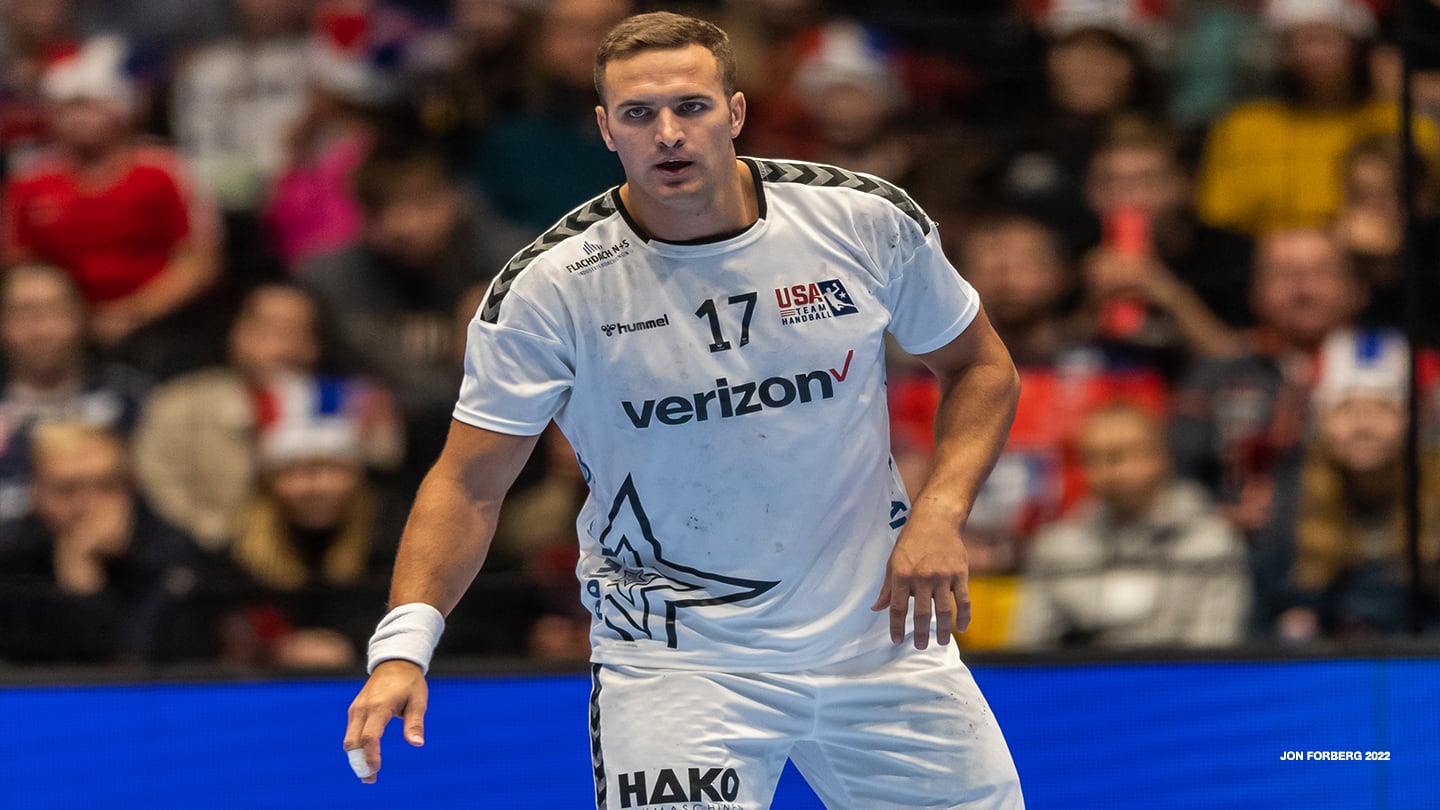 Drew Donlin competes during the Gjensidige Cup ahead of the 2023 IHF World Championships in Trondheim, Norway.
The sport of handball combines the speed and agility of basketball, the physicality of football, and the arm talent of baseball into one fast-paced, indoor sport. The rules boil down to this: two teams of six players attempt to hurl a small, soccer-like ball into a 3-meter wide by 2-meter tall net. In the way stands a wall of physical, rugby-built athletes. You may pass and run (players with the ball must dribble after three steps) to create angles for shots. But, you must score outside of a six-meter crease that protects the goalkeeper and their net. You may jump into the crease. But, you must release the ball before landing, making athletic, gravity-defying shots common in matches.
Yet, despite this, the U.S. has trailed in the world handball scene compared to European and North African countries, where the sport is vastly popular. In fact, the U.S. has not qualified for the Olympics since they were given an automatic spot for the Olympic Games Atlanta 1996.
However, the Americans are catching up.
For the first time in 22 years, the men's national team qualified for the International Handball Federation (IHF) World Championship in Sweden and Poland. It is a feat that resides near the halfway mark of their proposed 10-year plan to become quality contenders when Los Angeles hosts the Games in 2028.
Some of that plan's responsibility lies on the shoulders of team captain, Ian Hüter. In terms of handball experience on Team USA, Hüter has had a head start. The 25-year-old grew up in Germany, home to one of the top handball leagues in the world.
"It's definitely an honor," Hüter said of being Captain and trying to grow the sport. "It's really crazy that we can actually say that we're playing at Worlds. I mean, I started in 2018 with Team USA, and I can tell you that we weren't ready for Worlds then."
Hüter stated he started playing handball at six or seven, but also "could've started even earlier" had he not lived in San Francisco, California for two years.
"I wouldn't say I started late," he added. "But there are other kids that start at four or five (years old."
Compare that to longtime Team USA line player Drew Donlin, who picked up the sport at the U.S. Air Force Academy after he did not make the college's football team after walk-on tryouts.
"I went to the tryout and ended up getting cut," he began. "And then at the Air Force Academy, there are a ton of club sports…So I looked down the list of club sports and saw handball. I didn't know what it was and thought it looked pretty cool."
His small interest opened up an entire world of possibilities, as Donlin immediately fell in love with the European sport. His first coach, Mike Cavanaugh, was a former national team member and allowed Donlin to explore his interests further.
When Donlin got stationed in Los Angeles, he continued to play handball and even picked up the sport of beach handball. Currently, he pulls triple duty, balancing life as a player on both the U.S.indoor and beach handball squads and as a Captain in the United States Space Force. Donlin is one of the few players that does not play the sport of handball full time, which can have its difficulties.
"From 2018-2021, I was in the Air Force World Class Athlete Program," he said. "It was a really cool opportunity to play overseas. So I was playing professionally in Germany and Spain.
"But part of that program is that you are a full-time airman or Army soldier. So, once that '21 cycle was up, I had to come back and go back to my regular job."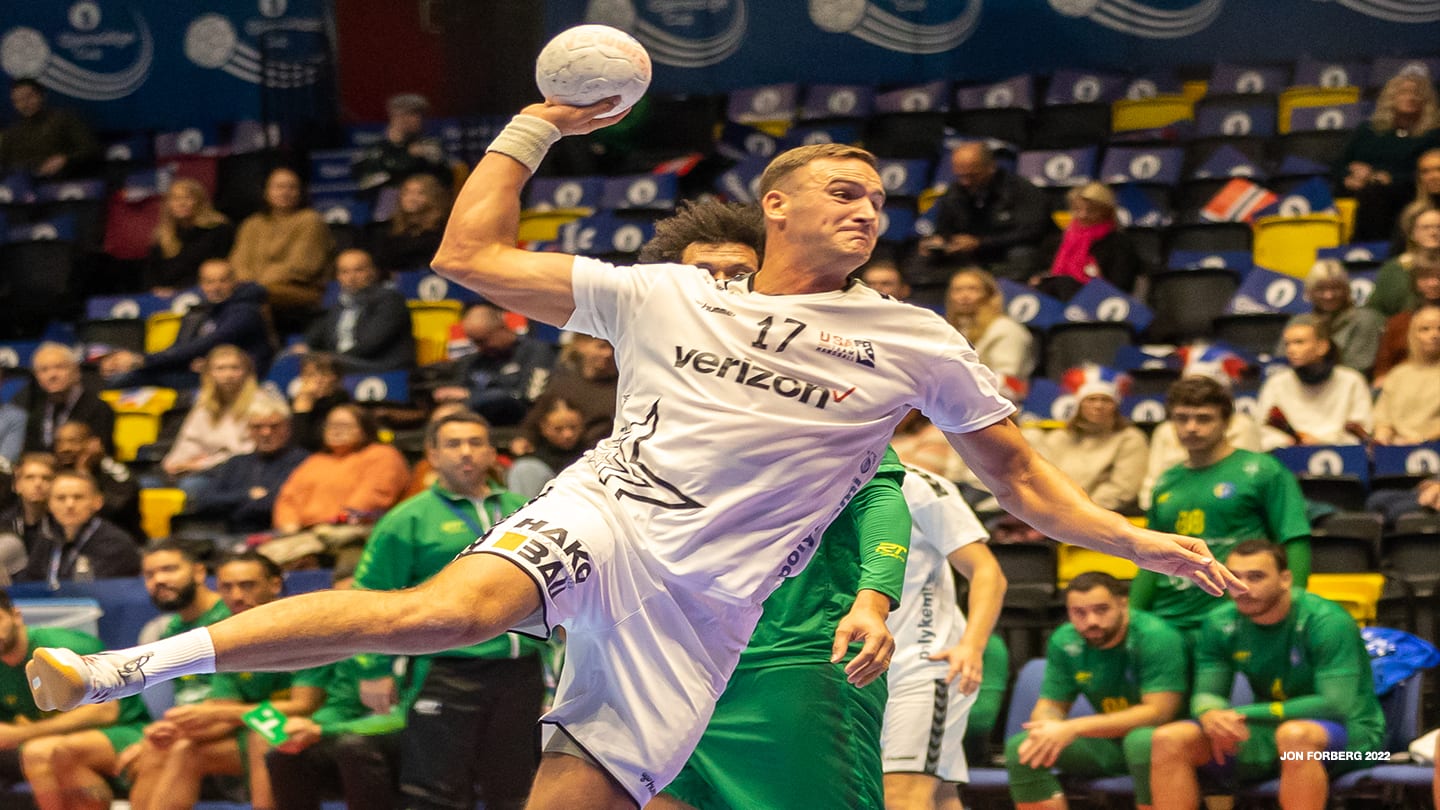 Drew Donlin fires off a shot during the Gjensidige Cup ahead of the 2023 IHF World Championships in Trondheim, Norway.
Donlin mentioned that leadership at his base has been "very supportive," letting him return to compete and train with the team when they have big events. Additionally, he does a lot of training on his own, including nights and weekends, to keep up with the world's top players.
There is no bigger event right now for USA Handball than their games in the world championship this weekend. The squad was placed in a group with Morocco, Croatia, and Egypt. The latter two have strong veteran teams with a well-known international presence. Croatia earned the silver medal at the European Handball Championships in 2020, while Egypt narrowly missed the podium in Tokyo, finishing fourth.
While the U.S. will be major underdogs against those two teams, both Hüter and Donlin sense an opening against Morocco, another developing handball country. Both players believe a success at these games would include beating Morocco and moving on to the main round; three of four teams in the group will do so. The game takes place on Friday, Jan. 13 and can be streamed on ESPN3.
"Our goal is to win that game on Friday, which would be our first win at a world championships," Donlin mentioned. "(The) secondary goal is to really represent the states well. That we're not just here to be a participant, but that we're here to really compete and win a few games.
"We want to show people that we're not happy to just be here, but we're here to compete now."
All of the U.S.' games can be streamed on the platform, which could provide a huge gain in popularity for the sport. Why it's currently behind other sports in popularity is a bit of a mystery to Hüter. However, Donlin provided more explanation, including handball not being a scholarship sport and the U.S. being "sport saturated." But he also added another interesting insight as to why it has not developed as much stateside.
"A big part of handball in Europe and around the world is that we play with this stuff called 'stick-um' or glue on the ball. It's sort of like a pine tar substance and it makes the ball stickier, which allows the game to play a lot faster.
"But it also really damages the floors. And so the gyms in Europe all account for that, and have these special cleaning machines. But in the states, we don't necessarily have that."
Nonetheless, there are countless avenues opening up to being introduced to the sport of handball. For example, Donlin said he did some of his studying on YouTube in his early days. Additionally, both players mentioned handball legend Mikkel Hansen, who plays for the Danish national team, as someone they study. Hüter added Nikola Karabatić of France to his list, while Donlin said he has studied other players who play his position, such as Bence Bánhidi of Hungary.
While it would be a historic feat, qualifying for the Paris Games is not out of the question. However, all eyes are definitely on L.A. 2028, where Team USA hopes to have a highly competitive team as Europe's best teams will be on national display for the country to see.
"We have an even better team now," Hüter said. "And we practice more often together. So I think we can really look forward to what's coming up next."
Brendan Rourke is a Digital Media Assistant for the USOPC. Previously he spent three years writing for the NBA's Indiana Pacers, and is a graduate of IUPUI's Sports Capital Journalism program