U.S. Para Snowboarders Have Had To Up Their Game To Compete With The World's Best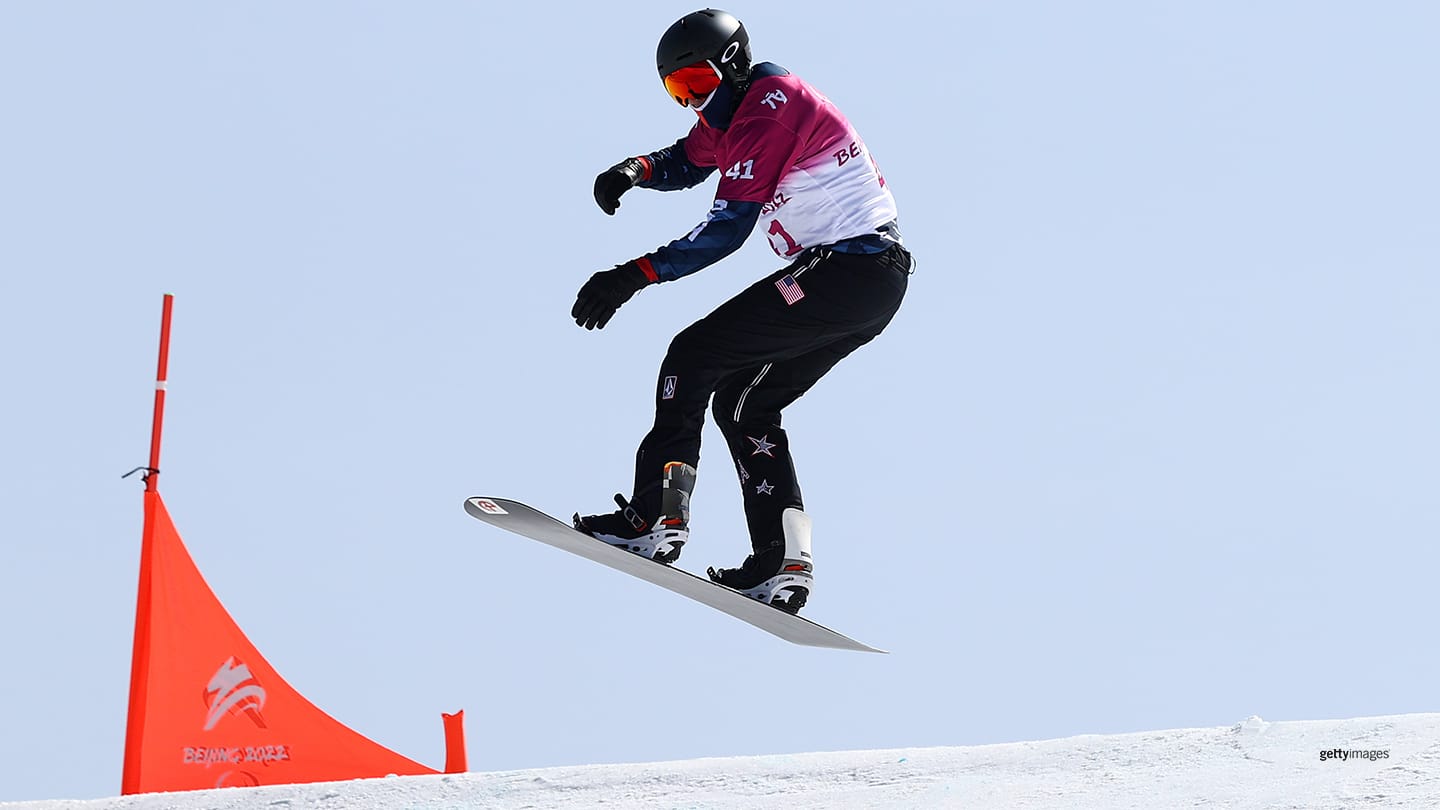 Keith Gabel competes during the men's snowboard cross SB-LL2 qualification during the Paralympic Winter Games Beijing 2022 on March 06, 2022 in Zhangjiakou, China.
The United States has been a powerhouse in Paralympic snowboarding since the sport debuted at that level in 2014. However, in the intervening years, other countries have created robust programs and now challenge for the top of the podium.
The improvement and growth of the sport is incredible, said Mike Jennings, who coaches the U.S. Para snowboard team. But, it does change the mindset his athletes need to have heading into the season.
"We definitely hold ourselves to a very high standard," he said. "Other teams have been improving over the last couple of quads, which has had the effect of lighting a bit of a fire under us.
"I see a hunger in a lot of the veteran athletes to really try to put their best foot forward."
In order to meet its own expectations, the team has spent the offseason focusing on conditioning, strength training, and fundamentals because once the season starts, there are limited opportunities to focus on anything but the races. In season, the focus switches to strategy for individual courses and trying to break down what is the best movement pattern to utilize in any particular course.
Three of the veteran men that decided to return to the team this season – Keith Gabel, Mike Schultz and Evan Strong – have demonstrated a solid commitment to perform at a higher level than they have in the past, said Jennings.
"The trajectory that I'm seeing all of them moving towards tells me that they're going to perform at their peak," he said. "I think they're all still improving and not only in their technique but also in their approach of preparation.
"So, they're not only making the right moves but at the right times (and) doing it with a force and power that maybe they didn't have in the past."
There's a focus on each individual movement and how those movements follow each other so that they happen almost without hesitation in the heat of a race. For most of the athletes on the national team, these are refreshers to reestablish a baseline of the correct refined movement. In their development, coaches can help the snowboarders improve their decision making and reaction time. But there is simply no substitute for experience. Ultimately, the athlete must be able to assess a situation, and make the best possible decision in altering their plan each time something another boarder does affects their path.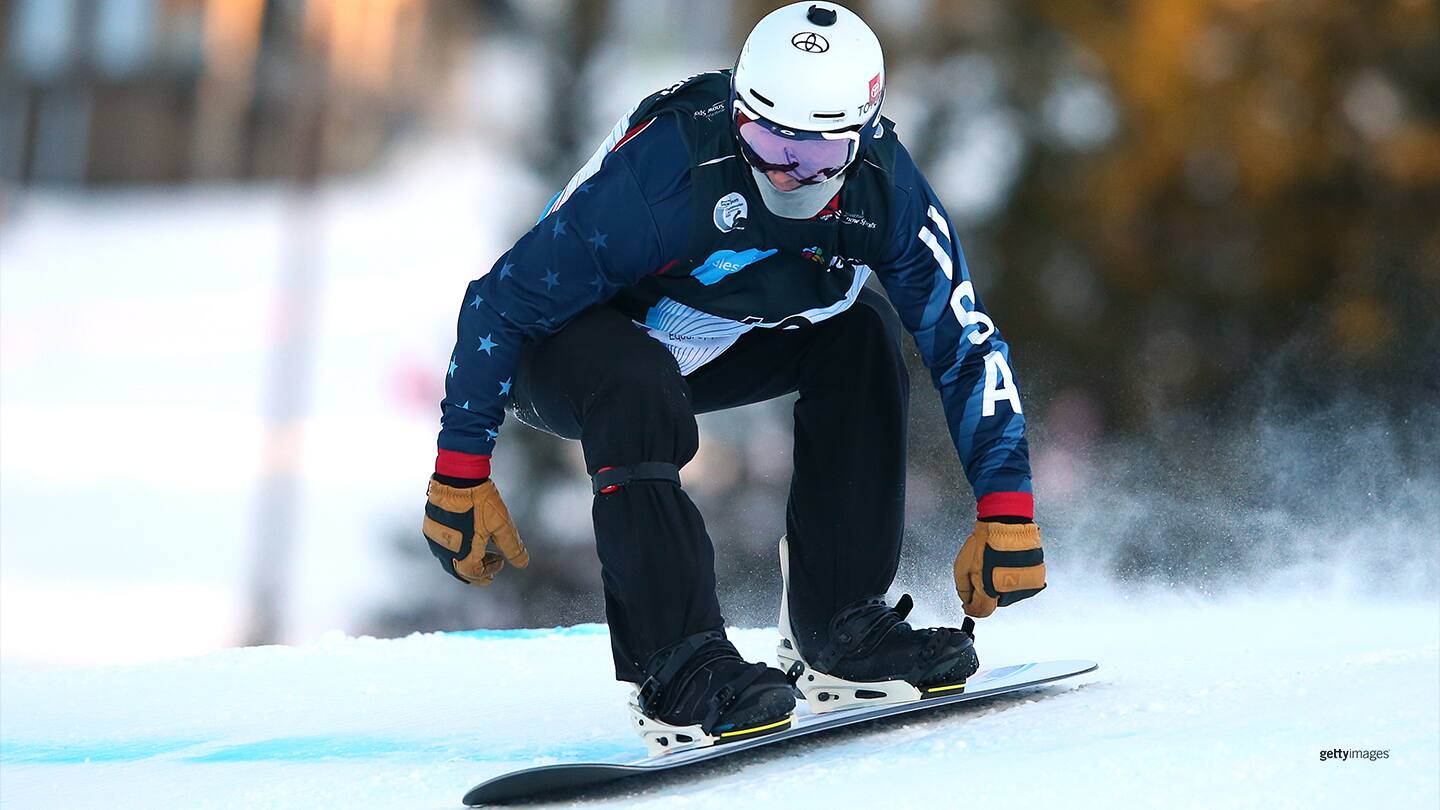 Evan Strong participates in a training session for combined snowboard cross during the World Para Snow Sports Championships on Jan. 20, 2022 in Lillehammer, Norway.
That is compounded even more in snowboardcross. There are variables on any course because of changing weather conditions on individual runs. In boardercross, the variables multiply exponentially because the boarder is close to three other athletes and must be prepared to make decisions and adjustments in milliseconds.
The ones that are best at it are the ones that have been put in that position many times in the past, said Jennings.
In addition to all that preparation, many athletes adjust their prosthetics in the offseason. Therefore, the snowboarders aren't necessarily refining their technique from last season because they could potentially be using different techniques all together. They may have to get accustomed to a new prosthetic, socket or settings. Thus, they have entirely new parameters as they try to optimize their ability to navigate the board, Jennings said.
The early season schedule is favorable to achieving all those goals. The first event in late November in Landgraaf, Netherlands, is on an indoor course. It's a unique locale on the circuit that ensures consistent conditions. It is a great first competition setup where the snowboarders can take the work they've been doing in the offseason and put it into a competition setting where they can guarantee conditions, according to Jennings.
From there, they return to North America to Big White in Kelowna, British Columbia. After the holiday break, they'll head to Pyhätunturi, Finland, which Jennings said is a favorite of the athletes.
"We've been going there for a good many years and they traditionally have a really good course there that has a good level of difficulty," Jennings said. "They try to make it as challenging as possible without being too challenging for the prosthetics to handle.
"It really allows the athletes to shine and allows them to demonstrate their expertise in a four-person course."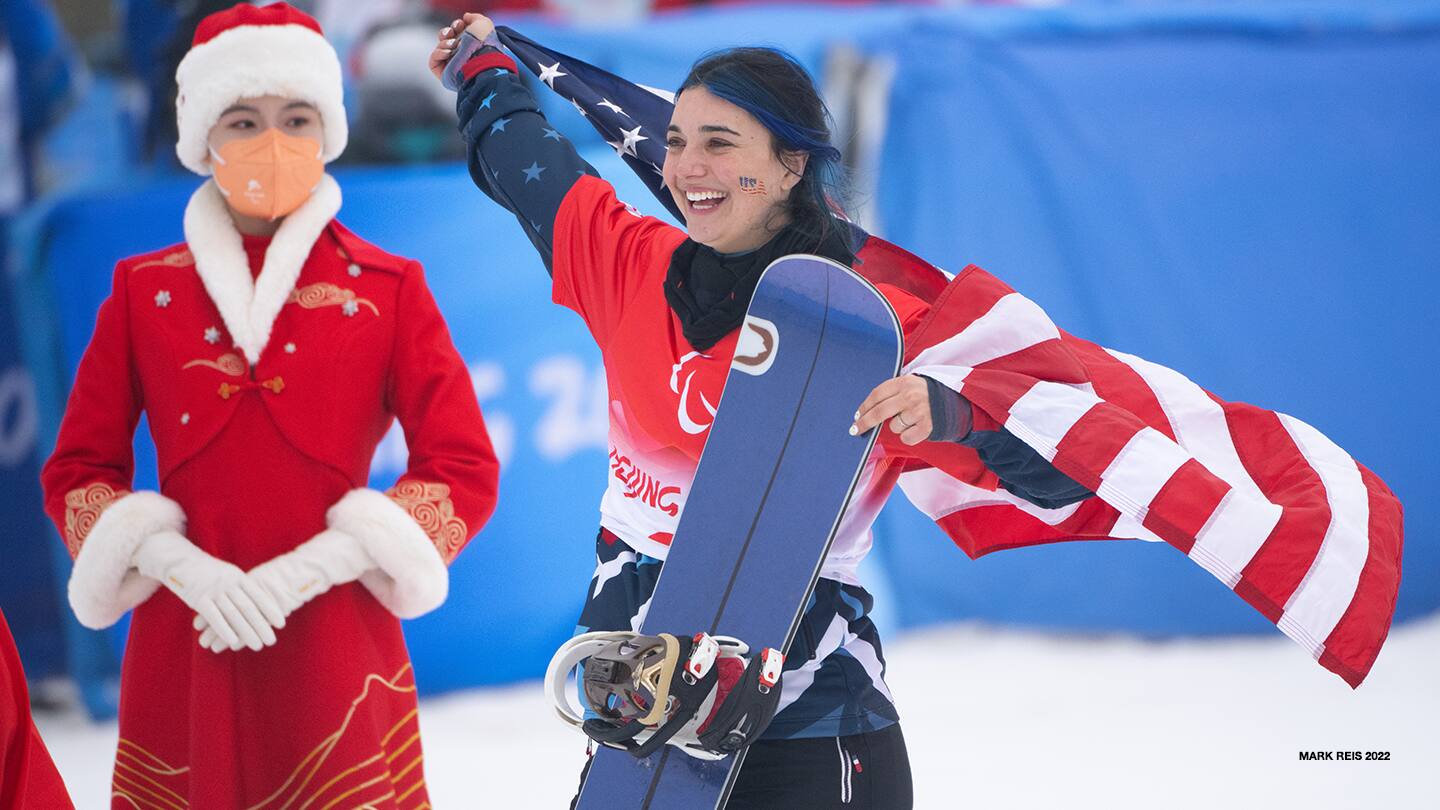 Brenna Huckaby competes in the women's snowboard banked slalom competition during the Paralympic Winter Games Beijing 2022 on March 11, 2022 in Zhangjiakou, China.
Beyond individual medals, the team hopes to compete for the Crystal Globe, which is awarded to the team that earns the most medals throughout the season. Having that goal helps underscore the idea that while it's an individual sport, they are also a team that works together.
"We're really focusing on a real family team chemistry where we understand that come race day, it's an individual sport, and you will be racing against some of your family members that are from the team," Jennings said.
"But the better we can be as a family to work together in the preparation phase, then, ideally, come race day USA is going to come out on top."
It also helps reinforce Jennings' belief that the toughest competitor for any snowboarder is themselves. He wants them to try to bring the best version of themselves to the course on race day so that no matter what the results are, they can be proud and know that they put out their best performance. If they do, the odds are they'll end up on top.
For athletes on Team USA, often their toughest competition is their teammates.
"Whoever ends up putting out their best performance on that day is the individual that comes out on top," Jennings said. "You run the best race you possibly can and somebody else is better than you on that day, then they deserve to win and as a good sportsman, you go over there and congratulate them.
"Then you go back and get back to work so that next race day, they'll have to congratulate you."