An Elite Marathoner And Mom, Aliphine Tuliamuk Has "Everything"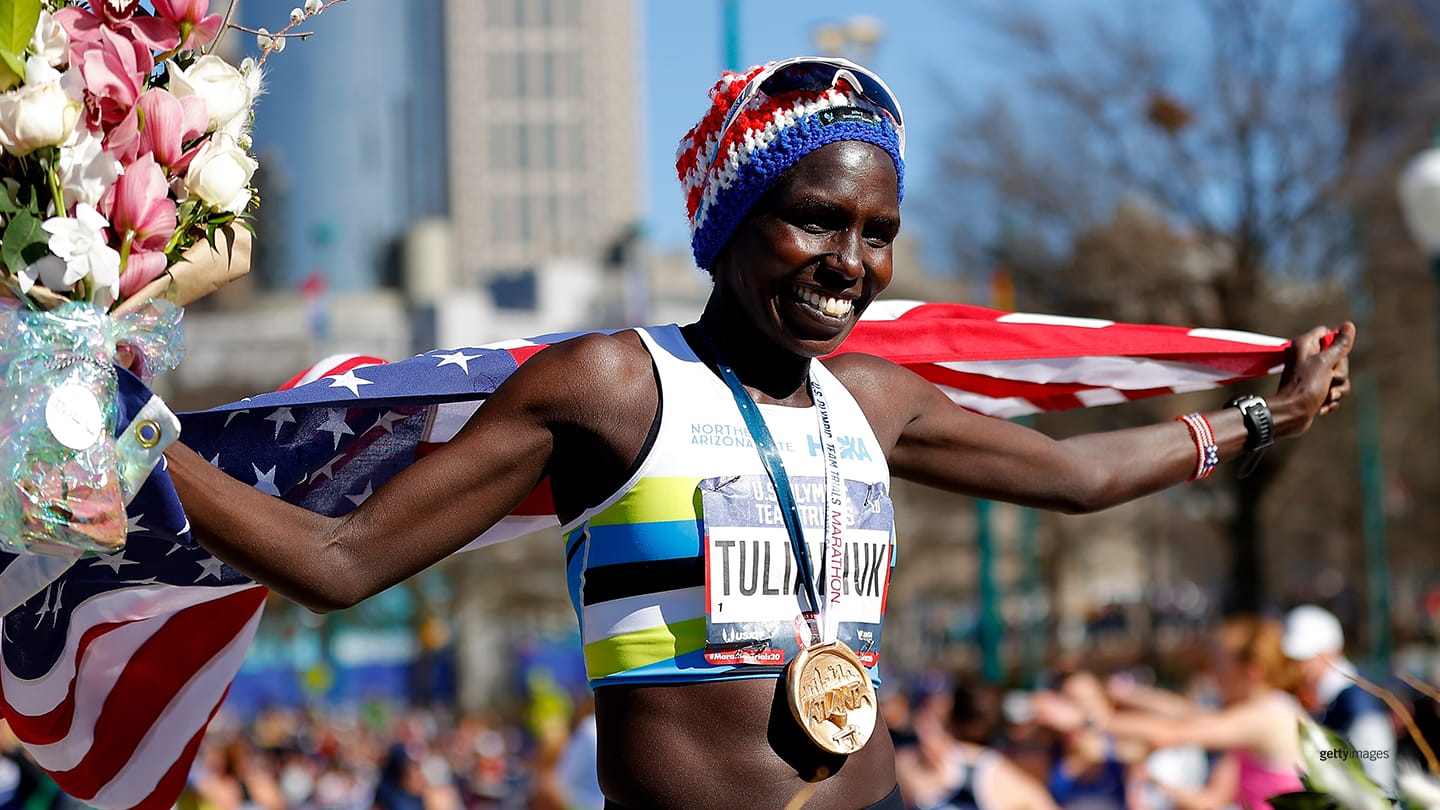 Aliphine Tuliamuk poses after winning the women's 2020 U.S. Olympic Marathon Team Trials on Feb. 29, 2020 in Atlanta.
Still not yet fully coherent or comprehending, Aliphine Tuliamuk's child is already taking after her mother in one area.

She is vocal when appropriate.

Reached by phone two days ahead of the Pittsburgh Marathon, Tuliamuk reflected on her first 16 months as a mother-athlete while daughter Zoe lent the background a sing-songy soundtrack of typical toddler talk.

Between that and her husband Tim Gannon's presence in a city and on an occasion of significance to her life and career, Tuliamuk is practically in a perfect place.

Per the event's website, she credits the Pittsburgh Marathon with establishing its enterprise as "painful but worth the struggle." She had won the 2018 half-marathon there at one hour, 10 minutes and four seconds, and had met Gannon around the same time.

The equivalent of an Olympic cycle has elapsed since that last time in the Steel City, but as she embarked on her encore, Tuliamuk pledged, "We will continue to bring our family here. We continue to make good memories here."

The family of three already has a precedent for trips like this from last summer in Sapporo, Japan. They owe that foundation largely to Tuliamuk's outspoken lobbying for an exemption from the COVID-19 restrictions at the Olympic Games Tokyo 2020.

Tuliamuk had Zoe in the winter of 2021, midway through the Olympics' originally scheduled timetable and eventual make-up. Even when that wait ended, pandemic-induced precautions entailed a no-families policy for the athletes.

That was not going to work for Team USA's nursing mothers. So Tuliamuk took her Pittsburgh principle to a pad and pen, asking the International Olympic Committee to honor her and Zoe's extenuating circumstances.

By July 13, around the time of Zoe's half-birthday, the family had received a coveted visa. Any struggle to get there was worth dissipating the dilemma.

"The lessons that you learn from running are some of the lessons that you learn in life," Tuliamuk said. "(Zoe) was so young, and I wanted her to be there and I didn't want to have to choose between my career and my family."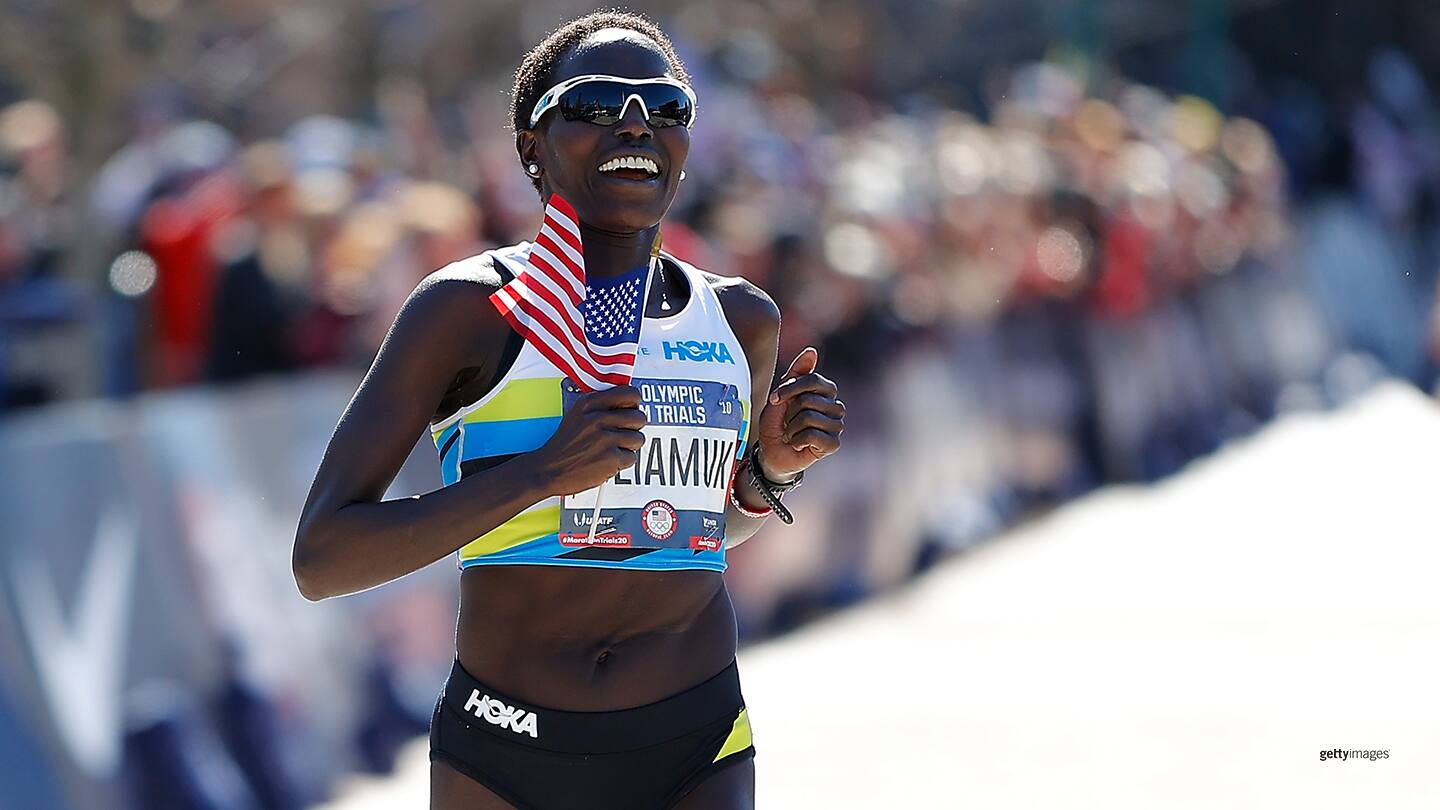 Aliphine Tiliamuk reacts as she crosses the finish line to win the women's 2020 U.S. Olympic Marathon Team Trials on Feb. 29, 2020 in Atlanta
She had it all for her Japan journey, with one momentary exception.

An aggravated hip halted Tuliamuk's hustle through Sapporo's Odori Park at the 20-kilometer mark. Relegated to the sidelines, she was obliged to watch her peers — including U.S. bronze medalist Molly Seidel — and competitors finish the marathon.

If only for a few empty hours, neither her career nor her family occupied her.

That said, after the marathoners dispersed and returned to their guests where applicable, Zoe's face suggested her mom was a medalist. Training day or rest day, that still happens every morning after the two have woken up.

"A lot of times you focus on just your athletic abilities when you don't have something else to be happy about," said Tuliamuk. "But for me, I can be serious about running when I am running. But when I come home, I am a mom, and I can be just a mom."

That balance has proved crucial to Tuliamuk's return to form on the track. She had admittedly underestimated her ailment, and planned to run last November's New York City Marathon. But an MRI one month post-Olympics revealed a stress fracture and shelved that idea.

"If I didn't have the Olympic marathon six months after having my daughter, I probably would have started training right away," she said. Instead, she waited until the turn of the calendar year to fully re-immerse, taking a trip to visit family in Kenya in between.

As it happened, a nudge from relatives during that visit helped Tuliamuk map out her move back to the track. Then another health setback, a mild concussion early in a February session at her Flagstaff, Arizona, training base, reaffirmed one of many lessons she will impart to Zoe.

"At any given time, things will change and there's a lot of hardships in life," she said.

Fortunately, the concussion symptoms cleared soon enough that the last five weeks leading up to Pittsburgh have been her best of late. A week ago, she logged her fastest 12-mile run to date.

Tuliamuk has the feel of a contender again as she embarks on her first formal 13.1-mile run since the Olympics. By year's end, she intends to complete a full marathon.

The determination shaping those objectives is what she will one day stress to Zoe. It counts the most when people "care for who you are, not what you do."

And who exactly is Zoe's foremost exemplar? She is "a strong, independent woman" relishing her dual identity.

"I have never been happier," Tuliamuk said. "I feel like I have everything I ever needed in my life. I have a daughter who is exploring the world and I am running right now. I can't imagine not having this."
Al Daniel is a freelance features writer and contributor to TeamUSA.org on behalf of
Red Line Editorial, Inc.
Follow him on Twitter @WriterAlDaniel.