Olympic Track Athlete Randolph Ross Heads To The University Of Tennessee After His Dad Is Named Coach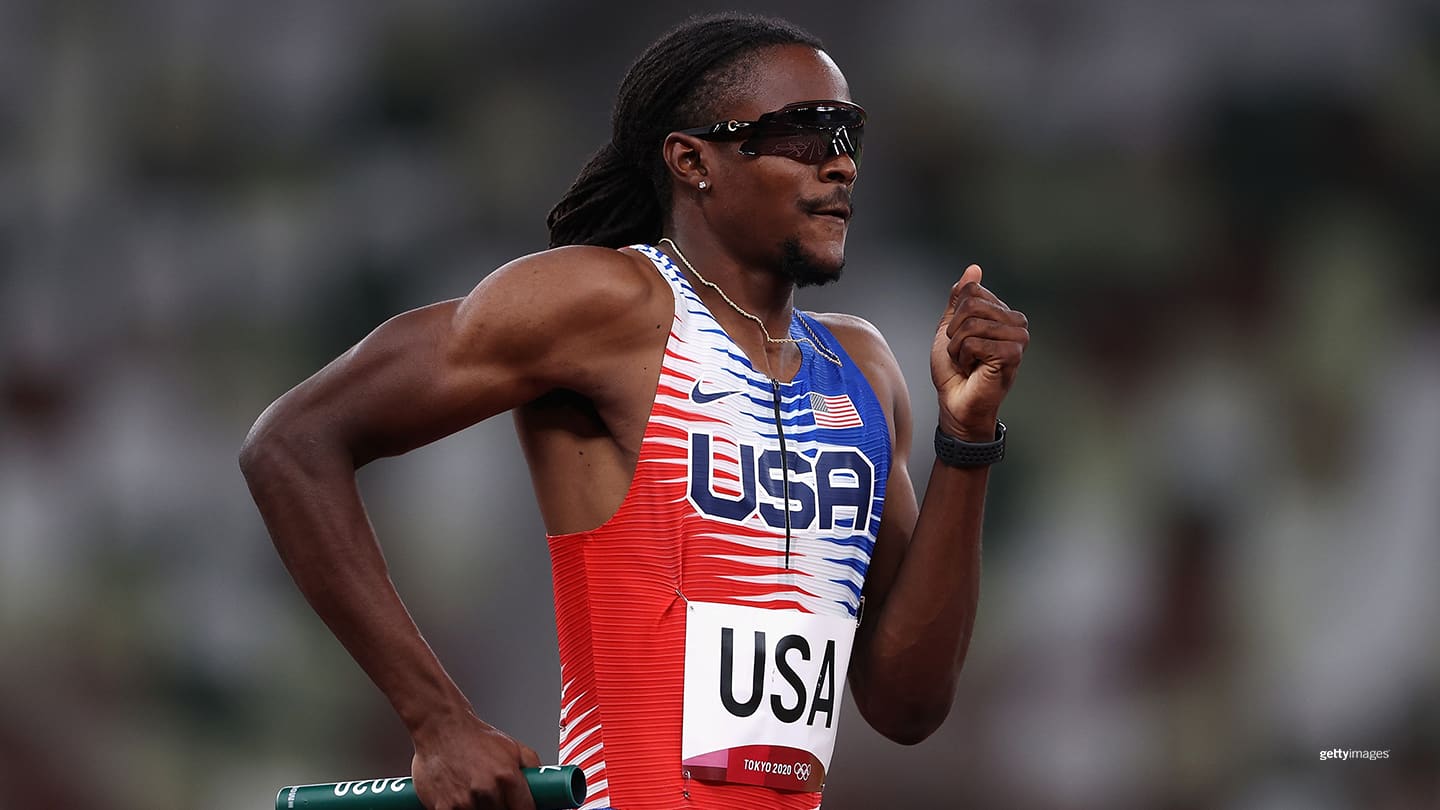 Randolph Ross competes in the men's 4x400-meter relay at the Olympic Games Tokyo 2020 on Aug. 6, 2021 in Tokyo.
It's going to be hard for Olympic track and field athlete Randolph Ross to top the Father's Day gift he gave his dad Duane last year: qualifying for the Olympic Games Tokyo 2020 after finishing third at Trials in the 400-meter.

That gift brought his dad — his college coach — to tears for the first time, calling it one of his proudest moments as a father and a coach.

"That was full circle for me," Duane said, a former track athlete who competed in the Olympic Games Athens 2004 in the 110-meter hurdles. Randolph was three years old at the time and in the stands watching. "I don't think he's seen me shed tears his entire life, but at Olympic Trials, he did."

"And it wasn't just about him making the team and becoming an Olympian. It was about his goal. When he took his victory lap and came up to me and hugged me, and said, Happy Father's Day, that will bring any father to his knees."

Randolph — who has been competing in track and field since age five — went on to win gold in Tokyo in the 4x400 meter relay, with his dad beaming with pride from the stands.

The two will be together this Father's Day at the USATF Outdoor Championships in Oregon. After the season concludes, Duane will transition to the University of Tennessee, where it was announced earlier this week that he accepted the track and field program director position.

The news came after 10 years of coaching at North Carolina A&T, where he was named the 2021 NCAA Coach of the Year and Randolph was a rising senior. But the younger Ross — and his sister, Jonah, a sophomore and fellow track athlete — decided to follow dad to Knoxville.

"It was hard leaving what we built for a decade," Randolph said, who at 21 is the oldest of seven kids. Under his dad's leadership, the men raced to a third-place finish at last year's NCAA Outdoor Championships and ended the indoor season with a number one ranking.

With another year and a half of eligibility going into his new school, Randolph recently confided to his father that before he becomes pro he wants a team national championship, having come so close to the title in the past.

His dad can relate, having finished second at the NCAA Championships twice during his time at Clemson University.

"The decision to change schools was my dad's to make, and my sister and I were going to support him, regardless," Randolph added.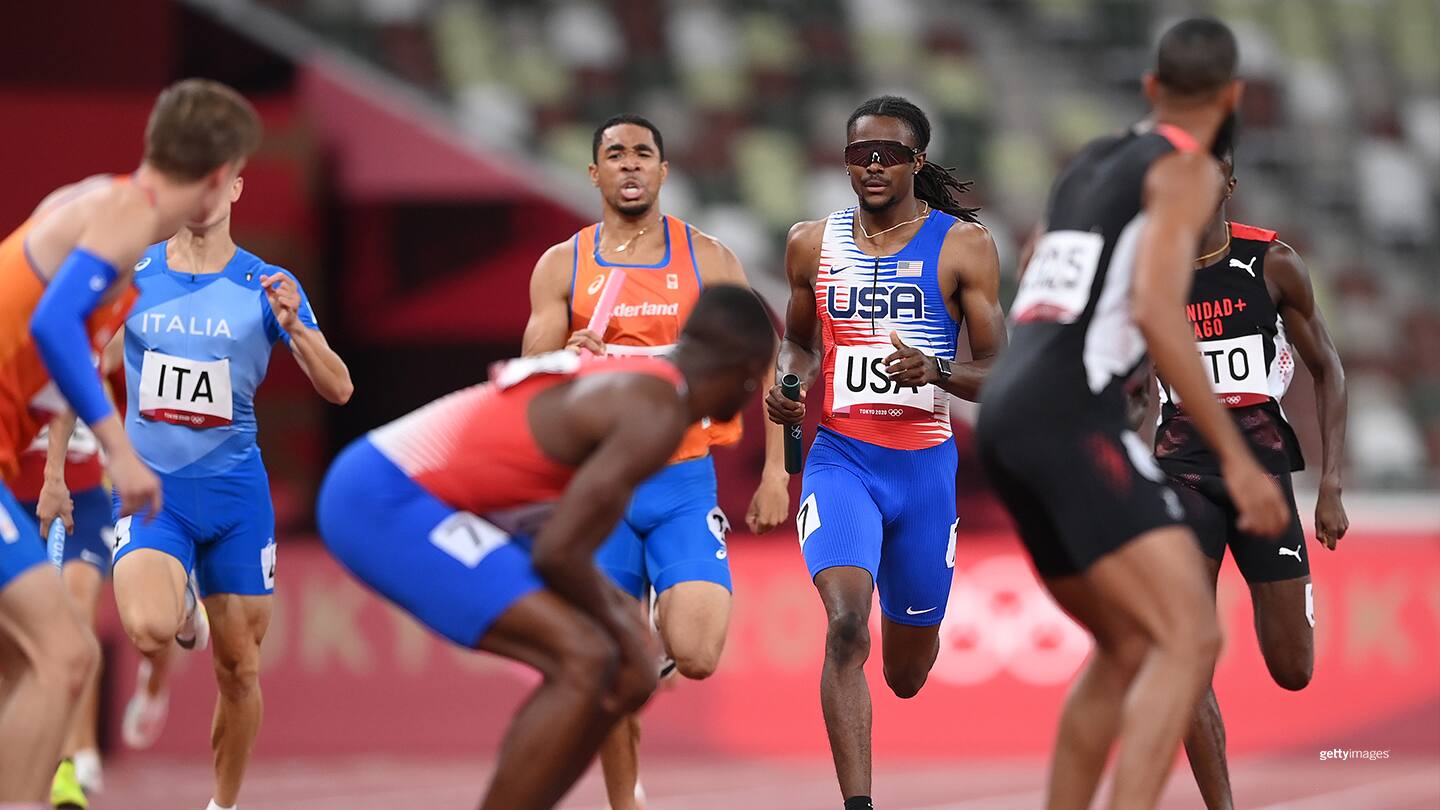 Randolph Ross competes in the men's 4x400-meter relay at the Olympic Games Tokyo 2020 on Aug. 6, 2021 in Tokyo.
Getting that time together as a family is something the patriarch of the family considers a privilege.

"Seeing your children grow every day, seeing them develop, that's been a bigger blessing than their performances any day," Duane shared.

"A lot of parents who send their kids off to college only see them on holidays. I see them every day. Watching Randolph become a young man has been one of the joys of my life."

For his son, the feelings of admiration are mutual.

"The best thing about having my dad as my coach is that he's been through everything I've dreamed of doing: Olympic team, running pro," Randolph admitted. "Everything that we aspire to be, he's already been through and knows how to prepare for it."

Duane competed internationally for nearly a decade and participated in multiple IAAF World Championships. A native of North Carolina, he became an NCAA champion hurdler and seven-time All-American at Clemson in the '90s and eventually transitioned into coaching.

Coaching a team, which includes two of your children, is a challenge that Duane said he is getting better at managing.

"The challenge is that I can be a little harder on my kids than I am anyone else on the team. And sometimes I have to pull back," Duane admitted. "I never want my team to think that my own children are receiving any favoritism."

That message became abundantly clear when he threw Randolph out of practice his first year at North Carolina A&T, the first and only time he had seen him lose his cool. It happened after Randolph talked back.

"Yeah, I tossed his behind right up out of there," Duane said about his son he claims is usually cooler than a fan. "He came back and apologized and gave me a hug. I reminded him that he's always going to be my son, and I want the best for him."

For Duane, that means having tough conversations. At one time, he discussed whether he was the best coaching choice for his kids.

"When they were coming out of high school to go into college, as much as it pained me, I tried to send them somewhere else," he said. "They took their visits to other schools. I pushed them to talk to other coaches.

"In the end, both of them decided that they wanted to stay with their father. But it was something I struggled with, and sometimes still do."

Randolph is happy with his decision, revealing that having his dad as his coach pushes him to do better.

"The hardest thing about having my dad as my coach is that practice is just as high an expectation — if not higher than at a meet — because you never want to let a parent down. But if you look at it right, it's a positive because it pushes you to do better. Even on your worse days."

And when that day comes when he is ready to close the chapter on his career, he said, "Hopefully, my dad will be right there along with me."
Lisa Costantini has covered Olympic and Paralympic sports for more than a decade, including for the International Olympic Committee. She is a freelance writer who has contributed to TeamUSA.org since 2011.