An Unexpected Journey Has Sara Hall Running As Well As Ever At Age 39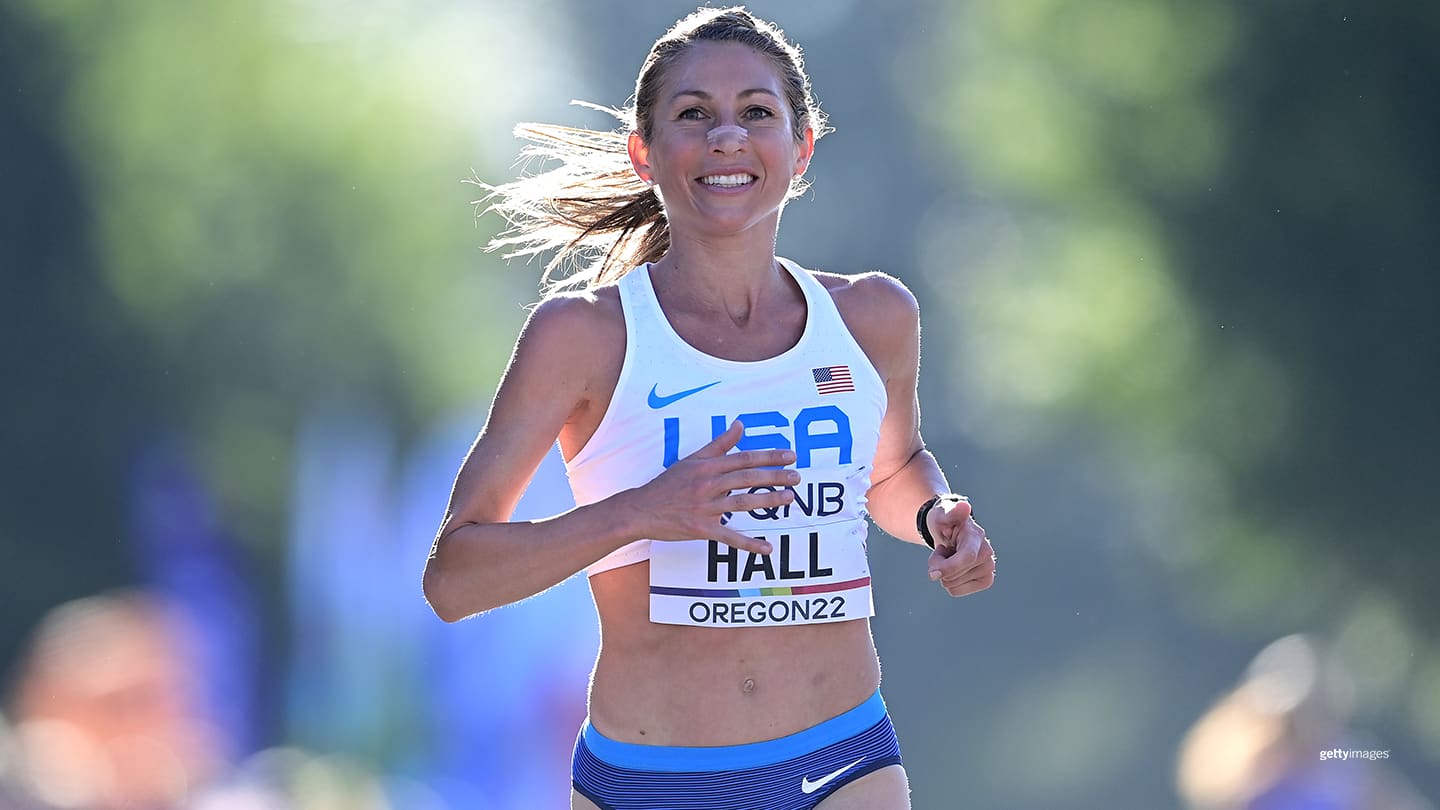 Sara Hall competes during the women's marathon at the 2022 World Athletics Championships on July 18, 2022 in Eugene, Ore.
EUGENE, Ore. — Sara Hall has said she knew she would marry husband Ryan before they began college together at Stanford. Just about everything else has been unexpected.

At age 39 she is racing against the best in the world. She is a mother to four adopted children. Instead of the 1,500 meters, she is running marathons. Instead of setting a retirement date, she is looking to the Olympic Games Paris 2024.

And why not the Olympic Games Los Angeles 2028?

On Monday, the Americans came out, and showed out, in the women's marathon at the World Athletics Championships in Eugene.

Hall finished fifth in 2:22:10, followed by Emma Bates (2:23:18) in seventh and Keira D'Amato (2:23:34) in eighth. Iconic photos were taken of the three embracing each other, then sharing a group hug with race starter Joan Benoit Samuelson, gold medalist of the first Olympic women's marathon in 1984.

"I've never experienced the hometown crowd quite like that." Hall said. I think that was the most fun I've ever had in a race. It just came out."

It was a redemptive moment for Hall — who has endured racing disappointments in TrackTown, USA — and a signature moment for American women in distance running. The 5-7-8 finish came less than 12 months after Molly Seidel ran to a marathon bronze medal at the Olympic Games Tokyo 2020.

"For me, just a really cool moment just solidifying how far we've come," Hall said, speaking on Team USA female distance runners. "It's just getting stronger. We're just feeding off each other. The bar keeps getting raised out here."

Hall's longevity has contributed to that. She has raced at the U.S. Olympic Team Trials in the 1,500, steeplechase, 5,000, 10,000 and marathon, never making the U.S. team.

She moved up from shorter distances to the marathon in 2015. Ryan retired from pro running soon thereafter as the only American to run a sub-2:05 marathon. If not for him, Sara said, she never would have persisted.

"He was setting American records and thriving. I was done way earlier," she said. "When you're married, it's like, 'All right, this is our life.' And I still did love running and love the sport. But I definitely wouldn't have transitioned if it hadn't been for him."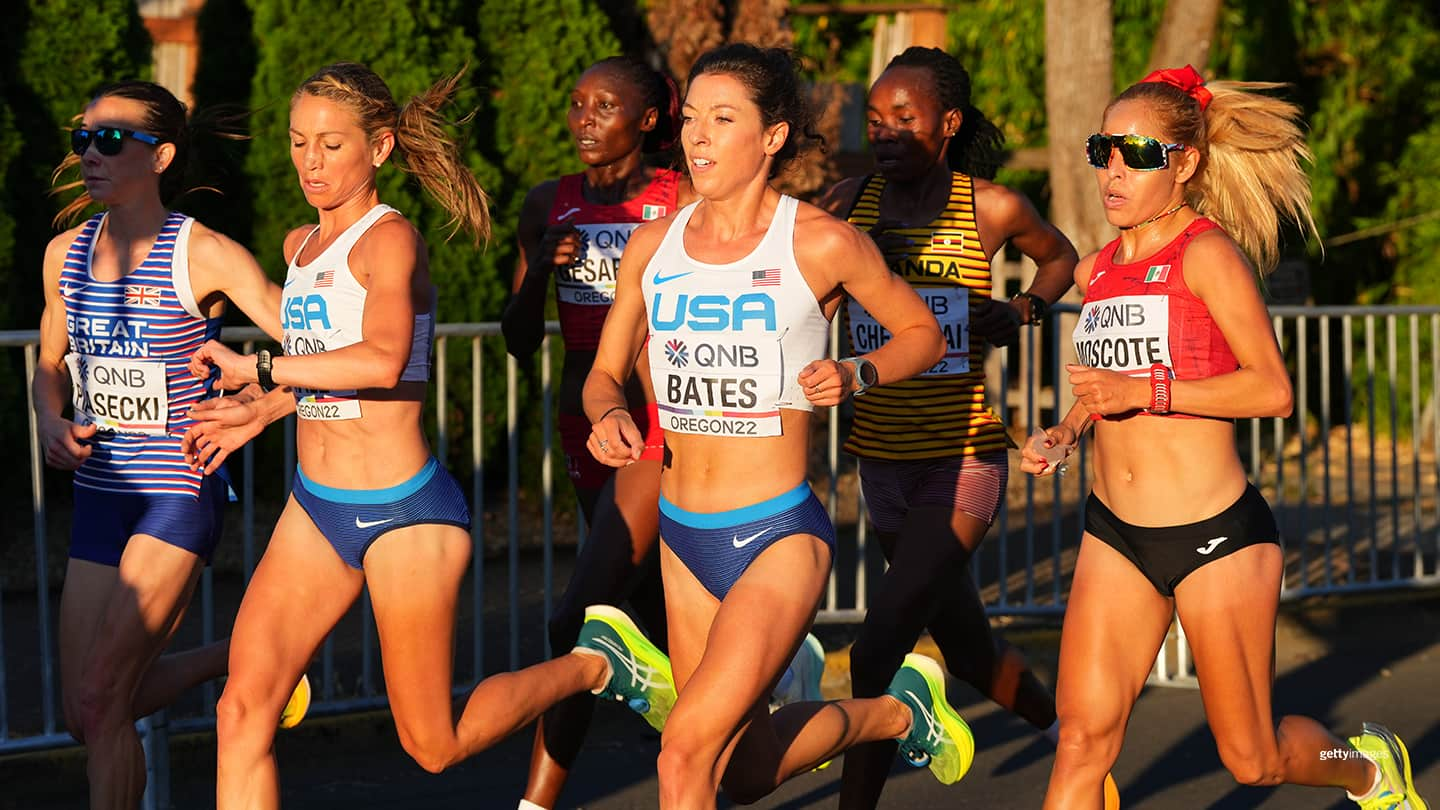 Sara Hall, Emma Bates and Citlali Moscote of Team Mexico compete during the women's marathon at the 2022 World Athletics Championships on July 18, 2022 in Eugene, Ore.
At the same time Hall was moving into the marathon, she and Ryan adopted sisters from Ethiopia, now ages 11, 14, 18 and 22. The oldest, Hana Hall, was a three-time state champion in Arizona and now runs for Grand Canyon University. The family lives in Flagstaff, a hub for runners training at the 6,900-foot altitude.

Since failing to finish the Olympic trials marathon at Atlanta in February 2020 — what she called the biggest heartbreak of her career — Hall has had uninterrupted successes.

Also in 2020, she was second at the London Marathon in 2:22:01 and won the Marathon Project at Chandler, Arizona, in 2:20:32, less than a minute from Deena Kastor's then-American record. In 2021, Hall was third at Chicago in 2:27:19. This year, she set an American record of 1:07:15 in the half-marathon (since broken), finished eighth at Tokyo in 2:22:56 and then fifth at the world championships.

There are always what-ifs, Hall said, but she said fifth was as high as she possibly could have finished. And she is not finished. She would be 45 at the L.A. Olympics — if she keeps going that long.

"This is definitely the best my body has handled marathon training, this buildup," Hall said. "It makes me excited. I would love to be able to keep improving and keep doing this sport for years to come.

"Doing it with kids is difficult. But my kids are getting older, they're getting more self-sufficient. In some ways, it's freeing because I'm not delaying that part of my life. That can cause pressure, putting off having a family, and you have his kind of timeline. I've already been through the thick of it that way."

She acknowledged running can be all-consuming and that she once struggled to balance it all. Now, she tries to use running to influence her daughters — "more is caught than taught with kids" — and to fight poverty through the couple's Hall Steps Foundation.

"Running, it can be selfish, or you can find ways to positively impact people through it," Hall said. "Whether it's running for a charity or just through social media, being able to inspire other women in their late 30s with kids to go after their goals and make time for themselves. There's a lot of ways you can make it about other people."
David Woods, a native of Urbana, Illinois, has been covering Olympic sports since 1972 and is the only four-time winner of the Jesse Abramson Award, presented by Track and Field Writers of America for journalism. He is a freelance contributor to TeamUSA.org on behalf of
Red Line Editorial, Inc.