Team USA Athletes Reflect On Martin Luther King Jr. Day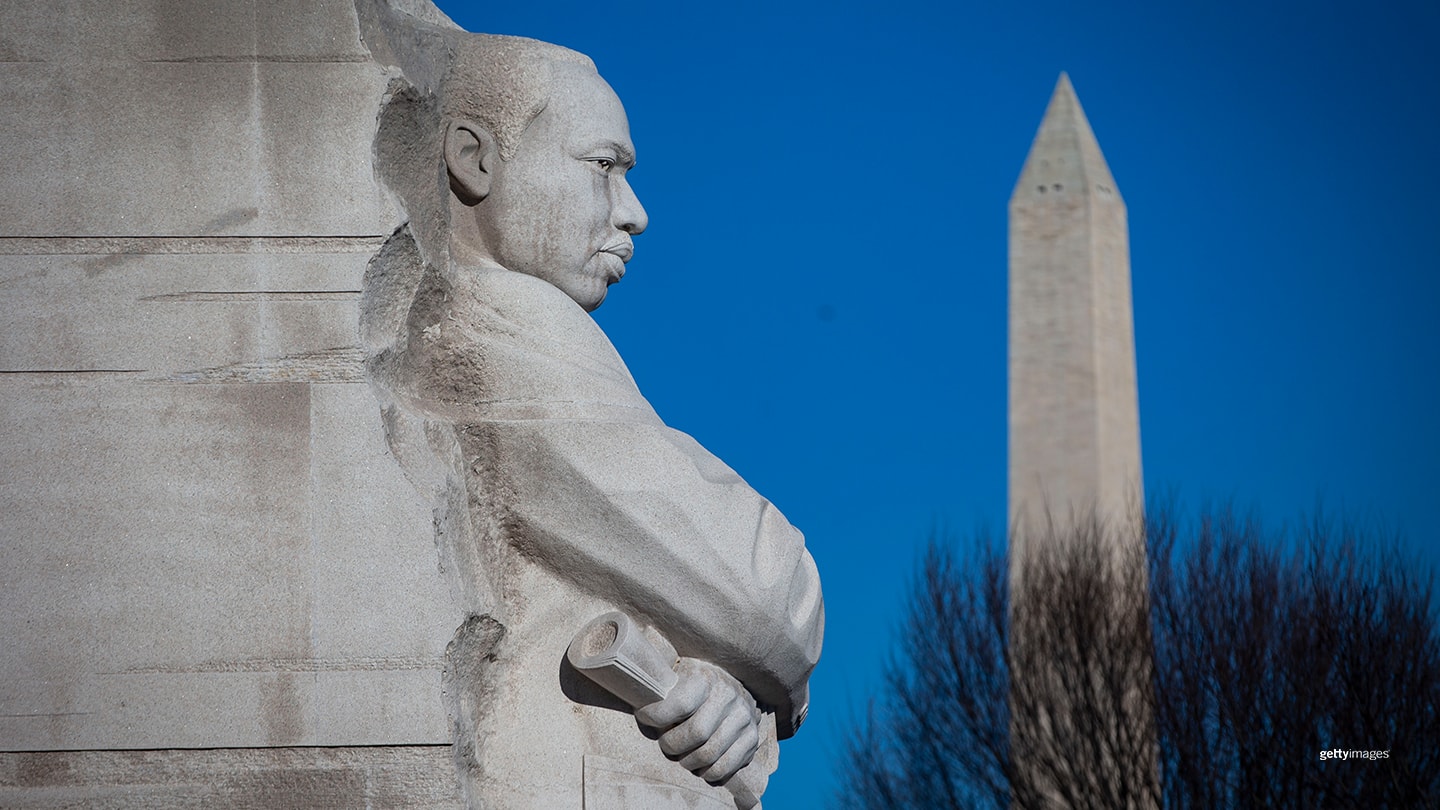 The Martin Luther King Jr. Memorial is seen on Martin Luther King Day, Jan. 21, 2019 in Washington, DC.
Every third Monday in January marks a day of service and reflection honoring the birthday of the late Martin Luther King Jr.

Dr. King, as he is known by many, was a leading civil rights activist. Dedicating his life to protest against racial discrimination, he led critical anti-racist change throughout the United States. King sought to abolish inequality through countless actions and firmly believed that everyone could serve in their communities to make the world more equitable.

In his speech "The Drum Major Instinct," King stated, "everybody can be great … because anybody can serve. You don't have to have a college degree to serve. You don't have to make your subject and verb agree to serve. You only need a heart full of grace. A soul generated by love."

As it stands now, Martin Luther King Jr. Day is the only federal holiday observed as a national day of service. There is no doubt that Dr. King has and will continue to inspire movements of change through his countless actions and words rooted in love, community, equity and unity.

As we reflect on this day of service, we invite you to read Team USA athletes' reflections about this momentous day.



Crystal Dunn, two-time Olympian and Olympic bronze medalist, commented on Martin Luther King Jr.'s legacy in a quote posted on Instagram by the U.S. women's national team.
"Martin Luther King Jr. should be celebrated for his legacy of service. He dedicated his entire life to helping others and led the civil rights movement that challenged systemic racism and economic inequality. We still have a long way to go but his impact still inspires today's generation to advocate and continue fighting for change."
Tamyra Mariama Mensah
Stock
Olympic gold medalist Tamyra Mariama Mensah Stock, honored the late Dr. King by posting a picture of him with a quote highlighting his famous "I Have a Dream" speech.
"I have a dream that my four children will one day live in a nation where they will not be judged by the color of their skin but by the content of their character. I have a dream today."

Naya Tapper
Women's rugby player Naya Tapper was featured on Team USA social media reflecting on King's legacy.
Speaking about Dr. King's fearlessness she stated, "Acceptance and fearlessness comes to mind when I think of Martin Luther King Jr.'s legacy. He was all about promoting acceptance regardless of your differences. He was also fearless because he fought for what he believed in regardless of the consequences. He fought for what was right, which can be very scary at times."
Jayson Tatum, a 2020 Olympic gold medalist, spoke in gratitude on his Instagram, posting a picture of him and his son, while wearing a shirt stating "Now is the time to make justice a reality for all." Every MLK day NBA players participate in games that are scheduled to honor the life of Martin Luther King Jr.
His caption stated, "His favorite player. My favorite person 🤞🏽. A honor to play this game and live out my dream on MLK day 🙏🏽"
Brian Bell, two-time Paralympian and two-time Paralympic gold medalist, was also featured on Team USA social media.
Speaking about the power of unity he stated, "We should be teaching togetherness as one nation, regardless of ethnicity or skin color. I want to teach and raise my kids in an environment that represents equality for all. And not about how they should be afraid or act differently around certain groups of people. We are all so much stronger together than divided. We are all people of one nation.
Over the weekend, Sylvia Hoffman, member of the 2022 U.S. Olympic Bobsled Team, reflected on her experience as a Black athlete.
Quoting King in her caption, she stated, "Each day we have a chance to not only better ourselves, but to show our communities what is possible if you try.
"Martin Luther King said "You can kill the dreamer, but you can't kill the dream." I have dreams and ambitions of being more than a statistic. I aim to be a beacon of hope for all my brothers and sisters of all ethnic backgrounds to reach for the stars. To this day, I continue to see those who doubt me. There will always be those who support you, and those who will find every reason not to.
I'm proud of who I am, where I'm from, and what I've accomplished. In 2018 the United States had 10 black people March into the PyeongChang Olympic Stadium…this upcoming winter games in Beijing I hope to be one of selected athletes to help that number grow, in competition and in appearance."
Originally from Colorado Springs, Juliana Bigelow is a digital media assistant for Team USA. She is a 2021 Portland State University graduate and spends her free time creating sound art and studying languages.