Cross-Country Skier Jessie Diggins Makes History Again With Silver Medal in 30K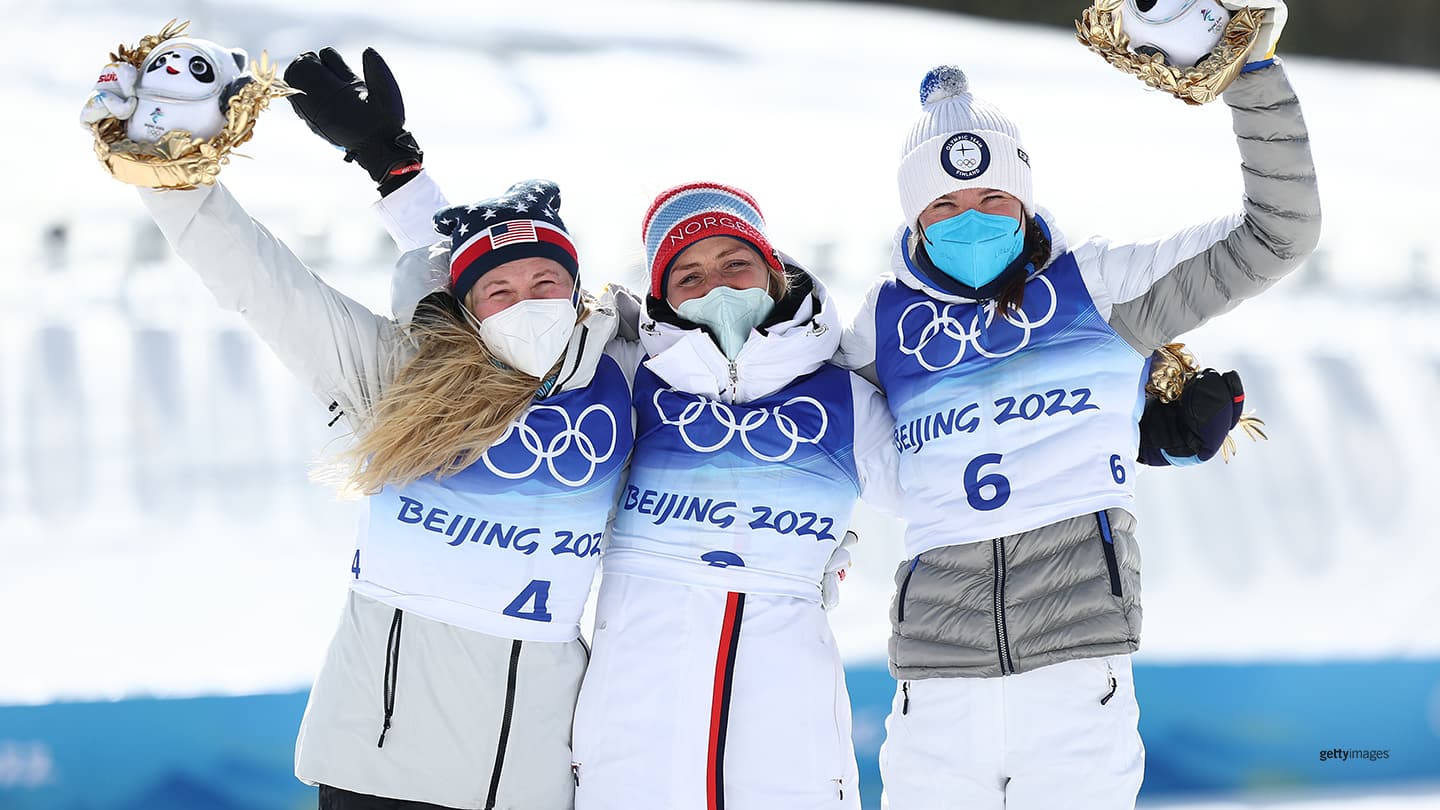 Therese Johaug of Team Norway (C), Jessie Diggins (L) and Kerttu Niskanen (R) pose during the the flower ceremony during the Women's Cross-Country Skiing 30k Mass Start Free at the Olympic Winter Games Beijing 2022 on Feb. 20, 2022 in Zhangjiakou, China.
Not even food poisoning can keep Jessie Diggins off the medal stand.

With legs cramping the last half of the race, Diggins willed her way to second place Sunday in the women's 30-kilometer freestyle mass start to win Team USA's last medal of the Olympic Winter Games Beijing 2022.

It was a historic one as Diggins became the first non-European skier to win a medal in the event. And it made Diggins the first American to win multiple cross-country medals in the same Olympics.

It's made all the more incredible given how Diggins was feeling the day prior.

"It's really emotional. That's one of the hardest things I've ever done in my whole life, especially because I had food poisoning 30 hours ago, which is why I thought I was going to die at the finish line," Diggins said with a laugh. "It was so special to see my family and my fiancé right afterwards on video. My legs were cramping the whole last 17 kilometers. I don't know how I made it to the finish. It was amazing."

After her two medals in Beijing, Diggins is now the most decorated American in cross-country skiing. She crossed the line Sunday in 1:26:37.3, 1:43.3 behind Therese Johaug of Norway. Kerttu Niskanen of Finland was third. Rosie Brennan was the next-best Team USA finisher in sixth. Diggins' health didn't have her feeling very confident that she was going to get anywhere near the podium.

"Honestly, not a lot of confidence (going into the race)," Diggins said. "Twenty-four hours ago, I felt really bad. Maybe because it's been so cold and so hard, maybe extra rest is what I needed."

Skiers indeed faced tough conditions throughout the course of competition in the Zhangjiakou mountain region, with strong winds moving up the start time of the 30-kilometer. Diggins started strong and climbed into second place a third of the way through the race. She wouldn't surrender that place, finishing 50 seconds ahead of Niskanen for silver.

"We had amazing skis," said Diggins, 30, a native of St. Paul, Minnesota. "Our team worked so hard. I just tried to ski smart and then I wanted to ski a gutsy race, so when Therese went, I tried to go with her and I couldn't stay. So then I thought I would just put my head down and ski my own race.
"That might have been the best race of my entire life, I'm not going to lie. It was also maybe the hardest race of my whole life."

Diggins has had plenty of tough races in her career, which has rewritten the history books for American skiers. In 2021, Diggins became the first American to win an overall world cup title. She also won a historic Olympic gold medal four years ago. Diggins and teammate Kikkan Randall's win in the women's team sprint was the first gold medal for any American in cross-country skiing at the Games.

Diggins came into the Beijing Games focused and finished in the top 10 in all six events she entered. That included a bronze medal in the women's sprint freestyle on Feb. 8. Diggins was the first American to win a medal in that event.

"It's been an emotional roller-coaster, but I am so happy we made it to the end," Diggins said. "To have a medal in the sprint and the 30K are the ultimate bookends for me. I have been trying to be a good all-round athlete my whole life, so this has been really cool."

Until Diggins came along, Team USA hadn't won a cross-country skiing medal at the Games since 1976. Bill Koch's 30-kilometer silver that year was the only one until Diggins and Randall pulled off their gold-medal heroics in 2018.

Diggins' medal Sunday brought Team USA's final medal total to 25, the fourth-most, with eight of them gold. That's an increase in total medals of two from 2018.
Todd Kortemeier is a sportswriter, editor, and children's book author from Minneapolis. He is a freelance contributor to TeamUSA.org on behalf of Red Line Editorial, Inc.