Mikaela Shiffrin Closes In On Lindsey Vonn's All-Time Record With Win In Super-G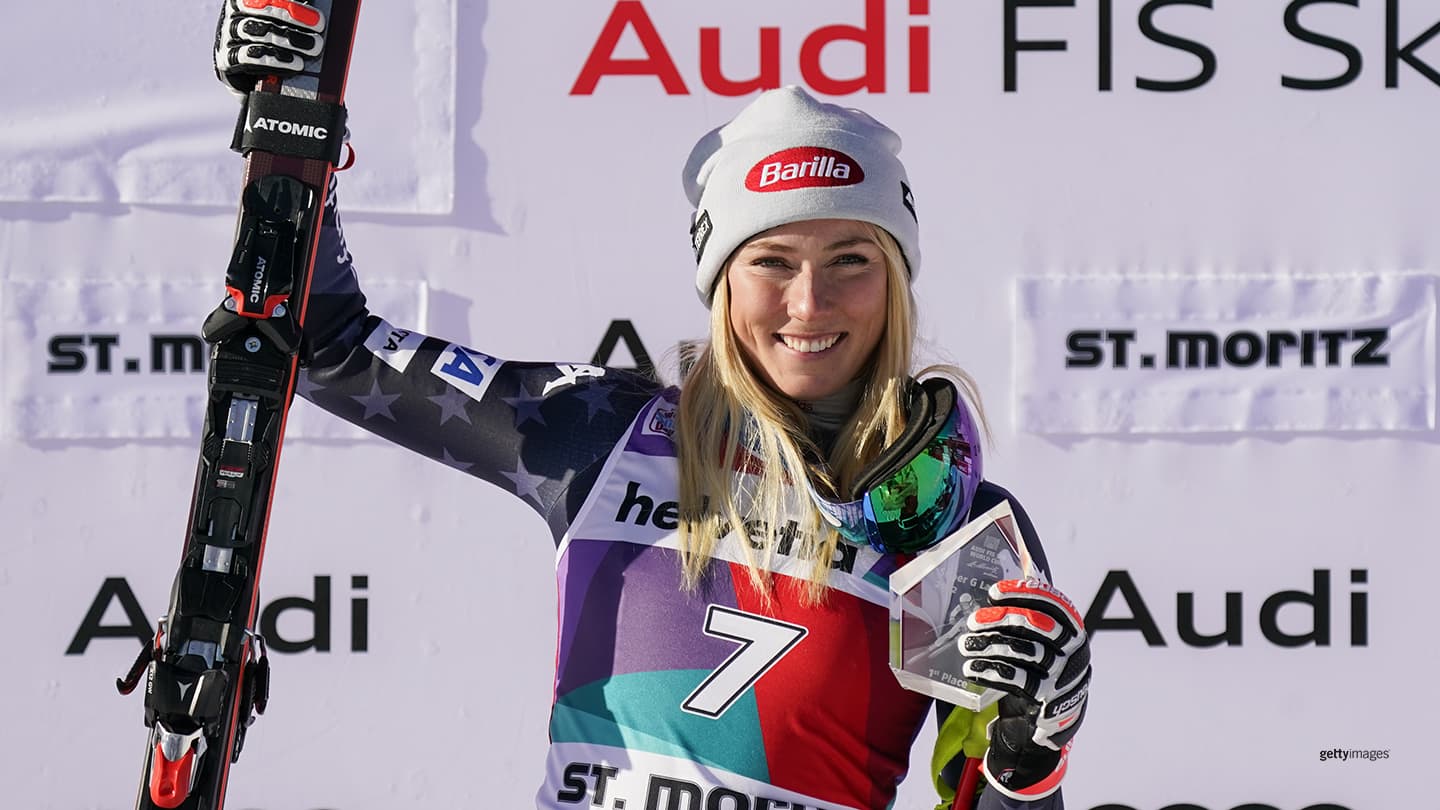 Mikaela Shiffrin celebrates taking first place following the women's super-G at the 2022 FIS Alpine Ski World Cup on Dec. 18, 2022 in St Moritz, Switzerland.
Heading into Sunday's super-G world cup in St. Moritz, Switzerland, Mikaela Shiffrin hadn't won a race in the discipline in almost three years, so she wasn't necessarily the favorite despite her decorated status.

She then went out and showed why she's closing in on alpine skiing's biggest career records.

Shiffrin carved an aggressive course down a sun-splashed mountain in the Swiss resort town, finishing in 1:13.62, good enough to finish .12 seconds ahead of Italy's Elena Curtoni and .40 seconds ahead of France's Romane Miradoli. It was the first win of the weekend for Shiffrin, who finished fourth and sixth in downhill races on Friday and Saturday. Shiffrin was racing in her first super-G event of the season and won for the first time in the discipline since January 2020.

"That was the best run I could possibly have," said Shiffrin to the International Ski Federation. "I don't know if it felt perfect, but what I've learned over the years in super-G is that you can't really do it perfect. You have to push so hard that maybe there's going to be one mistake or one spot where you almost don't make it, and that's how my run was."

The win was the 77th of Shiffrin's decorated world cup career, moving her to within five of the all-time women's record set by former U.S. teammate and Olympic gold medalist Lindsey Vonn. Shiffrin, a two-time Olympic champ, is also now just nine away from the all-time record set by Sweden's Ingemar Stenmark. Both marks are well in reach at or before the Olympic Winter Games Milano Cortina 2026.

Shiffrin continues to lead the overall world cup standings as she has since winning the first two events of the year back in November. A four-time world cup overall champ, Shiffrin has held that lead in 2022-23 despite finishing on the podium just once since those two slalom victories going into Sunday's win. In the last calendar year Shiffrin has wins in all four of skiing's primary disciplines.

Following a holiday break, the alpine skiing world cup will resume in Semmering, Austria, Dec. 27-29 with two giant slalom and one slalom race. Shiffrin has won four career races in Semmering, with her most recent coming in 2018.
Todd Kortemeier is a sportswriter, editor and children's book author from Minneapolis. He is a contributor to TeamUSA.org on behalf of
Red Line Editorial, Inc.