Gary Hines Cherishes The Opportunity To Play In The Handball World Championships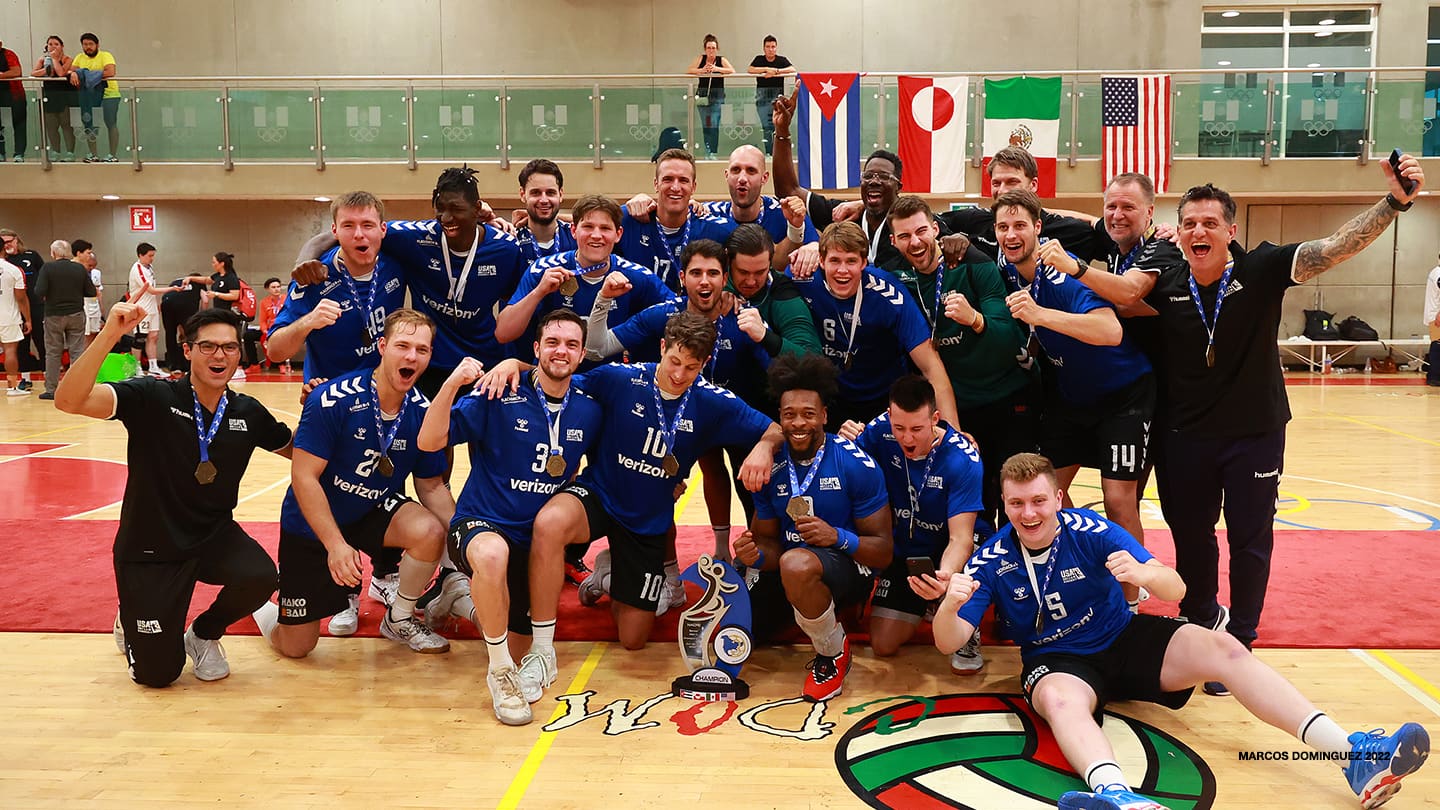 The U.S. men's national handball team poses for a photo after winning the 2022 NACHC Handball Championships on June 30, 2022 in Mexico City.
Gary Hines shed a few tears, and the other members of the U.S. men's handball team understood why he was crying.

Hines had explained to his teammates how much it would mean to him, at age 38, to help the Americans qualify for the 2023 IHF World Men's Championship.

After everything that had happened over the past few years, Hines didn't bother hiding his emotions on June 30.

He wanted to appreciate the moment after the U.S. capped an unexpected run in the Men's North American & Caribbean Handball Confederation Handball Championships with a 33-26 win over Greenland in the championship game in Mexico City.

"For me, it was very emotional because it was the first time since I've been a part of the national team since I was 18 that we've actually qualified for world championships by being able to beat other teams, not just because 'Yeah, you get a wildcard' or 'Yeah, you're the host country' or whatever," Hines said. "But we earned it, so it was very emotional for me."

The victory was both a relief and a bit of redemption for the U.S. men's handball team after it was forced to withdraw at the last minute from the 2021 IHF World Men's Championship in Egypt because of a coronavirus outbreak on the team.

The Americans weren't considered the favorites heading into the four-team Men's NACHC Handball Championships, and it didn't help that several of their players felt ill while in Mexico City for the tournament.

However, the U.S. won four matches in five days to earn a spot in next year's world championships, which will be held Jan. 11-29 in Poland and Sweden.

Along the way, the Americans showed that they have the potential to be competitive in men's handball, especially with the Olympic Games Paris 2024 only two years away.

"I think our strength is that we can do a little bit of everything," said Darrick Heath, a 1996 Olympian who's now an assistant coach on for the U.S. "We can defend. We can score. Our goalkeepers, we have two very strong goalkeepers (in Rene Ingram and Pál Merkovszki) that play really well.

"I think that the closeness of this group also has a lot to do with it as far as that's concerned. So I'd say it's a combination of all three things that really makes us very effective."

Heath understands the significance of the U.S. qualifying for the world championships.

He was a star player for the Americans the last time they made the world championships in 2001 in France. It was the last of his three world championship appearances.

"The future is very bright. It's always nice to have very young talent in our program," Heath said. "We have a very nice, skilled group of athletes, so we're looking forward to the future."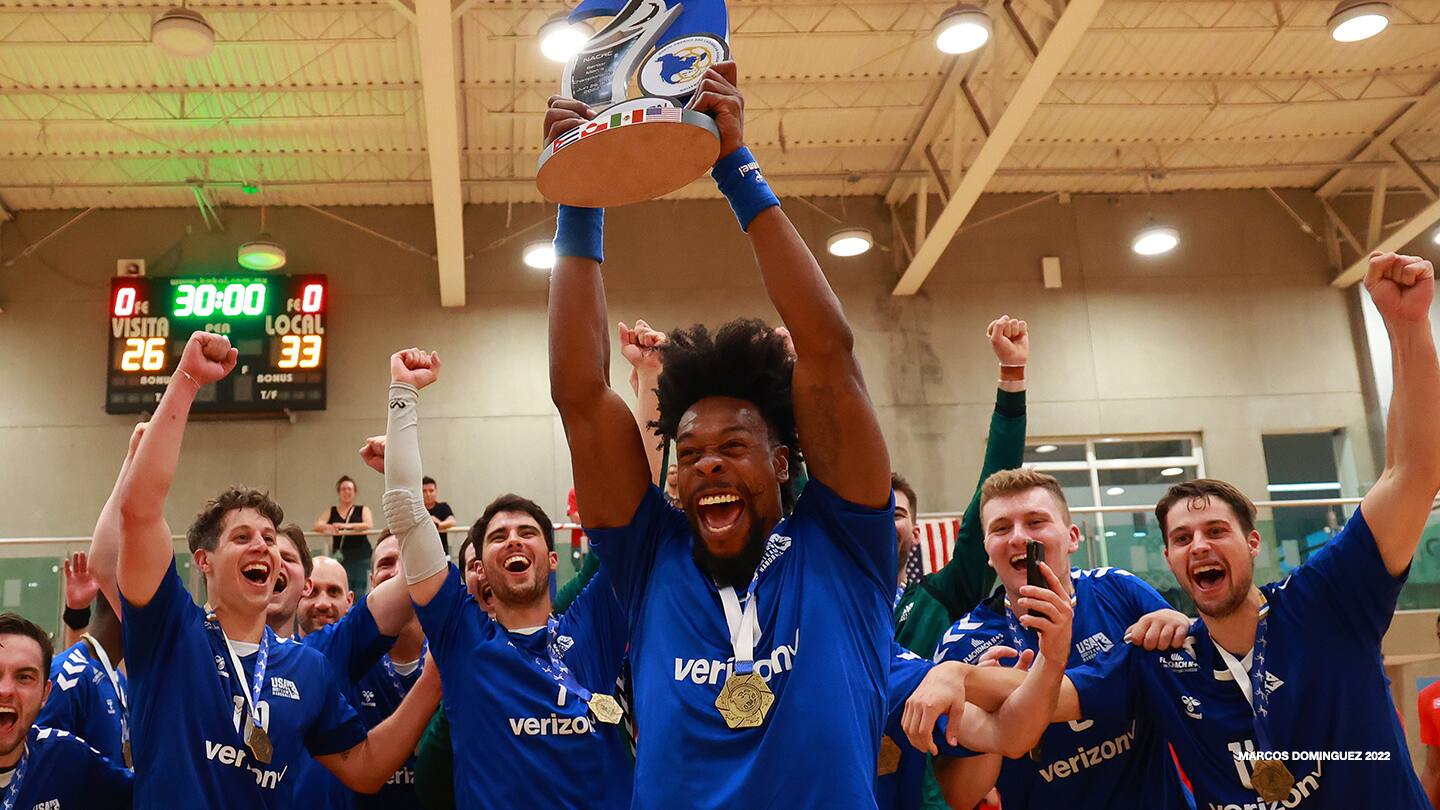 Gary Hines (C) lifts the trophy alongside his teammates after winning the 2022 NACHC Handball Championships on June 30, 2022 in Mexico City.
While Hines is the oldest member of the team, the rest of the U.S. roster is made up mostly of younger players who have shown potential on the court, including several who play professionally in Europe.

The Americans like to run and use their athleticism to score on other teams. And unlike in the past, they have enough depth so there's at least two players capable of starting at every position.

"It's very satisfying because I remember when I started out. I was one of the ones that'd have to play multiple positions because the talent or players weren't there," Hines said. "It's just a joy to see there's more talent around than normal."

Hines admitted it was "devastating" when he learned the U.S. had decided to withdraw from the last year's world championships only a few days before the team was expected to fly to Egypt.

While the pandemic limited how much the team could practice together, Hines said everyone remained focused and bought into head coach Robert Hedin's philosophy at last month's Men's NACHC Handball Championships.

The Americans opened the tournament with a 36-28 win over Greenland on June 26. They then knocked off host Mexico and Cuba in back-to-back days to set up a second match with Greenland two days later in the championship round.

"Once we come together, it can be very special and we proved that with all the naysay and people behind the scenes saying, yeah, we're not going to do good this tournament and we're going to get beat and it's not fair, blah, blah, blah," Hines sad. "So we put a lot of naysayers to hush."

The U.S. and Greenland went back and forth in the championship match, but the Americans took control with around 10 minutes remaining and pulled away to secure a spot in the world championships.

Sam Hoddersen finished with eight goals in the championship match, and Ian Hueter added seven goals to help the Americans go undefeated in Mexico City.

A few days later, the U.S. learned its future for the 2023 IHF Men's World Championships. The team was included in a group with Egypt, Morocco and Croatia.

"It was very exciting. It was a huge relief so to speak," Heath said of the U.S. qualifying for the world championships. "No one on (the current) team has ever played in the world championships, so… we're very excited and we're very grateful that we have the opportunity to be put in the position where we can qualify and come out victorious."
Alex Abrams has written about Olympic sports for more than 15 years, including as a reporter for major newspapers in Florida, Arkansas and Oklahoma. He is a freelance contributor to TeamUSA.org on behalf of
Red Line Editorial, Inc.