Celebrating Our Student Athletes
by U.S. Olympic & Paralympic Committee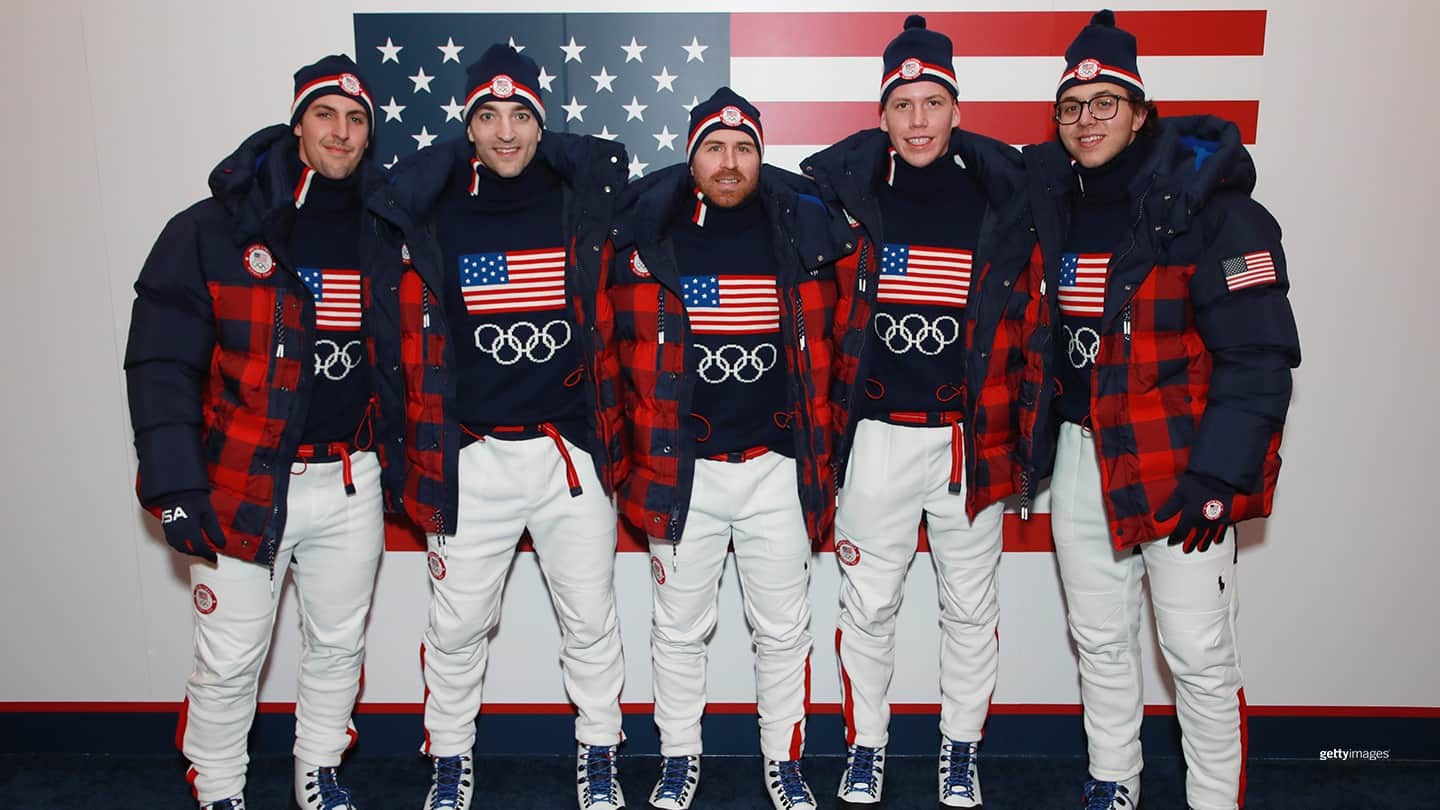 Team USA athletes pose for a photo at the Team USA welcome experience in Los Angeles.
To be a full-time collegiate athlete and Olympian is no easy feat. Yet hundreds of students choose to represent Team USA ever year. From track and field to ice hockey, Team USA has over 400 athletes from 97 different schools currently competing in 18 sports.
The Olympic Games Tokyo 2020 was home to 59 current student-athletes. 18 of those athletes are currently competing on the NCAA swimming circuit. The Team USA swim team is home to 48 collegiate current or former collegiate athletes from 21 different schools, making up 91% of the team. 11 of 11 divers are current or former student-athletes, with 45% of them representing The Big Ten Conference. The USA Swimming & Diving team isn't the only Olympic team with significant conference representation. 30% of the women's soccer team competed in the ACC conference, 48% of U.S rowers competed in The Ivy League and one-third of U.S fencers competed at Notre Dame.
95% of our 128 strong track and field team competed collegiately. 70% of the Big 12 had one or more athlete on the team. The SEC also had alum from every school on the 2020 U.S. track and field roster.
Earning a spot on Team USATF is no small feat, but doing it in a college uniform it's something special. Here's to the student-athletes who never cease to inspire 🤩

Tag a student-athlete you ❤️ for #NationalStudentAthleteDay

📸 (1, @GamecockTrack)#USATF #JourneyToGold pic.twitter.com/3jn1XBPfhY


— USATF (@usatf) April 6, 2022
75% of the athletes who competed in Tokyo 2020 also competed collegiately, representing 169 schools. 390 athletes competed at NCAA Division 1, seven athletes competed at Division 2, and four athletes competed at Division 3. 60 Additional athletes also complete for NAIA, NJCAA or club sports. As softball returned to the Olympic Games, so did the collegiate athletes. 100% of the 2020 U.S Olympic Softball team competed collegiately!
📣 Let's hear it for our @TeamUSA collegiate athletes!

From the classroom 📚 to the international stage 🌎 – You make us proud.

Happy #NationalStudentAthleteDay | #OlympiansMadeHere pic.twitter.com/G0CMQqWR9P


— USA Softball Women's National Team 🇺🇸 (@USASoftballWNT) April 6, 2022
29 Olympians and one Paralympian made their winter break one to remember by competing in the 2022 Beijing Winter Games. 45 schools were represented in China, with nearly 40% of the Team USA delegation being current or former student athletes. These students athletes were not just limited to winter sports, 21 athletes competed in different collegiate sports before competing for Team USA. USA Bobsled included former collegiate football, basketball and lacrosse players. Out of the seven Winter Olympic sports, five teams boasted 75% or greater collegiate participation. Incredibly, both the U.S. men's and women's ice hockey teams had a full roster of current or former collegiate athletes. 48% of the women's hockey team can call themselves Olympic medalists, as well as NCAA champions, and 60% of the men's hockey team left Beijing and went straight back into competing for their college. The University of Minnesota had the most varsity student-athletes with 12 Gophers representing Team USA. U.S Nordic Skiing represented six schools, 165 collegiate students and alum, and 30 athletes with academic ties to the University of Utah. Half of the U.S. Alpine and Cross-Country skiers competed in college and three quarters of the biathlon team competed collegiately across all three NCAA divisions.
National. Student-Athlete. Day. 💪

Celebrating our current and former athletes who have both competed collegiately and suited up for @teamusa! #NatlSADay // #ShowTheWorld // #ParalympiansMadeHere pic.twitter.com/cuoJ0ErhNm


— U.S. Paralympics Nordic Skiing (@USParaNordic) April 6, 2022
U.S. Olympic & Paralympic
Committee