Toyota's Friends & Family Celebration Brings Loved Ones Together To Celebrate Team USA's Paralympians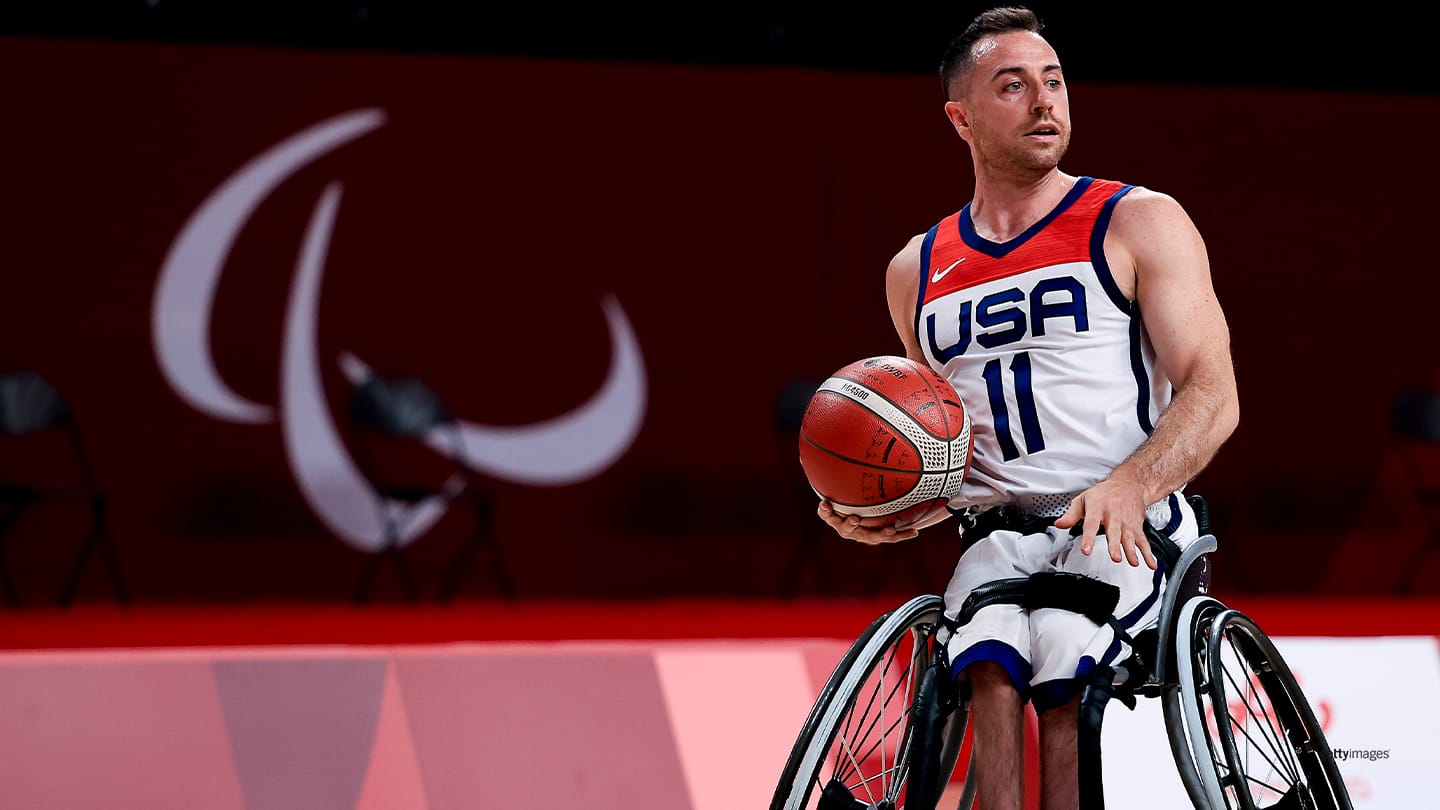 Steve Serio controls the ball during a game against Germany at the Paralympics Games Tokyo 2020 on Aug. 26, 2021 in Tokyo.
Steve Serio, who's the captain of the U.S. men's wheelchair basketball team, was waiting at the airport when his girlfriend, Lindsey Britt, arrived a few days ago in Colorado Springs, Colorado.

Only it wasn't actually Serio. It was a large cardboard cutout of him.

"He was actually able to welcome me as soon as I came down the escalator, which was really funny," Britt said of the cardboard cutout.

Serio couldn't meet Britt in-person because he was in Tokyo to compete in his fourth Paralympics. And Britt couldn't be in Japan with him since spectators aren't allowed at the Paralympic Games because of the coronavirus pandemic.

Britt did the next best thing. She flew with her mother to Colorado Springs as two of the around 300 people invited to take part in the U.S. Paralympic Friends & Family Celebration presented by Toyota.

Britt saw cardboard cutouts of Serio everywhere she went while spending four days having fun with the friends and family members of other athletes competing in the Paralympic Games Tokyo 2020.

"Most of us were waking up at like two in the morning to go down to the watch party and watch (the U.S. men's wheelchair basketball team) with everyone," Britt said. "It was so cool to get to know some of the athletes' families and meet other athletes' families as well from other sports that I probably wouldn't have gotten the chance to do."

This was the first time Toyota helped host such an event for friends and family members of U.S. Paralympians, according to Dedra DeLilli, group manager of sponsorship strategy, integration and activation at Toyota Motor North America.
DeLilli said Toyota worked with the United States Olympic & Paralympic Committee to quickly put together the Friends & Family Celebration after it was announced that the Paralympics would be held without spectators in the stands.


"As an organization, since we began our partnership with the Olympics and Paralympics, we have fervently committed to helping build more awareness and provide more resources and opportunities for Paralympic athletes," DeLilli said. "And that certainly extends to Paralympic friends and family."


Once the Paralympians' friends and family members landed in Colorado Springs, where the USOPC is based, they were treated to a full itinerary of events.


They toured the USOPC Museum, attended a professional soccer game and hiked the Garden of the Gods.


A large ballroom stocked with food, drinks and lots of TVs remained open 24 hours a day, so friends and family members could gather at anytime to watch their loved ones compete in the Paralympics.


And the Paralympians never felt too far away, thanks to the cardboard cutouts placed in the ballroom, the hotel lobby and so many other places.


"That was a very deliberate attempt to bring the athletes here to Colorado Springs with us and to let the families and friends of the athletes feel like they were part of the event," DeLilli said. "So my team actually created those, and they have been a huge hit."


Britt admitted she was bummed she couldn't travel to Tokyo since Serio is probably retiring soon and this would've been the first Paralympics she attended as his girlfriend. The Friends & Family Celebration at least helped.


"I was definitely really sad, so this was such a great opportunity that they were able to do this," said Britt, who lives in Brooklyn. "So we had something and we weren't just sitting at home watching from our couches by ourselves."


Far from it.


Friends and family members were given the opportunity in Colorado Springs to play a few Paralympic events as a way to get introduced to them. They competed in goalball, sitting volleyball and wheelchair basketball.


Britt said she didn't realize how physical her boyfriend's sport — wheelchair basketball — is until she tried it.


"I was like 'This is so hard.' I didn't make a single basket," Britt said, laughing. "I was embarrassed and probably won't tell Steve, but it was really awesome."


DeLilli said Toyota would be interested in hosting another Paralympic family and friends event in the future, though like everyone else, it would prefer to support Team USA in-person.


"It has been a phenomenal experience, and we love being involved in any initiatives that are able to impact the friends, the families and of course the athletes of the U.S. Paralympic team," DeLilli said. "So we would 100 percent be open to future opportunities like this."
Alex Abrams has written about Olympic sports for more than 15 years, including as a reporter for major newspapers in Florida, Arkansas and Oklahoma. He is a freelance contributor to TeamUSA.org on behalf of
Red Line Editorial, Inc.