News
Nicholas Mayhugh
Josh Cinnamo
Nick Mayhugh Storms To 400M Silver; Josh Cinnamo Throws For Bronze in Shot Put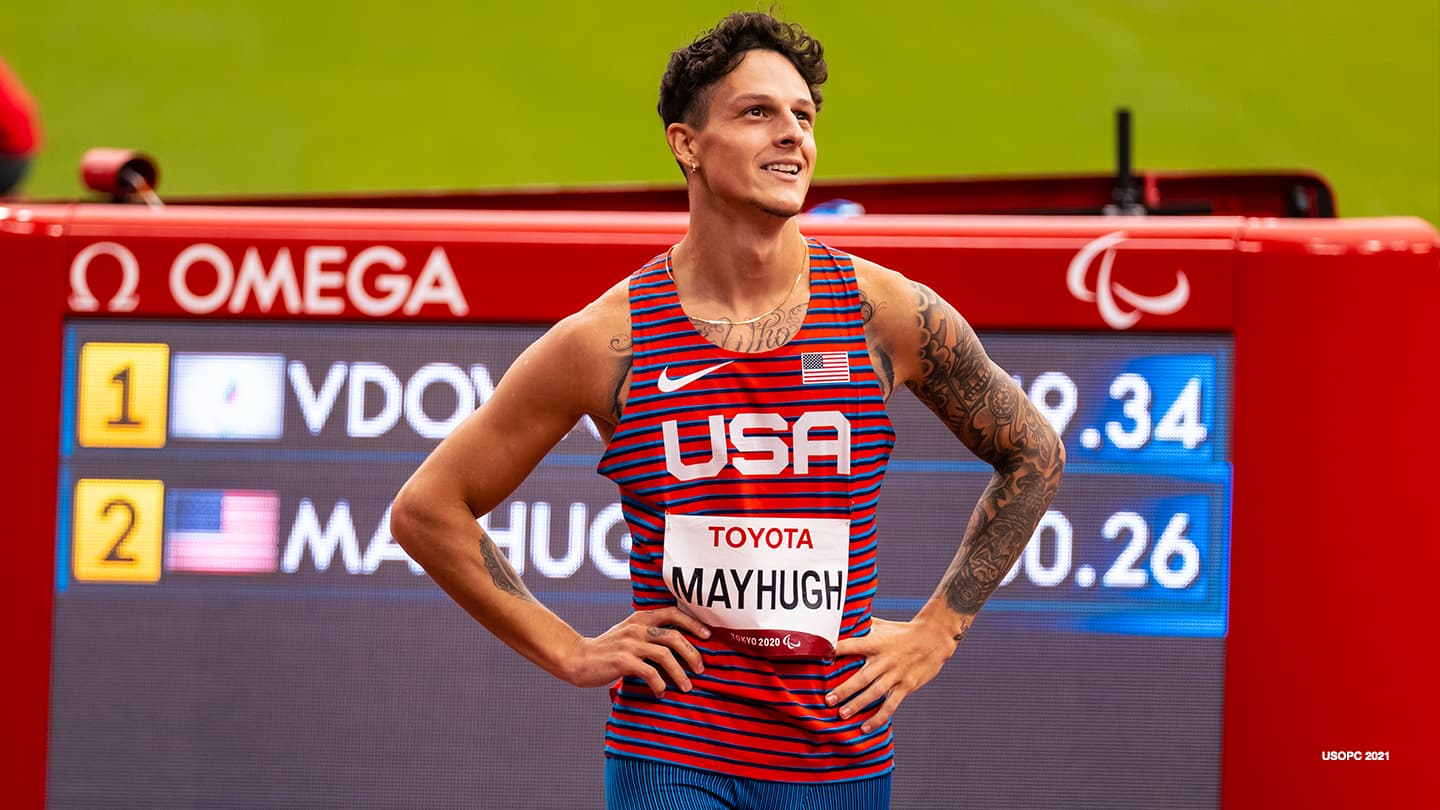 Nick Mayhugh looks on after running the 400-meter T37 at the Paralympic Games Tokyo 2020 on Sept. 1, 2021 in Tokyo, Japan.
TOKYO – First-time Paralympians Nick Mayhugh and Josh Cinnamo brought home two additional medals during the Wednesday morning finals of Para track and field.


Mayhugh ran in the men's 400-meter T37, his second event of the Paralympic Games Tokyo 2020. He set an American Record with his silver-medal finish in 50.26, just 0.4 ahead of the Russian Paralympic Committee's Chermen Kobesov. Andrei Vdovin, also from the RPC, won gold in 49.34 and set a new world record.


Today was Mayhugh's first time running the 400 in an international competition. Earlier in the Games, the 25-year-old broke his world record when he won gold in the 100-meter T37.


"I'm happy with it," Mayhugh said. "It was my first international competition in the 400. Almost two months ago, my doctor and my coach shut down my 400 training, so I wasn't able to train for this. Mentally I just wasn't there. It was really hard on my body, but my doctor said you have to put your mental health first, so I was just focusing on the 100 and the 200. To come out here and run this and win silver, it feels really great."


Mayhugh had only been in the track and field world two years before the Paralympic Games. His first love of sport was soccer. He won bronze with the 7-a-side soccer team at the Parapan American Games Lima 2019. Since 7-a-side soccer is not on the Paralympic Games program, Mayhugh channeled his hunger for gold into a new sport.


"When para -7-a-side was cut from the program, it was frustrating, but I tried to be as positive as possible," Mayhugh said. "Track and field reached out, and I dedicated everything emotionally, physically and mentally to track and field. To completely learn it and to be here and to already have won two medals, it feels pretty good."


The American's quick rise to success in track and field would not be possible without his support system back home. He repeatedly thanked everyone who has been a part of his journey.


"I still have two more events, but all I can say is thank you," Mayhugh said. "My close-knit circle is very loyal and very small. They push me every single day to get up and do the stuff I don't want to do. They're supporting. I'm my own hardest critic, and when I tell myself I can't do something, they're right there to tell me that I can."


With a silver medal around his neck, Mayhugh said the job isn't done yet. He's focused on the 200-meters and the 4x100-meter relay coming up later this week.


"I know what I'm capable of," Mayhugh said. "I know I can come here and medal in every single one of the events I'm running in. I want to bring home as many golds as possible."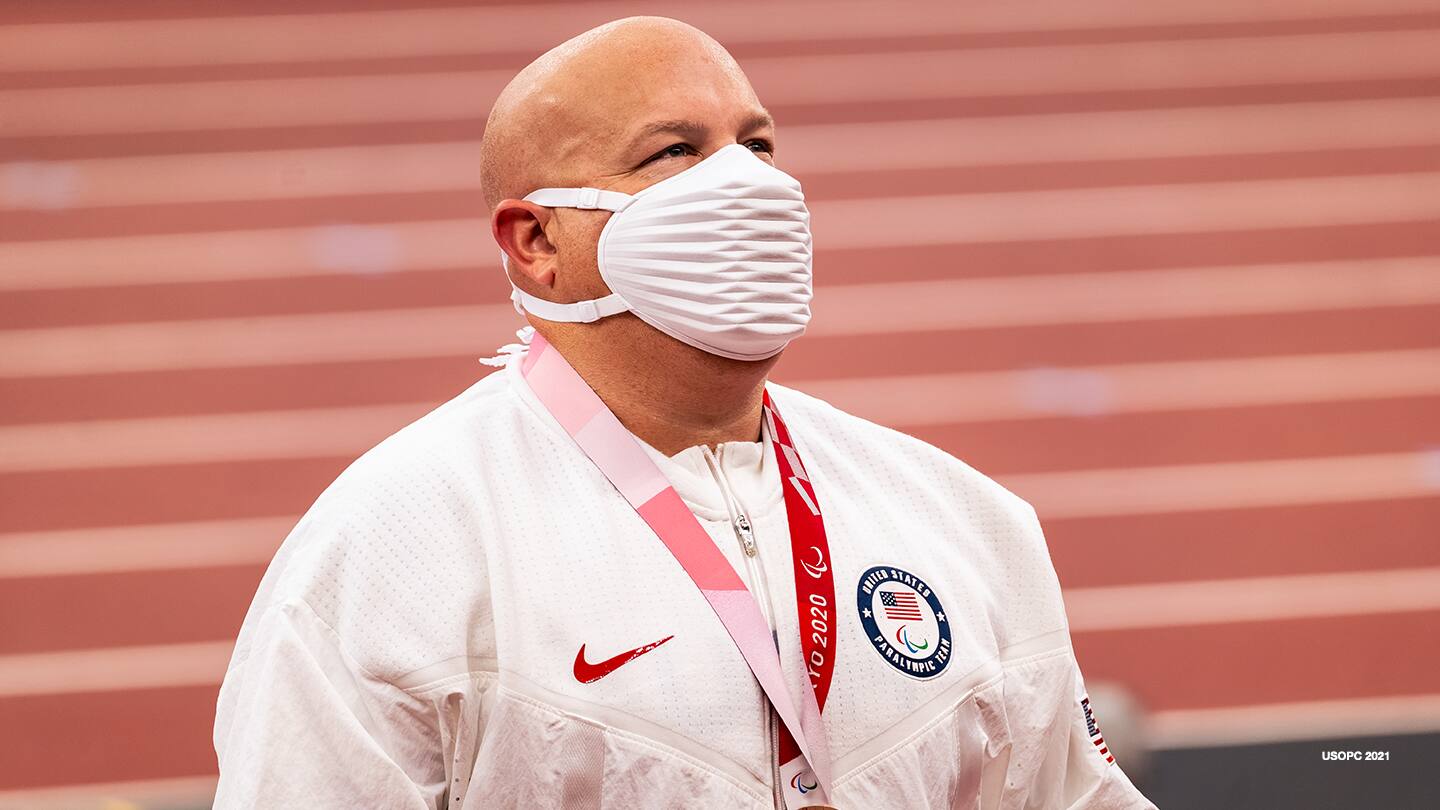 Josh Cinnamo on the podium after winning bronze in the men's shot put F46 at the Paralympic Games Tokyo 2020 on Sept. 1, 2021 in Tokyo, Japan.
Josh Cinnamo Brings Home His First Paralympic Medal in Shot
Put
Thrower Josh Cinnamo won his first Paralympic medal, a bronze in the men's shot put F46. He threw a season-best 15.90 on his third attempt to secure his spot on the podium.


"It feels good," Cinnamo said. "Obviously, you're a little torn. If your goals are to come here and get the bronze, you probably didn't have the right goals to begin with so I'm a little torn. If I'm going to lose to anybody losing to them is okay."


Canadian Greg Stewart won gold with a Paralympic record of 16.75 on his first attempt. Nikita Prokhorov of the Russian Paralympic Committee threw a season's best 16.29 to capture silver.


Though the 40-year-old was disappointed to finish third, he was grateful for the opportunity to be competing in Tokyo. Cinnamo started his journey in para track and field back in 2014. Seven years later, his name was on the start list at the Paralympic final as both the current world champion and current world record holder.


Despite his accomplishments on the world stage, the journey to the Games has not been easy for Cinnamo. He said his classification was not included on the Paralympic Games Rio 2016 program, which caused him to reevaluate whether or not he wanted to continue chasing his Paralympic dream.


"Once I knew it was on the docket for 2020, I kind of sold out so I could be here," Cinnamo said. "And that goes back to why I'm so torn about wearing this medal. When you start a journey that long ago and you take time away from your family and your work, that's time you don't get back. This is a full-time job. You've got to do it, but obviously, I'm excited to be on the podium.


Back at home, Cinnamo's wife and two children have been his biggest champions throughout his journey. He said he won this bronze medal is for them.


"My wide holds everything together. I don't know how she does it honestly," Cinnamo said. "This one was sort of for them. At the 2019 [world championships], I did that one for me because in 2017, I was disappointed about how I finished. This one was definitely a team effort to get me here and get me to the place I wanted to be. I'm very happy that I made the podium for them as much as I am for myself."


Cinnamo can't wait to get back to celebrate with his family. He hoped his kids learn from witnessing his hard work pay off on the world stage.


"If you work your bottom off, this is where you'll wind up," Cinnamo said. "And even if you don't, the journey to get you to this point had you create relationships with people along the way that will help you further your life. Set goals. Set big goals, and have people help you along the way."
Want to follow Team USA athletes during the Paralympic Games Tokyo 2020? Visit
TeamUSA.org/Tokyo-2020-Paralympic-Games
to view the medal table and results.
Katie Grunik is a digital content creator covering the Paralympic Games Tokyo 2020 for TeamUSA.org. She currently serves as the digital content coordinator for the U.S. Olympic & Paralympic Committee.