Shaun White, Now The Elder Statesman, Embracing The Journey To A Fifth Olympics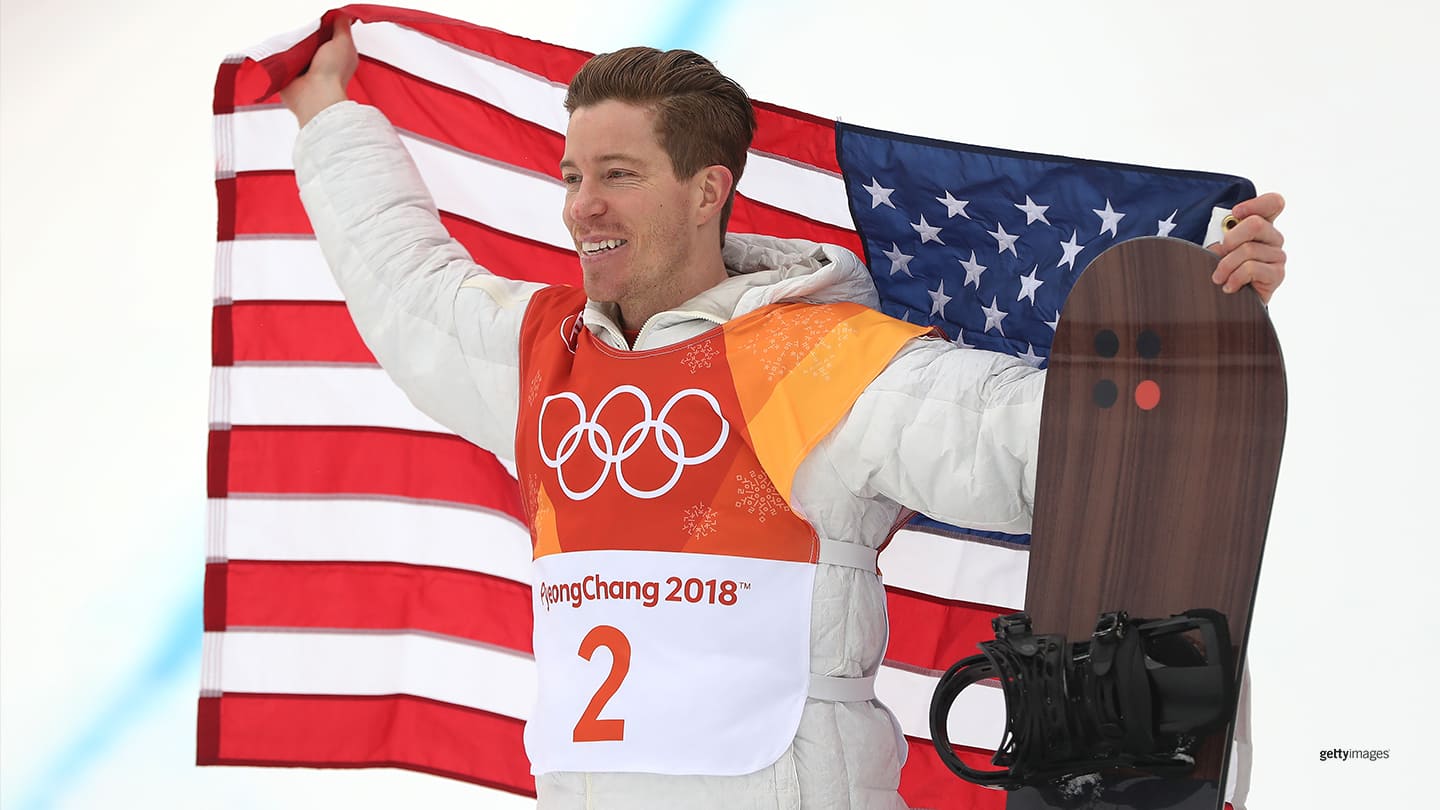 Shaun White celebrates after winning the men's halfpipe final at the Olympic Winter Games PyeongChang 2018 on Feb. 14, 2018 in Pyeongchang-gun, South Korea.
No longer the fresh-faced kid in a sport that is constantly evolving and favors youth, Shaun White is back on his snowboard to find out if he still has enough left in the tank to reach his fifth Olympic Winter Games.

"It's so exciting, back at it again," said the 35-year-old three-time gold medalist in the halfpipe, "feeling solid, feeling a little seasoned."

White was speaking last week as part of the Team USA Media Summit from Saas-Fee, Switzerland, where he was training with the U.S. team. There, he watched recently as his younger teammates made incredible advances in just days.

"Two riders have done triples in the halfpipe now," said White, adding that he abandoned the trick after some bad crashes in 2013. "The trick's done before you get to the wall. You're committed to do three flips in the air. And it's just amazing to see that that's where the sport's heading.

"It's such an interesting sport. It's one of the only sports in the world where you can kind of create something and be the best. So, we'll see what happens in the next few months here leading up to the Games."

Already a legend in the sport, White won his first Olympic gold medal at the 2006 Winter Games in Torino, then successfully defended it four years later with an iconic performance in Vancouver. He won a third gold medal in 2018 in PyeongChang, and is also a 23-time medalist — in snowboarding and skateboarding — at the X Games.

White, who abandoned his attempt to make the U.S. men's skateboarding team for the Olympic Games Tokyo 2020, where the sport made its Olympic debut, will soon find out if he has what it takes to reach the Olympic Winter Games Beijing 2022 in February. He plans to leave it all out on the snow between now and then.

"I'm going to give it everything I have for this Games, like I do every time, and see where the chips fall," White said. "I will say every single time is different. Who knew that a world pandemic was going to happen and the ability to train was going to be very, very minimal?

"But we're all in this together. I just look at it as another challenge. I'm just kind of focusing day to day. It's been a test."
Shaun White celebrates after winning the men's halfpipe final at the Olympic Winter Games PyeongChang 2018 on Feb. 14, 2018 in Pyeongchang-gun, South Korea.
The pandemic actually gave White the opportunity to hit the pause button on his busy life.

"There's a lot of kind of stillness that I was able to acquire during that time period because it was the only option," White said. "I really appreciated that lesson, and I think I've carried that on with me where I'm really content on where I'm at. I'm not really hoping to be somewhere else anymore.

"It's really, really been one of the nice things out of that pretty tough and trying situation that we all went through and continue to deal with."

White also developed a new appreciation for those closest to him.

"During this pandemic, that's what you have — the people around you," White said. "And they just mean so much more to me now, I guess, with age and time and the recent events in the world."

Even though things have opened up again to some degree, White no longer trains as he did when he was younger.

"The body is definitely giving me little signs here and there that the age is a factor at times," White said. "With that, there's just a shift that needs to happen. I don't really go for these crazy long days anymore."

White has carried forward the lessons he learned when he bounced back with Olympic gold in 2018 after a disappointing fourth-place finish in 2014 at Sochi, where he said he had lost his edge.

"I think the last Olympic run was mental for me," White said. "I think it was a really emotional and heavy sort of journey to find that (edge) again. And I was so proud of that performance. Since then, I've been able to continue with that mindset."

Just how long White will continue is an open question.

"Will this be my last Games? I don't know," White said. "I always say it might be. I wouldn't count the next one out after this, but I've definitely got my eye on the prize for this one, and I'm trying to keep it in that box."

And White has obviously come to terms with his status as something of an elder statesman in the sport.

"I think at a certain point I realized that I was the oldest competitor in the field," White said. "I wear it now as somewhat of a badge of honor in a sense.

"To be on top of a sport that's ever changing and for this amount of time has just been a challenge. It's been my life's work. And I'm so proud that I'm still able to compete on a high level."
Bob Reinert spent 17 years writing sports for The Boston Globe. He also served as a sports information director at Saint Anselm College and Phillips Exeter Academy. He is a contributor to TeamUSA.org on behalf of
Red Line Editorial, Inc.